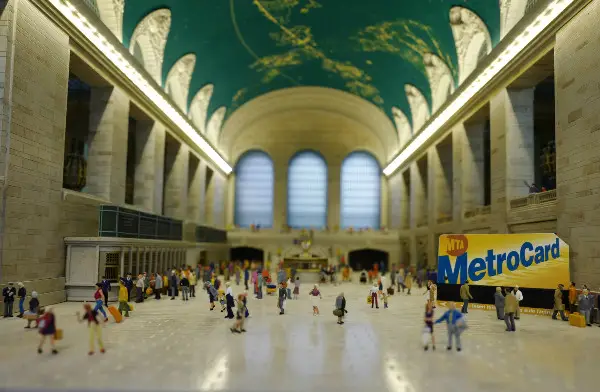 Another Midtown secret: Gulliver's Gate in Times Square, home to a miniature New York, including Grand Central Terminal.


Answers to the Warm-Up Questions
1. Jazz legend Charles Mingus knew a thing or two about sound. He applied a secret when he proposed to his wife using this midtown "acoustical marvel." Can you name the midtown landmark that contains such a parabolic feat?
A. Grand Central Terminal. The "whispering gallery" is located on the dining concourse, near the Oyster Bar & Restaurant.
2. Since 1911, a pair of world-renowned marble lions have stood majestically, watching New York pass them by from their perch in front of this iconic building. Can you name each of the lions, and the building by which they're situated?
A. Patience & Fortitude; The New York Public Library
3. By the looks of it today, you'd never know this gorgeous midtown location was once a potter's field for victims of yellow fever. Bodies were kept underground at the site of the park, until the "graveyard" was decommissioned in 1840, to make way for the construction of the Croton Reservoir. To what location are we referring?
A. Bryant Park
---
Answers to the Hunt Proper
1. Mercury, God of Travel and Commerce; Hercules (representing physical strength) & Minerva (Goddess of Wisdom and protectress of cities); "Transportation"

2. The Manhattan

3. The Stephen A. Schwarzman building, named for CEO of the Blackstone Group and former Chair of the President's Strategic and Policy Forum, Stephen A. Schwarzman.

4. Library Way

5. One Times Square; Times Square New Year's Eve Ball Drop

6. George M. Cohan, known as "the father of American musical comedy."

7. Hard Rock Café

8. "Don't Tell Mama" is a song from the 1966 Broadway musical Cabaret, sung by the heroine Sally Bowles, while she performs in the racy Kit Kat Klub. The high-spirited sense of fun breathed into the lyrics, coupled with the underlying tones of bawdy mystery, certainly apply to the institution in question, so it seemed like a no-brainer to name it after the song!

9. My Fair Lady, which played from 1956 to 1962 (2,717 performances), and Jesus Christ Superstar, which ran from 1971 to 1973 (711 performances).

10. Penn Station, located on the corner of West 33rd Street and 8th Avenue.

11. Horace Greeley, namesake; the owls refer to an obsession of James Gordon Bennett, Jr., who was the publisher of the Herald (yes, as in Herald Square). Famed New York architect Stanford White had the owls integrated into the Herald's offices, which stood until 1921.