Scooter & Moped Tours of NYC
June 19, 2018 - by Merrill Lee Girardeau
Let's celebrate the diversity of city transportation with a quick look at New York scooter tours. Whether you're seeking a motorized kick scooter or a full-blown Vespa, you can see the city in style and even get a few fun facts about it along the way. Cityscootz offers motorized scooter tours of Central Park and elsewhere, while Scooters NYC gives you more freedom with moped rentals at the location of your choice. In case you've been on the hunt for Segway tours, there are none still in operation, although Cityscootz (featured below) is developing a Segway tour of their own. No matter the machine, you'll have your fun on two wheels!
Scooter & Moped Tours of NYC: Cityscootz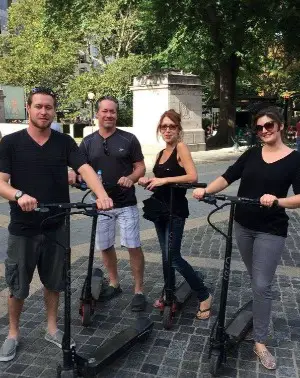 Electric kick scooters (think: motorized Razors) are popping up more and more throughout the city. Join a fleet of these two-wheeled wonders on a tour of Central Park! Cityscootz's savvy guide will lead you through the park for a two-hour journey full of trivia and the park's best assets: Bethesda Fountain, Sheep Meadow, Strawberry Field—all the greats! If you'd like to tour another neighborhood in the city, call Cityscootz, and they can arrange something for you and your group. Tours use the sleek, easy Eco Reco M3 scooter; the company also rents these scooters if you'd like to be your own guide. Tours start at $85 per person and are offered 7 days a week. Check the website in coming months for Cityscootz's debut of their new Segway tours! Central Park tours meet at 57th St. and 6th Ave., 347-244-6493, electricrazorscooterstoursinnycny.com
Scooter & Moped Tours of NYC: Scooters NYC
You too can be Audrey Hepburn in Roman Holiday: rent a moped! Scooters NYC makes it stupid-easy to rent a Vespa, Honda, or Yamaha moped and zip around town in style. You just reserve your scooter, specify a time and place for a truck to deliver it, and ride! Another truck will pick up your moped when your travels are over. These vehicles seat two, cutting down rental costs, and while a motorcycle license will expand your rental options, it is not necessary to drive all available moped models. And if you need help navigating the city, Scooters NYC offers GPS rental along with your scooter. Mopeds are perfect for shopping in densely crowded areas (5th Avenue, the Flatiron District), easy to park, quicker than the subway, and just plain fun! 908-803-2929, scootersnyc.com
Looking for Free Group Planning Services?
Get free advice on planning your group's trip to New York.
RESTAURANTS

Multi-concept restaurant offering modern Japanese cuisine, a...

THEATER

Gaston Leroux's famous period thriller is now one of Broadwa...

SHOPPING

The sweetest experience in Times Square!...

SIGHTSEEING

In addition to 360-degree views from Midtown Manhattan, the ...