On a shopping day in the Flatiron District, it's best to orient yourself with the building that gave the neighborhood its name. The picture-perfect triangular Flatiron Building sits at Fifth Avenue and 23rd Street. Though architect Daniel Burnham's 1902 21-floor wonder may have given a lasting nickname to the neighborhood, this area was once formally known as Ladies' Mile. At the turn-of-the-century, these streets hosted some of the finest luxury department stores in the world: Lord & Taylor, R.H. Macy (yes, of current Macy's fame) and others. Wealthy patrons would arrive via private carriages to shop. A century later and the neighborhood still serves much of the same purpose. Sure, the retailers have changed and most patrons arrive by foot and subway, but the soul of the district still hums with shoppers' footsteps. Fifth Avenue and Broadway below 23rdstreet offer something for everyone, from contemporary fashion boutiques to multi-floor flagships. For the best of shopping in the Flatiron, follow our itinerary for exploring this charming district's shops and cafés.
Shopping the Flatiron: Run, Don't Walk
A shopping trip that starts with a trip to an athletic outpost may sound the opposite of city chic, but hear us out. Nike's running store—its biggest one to date—is a multi-floor, high-tech wonderland of athleticism. The store is LEED certified and boasts high-definition screens, not to mention the best selection of running gear in the neighborhood. Pick up one of the new colors of their beloved (and amazingly lightweight) Pegasus model, and you'll be able to quickly move around the city streets in style. All of this cardio will have you hankering for—and deserving of—a carb break. For that, there is simply nowhere better than City Bakery. The ultimate treat? City Bakery's pretzel croissant. It's a ridiculously brilliant hybrid of flaky croissant and pretzel crunch. Utilize your carb momentum and pop into the sprawling, two-floor Anthropologie outpost nearby on Fifth. From lovely ready-to-wear (think lots of feminine details) to a gorgeous home section, there's something you're certain to adore. We're partial to the company's whimsical collection of ceramics, which often includes hand-painted mugs with artisanal designs.
Nike, 156 Fifth Ave.
City Bakery, 3 W. 18th St.
Anthropologie, 85 Fifth Ave.
Shopping the Flatiron: Denim for Days
In an only-in-New York twist of shopping fate, the Flatiron has become a go-to area for denim lovers. For the best of American-made jeans, head straight to Dave's New York, which has been carrying the most iconic denim brands for over 50 years. Peruse their selection of classic, boot-cut Levi's and be sure to check out their winter apparel (trust us, you'll need that Canada Goose coat before you know it). To get a taste of L.A.-style denim on Fifth Avenue, swing by 7 For All Mankind to sift through their famed skinny jeans and current bestselling flare model. Best of all, there's a tailor onsite to nip and hem any purchase you make in-store. And for a dose of Americana-gone-contemporary denim, there's no better place than the Denim Bar at Madewell. Think rows upon rows of jeans in every wash, fit and size imaginable. To round out your look, be sure to browse the store's selection of beautifully crafted leather satchels and streamlined boots.
Dave's New York, 581 Sixth Ave.
Seven For All Mankind, 73 Fifth Ave.
Madewell, 115 Fifth Ave.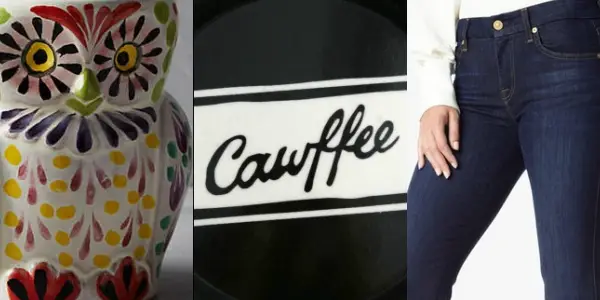 Shopping the Flatiron: Happy Hour & Home
A stop at neighborhood lounge The Flatiron Room is pretty much required when spending a day here. Luckily shops are open late (New York City never sleeps) so popping into The Flatiron Room for a late-afternoon drink is easily orchestrated. Their whiskey selection is virtually unparalleled (hundreds upon hundreds of bottles line the walls) and they offer tasting flights as well as innovative cocktails. To keep up your shopping stamina, nibble on their signature Scotch egg, it will go sublimely with your scotch on the rocks. There's no better place to end your day in the Flatiron than at dishware emporium Fishs Eddy. This is quirkiness at its finest—from cups inspired by presidential candidates (Bernie Sanders sauce dish, anyone?) to clever ceramics with quirky Brooklynese slang—and there's an item here certain to perk up your dining table.
The Flatiron Room, 37 W. 26th St.
Fishs Eddy, 889 Broadway