The Best Ways to Celebrate St. Patrick's Day in NYC
February 12, 2018 - by City Guide News Desk
New York's Irish population may be 13%, but come St. Patrick's Day it feels like the entire city is Irish. In the days leading up to and just after March 17th you can find Irish culture across New York. The city's main event is the St. Patrick's Day Parade, which heads up Fifth Avenue from 44th to 86th Street. Loretta Brennan Glucksman, cofounder of Glucksman Ireland House, will serve as Grand Marshal of the 257th version of the parade, which features bagpipes, bands, and dancers among its 150,000 marchers. The parade runs from 11am to 5pm, at which point the city's bars swell with revelers. Read on for the best ways to celebrate St. Patrick's Day in New York City.
Photo: Joe Buglewicz
St. Patrick's Day NYC 2018: Beer & Bites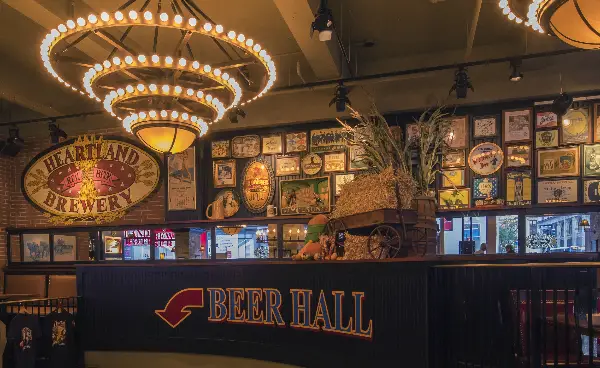 Heartland Brewery, as the name suggests, is a purveyor of fine house-made beers and makes a fine burger to boot. Take a break from the parade at the Empire State Building's Heartland Brewery & Rotisserie, where you can refuel with fish and chips and their American ales. All weekend long (both Saturday the 17th and Sunday the 18th) you can enjoy $7 pints of your favorite Heartland brew when you buy and wear this year's "Heartland Brewery Drinking Team" T-shirt. Makes a great souvenir!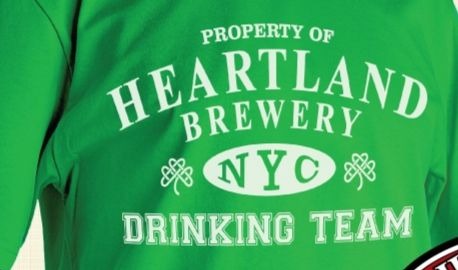 The $7 beer special is available at the Empire State Building as well as at Heartland's other New York locations: Heartland Brewery and Chophouse, Heartland Brewery Midtown West, and HB Burger.
In the less congested area of Gramercy, stumble into Molly's Irish Pub and Restaurant Shebeen and find yourself in 19th-century Ireland. With a wood-burning fireplace and sawdust on the floors, Molly's has stayed intact as an Irish pub since 1895 (a "shebeen" is an illegal bar or pub). Grab a pint of Guinness and Irish lamb stew, and you'll be transported to the Emerald Isle for a while.
If you're around Times Square and looking for Irish merriment, head a few blocks up to O'Lunney's. In addition to a mean shepherd's pie, they serve a variety of beers like the Irish brands Guinness and Smithwick. O'Lunney's is pleasantly gigantic, so come here with your crew in tow.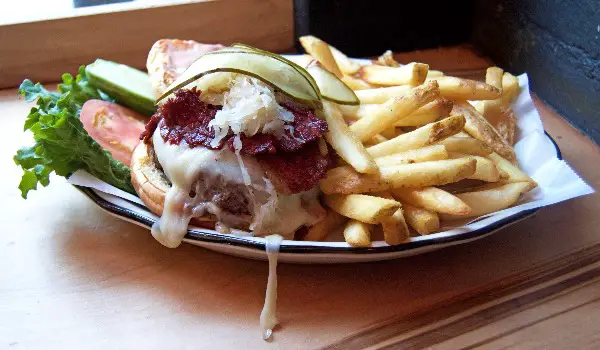 Image courtesy of Black Tap.
Corned beef is both an Irish and New York classic, especially when it comes from the city's best deli, Katz's. For one weekend only, enjoy the combination of two city institutions, as Katz's joins burger pros Black Tap to serve The Reuben Burger. Available St. Patrick's Day weekend at all Black Tap locations, this decadent dish combines a Pat La Frieda burger, Katz's Deli corned beef, sauerkraut, Swiss cheese, pickles, and Black Tap's special sauce. Offered Friday, March 17 through Sunday, March 19 for $19.
With locations at Times Square and Union Square, Lillie's Victorian Establishment will give you another taste of Ireland. The owners are the real deal, raised in Counties Mayo and Monaghan, and it shows in their sensational takes on Irish soda bread, corned beef, cabbage, and potatoes. Don't let the quirky antique interiors fool you, though; there's plenty of beer and booze to go around at Lillie's. Try the signature cocktail, the Warhorse: it's Jameson, mint, pepper, lime, and honey.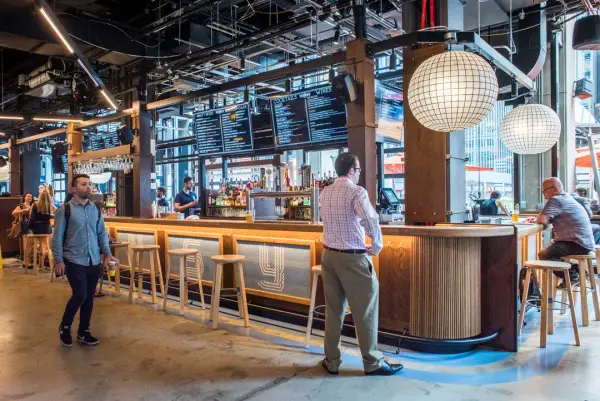 The Pennsy Food Hall is a gourmet oasis in Penn Station, with a huge range of super-fresh options. If you're coming into the city by the station, you can get fueled up before you hit the streets with some gourmet city faves. Possibilities include Pat LaFrieda's famous sandwiches; authentic Mexican from Taco Dumbo; vegan treats from The Cinnamon Snail; healthy choices like salad, grain, or rice bowls from The Little Beet; pizza from Ribalta; or California rolls from Sabi Sushi. Where does St. Patty's come in? The Pennsy Bar is pouring Guiness Dublin Stouts ($8/pint or $28/pitcher) and staying open until 2am.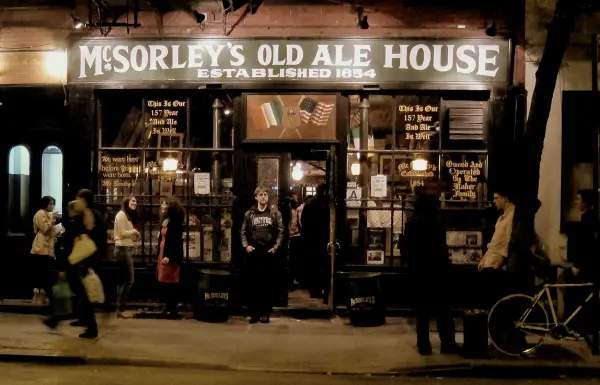 Established in 1854, McSorley's Old Ale House has the honor of being the oldest bar in New York. Its rugged pub charm attracts plenty of devotees around St. Patrick's Day. It's also on St. Mark's Place, a street for party animals year-round in the East Village. At McSorley's, be prepared for insane crowds the entire weekend (the 17th is a Saturday: praise be!), even during breakfast hours.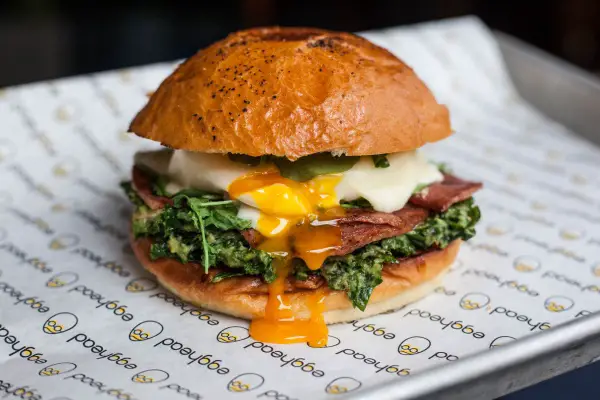 To celebrate St. Patrick's Day, Egghead at Moxy Times Square will be offering a must-eat special: Greens, Eggs & Taylor Ham, putting together rich fried eggs with kale, spinach, and Taylor ham atop an Irish cheddar cheese biscuit. Available starting Tuesday the 13th through Saturday, St. Patrick's Day, you'll find it at the new egg-centric sandwich shop Egghead, which puts a modern spin on classic breakfast sandwiches.
Even classic Italian restaurants will get in on the action.
Villa Mosconi
, which has been taking care of the West Village for more than 40 years, will be honoring Irish friends by making a special order of corned beef and cabbage available. (If you're looking for a "green" Italian meal you can also choose from one of their naturally green homemade Italian dishes, like the fantastic spinach pasta.)
Students of the famed Brooklyn steakhouse Peter Luger, the eponymous Ben and Jack opened
Ben & Jack's
in New York City in 2005. (There are two central locations, one near the Empire State Building and one at 219 E. 44th St.) Enjoy a special St. Patrick's Day corned beef, with thick slices of slow-braised meat served with a side of cabbage wedges, cooked slowly in a mild pickling broth ?($27.97, excluding taxes and gratuity).
St. Patrick's Day in NYC 2018: Cruises
Looking for a booze cruise for St. Patrick's Day? Hornblower Cruises & Events is taking passengers aboard a cruise ship for an affordable $32.15 per person. The ship leaves from Pier 15 at South Street Seaport. The cruise lasts from 5 to 7, so you can eat or keep the party going for the rest of the evening. If you're looking for a later cruise with live music, board a boat with Empire Cruises. The ship leaves from Skyport Marina at East 23rd Street and lasts from 8 to 10:30pm.
St. Patrick's Day in NYC 2018: Exploring
Part tour. Part show. Total entertainment. THE RIDE is a 75-minute journey through Times Square and midtown Manhattan where New York City's iconic landmarks unfold before your very eyes. Discover the excitement of New York's most noted locations as audience members face sideways looking out of floor-to-ceiling glass windows, delivering unparalleled panoramic and vertical views of Manhattan. With stadium seating, 40 monitors, 3000 LED lights, & surround sound, THE RIDE is the world's only moving theater. This St. Patty's enjoy THE RIDE with a special $20 discount! Good on March 17th only, CLICK HERE TO BOOK NOW & USE CODE: STPATS.
St. Patrick's Day in NYC 2018: Music
Infuse your St. Paddy's revelry with some blues and R&B. At B.B. King Blues Club & Grill near Times Square, Southside Johnny & the Asbury Jukes will play March 17 at 7pm; the prolific band has over 30 albums under its belt, including the new "SOULTIME!" Enjoy some beer and a dish of mac 'n' cheese while you listen.
Get a head start on St. Patty's with
Irish folk band Lunasa
, performing with Natalie Merchant at City Winery on Tuesday, March 13th.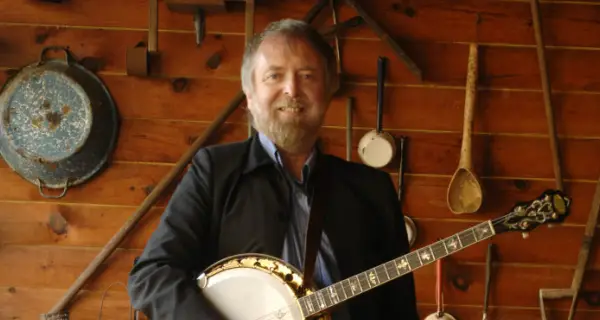 Mick Moloney
Pay more direct homage to St. Patrick at his namesake cathedral in Midtown East at the annual Irish Heritage Concert. On March 15 at 7pm, the St. Patrick's Cathedral Choir will be joined by organists and the band Mick Moloney and Friends, led by Moloney, a professor of musicology and Irish Studies. The evening will feature traditional and contemporary Irish music and is free for all to enjoy (it gets crowded, so come early!).
Listen to Ireland's up-and-coming stars, Saint Sister, in Williamsburg, Brooklyn, on March 7. Part of National Sawdust's Spring Revolution festival celebrating multicultural women, this performance will showcase Saint Sister's compelling electro-folk music and surely win them some more fans in the States.
Bernadette Fee & Friends, bagpipes, step dancers, and Irish traditional music return to a St. Patty's party at The Half King this year. The music is on from 6-8:30pm, accompanied by a special menu that includes corned beef, bangers & mash, shepherd's pie, and other traditional fare.
St. Patrick's Day in NYC 2018: Irish Arts Center Events
The Irish Arts Center is your one-stop shop for Irish events this March and all year round. On March 11, bring your family to the Annual St. Patrick's Open Day. From noon to 4 pm, participants can learn Irish dance steps, make crafts, see performances, and drink tea at IAC's Hells Kitchen location. The same night, adults can enjoy some belly laughs at Sunday Nights at Seven in March. This March 11 comedy show will feature comics from stages like Gotham Comedy Club and your favorite late-night shows at the IAC's Donaghy Theatre.
Paul Muldoon
Monday, March 12, enjoy Irish music and poetry with the delightful Paul Muldoon, a Pulitzer Prize-winning Irish poet, at Muldoon's Picnic. House band Rogue Oliphant and guests The Lost Brothers will play the event. Writer/scholar Lucy McDiarmid, singer-songwriter Pierce Turner, and poet Monica Youn, will also share the stage at this culture picnic, also held at the IAC on West 51st Street.
If your appetite for literature hasn't been sated, grab a free book or two at the 8th Annual IAC Book Day. On St. Patrick's Day, IAC staff and volunteers will give out books by Irish and Caribbean writers at public spaces in all five boroughs from 7 am till the books dry up. Check IAC's social media for distribution locations in the weeks leading up to Book Day!
St. Patrick's Day in NYC 2018: History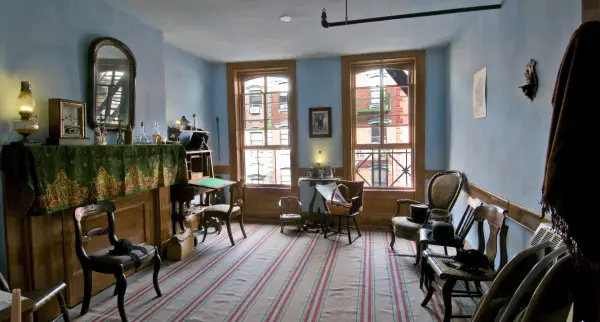 1869 at 97 Orchard Street. Discover what life was like at 97 Orchard Street in 1870 for The Moores, an Irish family that lived in the building OR the Scheiders, a German couple that lived behind a saloon that they ran in the basement. At the Lower East Side Tenement Museum.
For insight into the Irish immigrant experience, check out the Lower East Side's Tenement Museum, where the "Irish Outsiders" tour brings a family of 1869 New York to life. If you can't make it on the 17th, the tour actually runs every day.
Another famous historic house in New York will be putting on several tours for St. Patrick's Day. The Merchant's House Museum in the East Village preserves the oldest intact family house in the city, with an original 1832 late-Federal brick exterior and spectacular Greek revival interior rooms. The night of Friday, March 16, check out the "'Spirit of the Irish' Candlelight Ghost Tour," and hear how eight people died in the house. On the afternoon of St. Patrick's Day, check out the guided tour "A Tribute to the Tredwells' Irish Servants with Bridget Murphy." This back-stairs look at the house provides insight into the life of an 1850s Irish worker in New York.
In Battery Park City, the Irish Hunger Memorial, which recreates a rural Irish landscape, points back to the Great Irish Famine. Over one million people perished in the famine, which occurred between 1845 and 1852. The small memorial features plant life of the north Connacht wetlands, as well as low stone walls and Kilkenny limestone. It was designed by Brian Tolle. In addition to reminding us of the devastating Irish famine, this lovely elevated space gives voice to world hunger today.
Saint Patrick's

Day
in NYC 2018: Burlesque
For an alternative take on St. Pat's, head out to Brooklyn's Littlefield for Wasabassco's Saint Patrick's Day for Sinners. A night of drinking, celebration, and an All-Redheads line up. Starring Nasty Canasta, Francine The Lucid Dream, Gal Friday, Kita St Cyr, Nina La Voix, Sydni Deveraux, Tiger Bay, and more! littlefieldnyc.com
Saint Patrick's Day in NYC 2019: Shopping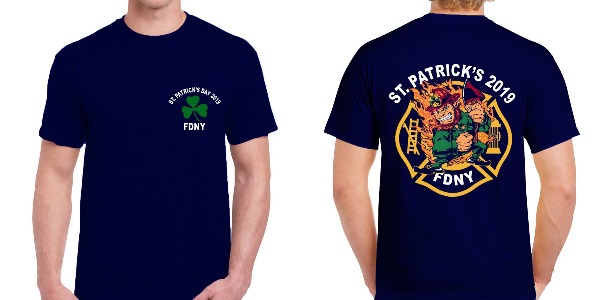 2019 FDNY St. Patrick's Day t-shirt. Show your Irish pride! Be the first to rock this FDNYShop 2019 annual St. Patrick's Day t-shirt (every year features a new image and they're limited edition). This year's shirt is navy, available in sizes small through 3XL, $21.95-$24.95. 100% pre-shrunk cotton. While you're at the FDNY Fire Zone in Rockefeller Center, grab the 2019 FDNY Calendar of Heroes, which lets you celebrate the men (or women) of the FDNY and EMS every month. Items are also available online. 34 W. 51st St. (btw. Fifth & Sixth Aves.), 212-698-4520, FDNYShop.com
Saint Patrick's Day in NYC 2018: Kids

The Craic Fest Craic 20 presents the
Kids Fleadh
Saturday, March 10 at Cinepolis Theater (formerly Bow Tie Cinemas on West 23rd Street). A fun program of award-winning Irish short films and Irish step dancing (the Niall O'Leary Dancers) for ages 5-12 starts at 11:30am sharp. $10 for adults, $10 for kids,
thecraicfest.com
. You can buy tickets
here
.
For St. Patrick's Day, the legendary
Ripley's Believe It or Not! Times Square
will be running a promotion called Wear Some Green, Save Some Green for the weekend of St. Patrick's Day (3/16-3/18.) Guests who come in with green clothing will receive a walk-up discount of $5 off for adults and $4 off for kids!
Looking for Free Group Planning Services?
Get free advice on planning your group's trip to New York.
RESTAURANTS

Vida Verde brings the tastes, colors, sounds, and scents of ...

THEATER

Gaston Leroux's famous period thriller is now one of Broadwa...

SHOPPING

DataVision is redefining retail with their new, fully intera...

SIGHTSEEING

In addition to 360-degree views from Midtown Manhattan, the ...