NYC's 8 Best Team Building Activities
May 3, 2017 - by Chelsey Grasso
Whether you're looking to bring together a group of friends, family members, or coworkers, NYC is packed with activities that encourage team bonding. From black-light bowling and escape rooms to painting tutorials and pizza-making classes, these eight locations below provide the ideal environment for both large and small groups, creating memories that they won't ever forget and helping to building lasting friendships along the way.
Best of NYC Team Building Activities: Bowlmor Lanes (Times Square)
Bowlmor Lanes via Facebook
Bowling is anything but lame at Bowlmor, where there are 48 black-light bowling lanes at your disposal. Vintage leather sofas and massive lane-side video walls add some extra funk to this hotspot, and private bowling alleys are also available to rent out. Bowlmore also has a Laneside menu that is filled with specialty cocktails and snack-worthy appetizers including crab & artichoke dip and avocado hummus. Additional location in Chelsea. 222 W. 44th St., 212-680-0012, bowlmor.com
Best of NYC Team Building Activities: Fly High (Staten Island)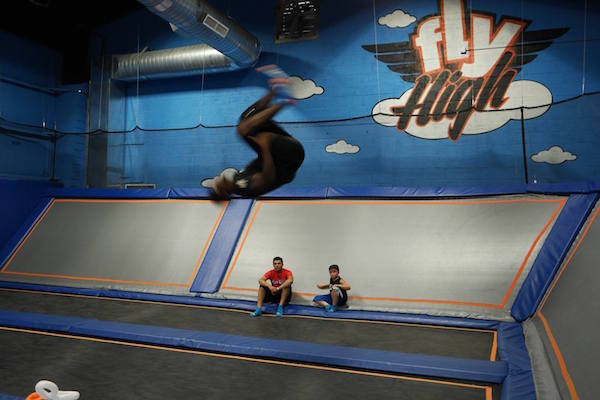 If you've got an adventurous crowd, head over to NYC's first indoor trampoline park, Fly High. It's hard not to bond when you're flying high in the air together and landing in a giant pit filled with hundreds of foam cubes. Fly High is made up of a main court, a bungee slingshot, a flying foam pit, massage chairs, and a dunk zone, so make sure your group comes filled with energy and ready to have a good time. 501 Industry Rd., 718-524-6561, flyhighny.com.
Best of NYC Team Building Activities: Gagopa Karaoke (Midtown West)
What better way to bond than crooning classic tunes to each other in a private karaoke room? Gagopa Karaoke rents out private rooms for $32 an hour for up to four people (and an additional $8 an hour for each additional person). There is a room available for up to 30 people. Their song list is extensive, with over 20,000 English songs and 10,000 Spanish songs, along with tunes in Korean, Japanese, Chinese, and a variety of other languages. 28 W. 32nd St., 212-967-5353, gagopakaraoke.com
Best of NYC Team Building Activities: The BEAST Speedboat Ride (Hudson River)
Get your group's blood pumping aboard the BEAST Speedboat Ride. Circle Line Sightseeing's custom-built, 70-foot speedboat rides the waves of the Hudson at 45 miles per hour, and the adventure is filled with twists, turns, and splashes as it takes you within 100 feet of the Statue of Liberty and provides you with panoramic views of midtown and lower Manhattan. Add in the lively soundtrack and the entertaining captain and crew, and you've got yourself a bonding experience on the high seas! Pier 83 W. 42nd St., 212-563-3200, circleline42.com
Best of NYC Team Building Activities: Mystery Room NYC (Midtown West)
Mystery Room NYC actually requires teamwork to escape. Your group will be given one hour to think outside-of-the-box and solve an assortment of mind-bending puzzles. Choose between different scenarios (think biotech labs s, cafes, etc.), and work together as a team to find your way out of the room before your time runs up. Brawns won't do you any good here — it's all about showcasing your smarts. 365 7th Ave., 302-401-1373, mysteryroomnyc.com
Best of NYC Team Building Activities: Paint Nite (Multiple Locations)
You don't have to be a professional artist to enjoy a Paint Nite. Even someone who has never picked up a brush before will leave this event with a beautifully composed canvas of colors. Enjoy a drink of your choosing while an instructor guides the group with an acrylic painting tutorial. Canvases, brushes, and paints are all included in the ticket price. Multiple locations throughout New York. 855-767-4270, paintnite.com
Best of NYC Team Building Activities: Pizza A Casa Pizza School (Lower East Side)
Who doesn't love pizza? Take your group to Pizza A Casa Pizza School to allow for some quality group bonding over the beloved Italian dish. But before you eat, you'll have to make the pizza! Stretch dough like a pro while you work with your team members to create a delicious and authentic pie. If there's one thing that was ever able to bring people together, it has to be a slice of piping hot pizza. 371 Grand St., 212-288-5483, pizzaschool.com
Best of NYC Team Building Activities: Museum Hack (the Met, American Museum of Natural History, Rubin Museum of Art, etc)
Turn co-workers into team-workers with Museum Hack's interactive tours! Museum Hack can update their tours to match your industry too, so get ready for a completely unique and sassy team experience! And, get ready to play Blind Artist, a game that is a toss between pictionary and charades that will bring your team closer than ever! 800-210-9676, vip@museumhack.com, museumhack.com
Best of NYC Team Building Activities: Mount Vernon Hotel Museum (Upper East Side)
A 1799 carriage house that was converted to a country inn, the Mount Vernon Hotel Museum is a most unlikely oasis of genteel history amid the modern bustle of uptown. If you're looking for team-building activities, consider booking something like the museum's "Path Through Life," a museum-wide board game come to life. Movements are determined by luck, strategy, knowledge of 19th-century culture, and some quick-witted deal-making. After-hours events have also included Murder Mysteries, based on a real-life newspaper account of a body unearthed under the floorboards of the museum, which has also been developed into a team-building experience. 421 E. 61st St.,
212-838-6878, mvhm.org
Looking for Free Group Planning Services?
Get free advice on planning your group's trip to New York.
RESTAURANTS

Multi-concept restaurant offering modern Japanese cuisine, a...

THEATER

Gaston Leroux's famous period thriller is now one of Broadwa...

SHOPPING

Specializing in the great vineyards of California, France, A...

SIGHTSEEING

Sweeping, unobstructed, open-air views of NYC from the top o...