August is a great month to visit New York City. Sure, it's a hot season, but there are great restaurants and museums for cooling off (the subways are air conditioned, too). And with plenty of folks on vacation, you can access great New York festivals and attractions without the major crowds of other times of year. For August 2019, you can dine at NYC's best restaurants for a discount at NYC Restaurant Week, take in some alfresco tunes with Lincoln Center Out of Doors, catch the Afropunk Festival in Brooklyn, a Blues BBQ Festival, the 29th Annual Hong Kong Dragon Boat Festival, and much more!
(4/10-4/19) The 2020 New York International Auto Show is home to an awe-inspiring display of technology and design, as 1,000 new cars and trucks are arrayed across the acreage of the Javits Convention Center. You can check out all the latest models from a hands-on, driver's seat vantage. The show also features the hottest exotics, joined by futuristic concept cars and a few shiny classics. You'll even leave with a gift bag or two. Open Mon.-Sat., 10am-10pm, Sun. until 7pm. autoshowny.com
Things to Do in NYC in August: Exhibits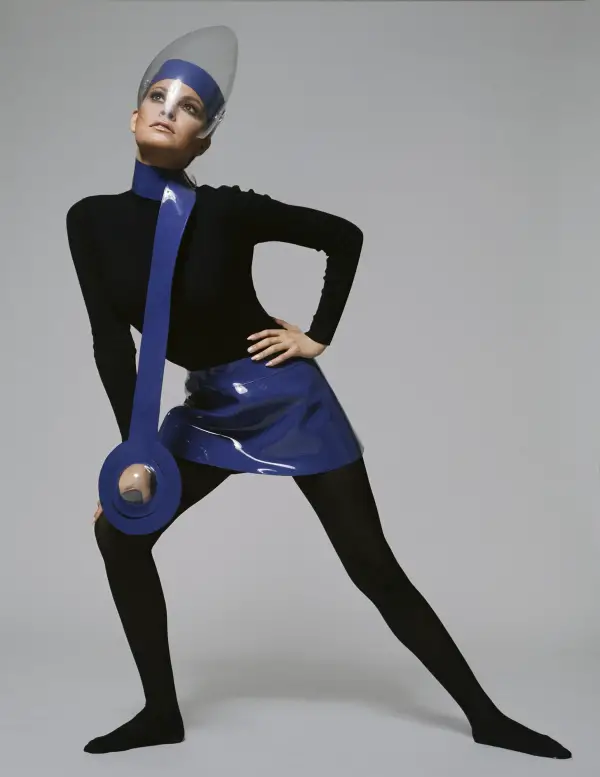 Terry O'Neill (British, born 1938). Raquel Welch in a Pierre Cardin outfit featuring a miniskirt and necklace in blue vinyl, worn with a Plexiglas visor, 1970. Image courtesy of Iconic Images. © Terry O'Neill / Iconic Images.
(7/20-1/5/20) Pierre Cardin: Future Fashion at Brooklyn Museum is the first Cardin retrospective hosted in New York in 40 years. It will display over 170 objects from the Pierre Cardin archive, including fashion pieces. It will also make connections between Cardin's futuristic aesthetic and that of his design contemporaries. Cardin's bold, geometric fashions reflected mid-century advances in technology and industry—most explicitly those concerned with space exploration. In fact, on a visit to NASA in 1971, Cardin donned an Apollo 13 astronaut suit and became the only civilian ever to do so! brooklynmuseum.org
PLUS
(8/29-8/31) Shoebox Museum: Icons & Innovators in Sneaker Packaging is a special exhibit exploring an often overlooked aspect of the sneakerhead experience — the shoebox. The first exhibition of its kind, Shoebox Museum will display for public viewing the world's most iconic packaging, recognizing the brands, artists and collaborations that have shaped consumer experiences for decades. Featured brands include Jordan, Nike, CNCPTS, Adidas,Vans, and more. FREE. 10am-7pm daily. 198 Allen Street.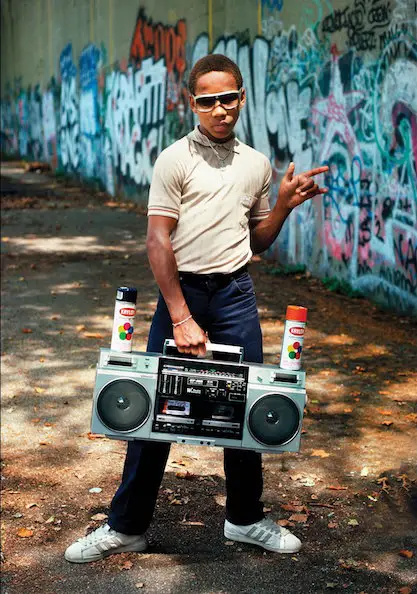 Lil' Crazy Legs during shoot for Wild Style / Riverside Park, NY, 1983 / Photo © Martha Cooper.
(6/21-8/25) Beyond the Streets at the space Twenty Five Kent in Williamsburg, Brooklyn celebrates some of the biggest names in graffiti, including work from NYC street art legends Tats Cru, Lady Pink, Keith Haring, Jean-Michel Basquiat, as well as Shepard Fairey, Invader, Brooklyn duo FAILE, artifacts from NYC's beloved Beastie Boys, street photographer Martha Cooper, and much more. $25 (kids 12 and up), $12, kids 6-11, kids 5 and under, free. Get tickets at beyondthestreets.com.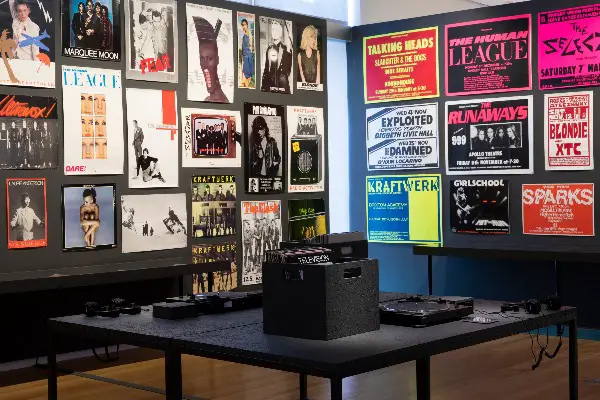 Installation view of Too Fast to Live, Too Young to Die: Punk Graphics, 1976-1986 at the Museum of Arts and Design. Photo by Jenna Bascom.
(Now-8/18) Too Fast to Live, Too Young to Die: Punk Graphics 1976-1986 at the Museum of Arts and Design. More than 40 years after punk exploded onto the music scenes of New York and London, its impact on the larger culture is still being felt. Born in a period of economic malaise, punk's energy coalesced into a powerful subcultural phenomenon that transcended music to affect other fields, and especially graphic design. Too Fast to Live, Too Young to Die explores the visual language of punk through hundreds of its most memorable graphics, from the shocking remixes of expropriated images and texts to the DIY zines and flyers that challenged the commercial slickness of the mainstream media. #PunkGraphics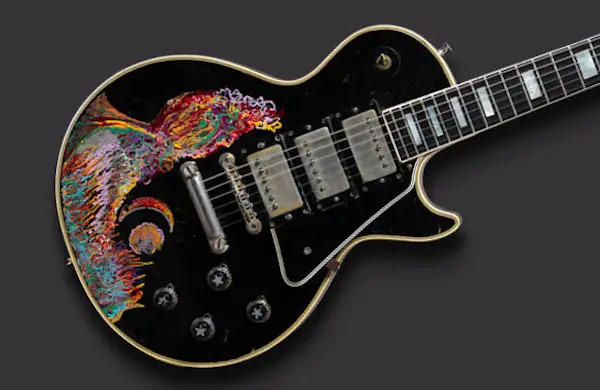 (Now-10/1) Play It Loud: Instruments of Rock & Roll at the Metropolitan Museum of Art. When you see the sheer volume (some 130) of mind-blowing instruments that have been played by a broad cross-section of iconic musicians, all tucked into one space, you'll understand why the Met is the appropriate place for this show. It's the first time a music exhibit of this magnitude has been presented, co-organized with the Rock & Roll Hall of Fame. While guitars primarily make up the exhibit (you can see the white guitar Jimi Hendrix played at Woodstock, Prince's 1993 "Love Symbol" guitar, one of Pete Townshend's smashed guitars encased in Lucite, and Joan Jett's guitar, among others), there are other instruments, including Jerry Lee Lewis's gold baby grand piano, Lady Gaga's custom Artpop piano, and The Who's drum kit. #MetRockandRoll
(Now-1/3/20) The most significant site of the Holocaust, Auschwitz was not a single entity, but a complex of 48 concentration, forced labor, and extermination camps, at which 1 million Jews—and tens of thousands of others—were murdered. Auschwitz. Not long ago. Not far away., a new exhibition at the Museum of Jewish Heritage—A Living Memorial to the Holocaust, explores the legacy of history's deadliest mass murder site. More than 700 original objects and 400 photographs are on display, many for the first time in North America. Among the artifacts: personal possessions, fragments of a barrack, a gas mask used by the SS, and an original German-made Model 2 freight wagon used for the deportation of Jews to the ghettos and extermination camps in occupied Poland.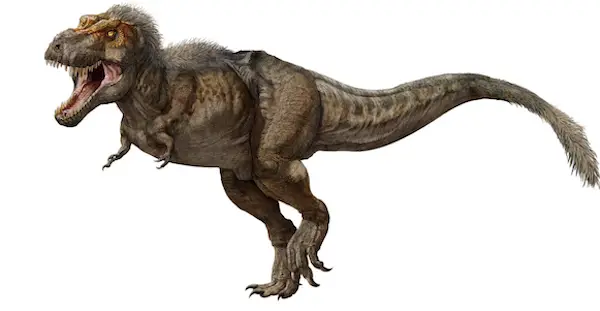 (Now-8/9/2020) Final weeks! T. rex: The Ultimate Predator at the American Museum of Natural History. Visitors will encounter a massive, life-sized model of a T. rex with patches of feathers—which, as scientists now know, were likely present on nearly all non-avian dinosaurs (all dinosaurs other than birds)—as well as reconstructions of a fluffy T. rex hatchling and a four-year-old juvenile T. rex; a "roar mixer" where visitors can imagine what T. rex might have sounded like by blending sounds from other animals; a shadow theater where a floor projection of an adult T. rex skeleton will come to life; and a magnetic wall where visitors will be tasked with placing various tyrannosaur family members in the correct time period. They will also encounter a life-sized animation of T. rex in the Cretaceous and explore real data from fossil specimens, CT scans, and microscope images at a tabletop Investigation Station. In collaboration with HTC VIVE, the Museum will present V. rex (working title) as its first interactive, multi-player virtual reality experience. Visitors will team up to build a T. rex skeleton bone by bone and then watch as it comes to life in what is now Montana, as it was 66 million years ago.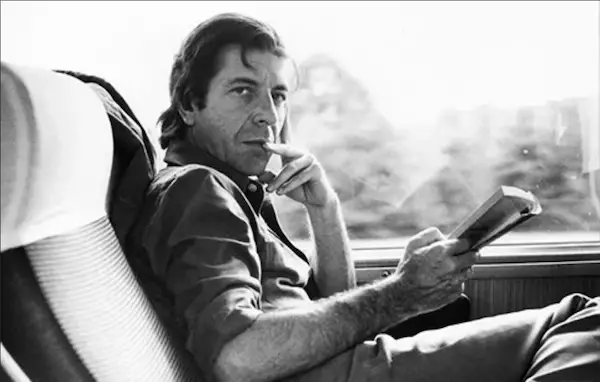 (Now-9/8) Leonard Cohen: A Crack in Everything at The Jewish Museum is the first exhibition entirely devoted to the imagination and legacy of the influential singer/songwriter, man of letters, and global icon from Montréal, Canada. The exhibition includes commissioned works by a range of international artists who have been inspired by Cohen's style and recurring themes in his work, a video projection showcasing Cohen's own drawings, and an innovative multimedia gallery where visitors can hear covers of Cohen's songs by musicians such as Lou Doillon; Feist; Moby; and The National with Sufjan Stevens, Ragnar Kjartansson, and Richard Reed Parry, among others.
(Second half 7/24-1/5/20) Implicit Tensions: Mapplethorpe Now at The Solomon R. Guggenheim Museum. Robert Mapplethorpe, one of the most critically acclaimed and controversial American artists of the late 20th century, is represented in great depth in the Guggenheim's collection. In 1993 the museum received a generous gift of approximately two hundred photographs and unique objects from the Robert Mapplethorpe Foundation, creating one of the most comprehensive public repositories in the world of this important artist's work. In 2019, 30 years after the artist's death, the Guggenheim will celebrate the sustained legacy of his work with a yearlong exhibition in two sequential parts in the museum's Mapplethorpe Gallery on Tower Level 4.
(Ongoing) Faith and Empire at the Rubin Museum. Religion has influenced and empowered countless political leaders throughout history, and Tibetan Buddhism is no exception. "Faith and Empire: Art and Politics in Tibetan Buddhism" is the first exhibition of its kind to explore Tibetan Buddhism's dynamic political role in the empires of Asia from the 7th to the early 20th century. Artwork highlights include a set of 8th-century gilt-silver drinking vessels from the Tibetan Empire; an early 13th-century wrathful icon made of silk and ornamented with tiny seed pearls; a 4 ½-foot-tall 680-pound gilt-bronze bodhisattva from the early 15th-century Ming court; and a 19th-century 8-feet-wide Mongolian depiction of the final battle against the heretics and nonbelievers. The exhibition is arranged chronologically, beginning with the Tibetan Empire in the 7th century, and includes sections on the Tangut kingdom of Xixia, the Mongol Empire, the Chinese Ming dynasty, the rule of the Dalai Lamas, and the Manchu Qing dynasty.
(Permanent) The Jim Henson Exhibition at the Museum of the Moving Image celebrates the life and legacy of the famed Muppet creator, exploring both his prolific career and the enduring effect his work has on pop culture to this day. Visitors will learn more about the creation of such beloved works as The Muppet Show, Sesame Street, Fraggle Rock, The Dark Crystal, and Labryinth, as well as discover the cutting-edge experimental works Henson made throughout his career.
Things to Do in NYC in August: Comedy
(8/3) FREE! An Evening of Stand Up Comedy: Roy Wood Jr. & Guests at Damrosch Park, part of Lincoln Center Out of Doors.
PLUS
(8/3-8/4) Sarah Tiana at Gotham Comedy Club.
(8/7) The Roast of Your 15 Year Old Self at Union Hall.
(8/8) #Adulting with Michelle Buteau and Jordan Carlos at The Bell House.
(8/23-24) Esther Povitsky at Gotham Comedy Club. Esther Povitsky is co-creator and star of the Hulu and Freeform show Alone Together and recurs as Maya on the CW's Crazy Ex-Girlfriend.
Things to Do in NYC in August: Kids

(8/24) FREE! The Arthur Ashe Kids Day, part of the 2019 U.S. Open in Queens, offers a fun-filled Saturday of tennis clinics, performances, face painting, and more! arthurashekidsday.com.
PLUS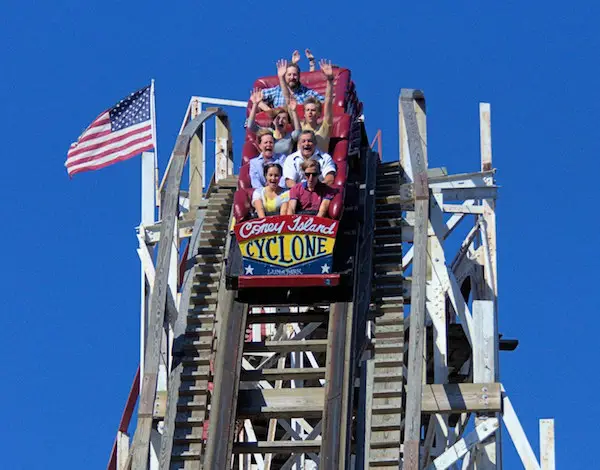 (Ongoing) Luna Park on Coney Island! Grab the family, get a Luna pass and ride the Cyclone or the Cozmo Jet, plus stroll the beach with a hot dog and more.
(ongoing) Aspiring scientists and astronauts will want to explore the New York Hall of Science in Queens, brimming with interactive exhibits (plus an outdoor playground).
Things to Do in NYC in August: Food, Music, & Nightlife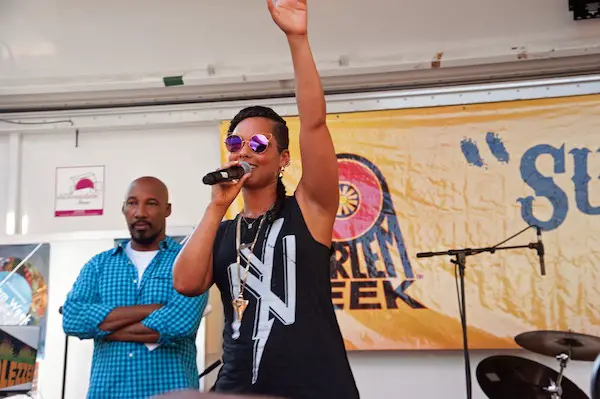 (7/28-8/24) 45th Annual Harlem Week Festival (yes, it lasts much longer than a week now). harlemweek.com
PLUS
(7/22-8/16) NYC Restaurant Week.
(7/24-8/11) Lincoln Center Out of Doors returns.
(7/16-8/11) The popular free Shakespeare in the Park program returns to Central Park with Coriolanus.
(7/31-8/1) Khalid Free Spirit Tour at Madison Square Garden.
(8/1) The Algonquin Hotel's Annual Cat Fashion Show. 5pm-7:30pm. This fundraiser for the Mayor's Alliance for NYC's Animals will also fete the birthday of the hotel's famous resident kitty, Hamlet. This year's theme, "It's a Small World," celebrates the many diverse cultures that make up the fabric of New York City, with all of the opulent cat-couture outfits designed by legendary pet fashion designer Ada Nieves.
(8/1) Herbie Hancock at the Beacon Theatre.
(8/1-8/4, 8/10, 8/11) SEE IT BIG! 70mm screening of 2001: A Space Odyssey at Museum of the Moving Image.
(8/3-8/4, 8/8-8/11) SEE IT BIG! 70mm screening of Roma at Museum of the Moving Image.
Photo: Agaton Strom
(8/1, 8/8) Enjoy Cocktail Thursdays at the Cooper Hewitt Museum. The Brass Project (August 1) and Samora Pinderhughes' The Transformations Suite (August 8). $14 advance, $16 at the door.
(8/1) Chemical Brothers at Forest Hills Stadium.
(8/3) Bad Religion at Brooklyn Steel.
(8/3) Barbra Streisand at Madison Square Garden.
(8/6) Mac De Marco with special guests perform at Prospect Park, part of the BRIC Celebrate Brooklyn! Festival. Benefit show, tickets start at $45.
(8/6-8/7) Queen & Adam Lambert: The Rhapsody Tour at Madison Square Garden.
(8/9) Roxy Music lead singer Bryan Ferry at the United Palace Theater.
(8/10) My Morning Jacket at Forest Hills Stadium.
(8/10) Tap & Cork: Brooklyn Beer and Wine Festival at Kings Theatre. General admission: $40. 3pm.
(8/11) Big City Songbook at Birdland Jazz Club. You can take the A Train to this musical guidebook through New York City. From Billy Joel to Rodgers & Hart and Mary Chapin Carpenter, why have so many songwriters been compelled to write about life in Gotham? Whether you're a Boy From New York City or you just Happen to Like New York, join host Deborah Grace Winer and see why Big City Songbook is packing 'em in to Birdland's hottest monthly revue.
(8/11) Neurosis with Deafkids, Bell Witch at Brooklyn Steel.
(8/12) Ellen DeGeneres Is the Only Ally at The Bell House.
(8/10-8/11) Hootie & the Blowfish: Group Therapy Tour at Madison Square Garden.
(8/17) Beck and Cage the Elephant at Forest Hills Stadium.
(8/20-8/21) Mark Knopfler at the Beacon Theatre.
(8/21-8/22) Tame Impala at Madison Square Garden.
(8/23-8/24) Shawn Mendes: The Tour stops at Barclays Center.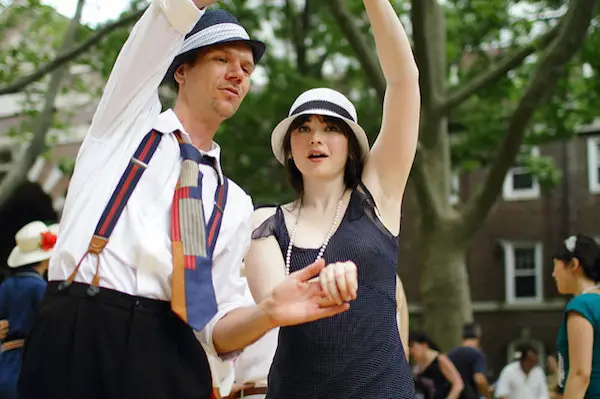 (8/24-8/25) The Jazz Age Lawn Party on Governors Island. Just a short ferry ride from Brooklyn or Lower Manhattan will bring you to festivities the whole family can enjoy. The weekend celebrates the 1920s with dancing lessons and a Charleston dance contest, a motorcar exhibition, a pie contest, and more! jazzagelawnparty.com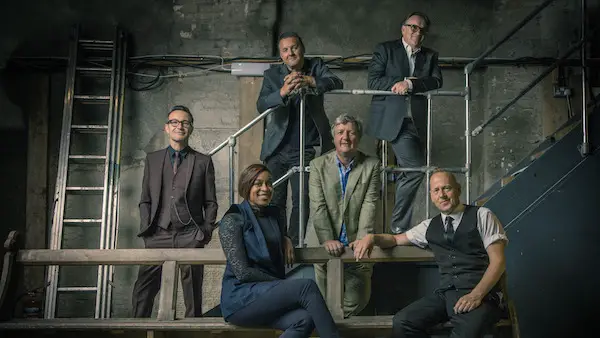 (8/24) Squeeze: The Squeeze Songbook at The Rooftop at Pier 17.
(8/24) The Blues BBQ Festival at Pier 97 will feature tasty goodness from Arrogant Swine, Dinosaur Bar-B-Cue, and Fort Gansevoort BBQ. There's also live entertainment, with The Slam Allen Band, Danielle Nicole, Welch Ledbetter Collection, and more! 2pm-9pm.
(8/28) Billy Joel at Madison Square Garden.
(8/27) Lenny Kravitz at Radio City Music Hall.
(8/29-8/30) Jonas Brothers: Happiness Begins Tour takes place at Madison Square Garden.
(7/10-8/10) Mostly Mozart Festival at Lincoln Center.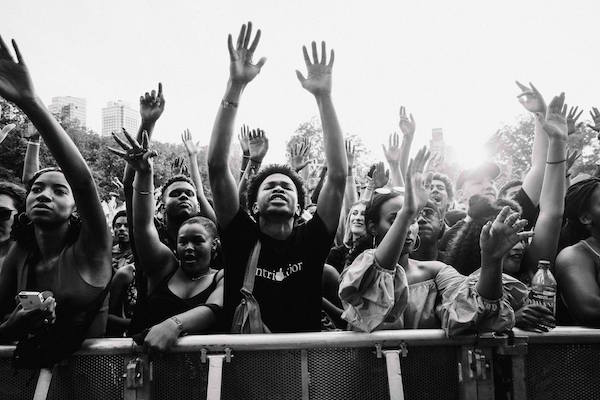 (8/24-8/25) Afropunk returns to Commodore Barry Park, Brooklyn, with Jill Scott, FKA Twigs, Leon Bridges, Kamasi Washington, Gary Clark Jr, Samurai Shotgun, and more.
For information on LGBT nightlife, visit our brother site metrosource.com!
Things to Do in NYC in August: Sightseeing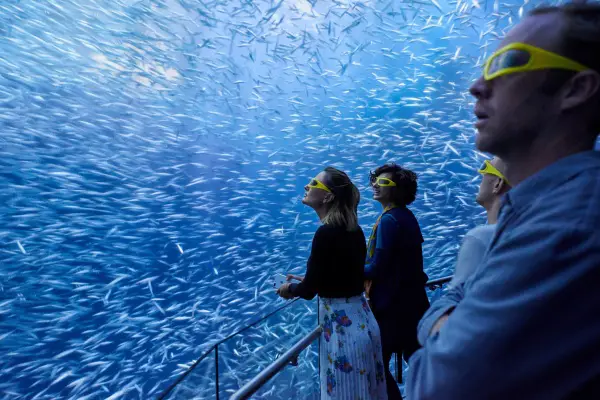 Immerse yourself in the deep, dark depths of the ocean, where Humboldt squid fight to the death, 50 foot whales ride overhead, play with sea lions, navigate a sea kelp maze and more at National Geographic Encounter: Ocean Odyssey!
(New!) Madame Tussauds New York Presents Broadway. Take a magical journey starting with a cocktail at the Broadway Bar, and then traveling through a kaleidoscope of your favorite musicals. Enter the world of Andrew Lloyd Webber's Phantom of the Opera, Joseph and the Amazing Technicolor Dreamcoat, Evita, Sunset Boulevard, and Cats. You can sing "Memory" with Grizabella the "Glamour Cat" and wear the Dreamcoat yourself as you become a Broadway star. The Phantom of the Opera will also guide you through this dazzling backstage experience, and perhaps do a little singing himself along the way. Live actors will be on hand to enhance the rush both on- and offstage.
(Ongoing) Get the full stadium experience with Yankee Stadium Tours, which offers exclusive access to New York Yankee historic spots like Monument Park, The Great Hall, and even down to the dugout. The daily tours also bring you close to baseball artifacts like Babe Ruth's bat, Lou Gehrig's jersey, and rings and trophies representing the Yankees' 27 world championships.
It's back! Ride THE BEAST and experience NYC's custom-built offshore racing powerboat, the BEAST! Zoom across the water at a heart-pounding 45mph on a ride down to the Statue of Liberty and back!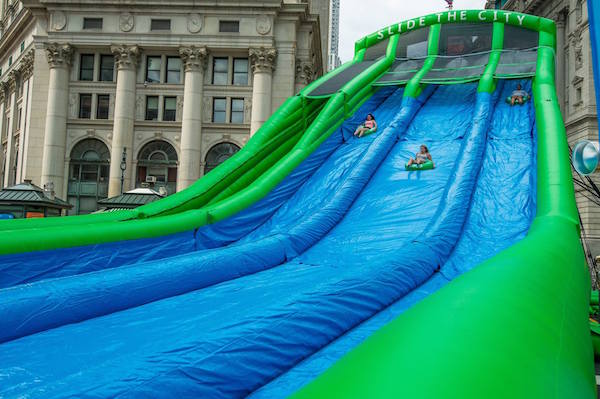 (8/3, 8/10, 8/17) Citi Summer Streets returns to make a splash with traffic-free stretches of roadway opened up across the city. Centre Street in Lower Manhattan will be transformed into a makeshift beach and waterpark, including a giant 300-foot waterslide. Get an early start: Citi Summer Streets runs from 7am-1pm.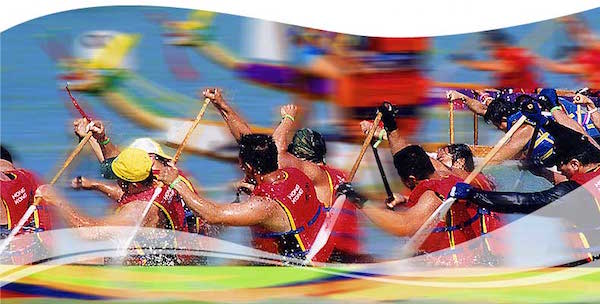 (8/3-8/4) The 29th Annual Hong Kong Dragon Boat Festival at Flushing Meadows Corona Park in Queens. hkdbf-ny.org
(8/18) India Parade NYC 2019 fianyjct.org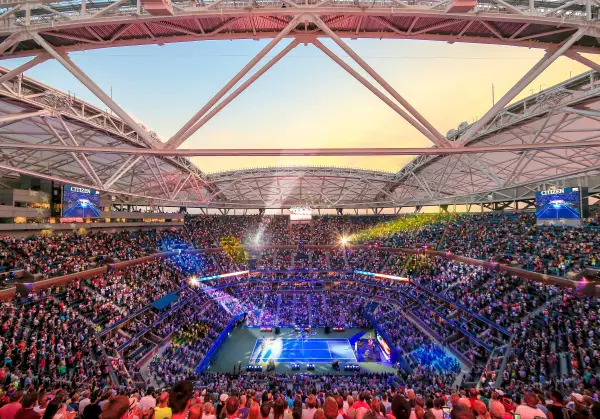 (8/26-9/8) We can think of one good reason to look forward to the end of the summer, especially if you're a big-time tennis fan: the 2019 U.S. Open Tennis Championships, held right here in New York City. This will be the tournament's 139th year, with Flushing Meadows, Queens hosting all the excitement. One of the most prestigious events in tennis, the U.S. Open is the final event in the Grand Slam, following the Australian Open, French Open, and Wimbledon. The matches are easily reached by subway; some 700,000 fans attend the U.S. Open every year. Tickets for the biggest matches can be scarce, but with tennis of this caliber, even a warm-up rally on a side court can be thrilling. Just getting onto the grounds is exciting, and you'll find a full range of food to keep your energy from flagging. usopen.org
Ongoing

Bring a loved one to take in the breathtaking view at Top of the Rock.
Visit the sites of Friends, Seinfeld, Trainwreck, Gossip Girl, Sex and the City, and many other NYC film sites with On Location Tours.

Learn more about the fascinating history of New York City's Financial District with Wall Street Walks tours.
Ripley's Believe It or Not! Odditorium brings people of all ages face-to-face with the world's most unbelievable curiosities. With 18,000 square feet of astonishing artifacts and exciting interactive exhibits. Here's a coupon!
Explore New York City from the best vantage points with Helicopter Flight Services Tours. Choose from four different itineraries.
New York Weather in August
The dog days of summer are upon New York City come August. It's full summer, which of course means hot—although not as hot as July. Highs average 82°F (28°C) on August 1st and cool down to 80°F (27°C) by August 31. Average lows overnight go from 69°F (21°C) down to 65°F (18°C) by month's end. Rain is also down from July, with just an average of 3 inches, although you'll often find plenty of humidity. Do like New Yorkers do and dress light for August in the city. You'll see flip-flops and minimal outfits everywhere. Subway trains are air conditioned, but platforms aren't, so avoiding too many layers is a good strategy. Days are long and outside of a few thunderstorms you shouldn't expect extreme weather, making this a very appealing month to visit the city.
---
EVERYTHING TO DO NYC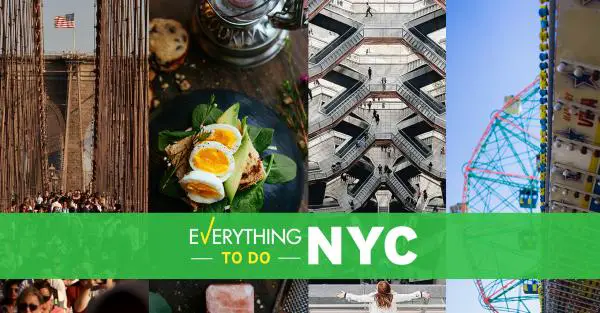 Want free advice on what to do and see in New York? Join our Facebook group Everything to Do NYC, a place for people to ask questions and get tips on how to make the most of the city.