Things to Do in NYC in August
June 28, 2018 - by City Guide News Desk
August is a great month to visit New York City. Sure, it's a hot season, but there are great restaurants and museums for cooling off (the subways are air conditioned, too). And with plenty of folks on vacation, you can access great New York festivals and attractions without the major crowds of other times of year. For August 2018, you can dine at NYC's best restaurants for a discount at NYC Restaurant Week, take in some alfresco tunes with Lincoln Center Out of Doors, catch the Afropunk Festival in Brooklyn, a Blues BBQ Festival, the 27th Annual Hong Kong Dragon Boat Festival, and much more!
EXHIBITS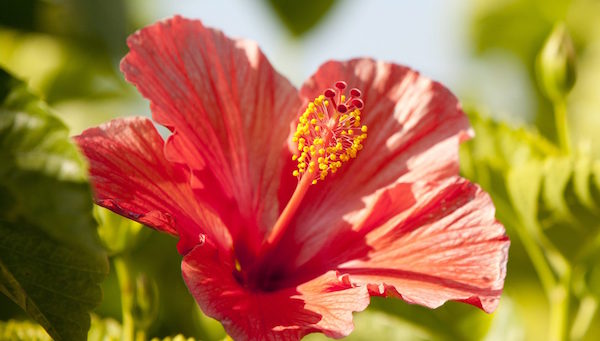 (Now-10/28) In 1939, the pioneering American Modernist Georgia O'Keeffe (1887–1986) went to Hawaii on commission for a Hawaiian Pineapple Company promotional campaign. What she created provides the inspiration for the landmark new exhibition Georgia O'Keeffe: Visions of Hawai'i at The New York Botanical Garden. A stunning display in the LuEsther T. Mertz Library Art Gallery includes 17 of O'Keeffe's Hawaii paintings, not seen together in New York since their debut in 1940. The historic Enid A. Haupt Conservatory explores the remarkable beauty and variety of Hawaiian flora, as well as its complex botanical and cultural history. The garden (just a 20-minute Metro-North ride from Grand Central Terminal) also features a living collection of more than one million plants.
(Now-2/3/19) Escher: The Exhibition and Experience: Industry City Exploring the intersection between art, mathematics, science and poetry, Escher's works have fascinated and astounded generations of artists, architects, mathematicians, musicians and designers alike. Experience the utterly captivating and mind-bending work of graphic illustrator M.C. Escher in this new exhibition featuring more than 200 original works. eschernyc.com.
(Now-9/12) An Incredible Giacometti Retrospective Comes to the Guggenheim Museum. Swiss artist Alberto Giacometti (1901-1966), a Modernist sculptor, was a master of perspective. His elongated human figures, spindly miniatures, and ghostly paintings and drawings invite the viewer to lean in close and evaluate the work on its own terms rather than those of the viewer herself. The exhibit features more than 175 works by the artist.
(Now-9/9) Celebrating Bill Cunningham marks the New-York Historical Society's recent acquisition of objects, personal correspondence, ephemera, and photographs that reflect the life and work of Bill Cunningham. One of the late 20th century's most influential trend-spotters and style authorities, the legendary New York Times journalist and photographer was frequently spied on the city's streets, at fashion shows, and elegant soirées capturing images of New York's fashion innovators and cultural glitterati. Among the highlights of Celebrating Bill Cunningham are a bicycle that he rode around the city; his first camera, an Olympus Pen-D, 35mm; signature blue jacket; personal photographs of Cunningham at home and with friends; correspondence, including a few of the hand-made Valentines he frequently sent to friends; and a New York City street sign, "Bill Cunningham Corner," that was temporarily installed at Fifth Avenue and 57th Street in his honor, following his death. Soon after he arrived in New York, Cunningham worked as a milliner, and items on view from his millinery line, William J., include an innovative beach hat, along with other hats and fascinators; and a press release written for the William J. spring 1960 millinery show. Also on display are selections from Cunningham's Facades, his eight-year photographic project documenting New York City's architectural and fashion history, which was shown at the museum in 2014.
(Now-10/8) Heavenly Bodies at the Metropolitan Museum of Art and The Cloisters. Heavenly Bodies: Fashion and the Catholic Imagination reflects the influence of religious art, ceremony, and imagery on clothing design. It's a sprawling show, literally—encompassing 65,000 square feet and 25 galleries, including The Cloisters (the museum's uptown branch dedicated to medieval art, housed in reconstituted European chapels and cloisters) and parts of the Lehman Wing, the Costume Center, and the medieval and Byzantine art galleries at The Met itself.
(Now-9/9) Surface/Depth: The Decorative After Miriam Schapiro at the Museum of Arts and Design (MAD). In June of 2015, Miriam Schapiro, the pioneering feminist artist and founding member of the Pattern and Decoration movement, passed away at the age of ninety-one. Surprisingly, given her status as the elder stateswoman of the feminist art movement, the tremendous impact of her oeuvre on contemporary art has yet to be fully acknowledged or critically assessed. This exhibition seeks to redress this gap in the history of American art through an exploration of Schapiro's signature femmages, the term she coined to describe her distinctive hybrid of painting and collage inspired by women's domestic arts and crafts and the feminist critique of the hierarchy of art and craft. You can read more about it here.
(Now-12/2/18) Art of the Mountain: Through the Chinese Photographer's Lens at the China Institute. Featuring over 60 photographs from a range of modern Chinese photographers, this exhibition will allow visitors to consider the role of mountains in China's geography, history, art, and philosophy.
(Now-10/14) The American Folk Art Museum presents Charting the Divine Plan: The Art of Orra White Hitchcock, which brings together aspects of art, love, science, and religion, as expressed by one of America's first female scientific illustrators. Working in the mid-19th century, Orra White Hitchcock was equally skilled in the natural sciences and in art, and her illustrations of plant life, geological formations, fossilized animals, and dinosaur tracks were used in Amherst College lectures and the scientific journals of the day. The exhibition puts on display Hitchcock's rarely seen drawings and paintings, some up to 10 feet long, which demonstrate both scientific clarity and an unexpected modernity.
(Permanent) The Jim Henson Exhibition at the Museum of the Moving Image will celebrate the life and legacy of the famed Muppet creator, exploring both his prolific career and the enduring effect his work has on pop culture to this day. Visitors can expect to learn more about the creation of such beloved works as The Muppet Show, Sesame Street, Fraggle Rock, The Dark Crystal, and Labryinth, as well as to discover the cutting-edge experimental works Henson made throughout his career.
(Permanent) The Museum of the City of New York presents NY at Its Core. Ten years in the making, New York at Its Core presents the compelling story of New York's rise from a striving Dutch village to today's "Capital of the World." The exhibition captures the human energy that drove New York to become a city like no other and a subject of fascination the world over. Entertaining, inspiring, important, and at times bemusing, New York City "big personalities," including Alexander Hamilton, Walt Whitman, Boss Tweed, Emma Goldman, JP Morgan, Fiorello La Guardia, Jane Jacobs, Jay-Z, and dozens more, parade through the exhibition.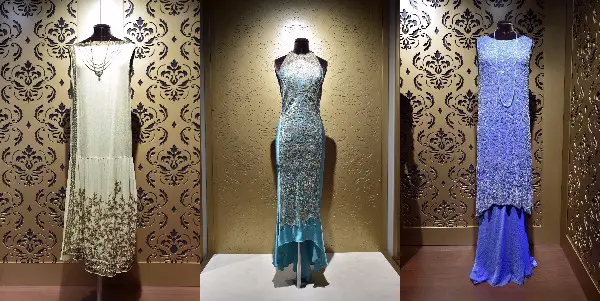 (Now-9/3) Extended! Downton Abbey: The Exhibition, based on the beloved television show Downton Abbey. Be transported to post-Edwardian England, where the characters and the iconic house come to life. You'll be immersed in the fascinating social history, culture, and some of the most memorable moments and sets from the show's six-season run, including Mrs. Patmore's kitchen and the servants' quarters.
Things to Do in New York in August: Comedy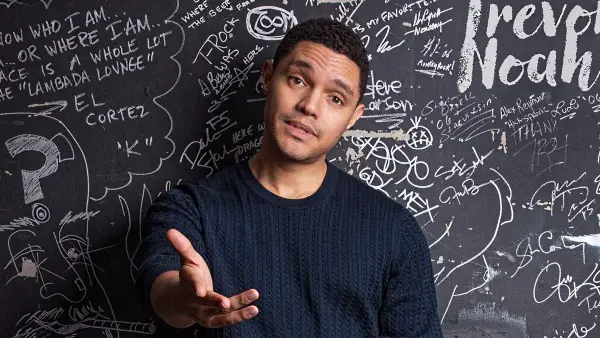 (8/12) Comedy Central's Trevor Noah at The Rooftop at Pier 17.
PLUS
(8/1) Homo Comicus at Gotham Comedy Club.
(8/1) Amy Schumer at The Rooftop at Pier 17.
(8/3-8/4) From HBO's Silicon Valley, Jimmy O Yang at Carolines.
(8/7-8/8) The Break's Michelle Wolf performs at The Bell House.
(8/17) Gina Yashere at Gotham Comedy Club.
(8/17-8/19) Breaking Bad's Lavell Crawford at Carolines.
(8/20) Jen Kirkman Live in Brooklyn at Union Hall.
(8/25) Chad Daniels at Gotham Comedy Club.
Things to Do in New York in August: Kids

(8/25) The Arthur Ashe Kids Day, part of the 2018 U.S. Open in Queens, offers a fun-filled Saturday of tennis clinics, performances, face painting, and more! arthurashekidsday.com. Tix here.
PLUS
(7/11-8/26) Summer Kid Matinees at the Museum of the Moving Image, including Yellow Submarine, The Muppet Show, The Greatest Showman, and more. 11am.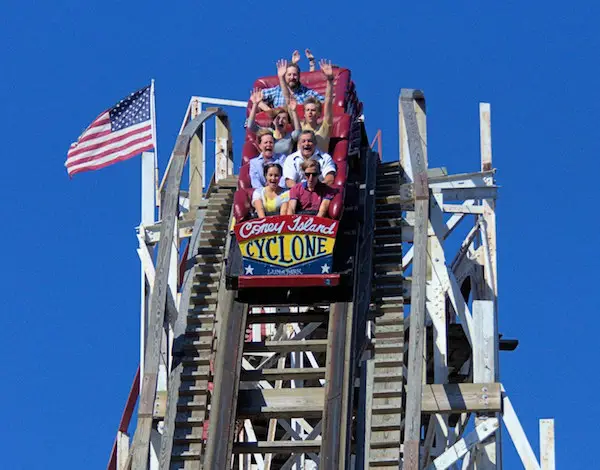 (Ongoing) Luna Park in Coney Island is open!! Grab the family, get a Luna pass and ride the Cyclone or the Cozmo Jet, plus stroll the beach with a hot dog and more!
(New) The Smash Dash game at Ripley's Believe It or Not! Times Square will keep kids on their toes! Keep your reflexes sharp, in this all-new race against time. Here is a coupon!
(Ongoing) Kids of all ages will want to check out Gulliver's Gate, a $40 million extravaganza that allows visitors to travel the globe without leaving Times Square. Latin America, Asia, the Middle East, Russia, and Europe are all here in incredibly detailed miniature. And don't let that word "miniature" fool you—Gulliver's Gate feels like it covers acres, stretching a full city block with the wonders of the world.
(ongoing) Aspiring scientists and astronauts will want to explore the New York Hall of Science in Queens, brimming with interactive exhibits (plus an outdoor playground).
Things to Do in New York in August: Music & Nightlife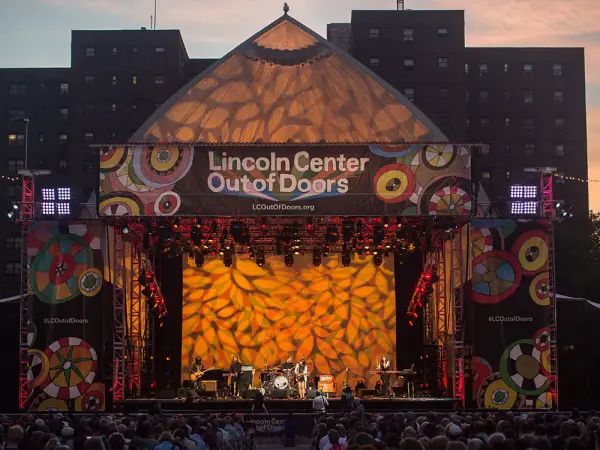 (7/24-8/12) Lincoln Center Out of Doors returns, NPR's Music Turning the Tables with Carly Rae Jepsen, Jamila Woods, I'm With Her (8/1). lincolncenter.org
PLUS
(7/29-8/25) 44th Annual Harlem Week Festival , harlemweek.com
(8/2) Kings of Leon at Pier 17.
(8/3) Patty Smyth and Scandal at Brooklyn Bowl.
(8/4) Toots and The Maytals at Brooklyn Bowl.
Photo: Agaton Strom
(Through 8/9) Enjoy Cocktail Thursdays at the Cooper Hewitt Museum.
(7/23-8/17) NYC Restaurant Week.
(now-8/13) The popular free Shakespeare in the Park program returns to Central Park, with Twelfth Night).
(7/25-8/20) Mostly Mozart Festival at Lincoln Center.
(7/26-8/5) Screenings of 2001: A Space Odyssey at the Museum of the Moving Image, celebrating the film's 50th anniversary.
(8/1-8/2) Lord Huron at Brooklyn Steel.
(8/3) Wasabassco Burlesque at City Winery.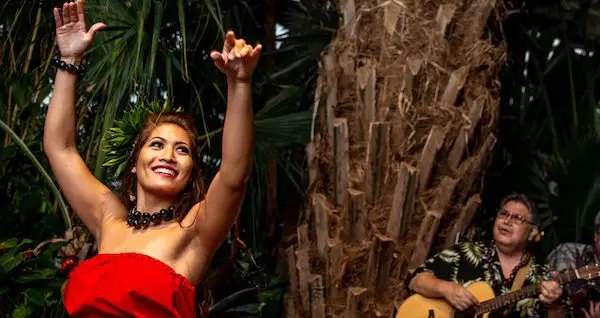 (8/4, 8/18) The incredible artistry of Modernist pioneer Georgia O'Keeffe is on display this summer at The New York Botanical Garden, just a quick trip from Grand Central in the Bronx. Select Saturday evenings celebrate the rich cultural artistry of the Hawaiian Islands with an after-hours viewing of Georgia O'Keeffe: Visions of Hawai'i and interactive hula lessons, live music, lei-making demonstrations, and Aloha Nights's signature cocktail; the Passiflora Punch.
(8/7-8/8) A Very Special Evening with Regina Spektor Solo at Brooklyn Steel.
(8/10) Shakira: El Dorado World Tour stops by Madison Square Garden.
(8/11) Morris Day & The Time at Sony Hall.
(8/13) Cold War Kids at Brooklyn Steel.
Photo: Bachrach Photograph
(8/17) Rufus Wainwright performs at the Capitol Theatre in Port Chester.
(8/17) Cake and Ben Folds perform at Forest Hills Stadium.
(8/21) Michael McDonald at Pier 17.
(8/21-8/22) Jeff Lynne's ELO at Madison Square Garden.
(8/23) Billy Joel at Madison Square Garden.
(8/24) Buster Poindexter at City Winery.
(8/24) Percussionist Sheila E. at Sonny Hall.
(8/25) Gladys Knight and the O'Jays at Pier 17.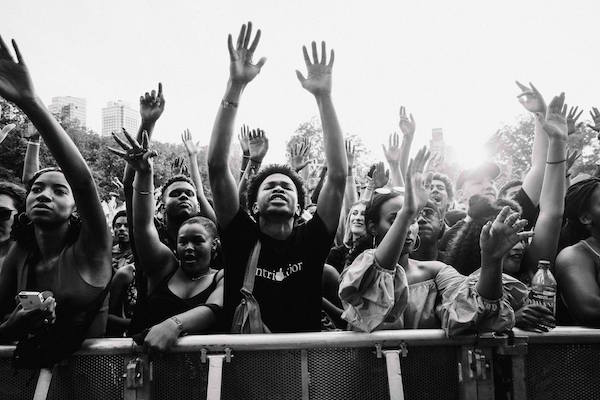 (8/25-8/26) Afropunk Festival at Commodore Barry Park, Brooklyn, with Janelle Monae, Erykah Badu, Lolawolf, Blackpantera, and many others.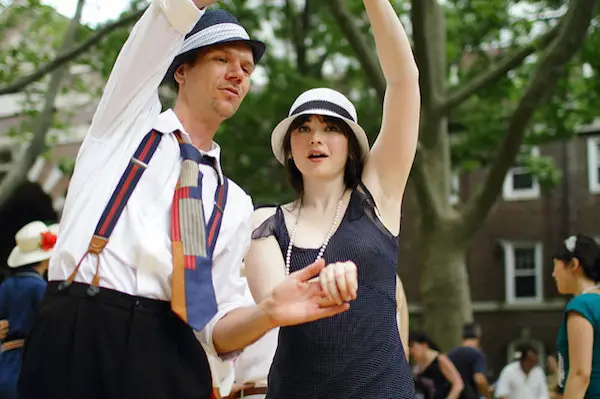 (8/25-8/26) The Jazz Age Lawn Party on Governors Island. Just a short ferry ride from Brooklyn or Lower Manhattan will bring you to festivities the whole family can enjoy. The weekend celebrates the 1920s with dancing lessons and a Charleston dance contest, a motorcar exhibition, a pie contest, and more! jazzagelawnparty.com
(8/30-9/1) Drake: Aubrey & The Three Migos Tour at Barclays Center.
For information on LGBT nightlife, visit our brother site metrosource.com!
Things to Do in New York in August: Sightseeing
(8/18) The Blues BBQ Festival at Pier 97 will feature tasty goodness from Arrogant Swine, Dinosaur Bar-B-Cue, and Fort Gansevoort BBQ. There's also live entertainment, with The Slam Allen Band, Danielle Nicole, Welch Ledbetter Collection, and more!
PLUS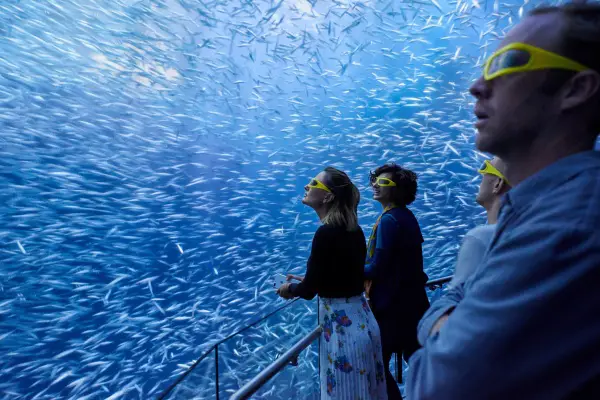 Immerse yourself in the deep, dark depths of the ocean, where Humboldt squid fight to the death, 50 foot whales ride overhead, play with sea lions, navigate a sea kelp maze and more at National Geographic Encounter: Ocean Odyssey! And on Fridays throughout the summer enjoy a FREE glass of wine or a non-alcoholic beverage, after 4pm. Here is a $5 off coupon.
It's back! Ride THE BEAST and experience NYC's custom-built offshore racing powerboat, the BEAST! Zoom across the water at a heart-pounding 45mph on a ride down to the Statue of Liberty and back!
New! Check out NYC's hottest new museum, exploring the world of espionage, SPYSCAPE!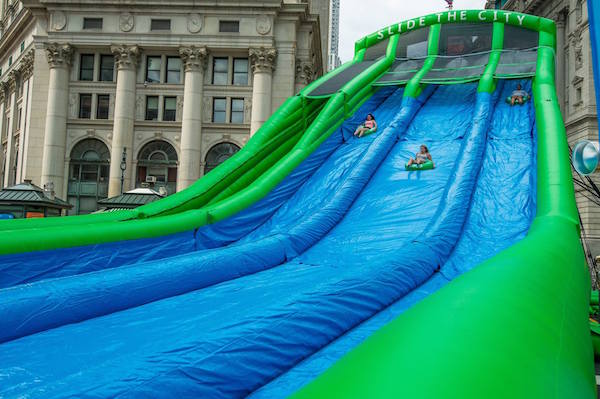 (8/4, 8/11, 8/18) Citi Summer Streets returns to make a splash with traffic-free stretches of roadway opened up across the city. Centre Street in Lower Manhattan will be transformed into a makeshift beach and waterpark, including a giant 300-foot waterslide. New this year, a water park shaped like a dishwasher. Get an early start: Citi Summer Streets runs from 7am-1pm.
(8/11-8/12) The 28th Annual Hong Kong Dragon Boat Festival at Flushing Meadows Corona Park in Queens. hkdbf-ny.org
(8/29) India Parade NYC 2018 fianyjct.org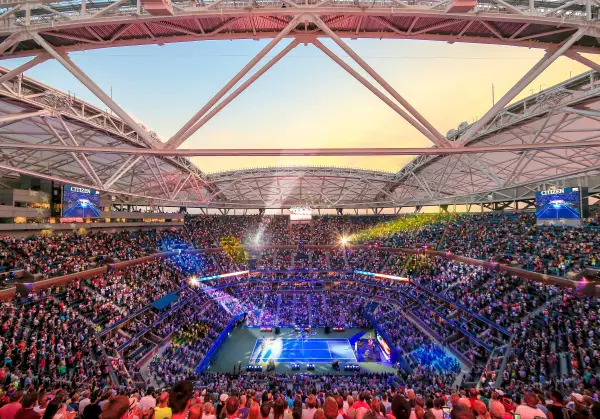 (8/28-9/10) We can think of one good reason to look forward to the end of the summer, especially if you're a big-time tennis fan: the 2018 U.S. Open Tennis Championships, held right here in New York City. This will be the tournament's 137th year, with Flushing Meadows, Queens hosting all the excitement. One of the most prestigious events in tennis, the U.S. Open is the final event in the Grand Slam, following the Australian Open, French Open, and Wimbledon. The matches are easily reached by subway; some 700,000 fans attend the U.S. Open every year. Tickets for the biggest matches can be scarce, but with tennis of this caliber, even a warm-up rally on a side court can be thrilling. For grounds passes and tickets to the courts, Prominent Tickets can help. Just getting onto the grounds is exciting, and you'll find a full range of food to keep your energy from flagging. usopen.org
Ongoing

Bring a loved one to take in the breathtaking view at Top of the Rock.
Visit the sites of Friends, Seinfeld, Trainwreck, Gossip Girl, Sex and the City, and many other NYC film sites with On Location Tours.

Learn more about the fascinating history of New York City's Financial District with Wall Street Walks tours.
Ripley's Believe It or Not! Odditorium brings people of all ages face-to-face with the world's most unbelievable curiosities. With 18,000 square feet of astonishing artifacts and exciting interactive exhibits. Here's a coupon!
Zip up 100 stories in 60 seconds and see New York City atop One World Observatory. Here is a coupon!
Explore New York City from the best vantage points with Helicopter Flight Services Tours. Choose from four different itineraries.
New York Weather in August

The dog days of summer are upon New York City come August. It's full summer, which of course means hot—although not as hot as July. Highs average 82°F (28°C) on August 1st and cool down to 80°F (27°C) by August 31. Average lows overnight go from 69°F (21°C) down to 65°F (18°C) by month's end. Rain is also down from July, with just an average of 3 inches, although you'll often find plenty of humidity. Do like New Yorkers do and dress light for August in the city. You'll see flip-flops and minimal outfits everywhere. Subway trains are air conditioned, but platforms aren't, so avoiding too many layers is a good strategy. Days are long and outside of a few thunderstorms you shouldn't expect extreme weather, making this a very appealing month to visit the city.
---
Like what you see here? Share it with your friends on Facebook!
Looking for Free Group Planning Services?
Get free advice on planning your group's trip to New York.
RESTAURANTS

Vida Verde brings the tastes, colors, sounds, and scents of ...

THEATER

Kander and Ebb's "musical vaudeville" in which Roxie Hart ga...

SHOPPING

An array of quality branded merchandise showcasing HBO's® aw...

SIGHTSEEING

The only provider of ferry transportation to the Statue of L...