July is a great month to visit New York City. If you're looking for things to do in NYC, the museums serve up exciting exhibits and outdoor venues pack their stages with the hottest music festivals and entertainment, almost all of it free. The weather is perfect for a cruise to take in NYC's breathtaking skyline.
THINGS TO DO IN NEW YORK IN JULY: SPECIAL EVENTS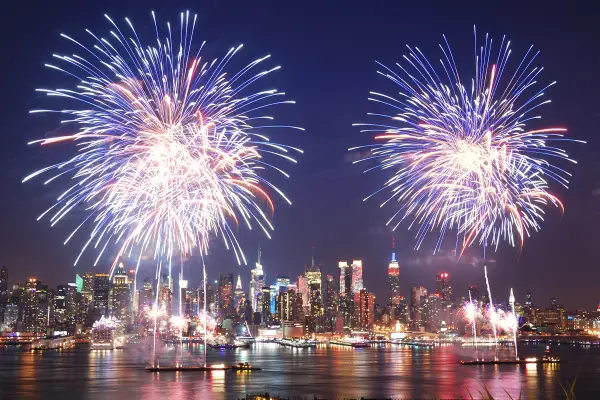 The very best place to watch the show is right from the water on one of New York's famous cruise ships. You can declare your independence from crowds aboard the Circle Line July 4th Fireworks Cruise, starting at 6pm. (Standard & Premium options available.) A July 4th-themed buffet and free beer and wine complement the action. On Spirit Cruises, choose from an afternoon NY Statue of Liberty Lunch Cruise or the open bar, three-course buffet, games, DJ, and dance floor aboard the nighttime NY 4th of July Fireworks Dinner. Manhattan's premier all-glass, European-inspired dining cruise ship Bateaux is the most sophisticated way to watch the show. The five-hour Independence Day Fireworks Dinner includes a plated meal and platinum open bar. Aboard Hornblower Cruises, they have an evening July 4th Nautical New York Cruise that includes appetizers, a picnic buffet, DJ & dinner dancing, and more. Upgrade with top shelf bar and more when you choose Premier or Admiral options.
PLUS
(7/13) City of Water Day Now in its 12th year, City of Water Day is a free harbor-wide day organized by the Waterfront Alliance and its partners to get people to, on, and in the water. The South Street Seaport Museum is at the helm as this year's festival partner providing visitors to Piers 16 and 17 in Lower Manhattan's Seaport District the opportunity to meet local marine life; participate in crafts, science experiments, and other water-related activities; and learn about the work of the many organizations that connect New Yorkers to our waterfront, work towards resiliency, and protect and preserve our resources.The Con Edison Cardboard Kayak Race will return to Lower Manhattan and free PortNYC Boat Tours on all kinds of vessels, from tall ships to tugboats, will be offered from homeport docks throughout New York City. 10am-4pm.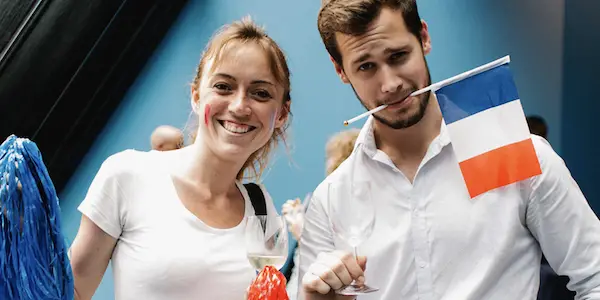 (7/14) Bastille Day Festival along 60th Street in Manhattan. Live performances by traditional French dance hall bal musette band Les P'tites Ouvreuses, jazz singer Chloé Perrier, rock band Rodeo Joe, electric big band The Blue Dahlia, theatrical dance troupe The Love Show, and a zouk dance lesson with Franck Muhel on the Main Stage (60th Street and Lexington); French singer Gérard Chambre in Florence Gould Hall; and the Hungry March Band will parade throughout 60th Street. Click here for the full schedule.
Paddlesports Galore! Free Kayaking, Rowboat Rentals & Paddleboard Yoga in NYC.
(7/20-7/21) OZY Fest, NY's most interactive festival, returns to Central Park. This year's lineup includes Trevor Noah, Alex Rodriguez, Rachel Ray, Marc Cuban, Spike Lee, Laurene Powell Jobs, Malcolm Gladwell, Padma Lakshmi, and many others.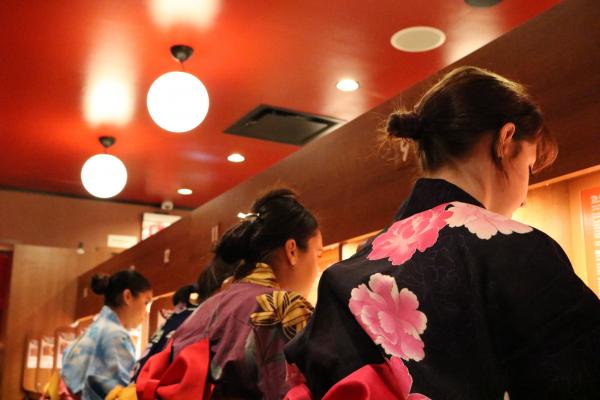 (7/3- 7/21) Come celebrate the Natsu Matsuri ("summer festival") at ICHIRAN's Brooklyn location in Bushwick! The Natsu Matsuri is filled with fun events like the Gachapon (Toy Vending Machine) where guests can win cool prizes like an ICHIRAN mug, toys, or a free noodle refill! While waiting for a seat in the restaurant, traditional Japanese games and a photo area will be set up for all guests to enjoy. ichiranusa.com
THINGS TO DO IN NEW YORK IN JULY: EXHIBITS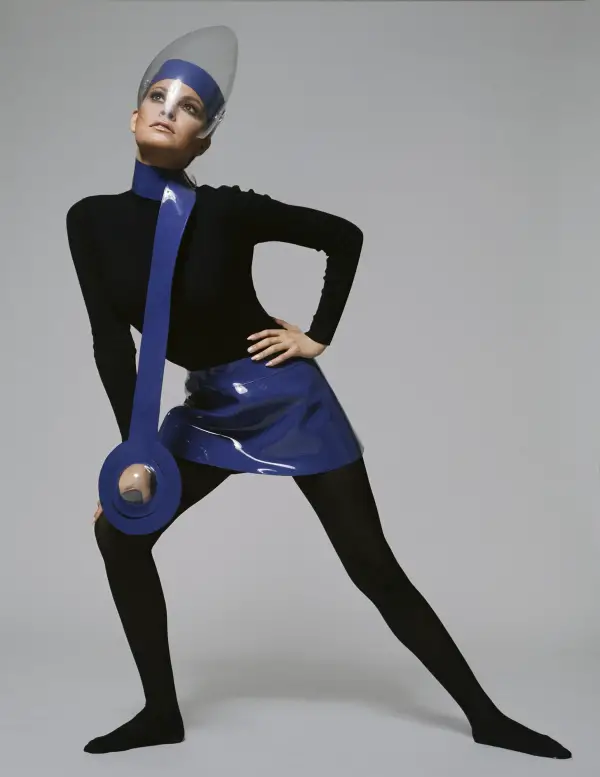 Terry O'Neill (British, born 1938). Raquel Welch in a Pierre Cardin outfit featuring a miniskirt and necklace in blue vinyl, worn with a Plexiglas visor, 1970. Image courtesy of Iconic Images. © Terry O'Neill / Iconic Images.
(7/20-1/5/20) Pierre Cardin: Future Fashion at Brooklyn Museum is the first Cardin retrospective hosted in New York in 40 years. It will display over 170 objects, including fashion pieces, from the Pierre Cardin archive, and will make connections between Cardin's futuristic aesthetic and that of his design contemporaries. Cardin's bold, geometric fashions reflected mid-century advances in technology and industry—most explicitly those concerned with space exploration. In fact, on a visit to NASA in 1971, Cardin donned an Apollo 13 astronaut suit and became the only civilian ever to do so! brooklynmuseum.org
PLUS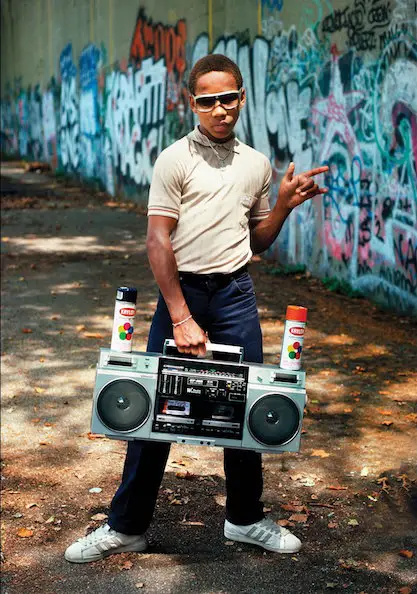 Lil' Crazy Legs during shoot for Wild Style / Riverside Park, NY, 1983 / Photo © Martha Cooper.
(6/21-8/30) Beyond the Streets at the space Twenty Five Kent in Williamsburg, Brooklyn celebrates some of the biggest names in graffiti, including work from NYC street art legends Tats Cru, Lady Pink, Keith Haring, Jean-Michel Basquiat, as well as Shepard Fairey, Invader, Brooklyn duo FAILE, artifacts from NYC's beloved Beastie Boys, street photographer Martha Cooper, and much more. $25 (kids 12 and up), $12, kids 6-11, kids 5 and under, free. Get tickets at beyondthestreets.com.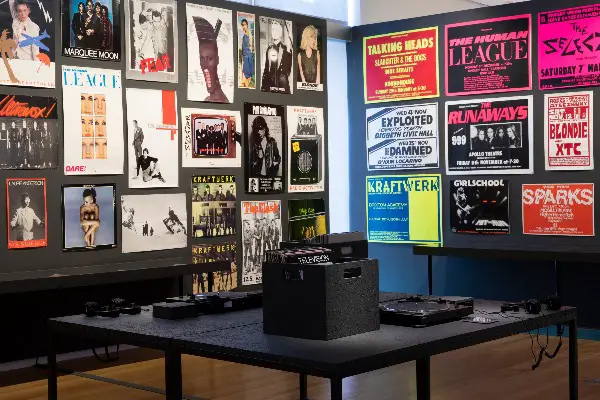 Installation view of Too Fast to Live, Too Young to Die: Punk Graphics, 1976-1986 at the Museum of Arts and Design. Photo by Jenna Bascom.
(Now-8/18) Too Fast to Live, Too Young to Die: Punk Graphics 1976-1986 at the Museum of Arts and Design. More than 40 years after punk exploded onto the music scenes of New York and London, its impact on the larger culture is still being felt. Born in a period of economic malaise, punk's energy coalesced into a powerful subcultural phenomenon that transcended music to affect other fields, and especially graphic design. Too Fast to Live, Too Young to Die explores the visual language of punk through hundreds of its most memorable graphics, from the shocking remixes of expropriated images and texts to the DIY zines and flyers that challenged the commercial slickness of the mainstream media. #PunkGraphics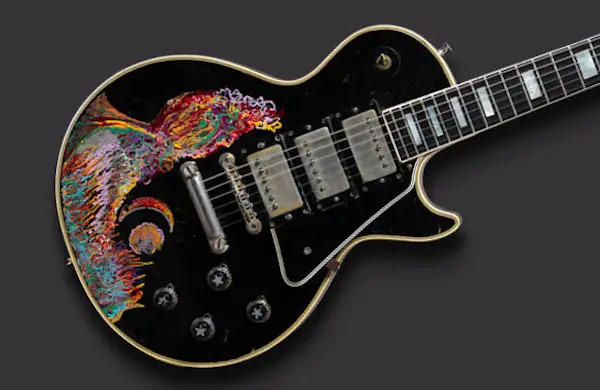 (Now-10/1) Play It Loud: Instruments of Rock & Roll at the Metropolitan Museum of Art. When you see the sheer volume (some 130) of mind-blowing instruments that have been played by a broad cross-section of iconic musicians, all tucked into one space, you'll understand why the Met is the appropriate place for this show. It's the first time a music exhibit of this magnitude has been presented, co-organized with the Rock & Roll Hall of Fame. While guitars primarily make up the exhibit (you can see the white guitar Jimi Hendrix played at Woodstock, Prince's 1993 "Love Symbol" guitar, one of Pete Townshend's smashed guitars encased in Lucite, and Joan Jett's guitar, among others), there are other instruments, including Jerry Lee Lewis's gold baby grand piano, Lady Gaga's custom Artpop piano, and The Who's drum kit. #MetRockandRoll
(5/24-9/22) Stonewall at 50 at the New-York Historical Society. New-York Historical Society commemorates the 50th anniversary of the Stonewall uprising and the dawn of the gay liberation movement this summer, as New York City welcomes WorldPride, the largest Pride celebration in the world. Stonewall 50 at New-York Historical Society features two exhibitions and a special installation, as well as public programs for all ages.
(Now-1/3/20) The most significant site of the Holocaust, Auschwitz was not a single entity, but a complex of 48 concentration, forced labor, and extermination camps, at which 1 million Jews—and tens of thousands of others—were murdered. Auschwitz. Not long ago. Not far away., a new exhibition at the Museum of Jewish Heritage—A Living Memorial to the Holocaust, explores the legacy of history's deadliest mass murder site. More than 700 original objects and 400 photographs are on display, many for the first time in North America. Among the artifacts: personal possessions, fragments of a barrack, a gas mask used by the SS, and an original German-made Model 2 freight wagon used for the deportation of Jews to the ghettos and extermination camps in occupied Poland.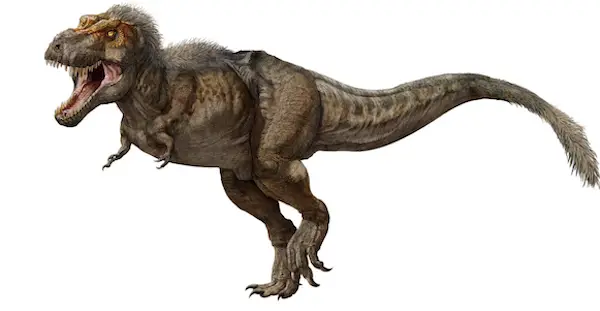 (Now-8/9/2020) T. rex: The Ultimate Predator at the American Museum of Natural History. Visitors will encounter a massive, life-sized model of a T. rex with patches of feathers—which, as scientists now know, were likely present on nearly all non-avian dinosaurs (all dinosaurs other than birds)—as well as reconstructions of a fluffy T. rex hatchling and a four-year-old juvenile T. rex; a "roar mixer" where visitors can imagine what T. rex might have sounded like by blending sounds from other animals; a shadow theater where a floor projection of an adult T. rex skeleton will come to life; and a magnetic wall where visitors will be tasked with placing various tyrannosaur family members in the correct time period. They will also encounter a life-sized animation of T. rex in the Cretaceous and explore real data from fossil specimens, CT scans, and microscope images at a tabletop Investigation Station. In collaboration with HTC VIVE, the Museum will present V. rex (working title) as its first interactive, multi-player virtual reality experience. Visitors will team up to build a T. rex skeleton bone by bone and then watch as it comes to life in what is now Montana, as it was 66 million years ago.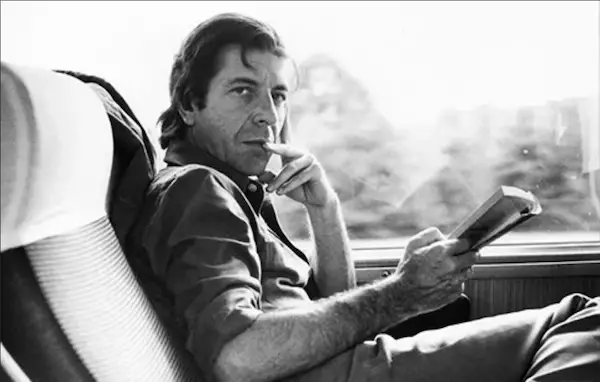 (Now-9/8) Leonard Cohen: A Crack in Everything at The Jewish Museum is the first exhibition entirely devoted to the imagination and legacy of the influential singer/songwriter, man of letters, and global icon from Montréal, Canada. The exhibition includes commissioned works by a range of international artists who have been inspired by Cohen's style and recurring themes in his work, a video projection showcasing Cohen's own drawings, and an innovative multimedia gallery where visitors can hear covers of Cohen's songs by musicians such as Lou Doillon; Feist; Moby; and The National with Sufjan Stevens, Ragnar Kjartansson, and Richard Reed Parry, among others.
(Now-7/10; second half 7/24-1/5/20) Implicit Tensions: Mapplethorpe Now at The Solomon R. Guggenheim Museum. Robert Mapplethorpe, one of the most critically acclaimed and controversial American artists of the late 20th century, is represented in great depth in the Guggenheim's collection. In 1993 the museum received a generous gift of approximately two hundred photographs and unique objects from the Robert Mapplethorpe Foundation, creating one of the most comprehensive public repositories in the world of this important artist's work. In 2019, 30 years after the artist's death, the Guggenheim will celebrate the sustained legacy of his work with a yearlong exhibition in two sequential parts in the museum's Mapplethorpe Gallery on Tower Level 4.
(Ongoing) Faith and Empire at the Rubin Museum. Religion has influenced and empowered countless political leaders throughout history, and Tibetan Buddhism is no exception. "Faith and Empire: Art and Politics in Tibetan Buddhism" is the first exhibition of its kind to explore Tibetan Buddhism's dynamic political role in the empires of Asia from the 7th to the early 20th century. Artwork highlights include a set of 8th-century gilt-silver drinking vessels from the Tibetan Empire; an early 13th-century wrathful icon made of silk and ornamented with tiny seed pearls; a 4 ½-foot-tall 680-pound gilt-bronze bodhisattva from the early 15th-century Ming court; and a 19th-century 8-feet-wide Mongolian depiction of the final battle against the heretics and nonbelievers. The exhibition is arranged chronologically, beginning with the Tibetan Empire in the 7th century, and includes sections on the Tangut kingdom of Xixia, the Mongol Empire, the Chinese Ming dynasty, the rule of the Dalai Lamas, and the Manchu Qing dynasty.
(Now-7/28) Made in New York City: The Business of Folk Art at the American Folk Art Museum. Folk art may seem like something that flourishes best in isolated areas, but it's been a vibrant tradition in the heart of New York City for centuries. In fact, many objects associated with the heartland were originally manufactured by artisans here. A new show uses some 100 works by self-taught artists to tell the story of how New York became the commercial and financial capital of the country, as seen through the lens of the folk art that was made here. From stoneware cast in the West Village to advertising figures made on Canal Street to weathervanes forged in the Bronx to carousel animals carved on Coney Island, see how New York City was the center of it all.
(Permanent) The Jim Henson Exhibition at the Museum of the Moving Image celebrates the life and legacy of the famed Muppet creator, exploring both his prolific career and the enduring effect his work has on pop culture to this day. Visitors will learn more about the creation of such beloved works as The Muppet Show, Sesame Street, Fraggle Rock, The Dark Crystal, and Labryinth, as well as discover the cutting-edge experimental works Henson made throughout his career.
THINGS TO DO IN NEW YORK IN JULY: COMEDY

(7/5-7/6) Rich Vos at Gotham Comedy Club.
PLUS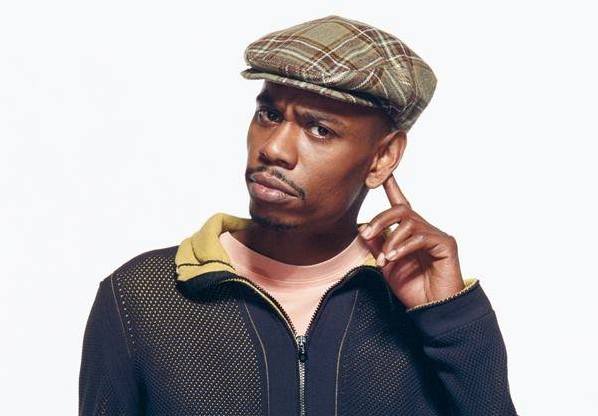 (7/9-7/13) Dave Chappelle is making his Broadway debut with five nights at the Lunt-Fontanne Theatre. Tickets go on sale June 24.
(7/12-7/13) Joe List at Gotham Comedy Club.
(7/11-7/13) Bill Bellamy, co-host of the Tom Joyner Morning Show, at Carolines.
(7/24-8/24) Aussie comedienne with her own Netflix special Hannah Gadsby performs at the Daryl Roth Theatre.
(7/28) Vicki Barbolak at Gotham Comedy Club.
KIDS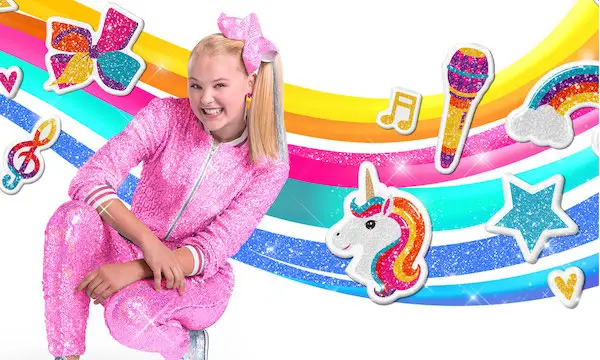 (7/21) Nickelodeon's JoJo Siwa D.R.E.A.M. the Tour stops at Forest Hills Stadium.
PLUS
(7/13) LC Kids Dance with Dancing Classrooms at Damrosch Park, part of Lincoln Center's Midsummer Night Swing. Recommended for kids 6-10. For more than two decades, the folks at Dancing Classrooms have been spreading the joy of social dance to thousands of kids in New York City schools. Join them for this beloved (and free!) annual all-ages dance lesson where kids can learn the basics of merengue, tango, salsa, and swing before taking a spin on the dance floor. 3-4:30pm. FREE!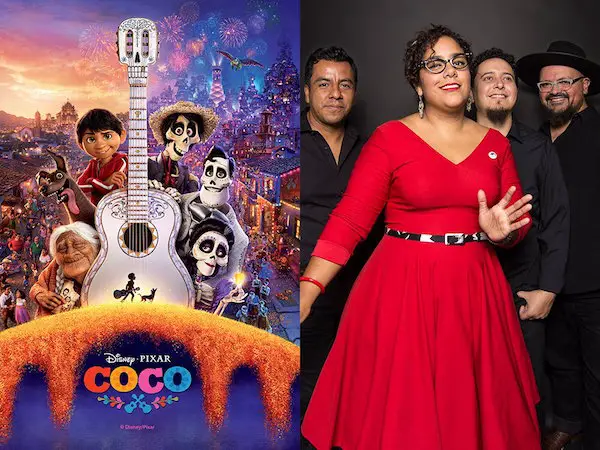 (7/25) Disney/Pixar's Coco & La Santa Cecila at Damrosch Park, for Lincoln Center Out of Doors. Named for the patron saint of music, effervescent Latin fusion band La Santa Cecilia is fronted by the charismatic Marisol Hernandez (a.k.a. La Marisoul), who "sings like the love child of Janis Joplin and Celia Cruz" (Los Angeles Times). She's joined by accordionist and requintero José "Pepe" Carlos, bass player Alex Bendaña, and percussionist Miguel "Oso" Ramirez. Seamlessly integrating cumbia, bossa nova, rumba, bolero, tango, jazz, rock, klezmer, and any other musical genre that crosses their path, the Grammy-winning band's smart songs are vibrant reflections of Los Angeles's tapestry of cultures. Following the performance will be a screening of Disney/Pixar's Coco. 7pm. FREE!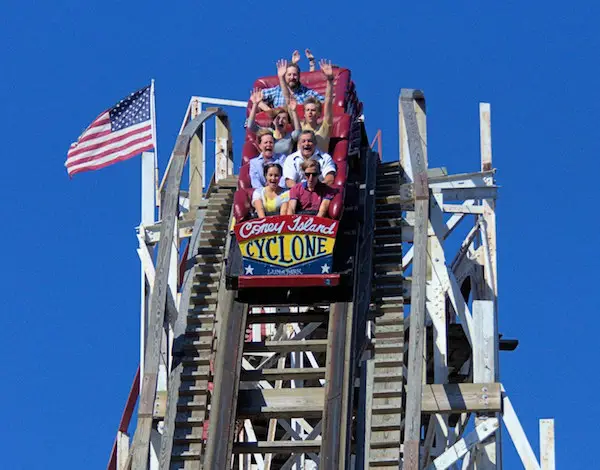 (Ongoing) Luna Park in Coney Island is open!! Grab the family, get a Luna pass and ride the Cyclone, the Cozmo Jet, stroll the beach with a hot dog, and more!

(Permanent) Connecting Worlds at the New York Hall of Science in Queens. Easy to get to by the 7 train, NYSCI's groundbreaking exhibition is open Monday–Friday, 10am–4:30pm (last session at 4 pm) and Saturday and Sunday, 11am–5:30pm (last session at 5pm). Free timed tickets are required for entry. Presented in the iconic Great Hall, Connected Worlds immerses visitors in a fantastical animated world where your actions–gestures, movements, and decisions–impact how well the world is kept in balance. There are six habitats in Connected Worlds: jungle, desert, wetlands, river valley, reservoir, and grasslands. Each has its own trees, plants, and animals, but they share a common supply of water. The habitats are fed by a central waterfall that is projected 38-ft high in the exhibitions and flows out across an interactive floor that spans 2,300 square feet. While interacting with Connected Worlds, visitors explore the interconnectedness of different habitats, strategize to keep systems in balance, and experience how individual and collective actions can have widespread impact.
(New! Now-9/8) Above & Beyond: The Ultimate Flight Exhibition at The New York Hall of Science, NYSCI's summer exhibition uses flight simulation, augmented reality, touch tables, design and skill challenges, virtual reality and more to immerse visitors in the wonders of flight, space travel and aerospace innovation, design and technology. Above and Beyond is presented by Boeing and produced by Evergreen Exhibitions in collaboration with NASA and the Smithsonian's National Air and Space Museum.
(Ongoing) Blue Man Group at Astor Place Theatre. Best known for their wildly popular theatrical shows, Blue Man Group combines music, comedy, and multimedia theatrics to produce a unique form of entertainment. The hour and forty five minute show is fun for the whole family. The show recently celebrated its 25th anniversary.
(Ongoing) Exhilarating Family Fun at Stomp NYC. Special discount packages available!
For more kids activities, check out our sister site nymetroparents.com!
MUSIC & NIGHTLIFE
(7/24-8/11) Lincoln Center Out of Doors returns.
PLUS
(Now-9/30) That's right, it's rosé all day once again. Rosé Mansion is back for another summer residency in NYC after a successful run last year. The designs in all 14 rooms will be brand-new, and the mansion will be twice the size of last year's iteration. You'll get tastings of 8 different pink wines as you travel through a champagne ball pit, a mini-theme park called Roséland, and a tree house! There will also be two different rosé wine bars where you can hang out, plus grub from Taco Dumbo on hand. 111 W. 32nd St., rosewinemansion.com, @rosewinemansion
Do It for the Gram: 19 Instagrammable Exhibits in NYC.
(7/9-7/10) Earth, Wind, & Fire at the Beacon Theatre.
(7/9) Citizen Cope at Brooklyn Steel.
(7/12-7/13) Grab your camera and head out for evening photo ops to capture Manhattanhenge, when the sunset exactly aligns with Manhattan's street grid.
(7/13) Jennifer Lopez: The Live Celebration Tour at Madison Square Garden.
(7/17) Dave Matthews Band at Northwell Health at Jones Beach Theater.
(7/17) Aimee Mann with Johnathan Coulton at the Music Hall of Williamsburg.
(7/18) Lionel Richie at Radio City Music Hall.
(7/19-7/20) Pinknic on Randalls Island. Since its inception in 2016, Pinknic has welcomed thousands of guests, all dressed in pink and white, to take a seat on our rosé-colored picnic blankets to rosé all day with friends. With unobstructed views of the Statue of Liberty and Manhattan skyline offering the perfect backdrop, Pinknic has quickly become a New York City summer tradition. This year with Mark Ronson, Chromeo, Pnau, and more.
(7/16-8/11) The popular Shakespeare in the Park program returns to Central Park. Next up is a production of Coriolanus.
(7/19) Robyn: The Honey Tour stops at Barclays Center.
(7/20) Weird Al Yankovic performs with the Queens Symphony Orchestra: The Strings Attached Tour at Forest Hills Stadium in Queens.
(7/22) Bryant Park Summer Movies continues with a FREE screening of Eddie Murphy's Coming to America.
(7/24) Elvis Costello & Blondie share the bill at Forest Hills Stadium.
(7/24) Crooner Michael Buble at Madison Square Garden.
(7/26) John Mayer at Madison Square Garden.
(7/26-7/27) Iron Maiden at Barclays Center.
(7/28-8/24) 45th Annual Harlem Week Festival (yes, it goes on for almost a month), harlemweek.com
Ongoing The Imbible: A Spirited History of Drinking The Musical Comedy, sweeps audiences along a 10,000-year journey through history across the globe accompanied by craft cocktails and live musical performances! Save $15 off ticket price with City Guide.
SIGHTSEEING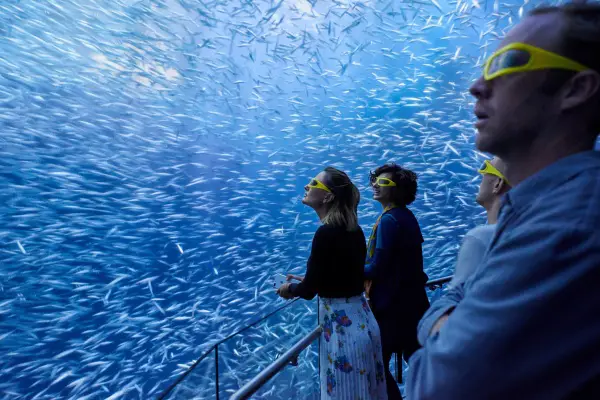 Immerse yourself in the deep, dark depths of the ocean, where Humboldt squid fight to the death, 50 foot whales ride overhead, play with sea lions, navigate a sea kelp maze and more at National Geographic Encounter: Ocean Odyssey! Here is a $10 off coupon.
PLUS
(Ongoing) Take a ride through time and learn about Downtown New York City's rich heritage with THE DOWNTOWN EXPERIENCE Powered by THE RIDE. Enhanced with virtual reality technology (thanks to Timelooper), experience highlight moments in NYC's history like never before!
(Ongoing) Baseball season is here! Take a Yankee Stadium Tour!
(Ongoing) Check out NYC's hottest new museum, exploring the world of espionage, SPYSCAPE!
Grab a photo with Taylor Swift, One Direction, Lady Gaga and others at Madame Tussauds New York. Use this coupon and save $5 off admission!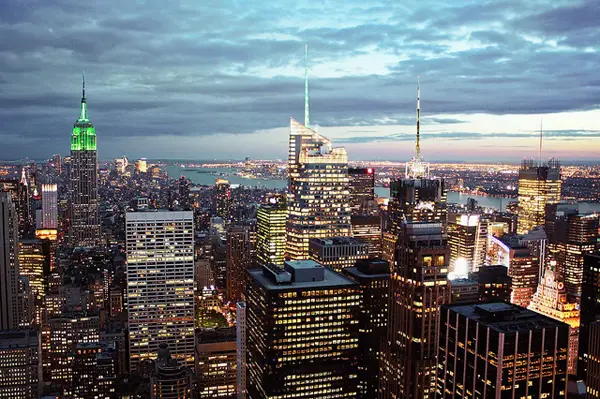 Bring a loved one to take in the breathtaking view at Top of the Rock.
Visit the sites of Friends, Seinfeld, Trainwreck, Gossip Girl, Sex and the City, and many other NYC film sites with On Location Tours.
Learn more about the fascinating history of New York City's Financial District with Wall Street Walks tours.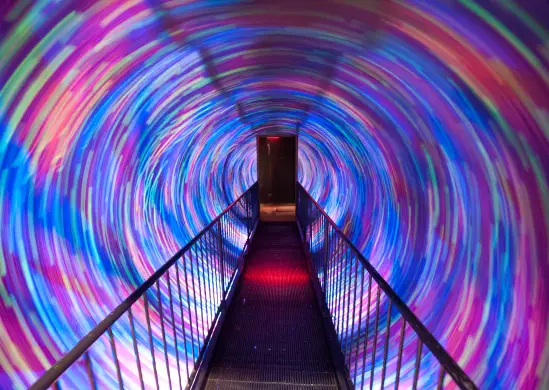 Ripley's Believe It or Not! Odditorium brings people of all ages face-to-face with the world's most unbelievable curiosities. With 18,000 square feet of astonishing artifacts and exciting interactive exhibits. Here's a coupon!
Zip up 100 stories in 60 seconds and see New York City atop One World Observatory. Here is a coupon!
Explore New York City from the best vantage points with Helicopter Flight Services Tours. Choose from four different itineraries.
New York Weather in July
July is full summer in New York, which of course means hot. In fact, this is the hottest month of the year, with highs averaging 82°F (28°C) on July 1 and topping out at 84°F (29°C) by July 31. Average lows overnight go from 67°F (19°C) up to 69°F (21°C) by month's end. July is also a wet month, with an average of 4.5 inches of rain, and also plenty of humidity. Do like New Yorkers do and dress light for July in the city. You'll see flip-flops and minimal outfits everywhere. Subway trains are air conditioned, but platforms aren't, so avoiding too many layers is a good strategy. Days are long and outside of a few thunderstorms you shouldn't expect extreme weather, making this a very appealing month to visit the city. Click here for more great ideas for a hot day in NYC!
---
Like what you see here? Share it with your friends on Facebook!