The Best Things to Do in NYC in June
May 1, 2018 - by City Guide News Desk
June is a great month to visit New York City. The museums gear up for the summer with exciting exhibits and outdoor venues pack their stages with the hottest music festivals and entertainment. The weather is perfect for a cruise to take in NYC's breathtaking skyline. June is also Pride Month, a celebration of the LGBT community, with festive events all around the city. And don't forget to show dad some extra love on Father's Day, June 18, 2018!
JUNE NYC SPECIAL EVENTS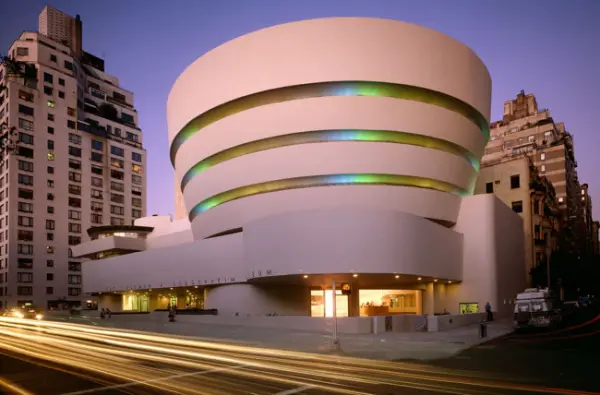 (6/12) Explore some of NYC's greatest museums for free, during the 2018 Museum Mile Festival, from 6 to 9pm.
PLUS
(5/30-6/1) BookExpo returns to Javits Center! Guests for talks will include Trevor Noah, Nick Offerman, Nicholas Sparks, Megan Mullally, Jason Fry, Viola Davis and more. bookexpoamerica.com
(6/1-6/3) All You Can Eat Ice Cream Festival, Scooper Bowl New York, in Bryant Park.
(6/2-6/3) The Washington Square Outdoor Art Exhibit is held right in the heart of Greenwich Village every spring. This eclectic art exhibit was inspired by Jackson Pollock in 1931, when he brought some of his paintings to a sidewalk near the park in hopes of making a few bucks. The event has since grown to become traditional happening in Lower Manhattan with artists requiring a nomination in order to showcase their work. wsoae.org

(6/9-6/10) The Big Apple BBQ Block Party returns to Madison Square Park. Check out the latest and greatest from some two dozens BBQ brands. New this year butchers Erika Nakamura and Jocelyn Guest, along with standbys like North Carolina whole hog purveyor Sam Jones, South Carolina legend Rodney Scott, and Brooklyn's Billy Durney of Hometown returns. Prepare for big crowds.
(6/17) Egg Rolls, Egg Creams, and Empanadas Festival at the Museum at Elder Street.
(6/18) Night at the Museums celebrates the museums in Lower Manhattan, including the Museum of Jewish Heritage, 9/11 Memorial Museum, China Institute, South Street Seaport Museum, and others. Free admission between 4-8pm. nightatthemuseums.com
(5/29-6/3) The World Science Festival offers special activities and panels throughout NYC. Perennial favorites return, including the main stage Big Ideas programs, intimate Salons, the Flame Challenge, Cool Jobs, and free outdoor events. This year also celebrates the achievements of Women in Science, and explores the impact of the award-winning teachers on the future of scientific discovery.
JUNE NYC EXHIBITS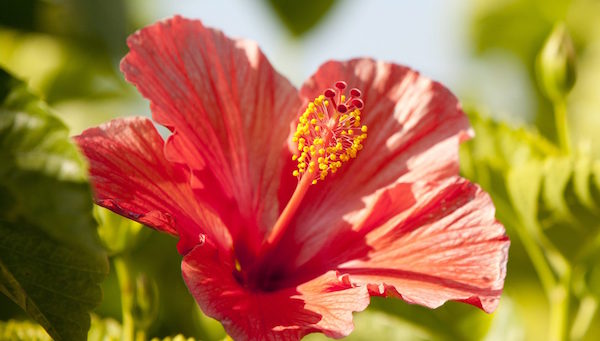 (Now-10/28) Georgia O'Keeffe: Visions of Hawaii at New York Botanical Garden. Pioneering American modernist Georgia O'Keeffe (1887–1986) conveyed a distinct sense of place with innovative depictions of her surroundings, from stark New Mexican landscapes to New York cityscapes. Yet flowers and plants were subjects that engaged O'Keeffe throughout her career. Curated by Theresa Papanikolas, Ph.D., of the Honolulu Museum of Art, this landmark exhibition will offer a rare focus on 20 of O'Keeffe's depictions of Hawai'i from a nine-week sojourn in 1939 while on commission to produce images for a Hawaiian Pineapple Company promotional campaign.
(6/8-9/12) Giacometti at the Solomon R. Guggenheim Museum, features 175+ works of the sculptor. Swiss artist Alberto Giacometti (1901-1966), a Modernist sculptor, was a master of perspective. His elongated human figures, spindly miniatures, and ghostly paintings and drawings invite the viewer to lean in close and evaluate the work on its own terms rather than those of the viewer herself.
(6/8-9/9) Celebrating Bill Cunningham marks the New-York Historical Society's recent acquisition of objects, personal correspondence, ephemera, and photographs that reflect the life and work of Bill Cunningham. One of the late 20th century's most influential trend-spotters and style authorities, the legendary New York Times journalist and photographer was frequently spied on the city's streets, at fashion shows, and elegant soirées capturing images of New York's fashion innovators and cultural glitterati. Among the highlights of Celebrating Bill Cunningham are a bicycle that he rode around the city; his first camera, an Olympus Pen-D, 35mm; signature blue jacket; personal photographs of Cunningham at home and with friends; correspondence, including a few of the hand-made Valentines he frequently sent to friends; and a New York City street sign, "Bill Cunningham Corner," that was temporarily installed at 5th Avenue and 57th Street in his honor, following his death. Soon after he arrived in New York, Cunningham worked as a milliner, and items on view from his millinery line, William J., include an innovative beach hat, along with other hats and fascinators; and a press release written for the William J. spring 1960 millinery show. Also on display are selections from Cunningham's Facades, his eight-year photographic project documenting New York City's architectural and fashion history, which was shown at the Museum in 2014.
(Now-10/8) Heavenly Bodies at the Metropolitan Museum of Art and The Cloisters. Heavenly Bodies: Fashion and the Catholic Imagination reflects the influence of religious art, ceremony, and imagery on clothing design. It's a sprawling show, literally—encompassing 65,000 square feet and 25 galleries, including The Cloisters (the museum's uptown branch dedicated to medieval art, housed in reconstituted European chapels and cloisters) and parts of the Lehman Wing, the Costume Center, and the medieval and Byzantine art galleries at The Met itself.
(6/27) The National September 11 Memorial & Museum and Hockey Hall of Famer Mark Messier present a new special exhibition, Comeback Season: Sports After 9/11, which explores how sports and athletes helped to unite the country, console a grieving nation, and give us a reason to cheer again following the 2001 attacks. The exhibit will require a free ticket with museum admission because of limited capacity in the gallery. Reserving tickets in advance is highly recommended as walk-up tickets will will be limited. Go to www.911memorial.org/ComebackSeason for more information.
(Now-7/15) On stage, he was Ziggy Stardust, Aladdin Sane, and The Thin White Duke. David Bowie, the beloved English singer/New York transplant who sang about "Changes" and is revered for perpetually changing his sound and look over a five decades-plus career, is being celebrated in David Bowie is, a major exhibition that makes its final stop at the Brooklyn Museum. This first-ever Bowie retrospective explores a creative process of reinvention, collaborations, and bold characterizations that shaped listeners' own identities. The show includes 300+ significant objects from Bowie's teens to his death in 2016, including handwritten lyrics, diary entries, photography, set designs, album artwork, and rare performance material, with many items exclusive to the Brooklyn Museum presentation. More than 60 stage costumes are on display. Advanced sound technology, alongside theatrical scene–setting, animation, and video, provides an immersive journey through Bowie's formative artistic experiences.
(Now-1/6/19) Unseen Oceans at the American Museum of Natural History enables visitors to embark on a journey four miles underground to the ocean's bottom, as they discover the latest ocean science and encounter the researchers and technologies revealing our planet as never before.
(Now-7/29) Public Parks, Private Gardens: Paris to Provence at the Metropolitan Museum of Art. Drawing largely on the encyclopedic holdings of The Met, this exhibition will illustrate the horticultural boom that reshaped much of the French landscape during the 19th century. As shiploads of exotic botanical specimens arrived from abroad and local nurserymen pursued hybridization, the availability and variety of plants and flowers grew exponentially, as did the interest in them. From paintings by the Impressionists to photographs of the era and vases made to display lush bouquets, this presentation of some 150 works will provide a fresh, multisided perspective on best-known and hidden treasures housed in a Museum that took root in a park: namely, New York's Central Park, which was designed in the spirit of Parisian public parks of the same period.
(Now-12/2/18) Art of the Mountain: Through the Chinese Photographer's Lens at the China Institute. Featuring over 60 photographs from a range of modern Chinese photographers, this exhibition will allow visitors to consider the role of mountains in China's geography, history, art, and philosophy.
(Permanent) The Jim Henson Exhibition at the Museum of the Moving Image will celebrate the life and legacy of the famed Muppet creator, exploring both his prolific career and the enduring effect his work has on pop culture to this day. Visitors can expect to learn more about the creation of such beloved works as The Muppet Show, Sesame Street, Fraggle Rock, The Dark Crystal, and Labryinth, as well as to discover the cutting-edge experimental works Henson made throughout his career.
June NYC Comedy
(6/25) Kathy Griffin: Laugh Your Head Off World Tour at Radio City Music Hall.
PLUS
(6/1) Billy Gardell at Gotham Comedy Club.
(6/7-6/9) Maz Jobrani at Carolines.
(6/8-6/9) David Koechner at Gotham Comedy Club.
(6/15-6/16) Chris Porter at Gotham Comedy Club.
(6/27) Queer Eye's grooming guru Jonathan Van Ness performs at Carolines.
(6/28-7/1) Deon Cole at Gotham Comedy Club.
June NYC Kids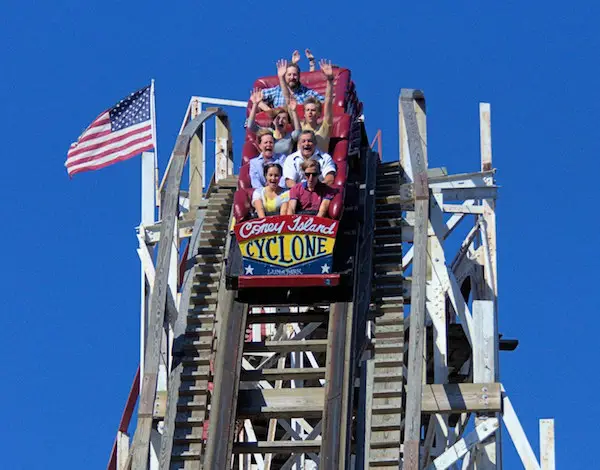 (Ongoing) Luna Park in Coney Island is now open!! Grab the family, get a Luna pass and ride the Cyclone, the Cozmo Jet, stroll the beach with a hot dog and more!
PLUS
(6/10) Los Lobos will be performing a FREE family concert, as part of the BRIC Celebrate Brooklyn Festival, in Prospect Park Bandshell at 3pm!
The Smash Dash game at Ripley's Believe It or Not! Times Square will keep kids on their toes! Keep your reflexes sharp, in this all-new race against time. Here is a coupon!
(Ongoing) Kids of all ages will want to check out the brand new Gulliver's Gate, a $40 million extravaganza that allows visitors to travel the globe without leaving Times Square. Latin America, Asia, the Middle East, Russia, and Europe are all here in incredibly detailed miniature. And don't let that word "miniature" fool you—Gulliver's Gate feels like it covers acres, stretching a full city block with the wonders of the world.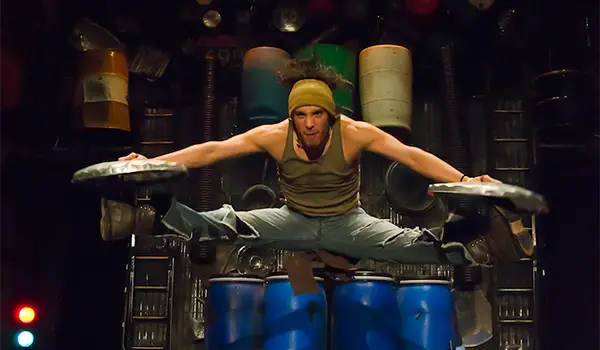 (Ongoing) Exhilarating Family Fun at Stomp NYC. Special discount packages available!
(Ongoing) Aspiring scientists and astronauts will want to explore the New York Hall of Science in Queens, brimming with interactive exhibits (plus an outdoor playground).
June NYC Music & Nightlife
Yeah Yeah Yeahs. Photo by Dan Martensen/concept by KK Barrett.
(6/1-6/3) Music fans gather for the Governor's Ball 2018 at Randall's Island Park, with a lineup including headliners Jack White, Yeah Yeah Yeahs, Travis Scott, Halsey, Eminem, N.E.R.D., and more.
(6/1-7/5) France Rocks Summerfest 2018 A series of performances by French artists at various NYC venues. francerocks.com
(6/1) Depeche Mode at Brooklyn's Barclays Center.
(6/8) Belle & Sebastian with Perfume Genius at Forest Hills Stadium.
(6/9) The Eels at Brooklyn Steel.
(6/9) Dance up a storm at The 34th Annual New York Salsa Festival at Barclays Center in Brooklyn.
(6/13) Robert Plant and the Sensational Space Shifters with Sheryl Crow at Forest Hills Stadium.
(6/13) Lucinda Williams with Steve Earle & Dwight Yoakam at the Beacon Theatre.
(6/13) Def Leppard & Journey at Madison Square Garden.
(6/14) Daryl Hall & John Oates at Madison Square Garden.
(6/15) Alt-J at Forest Hills Stadium.
(6/15) Brew at the Bronx Zoo. Round two is going to be bigger and better. From 6 to 7:30 p.m. grizzly bears, giraffes, lemurs, sea lions and more will be on exhibit. Stop by and see your favorites before the unlimited beer tastings begin. At 7 p.m. they'll start pouring samples of over 100 varieties of wine and beer so you can find a new favorite or enjoy a classic.
(6/15) Joy of Sake New York takes place at Metropolitan Pavilion. Check out a record 478 sakes, and 19 top restaurants. 6:30pm-9:30pm. joyofsake.com.
(6/16) Mermaid Parade at Coney Island. The Mermaid Parade is the nation's largest art parade and one of New York City's greatest summer events. This year's King & Queen is author Neil Gaiman and his partner, artist Amanda Palmer!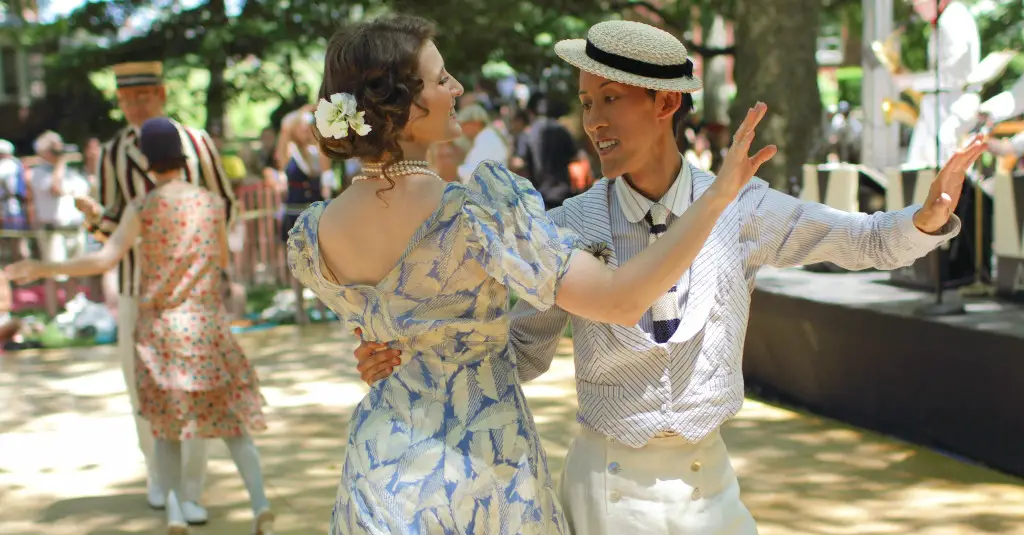 Photo: Flickr/Paul Stein

(6/16-6/17) Jazz Age Lawn Party at Governors Island. (If you miss it this time around, there's one more weekend 8/25-26.)
(6/17) Roger Daltrey performs The Who's Tommy at Forest Hills Stadium.
(6/22) Dropkick Murphy & Flogging Molly at Forest Hills Stadium.
(6/15-6/24) It's the 48th annual NYC Pride Week. Click here for more information on Where to Celebrate Pride 2018 in NYC.
(6/26) Paramore with Foster the People at Barclays Center.
(6/26) Seal at Beacon Theatre.
(6/27) Steve Miller Band & Peter Frampton at Beacon Theatre.
(6/30-7/1) Pinknic on Governors Island. Since its inception in 2016, Pinknic has welcomed thousands of guests, all dressed in pink and white, to take a seat on our rosé-colored picnic blankets to rosé all day with friends. With unobstructed views of the Statue of Liberty and Manhattan skyline offering the perfect backdrop, Pinknic has quickly become a New York City summer tradition.
Read more about Best Rooftop Bars in NYC here.
June NYC Sightseeing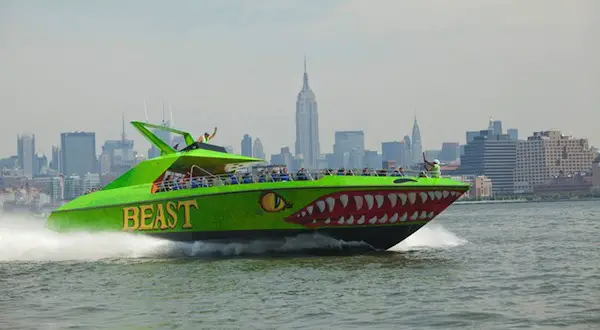 (Ongoing) See the NYC skyline like never before when you ride THE BEAST Speedboat Ride.
PLUS
(6/4) A Taste of Times Square returns! Great food, swing dancing lessons, and more!
(6/24) Porch Stomp, A Free Festival of Americana Folk Music and Dance on Governors Island.
(5/29-8/19) The popular Shakespeare in the Park program returns to Central Park. This year's productions include Othello and Twelfth Night.

(6/17) Remember Dad today with special Father's Day Brunch and Dinner Cruises with Spirit of New York.
June NYC Ongoing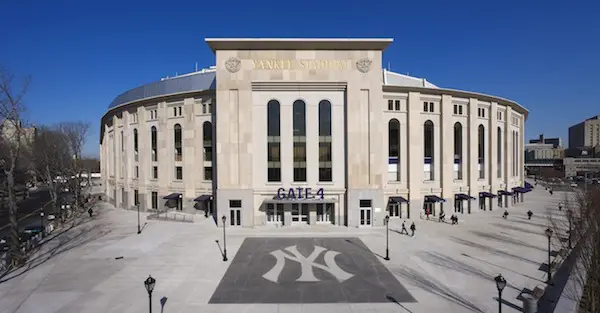 (ongoing) Baseball season is here! Take a Yankee Stadium Tour!
PLUS
Bring a loved one to take in the breathtaking view at Top of the Rock.
Visit the sites of Friends, Seinfeld, Trainwreck, Gossip Girl, Sex and the City, and many other NYC film sites with On Location Tours.

Learn more about the fascinating history of New York City's Financial District with Wall Street Walks tours.
Grab a photo with Taylor Swift, One Direction, Lady GaGa , Don Draper, Johnny Depp and many more of your favorite celebrities at Madame Tussauds New York.
Zip up 100 stories in 60 seconds and see New York City atop One World Observatory.
Explore New York City from the best vantage points with Helicopter Flight Services Tours. Choose from four different itineraries.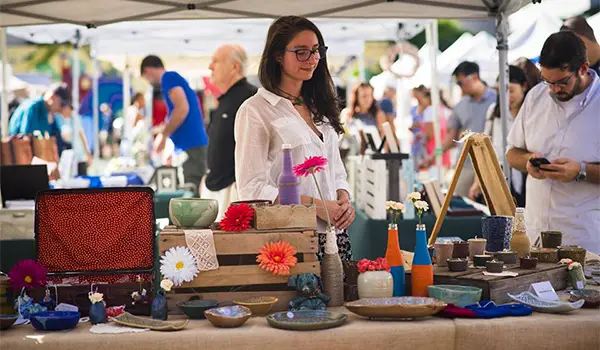 (6/3 & ongoing) Every Sunday on the Upper West Side you can find Grand Bazaar NYC, the city's largest curated market—and most distinctive! You'll find local artists and vintage/antique dealers with one-of-a-kind fashion, crafts, collectibles, and handmade jewelry. (There's also some mighty tasty artisanal treats). Sunday, June 3rd is the NYC Handmade Bazaar, where you'll find one-of-a-kind fashion, art, furniture, skincare, jewelry, pottery, stationery, leather bags, and more.
New York Weather in June
June is also a great time to be in New York weather-wise, as the conditions tend to be comfortably warm and without extremes. The average daily high on June 1 is a nice 74°F (23°C), working its way up to 83°F (28°C) by June 30. Average lows at the beginning of June are 64°F (18°C), and by the end of the month nights are only getting down to about 68°F (20°C). June tends to be a dry month, with less precipitation than May (there's an average of 13 rainy days for the month, meaning packing an umbrella is a smart call). Look for an average of about 4 inches of rain, most of it spread across June in light or moderate amounts.
---
Click here for Things to Do in NYC in July. Like what you see here? Share it with your friends on Facebook!
Looking for Free Group Planning Services?
Get free advice on planning your group's trip to New York.
RESTAURANTS

Multi-concept restaurant offering modern Japanese cuisine, a...

THEATER

Gaston Leroux's famous period thriller is now one of Broadwa...

SHOPPING

A premier destination for family entertainment....

SIGHTSEEING

Enjoy the best prices for deluxe double decker, hop-on, hop-...