They say April showers bring May flowers, which makes the merry month of May a terrific time to be in New York City. Mother's Day, Fleet Week and its special festivities at the Intrepid Sea, Air & Space Museum, and the unofficial kick-off of summer on Memorial Day are among the highlights. Read on for the best things to do in NYC in May.
Things to Do in New York in May: Exhibits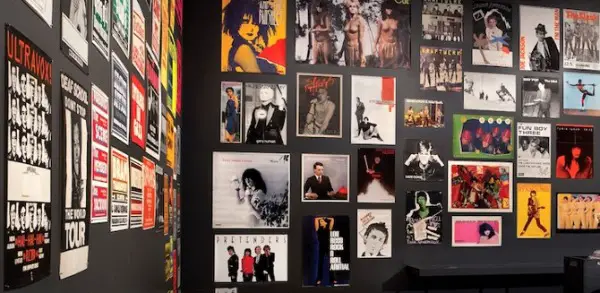 (4/9-8/18) Too Fast to Live, Too Young to Die: Punk Graphics 1976-1986 at the Museum of Arts and Design. More than 40 years after punk exploded onto the music scenes of New York and London, its impact on the larger culture is still being felt. Born in a period of economic malaise, punk's energy coalesced into a powerful subcultural phenomenon that transcended music to affect other fields, and especially graphic design. Too Fast to Live, Too Young to Die explores the visual language of punk through hundreds of its most memorable graphics, from the shocking remixes of expropriated images and texts to the DIY zines and flyers that challenged the commercial slickness of the mainstream media. #PunkGraphics
(5/2-5/5) Art New York at Pier 92/94, an important exhibition facility for the arts that annually attracts over 150,000 collectors. Art New York will offer both noteworthy and fresh works by important artists from the modern, post-war, and pop eras, and feature paintings, photography, prints, drawings, design, and sculpture.
PLUS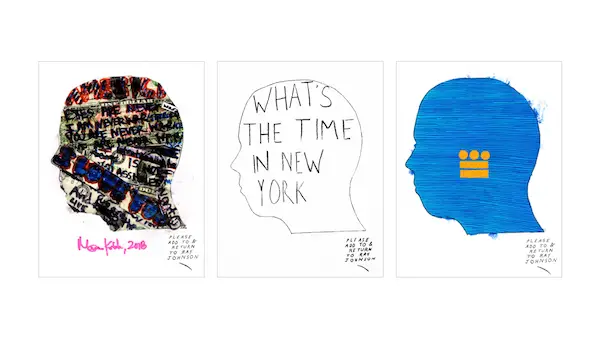 (5/2-5/5) Frieze Art New York. Head over to Randall's Island Park this spring to experience the contemporary art world in an alfresco environment. Interact with public installations, sit in on "Frieze Talks," enjoy the Frieze Art Fair's Reading Room, and, of course, lay your eyes on some of the most talked about artwork in the city. friezenewyork.com
Rockefeller Center will also be participating in this year's Frieze Art Festival, rolling out its inaugural New York edition of Frieze Sculpture. Fourteen international artists including Goshka Macuga, Ibrahim Mahama, Joan Miro, Paul Nazareth, Sara Sze, and Hank Willis Thomas will be among the artists to be featured.
(5/20-5/23) Wall Street Journal's The Future of Everything Festival Hear the most promising ideas for advancing technology and society at interviews and talks across two stages. Discover the projects and products that will transform how we live, work and play inside the Lab—an experiential, multisensory showcase of next-generation technologies and products. And get a firsthand look at the work of pioneers who have forged new paths in their industries on a Festival excursion. Get tickets here.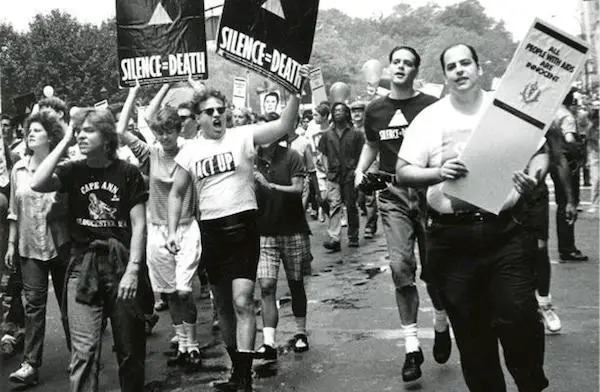 (5/24-9/22) Stonewall at 50 at New-York Historical Society. New-York Historical Society commemorates the 50th anniversary of the Stonewall uprising and the dawn of the gay liberation movement this summer, as New York City welcomes WorldPride, the largest Pride celebration in the world. Stonewall 50 at New-York Historical Society features two exhibitions and a special installation, as well as public programs for all ages. Letting Loose and Fighting Back: LGBTQ Nightlife Before and After Stonewall highlights the ways in which nightlife has been critical in shaping LGBTQ identity, building community, developing political awareness, and fostering genres of creative expression that have influenced popular culture worldwide. The exhibition begins with gay bars in the 1950s and 1960s continues through the rise of the gay liberation movement and the emergence of LGBTQ clubs as places of community activism. By the Force of Our Presence: Highlights from the Lesbian Herstory Archives, curated by the Lesbian Herstory Archives Graphics Committee, highlights community-building, organization, and networking within the LGBTQ movement with a focus on the contributions of lesbians and queer women. A grassroots organization established in 1974 in response to the widespread erasure of lesbian lives and voices, the Lesbian Herstory Archives houses the world's largest collection of materials by and about lesbians.The exhibition features photographs, books and manuscripts, periodicals, posters, zines, flyers, and clothes. A special installation, Say It Loud, Out and Proud: Fifty Years of Pride, features imagery from New York City Pride marches and other LGBTQ protests from the 1960s to the present day, as well as a timeline of milestones and objects from LGBTQ history.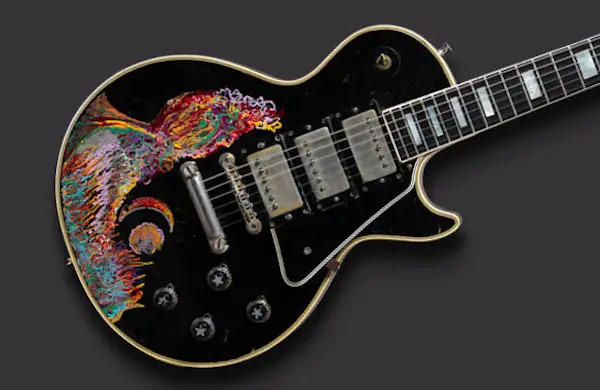 (Now-10/8) Play It Loud: Instruments of Rock & Roll at the Metropolitan Museum of Art. When you see the sheer volume (some 130) of mind-blowing instruments that have been played by a broad cross-section of iconic musicians, all tucked into one space, you'll understand why the Met is the appropriate place for this show. It's the first time a music exhibit of this magnitude has been presented, co-organized with the Rock & Roll Hall of Fame. While guitars primarily make up the exhibit (you can see the white guitar Jimi Hendrix played at Woodstock, Prince's 1993 "Love Symbol" guitar, one of Pete Townshend's smashed guitars encased in Lucite, and Joan Jett's guitar, among others), there are other instruments, including Jerry Lee Lewis's gold baby grand piano, Lady Gaga's custom Artpop piano, and The Who's drum kit. #MetRockandRoll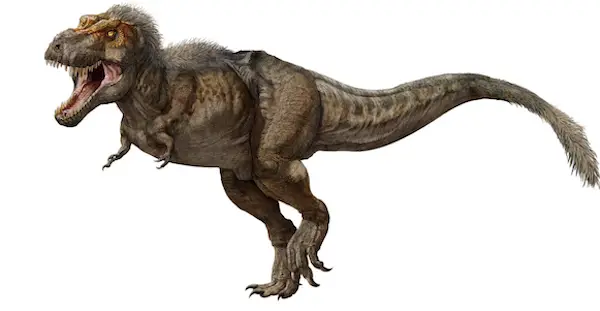 (Now-8/9/2020) T. rex: The Ultimate Predator at the American Museum of Natural History. Visitors will encounter a massive, life-sized model of a T. rex with patches of feathers—which, as scientists now know, were likely present on nearly all non-avian dinosaurs (all dinosaurs other than birds)—as well as reconstructions of a fluffy T. rex hatchling and a four-year-old juvenile T. rex; a "roar mixer" where visitors can imagine what T. rex might have sounded like by blending sounds from other animals; a shadow theater where a floor projection of an adult T. rex skeleton will come to life; and a magnetic wall where visitors will be tasked with placing various tyrannosaur family members in the correct time period. They will also encounter a life-sized animation of T. rex in the Cretaceous and explore real data from fossil specimens, CT scans, and microscope images at a tabletop Investigation Station. In collaboration with HTC VIVE, the Museum will present V. rex (working title) as its first interactive, multi-player virtual reality experience. Visitors will team up to build a T. rex skeleton bone by bone and then watch as it comes to life in what is now Montana, as it was 66 million years ago.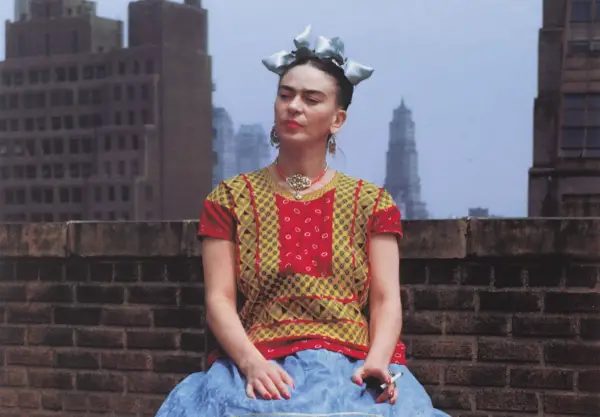 Nickolas Muray (American, born Hungary, 1892–1965). Frida in New York, 1946? printed 2006. Carbon pigment print, image: 14 x 11 in. (35.6 x 27.9 cm). Brooklyn Museum, Emily Winthrop Miles Fund, 2010.80. Photo by Nickolas Muray, © Nickolas Muray Photo Archive. (Photo: Brooklyn Museum.)
(Now-5/12) Final weeks! Mexican painter Frida Kahlo (1907-1954) lived and worked in a manner which challenged the political, social, and sexual norms of her era. Kahlo held her national identity dear and used traditional Mexican dress as a fixture of her public persona. Her large body of self-portraits created a mythos of self (some say she invented the selfie). New at the Brooklyn Museum is Frida Kahlo: Appearances Can Be Deceiving, a lush exhibition that shows off Kahlo's art, in addition to personal artifacts like her cosmetics, letters, jewelry, and clothing. Additional context is provided by items from the museum's Arts of the Americas collection, including Aztec sculptures, ceramics made in Guadalajara in the early 20th century, and an ancient Colima dog sculpture of a Xoloitzcuintli, a Mexican hairless dog that Kahlo had an affinity for. Advance tickets are available here.
PLUS
(5/8-1/3/20) The most significant site of the Holocaust, Auschwitz was not a single entity, but a complex of 48 concentration and extermination camps, at which 1 million Jews—and tens of thousands of others—were murdered. Auschwitz. Not long ago. Not far away., a new exhibition at The Museum of Jewish Heritage—A Living Memorial to the Holocaust, explores the legacy of history's deadliest mass murder site. More than 700 original objects and 400 photographs are on display, many for the first time in North America. Among the artifacts: personal possessions, fragments of a barrack, a gas mask used by the SS, and an original German-made Model 2 freight wagon used for the deportation of Jews to the ghettos and extermination camps in occupied Poland. 36 Battery Pl. (1st Pl.), 646-437-4202, mjhnyc.org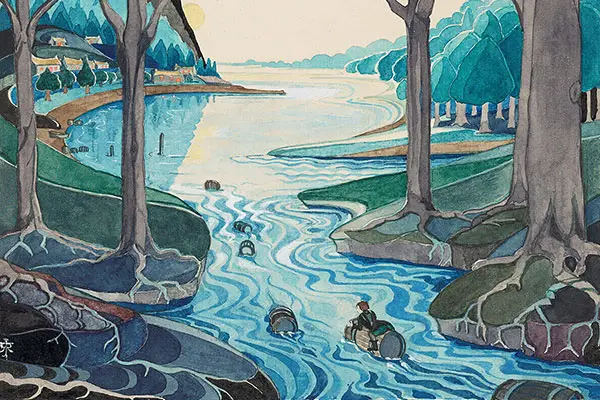 (Now-5/12) Final weeks! "In a hole in the ground there lived a hobbit." With these words Oxford professor J.R.R. Tolkien ignited a spark that's burned for generations of readers. From the children's classic The Hobbit to the epic The Lord of the Rings, Tolkien's tales of hobbits and elves, dwarves and wizards have introduced millions to Middle-earth, a world that Tolkien populated with creatures, languages, and histories. Tolkien: Maker of Middle-earth at the Morgan Library & Museum is the most extensive public display of original Tolkien material in decades, stocked with family photographs and memorabilia, maps, draft manuscripts, and Tolkien's original illustrations.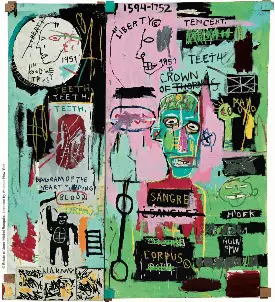 (Now-5/15) Final weeks! Jean-Michel Basquiat at The Brant Foundation Art Study Center in the East Village. Eighties it-painter Jean-Michel Basquiat, a Brooklyn product, created passionate, bold street art and canvases. He died at only 28. Organized in collaboration with the Fondation Louis Vuitton and curated by Brant Foundation founder Peter M. Brant and Dr. Dieter Buchhart, the inaugural exhibition will bring together Basquiat's most important masterworks from the Brant Collections joined by contributions from international museums and private collections. No walk ins. Get tickets here (FREE). Note: there is a waitlist.
(Now-9/8) Leonard Cohen: A Crack in Everything at The Jewish Museum is the first exhibition entirely devoted to the imagination and legacy of the influential singer/songwriter, man of letters, and global icon from Montréal, Canada. The exhibition includes commissioned works by a range of international artists who have been inspired by Cohen's style and recurring themes in his work, a video projection showcasing Cohen's own drawings, and an innovative multimedia gallery where visitors can hear covers of Cohen's songs by musicians such as Lou Doillon; Feist; Moby; and The National with Sufjan Stevens, Ragnar Kjartansson, and Richard Reed Parry, among others.
(Now-7/10) Implicit Tensions: Mapplethorpe Now at The Solomon R. Guggenheim Museum. Robert Mapplethorpe, one of the most critically acclaimed and controversial American artists of the late 20th century, is represented in great depth in the Guggenheim's collection. In 1993 the museum received a generous gift of approximately two hundred photographs and unique objects from the Robert Mapplethorpe Foundation, creating one of the most comprehensive public repositories in the world of this important artist's work. In 2019, 30 years after the artist's death, the Guggenheim will celebrate the sustained legacy of his work with a yearlong exhibition in two sequential parts in the museum's Mapplethorpe Gallery on Tower Level 4.
(Ongoing) Faith and Empire at the Rubin Museum. Religion has influenced and empowered countless political leaders throughout history, and Tibetan Buddhism is no exception. "Faith and Empire: Art and Politics in Tibetan Buddhism" is the first exhibition of its kind to explore Tibetan Buddhism's dynamic political role in the empires of Asia from the 7th to the early 20th century. Artwork highlights include a set of 8th-century gilt-silver drinking vessels from the Tibetan Empire; an early 13th-century wrathful icon made of silk and ornamented with tiny seed pearls; a 4 ½-foot-tall 680-pound gilt-bronze bodhisattva from the early 15th-century Ming court; and a 19th-century 8-feet-wide Mongolian depiction of the final battle against the heretics and nonbelievers. The exhibition is arranged chronologically, beginning with the Tibetan Empire in the 7th century, and includes sections on the Tangut kingdom of Xixia, the Mongol Empire, the Chinese Ming dynasty, the rule of the Dalai Lamas, and the Manchu Qing dynasty.
(Now-7/28) Made in New York City: The Business of Folk Art at the American Folk Art Museum. Folk art may seem like something that flourishes best in isolated areas, but it's been a vibrant tradition in the heart of New York City for centuries. In fact, many objects associated with the heartland were originally manufactured by artisans here. A new show uses some 100 works by self-taught artists to tell the story of how New York became the commercial and financial capital of the country, as seen through the lens of the folk art that was made here. From stoneware cast in the West Village to advertising figures made on Canal Street to weathervanes forged in the Bronx to carousel animals carved on Coney Island, see how New York City was the center of it all.
(Permanent) The Jim Henson Exhibition at the Museum of the Moving Image celebrates the life and legacy of the famed Muppet creator, exploring both his prolific career and the enduring effect his work has on pop culture to this day. Visitors will learn more about the creation of such beloved works as The Muppet Show, Sesame Street, Fraggle Rock, The Dark Crystal, and Labryinth, as well as discover the cutting-edge experimental works Henson made throughout his career.

(Now-6/23) A City for Corduroy: Don Freeman's New York, now open at the Museum of the City of New York, presents the gamut of Freeman's New York work, from his lively and humane depictions of ordinary New Yorkers and the city in the 1930s, to his illustrated scenes of the Broadway backstage, to his children's books inspired by the city, including not just the beloved children's Corduroy books but also Pet of the Met and Hattie the Backstage Bat. The exhibition features drawings, paintings, publications, and prints, as well as the artist's original studies and sketches of Corduroy and other characters.
Things to Do in NYC in May: Comedy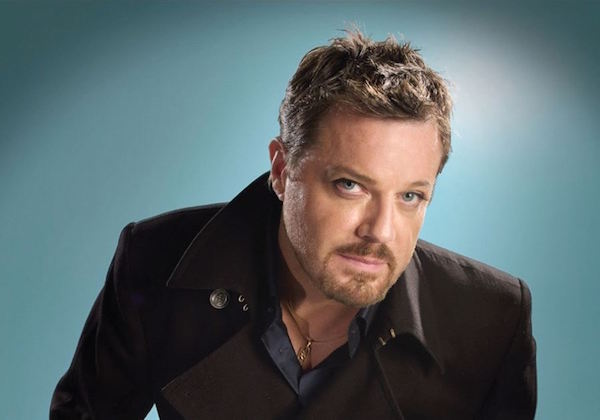 (5/21-5/24) Eddie Izzard: Wunderbar at the Beacon Theatre.
PLUS
(5/2-5/4) Samuel J. Comroe at Gotham Comedy Club.
(5/3) Chelsea Handler stops by Town Hall, to discuss her new book, Life Will Be The Death of Me.
(5/3-5/4) Theo Von, star of the Netflix special No Offense, at Carolines.
(5/3-5/4) Jerry Seinfeld at the Beacon Theatre.
(5/14-5/15) Rachel Bloom, creator and star of the CW musical comedy series Crazy Ex-Girlfriend, comes to Radio City Music Hall for a two-night concert spectacular. msg.com
(5/16) Pod Saves America at Kings Theatre.
(5/16-5/18) Aziz Ansari's Road to Nowhere tour stops at the Brooklyn Academy of Music.
(5/30-6/1) Godfrey at Gotham Comedy Club.
Things to Do in New York in May: Kids

(5/11-5/12) Kids Food Festival at Brookfield Place. The Kids Food Festival welcomes families with children of all ages, interested in learning about balanced food choices in a fun and engaging environment that empowers children to make these decisions for themselves.
PLUS
(Now-11/3) Kids of all ages will want to check out the new Bronx Zoo Dinosaur Safari. It's the biggest, most realistic dinosaur safari ride in America. Travel back in time on a guided tour to learn about dinos of the past and descendent animals of the present. The experience will take riders through 2 acres of woods, in which they will meet animatronic dinosaurs, including two 40-foot-long T. rexes, a 60-foot-long herbivore called Omeisaurus, and the Spinosaurus, one of the largest carnivorous dinosaurs to ever exist.
(5/5) Salsa Sounds for Kids featuring Boneita at Brooklyn Bowl. 12:30pm.
(5/19) The Music of Pearl Jam for Kids at Brooklyn Bowl.
(Ongoing) A 7D experience at Madame Tussauds New York, Mission: Undead, tasks you with killing more zombies than your friends! Prevent the zombie apocalypse and survive your first night of work on the force at this state-of-the-art Times Square attraction (13+).
(Ongoing) Exhilarating Family Fun at Stomp NYC. Special discount packages available!
(ongoing) Aspiring scientists and astronauts will want to explore the New York Hall of Science in Queens, brimming with interactive exhibits (plus an outdoor playground).
For more kids activities, check out our sister site nymetroparents.com!
Things to Do in NYC: Food, Music, and Nightlife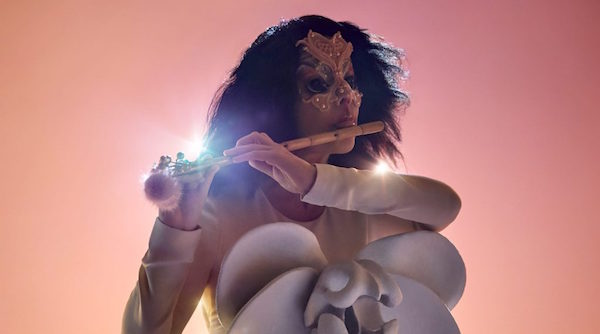 Photo: Warren Du Preez & Nick Thornton Jones.
(5/6, 5/9, 5/12, 5/16, 5/22, 5/25, 5/28, 6/1) Bjork: Cornucopia at the new Hudson Yards venue The Shed.
PLUS
(5/1) Joan Baez at the Beacon Theatre.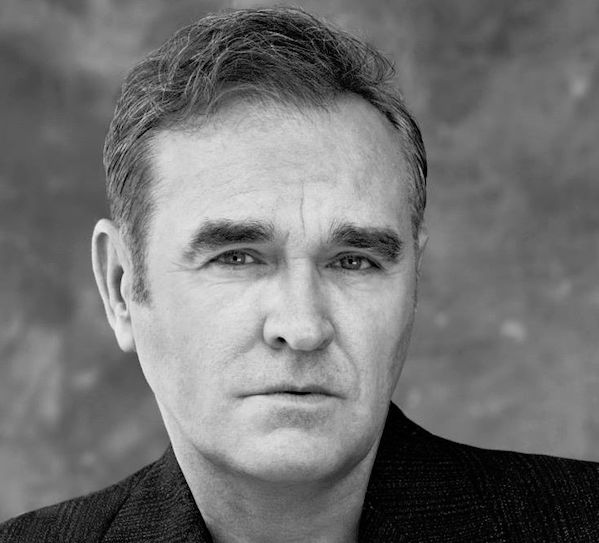 (5/2-5/4, 5/7-11) Morrissey does a residency at the Lunt-Fontanne Theatre. Get tickets here.
(5/4) FREE! Block Party at Lincoln Center, in honor of its 60th anniversary. With activities for all ages, the event brings together all of the eleven organizations that comprise Lincoln Center—activating the campus with a range of performances, art-making, film programming, tours, food trucks, and more. The Block Party culminates in a grand finale on the iconic plaza with more than 135 musicians, conducted by Musical Director Sunny Jain from atop the Revson Fountain. 10am-2:30pm. #LincolnCenter60
(5/4) The Lemonheads at Brooklyn Bowl.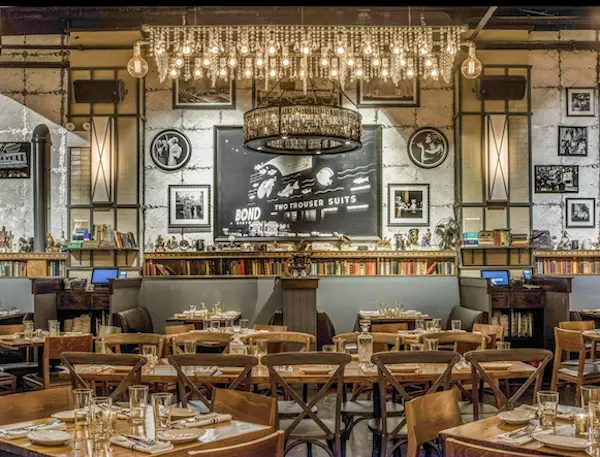 (5/4) It's the Kentucky Derby! Come watch the race and sip on Derby-inspired cocktails at The Ribbon Midtown. No tickets required, but be sure to come dressed in your best Kentucky Derby style outfit. The party will feature a DJ and four specialty cocktails: a Woodford Reserve Mint Julep, Keeneland Breeze, Derby Day Bloody Mary, and Watermelon Martini. Stop by for some festive and carefree fun!
(5/5) Al Green at Radio City Music Hall.

(5/5) Celebrate Cinco de Mayo with drink specials, live music, dancing, a bottomless brunch. and more at Vida Verde. Read on for other places to celebrate Cinco de Mayo.
(5/8) The Dandy Warhols with Cosmonauts, The Vacant Lots at Brooklyn Steel.
(5/9) Conversation with actress/Academy-Award winning director Greta Gerwig and director Noah Baumbach at The Morgan Library & Museum. To celebrate the relationship between art, literature, and film, join writers/directors Noah Baumbach (The Squid and the Whale) and Greta Gerwig (Lady Bird, upcoming Little Women), who also collaborated on Frances Ha and Greenberg, in conversation on the films that have inspired their lives and work. Moderated by Antonio Monda, Artistic Director of Le Conversazioni festival.
(5/10) Idles at Brooklyn Steel.
(5/10-5/12) An Evening with David Sedaris at Town Hall.
(5/13-5/19) The 2019 Harlem Eat Up! Now, in its fifth year, the Festival offers a sampling of Harlem's sights, flavors, and sounds. harlemeatup.com
(5/18) The Marvelous Maisel's Alex Borstein & The Amstergang at Union Hall.
(5/18-5/19) NYC Vegetarian Food Festival at Metropolitan Pavilion. Get tickets here.
(5/18-5/19) K-pop sensation BTS bring their Love Yourself: Speak Yourself Tour to NJ's MetLife Stadium.
(5/16-5/19) 11th Annual Urban Bear NYC, a large series of events for the bear and bear-friendly gay community. It's the largest event of its kind on the East Coast, with bar crawls, invasions, wellness, a disco cruise, and more.
For more LGBT events, visit our brother site, metrosource.com!
(5/17-5/18) Taste of the Upper West Side.
(5/19, 5/21) Passion Pit at The Rooftop at Pier 17.
(5/22) Whisky Live New York. The world's premier whisky tasting show moves to the Altman Building on 18th Street between Sixth and Seventh Avenues. All tickets include food.
(5/25) Greta Van Fleet kicks off the summer season at Forest Hills Stadium.
(5/29) The Distillers w/ Starcrawl at Brooklyn Steel.
(5/31) Bikini Kill at Brooklyn Steel.
Things to Do in New York in May: Sightseeing

(5/22-5/28) It's the 31st Annual Fleet Week in NYC! Festivities will be taking place all week long at the Intrepid Sea, Air & Space Museum. For additional info, visit fleetweeknewyork.com.
(5/27) Catch the Memorial Day Parade Ceremony at the Intrepid Sea, Air & Space Museum. Additional Memorial Day parades are held in Brooklyn and Douglaston, Queens.
PLUS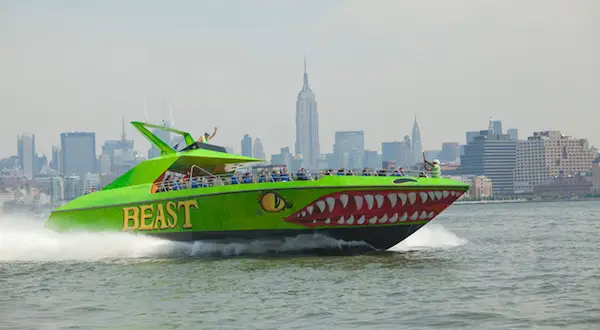 (5/9) Feelin' the need for speed? Starting today, The BEAST Speedboat Ride is back! Zoom past the Statue of Liberty at a heart-racing 45 mph!
(5/5) Every Sunday on the Upper West Side you can find Grand Bazaar NYC, the city's largest curated market—and most distinctive! You'll find local artists and vintage/antique dealers with one-of-a-kind fashion, crafts, collectibles, and handmade jewelry. (There's also some mighty tasty artisanal treats). May 5th is the NYC Home Decor & Furniture Bazaar.

(5/11-5/12) Mother's Day Weekend Garden Party at the The New York Botanical Garden. The most spectacular spring landscape New York City has is the setting for live music, games, picnicking, and more. Make a reservation for a delicious meal with mom at the Hudson Garden Grill.
(5/12) Enjoy Mother's Day Early Brunch, Brunch, and Dinner Cruises aboard the Spirit of New York.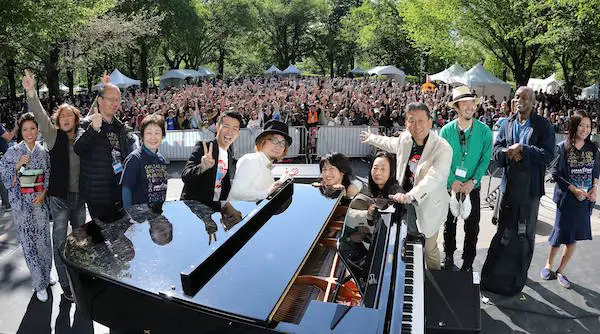 (5/12) 13th Annual Japan Day at Central Park. The event kicks off with the rousing Japan Run, a 4-mile mini-marathon and Kids' Races, hosted by New York Road Runners. The event continues with the Japan Day Festival featuring wide range of Japanese traditional and family-friendly activities, free samplings of popular Japanese cuisine, and powerful stage performances throughout the day.
(5/18-5/19) The Ninth Avenue International Food Festival has been a New York favorite since 1973. Closing Ninth Avenue from 42nd Street to 57th Street in Hell's Kitchen, and filling it with delicacies from Poland, Italy, Spain, Greece, Japan, Thailand, and beyond, the festival provides a great way to nibble your way around the world. There are games and other activities for kids, and live international music and dancing at 55th Street. No entrance fee; the festival runs rain or shine, noon to 5pm.
(5/18-5/19) At the NYC Vegetarian Food Festival, you'll learn about sustainability, healthy living, and going green. Attendees can sit in on lectures and get cooking tips from big name chefs during the two-day event. nycvegfoodfest.com
(5/25) It's the first-ever Burgers, Bourbon and Beethoven Festival at Greenwood Cemetery. Presented by Death of Classical and Green-Wood, running from 7-10PM, the inaugural "Three Bs" Fest will feature a cook-off with two competing burger recipes, a tasting of whiskeys, and a performance of Beethoven's Fifth Symphony by the String Orchestra of Brooklyn. Whiskeys will be provided by Angel's Envy, Blackened American Whiskey, Five & 20, NY Distilling Co, Van Brunt Stillhouse, Widow Jane, and more. Get tickets here. Raindate 5/26.
Things to Do in New York in May: Ongoing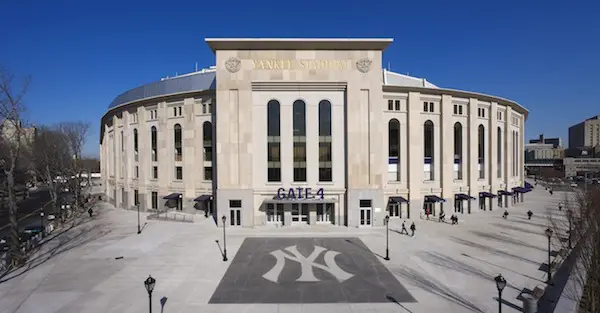 (ongoing) Baseball season is here! Take a Yankee Stadium Tour!
PLUS
Part tour, part show, total entertainment! Take THE RIDE!
Bring a loved one to take in the breathtaking view at Top of the Rock.
Ripley's Believe It or Not! Odditorium brings people of all ages face-to-face with the world's most unbelievable curiosities. With 18,000 square feet of astonishing artifacts and exciting interactive exhibits. Here's a coupon!
Zip up 100 stories in 60 seconds and see all of New York City from atop One World Observatory.
Explore New York City from the best vantage points with Helicopter Flight Services Tours. Choose from four different itineraries.
New York Weather in May
As we said at the top, the April showers have passed, and we're reaping the benefits as blossoms are everywhere in New York in May. Things are warming up quite nicely, with the average daily high starting off at 66°F (19°C) on May 1 and working its way up to 75°F (24°C) by May 31. Lows at the beginning of May get down to an average of 50°F (10°C), but by the end of the month nights are only getting down to about 60°F (15.5°C). Despite the passing of the April showers, you can still expect to encounter some rain on a visit to New York—in fact, May is a slightly wetter month than April. Look for an average of about 4 inches of rain, and about half the days of the month experience some precipitation. The odds of snow and extreme weather are very low in New York in May, so you won't need more than a light jacket and maybe an umbrella.
---
Visiting next month? We've got June covered, too! Like what you see here? Share it with your friends on Facebook! Want free advice? Join our Facebook group Everything to Do NYC, a place for people to ask questions and get tips on how to make the most of NYC.