They say April showers bring May flowers, which makes the merry month of May a terrific time to be in New York City. Mother's Day, Fleet Week and its special festivities at the Intrepid Sea, Air & Space Museum, and the unofficial kick-off of summer on Memorial Day are among the highlights. Read on for the best things to do in NYC in May.
Things to Do in New York in May: Exhibits
(5/8-5/10) Art New York at Pier 92/94, an important exhibition facility for the arts that annually attracts over 150,000 collectors. Art New York will offer both noteworthy and fresh works by important artists from the modern, post-war, and pop eras, and feature paintings, photography, prints, drawings, design, and sculpture.
PLUS
(5/7-5/10) Frieze Art New York. Head over to Randall's Island Park this spring to experience the contemporary art world in an alfresco environment. Interact with public installations, sit in on "Frieze Talks," enjoy the Frieze Art Fair's Reading Room, and, of course, lay your eyes on some of the most talked about artwork in the city. friezenewyork.com
(5/9-11/1) KUSAMA: Cosmic Nature at the New York Botanical Garden focuses on the work of contemporary Japanese artist Yayoi Kusama. With NYBG as the exclusive exhibition venue, Kusama reveals her lifelong fascination with the natural world, beginning with her childhood spent in the greenhouses and fields of her family's seed nursery. Her artistic concepts of obliteration, infinity, and eternity are inspired by her intimate engagement with the colors and patterns of plants and flowers. Explore multiple installations featuring Kusama's multifaceted art, including vibrant paintings of plants and flowers and monumental floral and vegetal sculptures, across NYBG's 250-acre landmark landscape and buildings.
(5/11-5/13) Wall Street Journal's The Future of Everything Festival Hear the most promising ideas for advancing technology and society at interviews and talks across two stages. Discover the projects and products that will transform how we live, work and play inside the Lab—an experiential, multisensory showcase of next-generation technologies and products. And get a firsthand look at the work of pioneers who have forged new paths in their industries on a Festival excursion. Get tickets here.
Guy Marineau (French, born 1947). Pat Cleveland on the dance floor during Halston's disco bash at Studio 54, 1977. (Photo: Guy Marineau / WWD / Shutterstock).
(Now through 7/5) Studio 54: Night Magic. It's hard to believe that Studio 54, the mecca of the disco era, lasted just 3 years. After its opening on April 26, 1977, the legendary midtown club quickly achieved iconic status. Celebs from Andy Warhol to Farrah Fawcett flocked to this outrageous and exuberant party scene. By February 1980, the club was shut down, but its legacy remains vital 40 years later. A new exhibition at the Brooklyn Museum, Studio 54: Night Magic uses photographs, drawings, film, and fashion to document how this nightclub came to reflect a particular moment in the cultural history of New York City. The exhibition design parallels that of the club itself and features a soundtrack of disco hits like Chic's "Le Freak" and Gloria Gaynor's "I Will Survive."
Things to Do in NYC in May: Comedy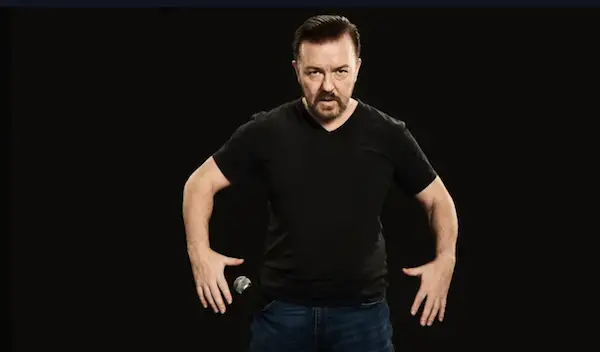 (5/14-5/15) Ricky Gervais: SuperNature Tour at the Hulu Theater at Madison Square Garden.
PLUS
(5/15) Jo Koy: Just Kidding World Tour at Radio City Music Hall and again


(5/17) at Kings Theatre.
(4/30-5/2) Samuel J. Comroe at Gotham Comedy Club.
(5/8-5/9) Phil Hanley at Gotham Comedy Club.
(5/30) Russell Brand: Recovery Live at Town Hall.
Things to Do in New York in May: Kids

(5/TK) Kids Food Festival at Brookfield Place. The Kids Food Festival welcomes families with children of all ages, interested in learning about balanced food choices in a fun and engaging environment that empowers children to make these decisions for themselves.
PLUS
(5/2) Peppa Pig Live! at the Beacon Theatre. (2pm & 5pm)
(5/3) Baby Shark Live! at the Beacon Theatre. (2pm & 6pm)
(5/9) Sheep Shearing Festival at Queens Farm. Time for a haircut! Meet our sheep and cheer them on as they get their much-needed spring trims. Gather round to see fiber arts demos in wool spinning and dyeing and enjoy kids' crafts and hayrides throughout the afternoon. Celebrate the growing season with farmer-led tours and a plant sale with Queens Farm veggie seedlings. Learn to compost and Adopt-a-Worm at the Con Edison Ecology Booth! Live music, local brews & food will keep you coming baaa-ck for more. One ticket price for all ages (adults and children). 11am-4pm.
For more kids activities, check out our sister site nymetroparents.com!
Things to Do in NYC: Food, Music, and Nightlife
(5/8-5/31) XMen's James McAvoy stars in London's West End production of Cyrano, for three weeks only, at the Brooklyn Academy of Music.
(4/30, 5/1) Brit Floyd at the Beacon Theatre.
(5/1) Rufus Wainwright at City Winery (new location)
(5/5) Every Sunday on the Upper West Side you can find Grand Bazaar NYC, the city's largest curated market—and most distinctive! You'll find local artists and vintage/antique dealers with one-of-a-kind fashion, crafts, collectibles, and handmade jewelry. (There's also some mighty tasty artisanal treats). May 5th is the NYC Home Decor & Furniture Bazaar.
(5/5) Read on for Where to Celebrate Cinco de Mayo in NYC.
(5/7) Blues singer Brian Owens at The Iridium.
(5/7) Mika at Terminal 5.

(5/8-5/10) Mother's Day Weekend Garden Party at the The New York Botanical Garden. The most spectacular spring landscape New York City has is the setting for live music, games, picnicking, and more. Make a reservation for a delicious meal with mom at the Hudson Garden Grill.
(5/10) Enjoy Mother's Day Early Brunch, Brunch, and Dinner Cruises aboard the Spirit of New York.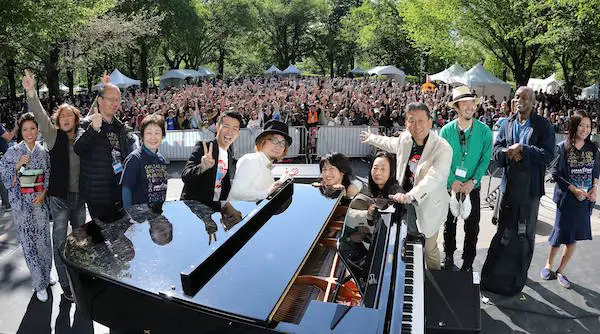 (5/10) 14th Annual Japan Day at Central Park. The event kicks off with the rousing Japan Run, a 4-mile mini-marathon and Kids' Races, hosted by New York Road Runners. The event continues with the Japan Day Festival featuring wide range of Japanese traditional and family-friendly activities, free samplings of popular Japanese cuisine, and powerful stage performances throughout the day.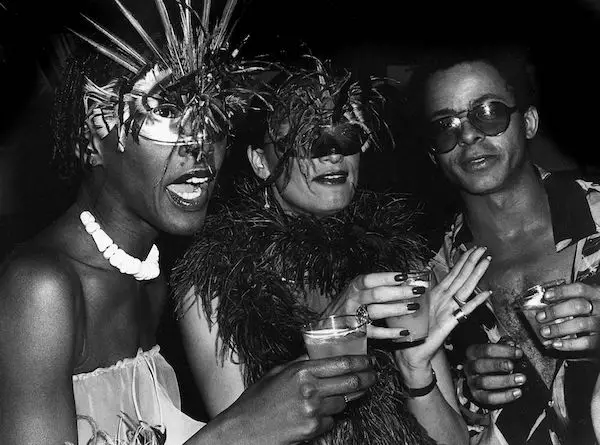 (5/15) Brooklyn Museum and House of Yes cohost a Studio 54 Dance Party. Bring the legacy of Studio 54 to life in an evening of dancing, disco, and legendary glamour with iconic Brooklyn nightclub House of YES. Dress in your best and be ready to groove as we bring you an unforgettable lineup, live performances, and surprises and special guests from the golden days. Advance tickets are required. Ticket sales close at 8 am on Friday, May 15. Dance Party tickets start at $20.
(5/16) 7th Annual Five Boro Craft Beer Fest at The Well. One price - beer, food and live music~55 local and out of state brewers serving over 125+ craft beers.
(5/17) Dropkick Murphys and Rancid Boston to Berkeley Tour at Pier 17.
(5/16-5/17) The Ninth Avenue International Food Festival has been a New York favorite since 1973. Closing Ninth Avenue from 42nd Street to 57th Street in Hell's Kitchen, and filling it with delicacies from Poland, Italy, Spain, Greece, Japan, Thailand, and beyond, the festival provides a great way to nibble your way around the world. There are games and other activities for kids, and live international music and dancing at 55th Street. No entrance fee; the festival runs rain or shine, noon to 5pm.
(5/13) Beach Fossils & Wild Nothing at Brooklyn Steel.
(5/14/5/17) 12th Annual Urban Bear NYC, a large series of events for the bear and bear-friendly gay community. It's the largest event of its kind on the East Coast, with bar crawls, invasions, wellness, a disco cruise, and more.
(5/16-5/17) At the NYC Vegetarian Food Festival at Metropolitan Pavilion, you'll learn about sustainability, healthy living, and going green. Attendees can sit in on lectures and get cooking tips from big name chefs during the two-day event. nycvegfoodfest.com
(5/17) Spring 2020 NY Handmade Collective Market at Grand Bazaar NYC.
(5/21) Todd Rundgren at the Gramercy Theatre.
(5/21) New York Ska Jazz Ensemble at The Iridium.
(5/29-5/30) Above & Beyond at Radio City Music Hall.
(5/TK) The 2020 Harlem Eat Up! Now, in its fifth year, the Festival offers a sampling of Harlem's sights, flavors, and sounds. harlemeatup.com
Things to Do in New York in May: Sightseeing

(5/20-5/26) It's the 32nd Annual Fleet Week in NYC! Festivities will be taking place all week long at the Intrepid Sea, Air & Space Museum. For additional info, visit fleetweeknewyork.com.
(5/25) Catch the Memorial Day Parade Ceremony at the Intrepid Sea, Air & Space Museum. Additional Memorial Day parades are held in Brooklyn and Douglaston, Queens.
PLUS
(5/1) Feelin' the need for speed? Starting today, The BEAST Speedboat Ride is back! Zoom past the Statue of Liberty at a heart-racing 45 mph!
Things to Do in New York in May: Ongoing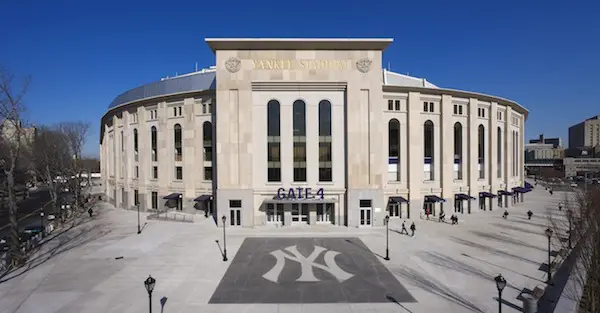 (ongoing) Baseball season is here! Take a Yankee Stadium Tour!
PLUS
Part tour, part show, total entertainment! Take THE RIDE!
Bring a loved one to take in the breathtaking view at Top of the Rock.
Ripley's Believe It or Not! Odditorium brings people of all ages face-to-face with the world's most unbelievable curiosities. With 18,000 square feet of astonishing artifacts and exciting interactive exhibits. Here's a coupon!
Zip up 100 stories in 60 seconds and see all of New York City from atop One World Observatory.
Explore New York City from the best vantage points with Helicopter Flight Services Tours. Choose from four different itineraries.
New York Weather in May
As we said at the top, the April showers have passed, and we're reaping the benefits as blossoms are everywhere in New York in May. Things are warming up quite nicely, with the average daily high starting off at 66°F (19°C) on May 1 and working its way up to 75°F (24°C) by May 31. Lows at the beginning of May get down to an average of 50°F (10°C), but by the end of the month nights are only getting down to about 60°F (15.5°C). Despite the passing of the April showers, you can still expect to encounter some rain on a visit to New York—in fact, May is a slightly wetter month than April. Look for an average of about 4 inches of rain, and about half the days of the month experience some precipitation. The odds of snow and extreme weather are very low in New York in May, so you won't need more than a light jacket and maybe an umbrella.
---
Visiting next month? We've got June covered, too! Like what you see here? Share it with your friends on Facebook! Want free advice? Join our Facebook group Everything to Do NYC, a place for people to ask questions and get tips on how to make the most of NYC.