Things to Do in NYC in September
July 18, 2018 - by City Guide News Desk
NYC's September calendar is brimming with excitement, including tons of festivals, exhibits, and Broadway fall previews. The US Open starts the month off, plus there are blockbuster concerts, the San Gennaro Festival, the Chile Pepper Festival, the Cloisters' Medival Festival, and much more!
Things to Do in New York in September: Exhibits
Escher's Eye depicts an eye with a skull imprinted onto its pupil.
(Now-2/3/19) Even over a century after his birth, Dutch artist M.C. Escher (1898-1972) continues to astound. Catch more than 200 of Escher's mind-bending works at Escher: The Exhibition & Experience in Brooklyn's Industry City. Exploring the intersection of art, mathematics, science, and poetry, the exhibition will feature interactive immersive experiences that bring the artist's optical illusions to life. eschernyc.com
PLUS
(9/17-1/6/19) Delacroix at the Metropolitan Museum of Art -This is the first comprehensive US retrospective of the work of French Eugene Delacroix (1798-1863). The Met has teamed up with The Louvre, showcasing in chronological order, some 150 pieces, a variety of paintings, drawings, manuscripts, and prints.
(Now-10/28) In 1939, the pioneering American Modernist Georgia O'Keeffe (1887–1986) went to Hawaii on commission for a Hawaiian Pineapple Company promotional campaign. What she created provides the inspiration for the landmark new exhibition Georgia O'Keeffe: Visions of Hawai'i at The New York Botanical Garden. A stunning display in the LuEsther T. Mertz Library Art Gallery includes 17 of O'Keeffe's Hawaii paintings, not seen together in New York since their debut in 1940. The historic Enid A. Haupt Conservatory explores the remarkable beauty and variety of Hawaiian flora, as well as its complex botanical and cultural history. The garden (just a 20-minute Metro-North ride from Grand Central Terminal) also features a living collection of more than one million plants.
(Now-9/9) Celebrating Bill Cunningham marks the New-York Historical Society's recent acquisition of objects, personal correspondence, ephemera, and photographs that reflect the life and work of Bill Cunningham. One of the late 20th century's most influential trend-spotters and style authorities, the legendary New York Times journalist and photographer was frequently spied on the city's streets, at fashion shows, and elegant soirées capturing images of New York's fashion innovators and cultural glitterati. Among the highlights of Celebrating Bill Cunningham are a bicycle that he rode around the city; his first camera, an Olympus Pen-D, 35mm; signature blue jacket; personal photographs of Cunningham at home and with friends; correspondence, including a few of the hand-made Valentines he frequently sent to friends; and a New York City street sign, "Bill Cunningham Corner," that was temporarily installed at Fifth Avenue and 57th Street in his honor, following his death. Soon after he arrived in New York, Cunningham worked as a milliner, and items on view from his millinery line, William J., include an innovative beach hat, along with other hats and fascinators; and a press release written for the William J. spring 1960 millinery show. Also on display are selections from Cunningham's Facades, his eight-year photographic project documenting New York City's architectural and fashion history, which was shown at the museum in 2014.
(Now-12/9) Rivers and Torrents: Oil Sketches from the Thaw Collection at the Morgan Library. Even advanced painters struggle to capture moving water in their work. The play of light on the ripples, the wind on the surface, the current moving it all along—it's one of the many reasons we're all captivated by Monet's Water Lilies. See the work of other artists from the 19th century onward through oil studies of Rivers and Torrents. Click here for more about exhibits at Morgan Library.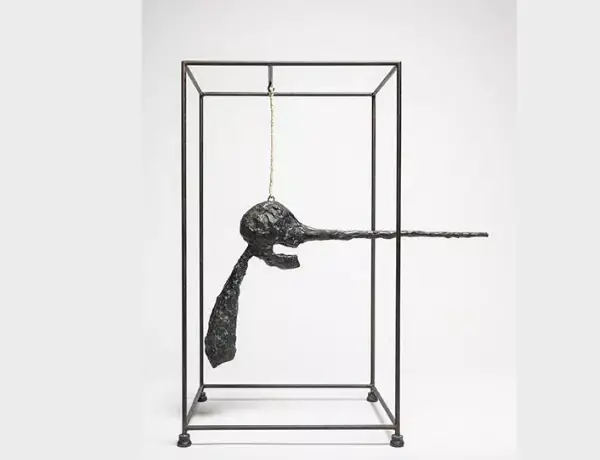 The Nose (Le nez), 1949 (cast 1964) Bronze, wire, rope, and steel, 81 x 71.4 x 39.4 cm
Solomon R. Guggenheim Museum, New York 66.1807 © 2018 Alberto Giacometti Estate/Licensed by VAGA and ARS, New York Photo: Kristopher McKay © The Solomon R. Guggenheim Foundation
(Now-9/12) An Incredible Giacometti Retrospective Comes to the Guggenheim Museum. Swiss artist Alberto Giacometti (1901-1966), a Modernist sculptor, was a master of perspective. His elongated human figures, spindly miniatures, and ghostly paintings and drawings invite the viewer to lean in close and evaluate the work on its own terms rather than those of the viewer herself. The exhibit features more than 175 works by the artist.

(Now-10/8) Heavenly Bodies at the Metropolitan Museum of Art and The Cloisters. Heavenly Bodies: Fashion and the Catholic Imagination reflects the influence of religious art, ceremony, and imagery on clothing design. It's a sprawling show, literally—encompassing 65,000 square feet and 25 galleries, including The Cloisters (the museum's uptown branch dedicated to medieval art, housed in reconstituted European chapels and cloisters) and parts of the Lehman Wing, the Costume Center, and the medieval and Byzantine art galleries at The Met itself.
(Now-9/9) Final weeks! Surface/Depth: The Decorative After Miriam Schapiro at the Museum of Arts and Design (MAD). In June of 2015, Miriam Schapiro, the pioneering feminist artist and founding member of the Pattern and Decoration movement, passed away at the age of ninety-one. Surprisingly, given her status as the elder stateswoman of the feminist art movement, the tremendous impact of her oeuvre on contemporary art has yet to be fully acknowledged or critically assessed. This exhibition seeks to redress this gap in the history of American art through an exploration of Schapiro's signature femmages, the term she coined to describe her distinctive hybrid of painting and collage inspired by women's domestic arts and crafts and the feminist critique of the hierarchy of art and craft. You can read more about it here.
(Now-12/2/18) Art of the Mountain: Through the Chinese Photographer's Lens at the China Institute. Featuring over 60 photographs from a range of modern Chinese photographers, this exhibition will allow visitors to consider the role of mountains in China's geography, history, art, and philosophy.
(Now-10/14) The American Folk Art Museum presents Charting the Divine Plan: The Art of Orra White Hitchcock, which brings together aspects of art, love, science, and religion, as expressed by one of America's first female scientific illustrators. Working in the mid-19th century, Orra White Hitchcock was equally skilled in the natural sciences and in art, and her illustrations of plant life, geological formations, fossilized animals, and dinosaur tracks were used in Amherst College lectures and the scientific journals of the day. The exhibition puts on display Hitchcock's rarely seen drawings and paintings, some up to 10 feet long, which demonstrate both scientific clarity and an unexpected modernity.
(Permanent) The Jim Henson Exhibition at the Museum of the Moving Image will celebrate the life and legacy of the famed Muppet creator, exploring both his prolific career and the enduring effect his work has on pop culture to this day. Visitors can expect to learn more about the creation of such beloved works as The Muppet Show, Sesame Street, Fraggle Rock, The Dark Crystal, and Labryinth, as well as to discover the cutting-edge experimental works Henson made throughout his career.
(Permanent) The Museum of the City of New York presents NY at Its Core. Ten years in the making, New York at Its Core presents the compelling story of New York's rise from a striving Dutch village to today's "Capital of the World." The exhibition captures the human energy that drove New York to become a city like no other and a subject of fascination the world over. Entertaining, inspiring, important, and at times bemusing, New York City "big personalities," including Alexander Hamilton, Walt Whitman, Boss Tweed, Emma Goldman, JP Morgan, Fiorello La Guardia, Jane Jacobs, Jay-Z, and dozens more, parade through the exhibition.
Things to Do in New York in September: Comedy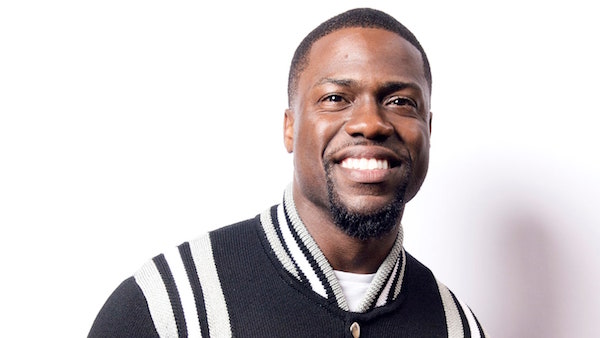 (9/27) Kevin Hart at Madison Square Garden.
PLUS
(9/6-9/8) SNL's Leslie Jones at Carolines.
(9/5) Queer Eye's Jonathan Van Ness at The Bell House.
(9/5) Ru Paul's Drag Race: Werq the World at Town Hall. Your favorite drag stars return with a fierce new show for 2018 in The Official RuPaul's Drag Race World Tour. Hosted by Bob The Drag Queen with sickening performances by the queens from Season 10 along with fan favorites Kim Chi, Valentina, Shangela, and Violet Chachki.
(9/7-9/8) Francis Ellis at Gotham Comedy Club.
(9/8) Eddie B. Teachers Only Comedy Tour at Beacon Theatre.
(9/13) Gerry Dee at Gotham Comedy Club.
(9/21-9/22) Vic DiBitetto at Gotham Comedy Club.
(8/30-9/2) Gary Owen at Carolines.
Things to Do in New York in September: Kids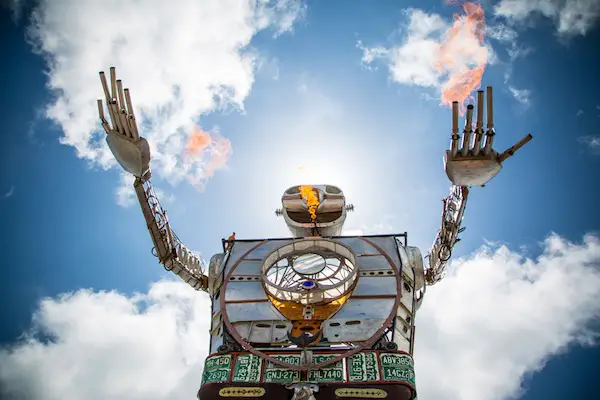 (9/22-9/23) The World Maker Faire returns to the New York Hall of Science! Get inspired to make, create, learn, invent, craft, recycle, build, think, and play while celebrating art, science, and technology. Hundreds of "makers" will present fun and unusual creations such as rockets and robots. There will also be arts and crafts, artisanal foods, live music, and much more. 10am-6pm. Specially priced family passes available. nysci.org, makerfaire.com
PLUS
(9/15-9/16) Disney Junior Dance Party on Tour at Beacon Theatre.
(9/23) Fall Family Day at Carnegie Hall. Families can enjoy live performances, build their own instruments, sing and dance with professional musicians, and more. This event runs from 12 PM to 4 PM. Join us for an enriching afternoon of musical fun for the whole family. FREE.
(9/22-9/23) Now in its 36th year, the traditional County Fair at the Queens County Farm Museum features blue ribbon competitions in produce, livestock, arts and crafts, and more. Enjoy the Amazing Maize Maze, pie-eating and corn-husking contests, pig-racing, hayrides, carnival rides, and a midway. Visit craft vendors, food vendors, enjoy music, and more. 11am-6pm. queensfarm.org
(Ongoing) Luna Park in Coney Island: grab the family, get a Luna pass and ride the Cyclone or the Cozmo Jet, plus stroll the beach with a hot dog and more!
(Ongoing) The Smash Dash game at Ripley's Believe It or Not! Times Square will keep kids on their toes! Keep your reflexes sharp, in this all-new race against time. Here is a coupon!
(Ongoing) Kids of all ages will want to check out Gulliver's Gate, a $40 million extravaganza that allows visitors to travel the globe without leaving Times Square. Latin America, Asia, the Middle East, Russia, and Europe are all here in incredibly detailed miniature. And don't let that word "miniature" fool you—Gulliver's Gate feels like it covers acres, stretching a full city block with the wonders of the world.
(Ongoing) Aspiring scientists and astronauts will want to explore the New York Hall of Science in Queens, brimming with interactive exhibits (plus an outdoor playground).
Things to Do in NYC in September: Music & Nightlife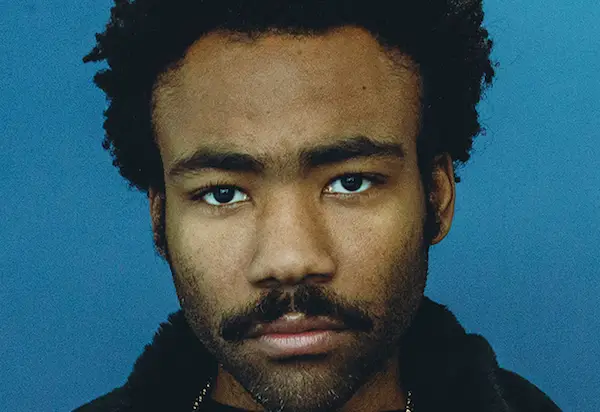 (9/14-9/15) Childish Gambino at Madison Square Garden.
PLUS
(9/5) Arthouse at NYLO Hotel, New York City's Secret Beach Pop-Up. Arthouse at NYLO will be extending summer into the fall season by bringing sand, waves, and a custom cocktail menu made up of 'Basic Beach' cocktails using cookie 'sand' and served from ships in a bottle to Manhattan - when they transform the 16th-floor terrace into a hidden beach in the middle of the city. There are two sessions-6pm-7:30pm, or 7:3pm-9pm. 2178 Broadway at 77th Street. nylohotelnyc.com.
(9/6-9/14) It's New York Fashion Week, and there will be afterparties. nyfw.com
(9/6) Alice Cooper at the Beacon Theatre.
(9/8) Pig Island 2018 at Erie Basin Park in Red Hook, Brooklyn. It's back! Chefs will be cooking half or whole Flying Pigs Farm pigs. Special ribs challenges! Fletcher's Brooklyn BBQ, Hoodoo Brown BBQ and many others. Craft beer, cider & spirits. Celebrity judges. Live music. Get tickets and chef list here.
(9/8) Mac DeMarco at Central Park Summerstage /Rumsey Playfield.
(9/8-9/9) The second annual Octfest, created by Pitchfork, will take place on Governors Island, bringing together some 20 acts, including The Flaming Lips, Vince Staples, Nile Rodgers and Chic, with a selection of more than a dozen food vendors, and 90+ breweries.
(9/8) Jamiroquai at Forest Hills Stadium.
(9/11) Jethro Tull at the Beacon Theatre.
(9/11-9/12) First Aid Kit at Brooklyn Steel.
(9/12) Van Morrison and Willie Nelson share the bill at Forest Hills Stadium in Queens.
(9/15) David Byrne with Tune Yards at Forest Hills Stadium.
(9/13) Ringo Starr at Radio City Music Hall.
(9/15) Nogu Svelo at Music Hall of Williamsburg.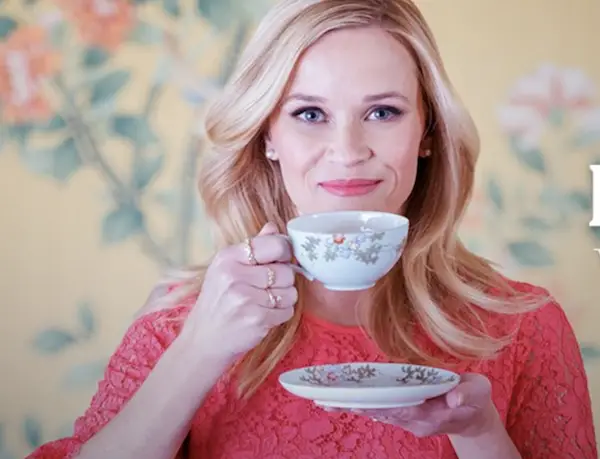 (9/17) Reese Witherspoon's Whiskey in a Teacup book event at The Town Hall. Grab your friends and join Reese Witherspoon for a fun night of lively conversation! With her debut book, Whiskey in a Teacup, the Academy award-winning actress, producer, and entrepreneur invites you into her world, where she infuses the Southern style, parties, and traditions she loves with contemporary flair and charm. Ticket includes her book, a Draper James tote bag, and other goodies.

(9/21-9/22) The Growlers at Brooklyn Steel.
(9/22) Portugal the Man at Forest Hills Stadium.
(9/22) Blues, Brews, & Botany at New York Botanical Garden. Spread out on NYBG's beautiful Conservatory lawn and discover the connections between beer and botany with music, tastings, and botanical-inspired fun. Enjoy unlimited tastings of a variety of palate pleasing brews from New York State and beyond, then explore the botanical side of beer with a lineup of activities and games. 11m-5pm.
(9/21, 9/22, 9/23) NYC punk legend and author Patti Smith performs her Words and Music Show at the Minetta Lane Theater in Greenwich Village.
(9/27-9/30) The 16th Annual New York Burlesque Festival. The popular New York Burlesque Festival turns 16, and it's hotter than ever, with events at new venues including Public Arts in Public Hotel and Sony Hall. thenewyorkburlesquefestival.com
(9/29-9/30) New York Vegandale Food & Drink Festival at Randall's Island. Back for a second year, (originating out of Toronto) this time a full weekend schedule of food, drinks, music and art. vegandalefest.com
(9/29) The National with Jason Isabell, Cigarettes After Sex, Phoebe Bridgers, and Adia Victoria at Forest Hills Stadium.
(9/30) The National with Future Islands, Cat Power, US Girls, and Bully at Forest Hills Stadium.
Things to Do in New York in September: Sightseeing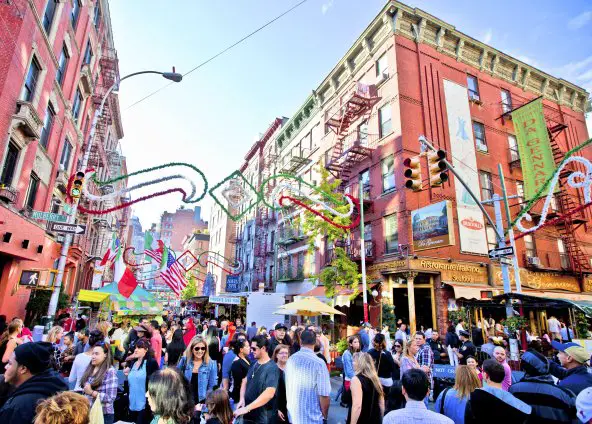 © Stu99 | Dreamstime.com - Little Italy Photo
(9/15-9/26) The Feast of San Gennaro celebrates its 92nd anniversary this year! It's NYC's longest running, biggest religious outdoor festival, stretching along the streets of Little Italy. sangennaro.org
PLUS
(9/2) The annual Brazilian Day Festival returns to Manhattan's Little Brazil (around 46th Street between Fifth and Sixth Avenues). Load up on tasty food, music, vendors, and more. brazilianday.com
(8/28-9/10) Game, set, match! The US Open continues at Arthur Ashe Stadium.
(9/10) Annual Anniversary Celebration at Grand Bazaar NYC.
(9/16) 36th Annual Antique Motorcycle Show at Queens County Farm. This show will include a display of various makes and models of motorcycles that have been out of production for 10 years or more. Music, farmhouse tours, hayrides, and food will provide fun for the entire family. 11am-4pm. $7. queensfarm.org
(9/15) The German-American Steuben Parade kicks off at noon, marching along Fifth Ave., from 68th Street to 86th Street. The festivities continue at the 2018 OktoberFest at Watermark Pier 15 (9/21-9/23, 9/27-9/30, 10/4-10/7). Prost!
(9/23) The 44th Annual Atlantic Antic is the largest street festival in NYC, taking place along Atlantic Avenue in Brooklyn. atlanticave.org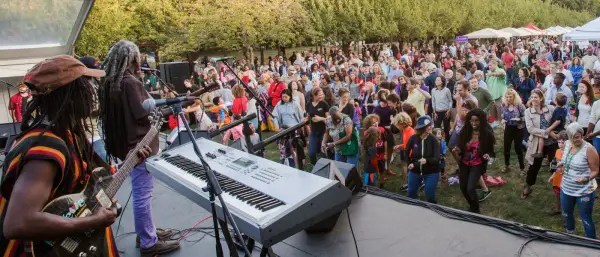 (9/29) The Chile Pepper Festival 2018 at Brooklyn Botanic Garden. Save the date for New York's hottest fall tradition! Brooklyn's end-of-summer blowout sets the Garden ablaze with scorching bands from around the world, dozens of fiery food artisans, and hours of chile-chocolate debauchery.
(9/30) Cloisters Medieval Festival in Fort Tryon Park. The Medieval Festival brings to life the customs and spirit of the Middle Ages. Manhattan's Fort Tryon Park is transformed into a medieval market town decorated with bright banners and processional flags. Performers, guests and festival goers dress in medieval costume.
Things to Do in New York in September: Ongoing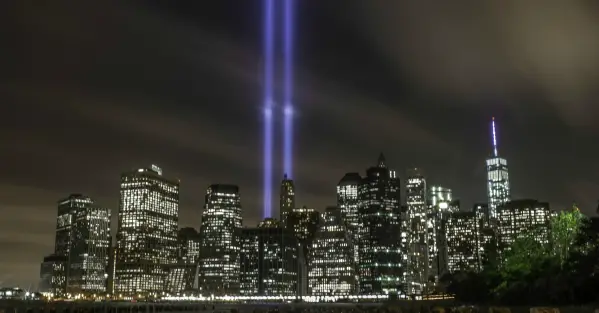 Image: Anthony Quintano/Flickr
Every year New York marks the September 11th attacks with the Tribute in Light, a display of 88 searchlights visible in the night sky for miles around. There will be other tributes and memorials all around the city, and a visit to the 9/11 Memorial & Museum will provide moving context.
Part tour, part show, all entertainment! Take THE RIDE and see NYC like never before!
Experience Downtown NYC, enhanced with virtual reality, with THE RIDE's DOWNTOWN EXPERIENCE.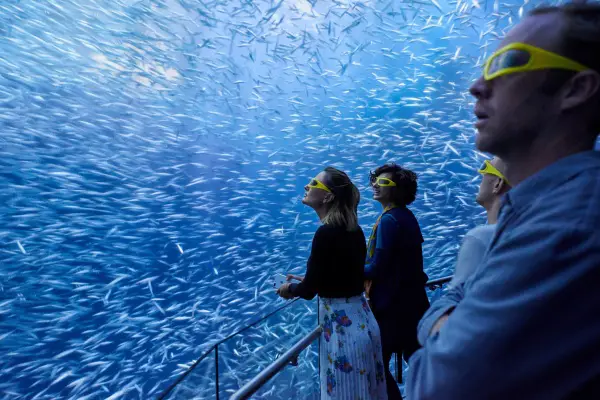 Immerse yourself in the deep, dark depths of the ocean, where Humboldt squid fight to the death, 50 foot whales ride overhead, play with sea lions, navigate a sea kelp maze and more at National Geographic Encounter: Ocean Odyssey! Here's a coupon!
Explore NYC in miniature at Gulliver's Gate.
Visit the sites of Ghostbusters, Friends, Seinfeld, Trainwreck, Gossip Girl, Sex and the City, and many other NYC film sites with On Location Tours.

Learn more about the fascinating history of New York City's Financial District with Wall Street Walks tours.
Grab a photo with Taylor Swift, One Direction, Lady GaGa, JLo, and more at Madame Tussauds New York. Here is a $5 off coupon!
Ripley's Believe It or Not! Odditorium brings people of all ages face-to-face with the world's most unbelievable curiosities. With 18,000 square feet of astonishing artifacts and exciting interactive exhibits. Here's a coupon!
Zip up 100 stories in 60 seconds and see New York City atop One World Observatory. Here is a coupon!
Explore New York City from the best vantage points with Helicopter Flight Services Tours. Choose from four different itineraries.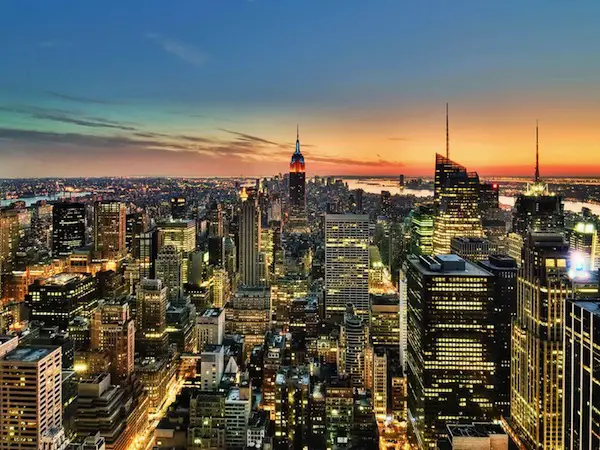 Bring a loved one to take in the breathtaking view at Top of the Rock.
New York Weather in September

Come September the summer heat is fading and there can be a crispness in the air, particularly in the evenings, making this a great month to visit the city. Highs average 81°F (28°C) on September 1st and cool down to 69°F (21°C) by September 30. Average lows overnight go from 66°F (19°C) at the month's start all the way down to 55°F (13°C) by month's end. There's rain on about 10 days, but it usually isn't heavy—4 inches in total precipitation is scattered across the month. Bringing an umbrella can't hurt, but generally you won't need many layers for September, with little more than a lightweight jacket necessary to meet the elements.
---
We've got October covered, too! Like what you see here? Share it with your friends on Facebook!
Looking for Free Group Planning Services?
Get free advice on planning your group's trip to New York.
RESTAURANTS

Multi-concept restaurant offering modern Japanese cuisine, a...

THEATER

In a heartbeat, 38 planes with 6,579 passengers were strand...

SHOPPING

A premier destination for family entertainment....

SIGHTSEEING

Opened to the public in 1913 thanks to the ingenuity and amb...