(12/13-12/15) Looking for what to do in New York? We've got the latest on all the goings-on in NYC, from concerts to museum exhibitions to comedy to the best in city sightseeing. This weekend we're excited for a tuba concert at Rockefeller Center, an Oreo Holiday House in Bryant Park, a Star Wars exhibit, a Santa cruise with Spirit of New York, and much more to get you into the holiday spirit!
THE BIG EVENT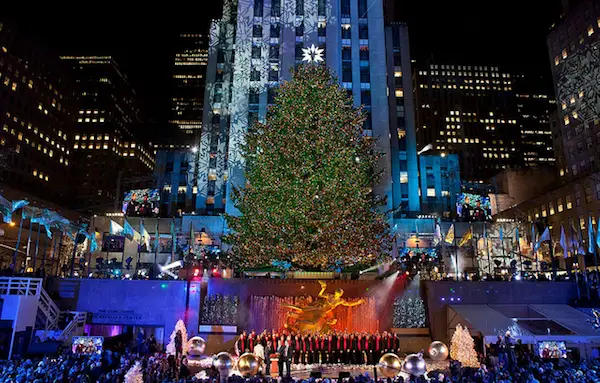 Photograph: Anthony Quintano/Flickr.
(12/4-1/17/20) This year marks the 83rd anniversary of the world's most famous patch of ice, The Rink at Rockefeller Center. Take advantage of a package deal, like a VIP dining and skating combo that includes great seats for the Christmas Spectacular Starring the Radio City Rockettes, which continues its holiday residency at Radio City Music Hall through Jan. 5th. While you're in the area, don't miss the Rockefeller Center Christmas Tree, a 60-year-old Norway spruce from Florida, New York, which will shine all the way until January 17th. For the ultimate perspective on the area, head up to the Top of the Rock observation deck, a stunning perch atop Rockefeller Center. rockefellercenter.com
If you're looking for alternatives, click here to read more on The Origami Holiday Tree at AMNH and Other Christmas Trees in NYC.
PLUS
(12/13-12/22) Wonderland! pop up at Target. Head to the Meatpacking District for a family-friendly holiday destination, with hands-on activities like taking a seasonal family portrait with an oversized greeting card, stepping inside a life-size gingerbread house, walking a hallway made of Star Wars lightsabers, or getting a princess-inspired makeover.
(12/14) Everyone is invited to be a kid for a day at the OREO Holiday House in Bryant Park, an interactive experience open from 11am-10pm. Visitors can stop by to discover the holiday decor inside the house, leave OREO cookies by the fireplace for Santa, experience holiday tastings, and capture playful photo moments in a Cookie Dunk Ball Pit. Part of Bryant Park's Winter Village.
(12/14) Holiday Beauty Wish List. Take a break from online shopping for an all-day pop up event at the Amazon Bookstore at 34th Street. Beauty brands L'Oreal, NYX, Maybelline, Revlon, Neutrogena will be joined by sweet favorites Hershey's and Mars to present demos, samples, and an interactive photo op. It's all free!
(12/14) The NYRR Jingle Bell Jog at Prospect Park. "A Holiday Gift Wrapped as a Race": this festive family favorite is more than just a road race, it's also a celebration and a fundraiser for NYRR's youth programs. Not only does your entry fee snag you a holiday souvenir and post-race hot chocolate, the proceeds from this race fund youth running programs in schools all over the city! Give the Gift of Running Your race entry goes to support our youth programs year round. An additional $25 donation helps put new running shoes on deserving kids' feet, and further provides them with the access they need to run. With the additional $25 donation, donors will get a fun gift. You can donate at check out, or during bib pickup. Proceeds from the Jingle Bell Jog benefit NYRR's Youth Programs, which provide running programs and events for more than 250,000 children in schools across the United States.
(12/14-12/15) 11th Annual St. Nicholas Church Cookie Walk in the East Village. Cookies, crafts, Claus! 11am-4pm Saturday/12-3pm Sunday.
(Now-12/24) No need to brave the elements for holiday shopping. Visit the Grand Central Holiday Fair from now through Christmas Eve and browse in warmth. The terminal's Vanderbilt Hall is home to 40 artisans that sell art and home goods; holiday-themed items; bath and body products; toys; and clothing and accessories for men, women, and children. Commuters take note: you can check off all the items on your list without missing your train (the terminal has plenty of great shopping even beyond the Holiday Fair.) The Holiday Fair is open Monday through Friday, 10am-8pm, until 7pm Saturdays, and 11am-6pm Sundays. Closed Thanksgiving and open 10am-6pm on Christmas Eve.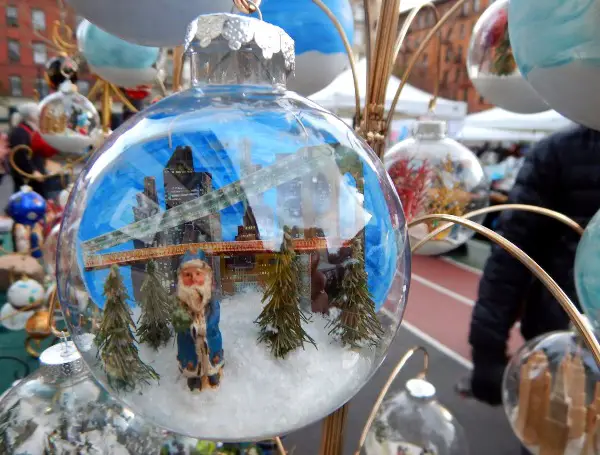 (12/15) Every Sunday on the Upper West Side you can check out Grand Bazaar NYC, the city's largest curated market—and most distinctive! This Sunday you'll also find the opening day of the market's annual Grand Holiday Bazaar. Find unique gifts indoors and out from 150+ hand-picked independent local artisans and dealers. Come hungry! There are great artisanal food options as well. 10am-5:30pm.
Read here for more on Holiday Markets NYC.
(Now-1/5) Bronx Zoo Holiday Lights. Highlights include nightly ice carving demonstrations, carolers, characters, train rides, and a lantern safari.
EXHIBITION OF THE WEEK

JR (French, born 1983). The Chronicles of New York City, 2018–19 (detail). © JR-ART.NET.
(Ongoing) JR is a consummate 21st-century artist. As a young man, he began taking pictures of his fellow street-artist friends and posting them around his native France. Later, his photography projects expanded in scope and deepened in tone without losing their populist flair. Now, this celebrated artist will receive the first major North American retrospective of his work, JR: Chronicles at the Brooklyn Museum. The exhibition, named after the artist's new mural of New York City, debuted October 4. The mural itself, The Chronicles of New York City, portrays over one thousand New Yorkers that the artist interviewed and photographed in summer of 2018.
PLUS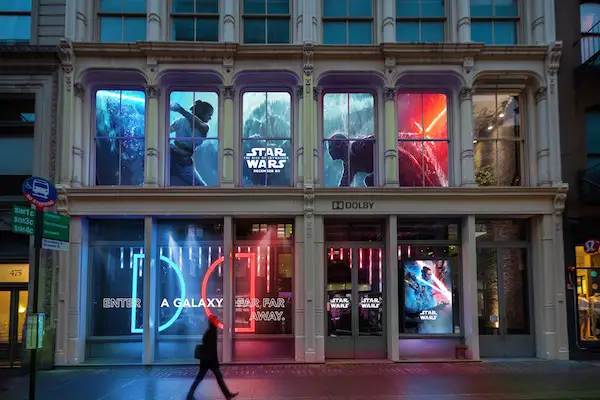 (Now-1/5) With the final chapter Stars Wars: The Rise of Skywalker coming out Dec. 20, anticipation for the beloved 42-year old film saga is at an all-time high. To whet appetites, Dolby SoHo has decked out its windows for its 11 immersive Star Wars exhibitions. Travel through hyperspace and relive epic lightsaber battles as you explore the iconic sights and sounds of the Star Wars Universe, presented in DOLBY VISION™. It's open Wednesdays-Sundays, 1-8pm, and the best part, it's FREE. On Dec. 24 & 31, open 1-5pm (closed Christmas and New Year's Day). 477 Broadway, soho.dolby.com
(Ongoing) For a brief few years, fine art, folk art, Hollywood, and Pentecostal fervor all came together in hand-painted advertisements for VHS screenings in Ghana. Now open at Poster House in Chelsea, Baptized By Beefcake: The Golden Age of Hand-Painted Movie Posters from Ghana features colorful takes on vintage horror and action flicks, seen through a localized religious lens. It's amazing any of this even survived—painted on recycled rice sacks and meant for short-term use, the show reflects a remarkable effort of preservation, holding up an uncanny mirror to '80s and '90s America. posterhouse.org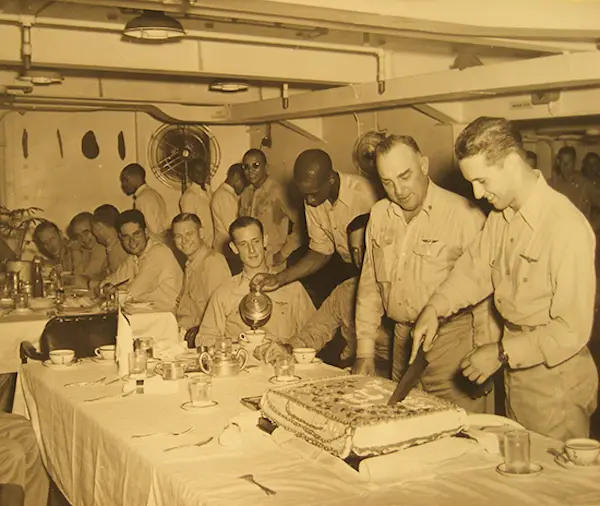 Dinner and cake in Intrepid's wardroom in October 1944. Photo from National Archives and Records Administration.
(New!) Making a beautiful cake is pretty challenging, but what if you had to make it on a Navy ship, for a crew of thousands? The Intrepid Sea, Air & Space Museum's new exhibition, Navy Cakes: A Slice of History, explores the history of naval personnel and their incredible cakes. (*Closed Dec. 4 & Dec. 9)
Installation View: Artistic License: Six Takes on the Guggenheim Collection, Solomon R. Guggenheim Museum. Photo: David Heald. © Solomon R. Guggenheim Foundation.
(Ongoing) For the first time in its history, the Solomon R. Guggenheim Museum has invited artists to serve as curators, creating Artistic License: Six Takes on the Guggenheim Collection. Drawing on the institution's vast collection of fine art, the show is a fitting complement to the 60th anniversary of the Guggenheim's iconic Frank Lloyd Wright-designed home. The six artists are Cai Guo-Qiang, Paul Chan, Jenny Holzer, Julie Mehretu, Richard Prince, and Carrie Mae Weems, all major figures in the contemporary art world.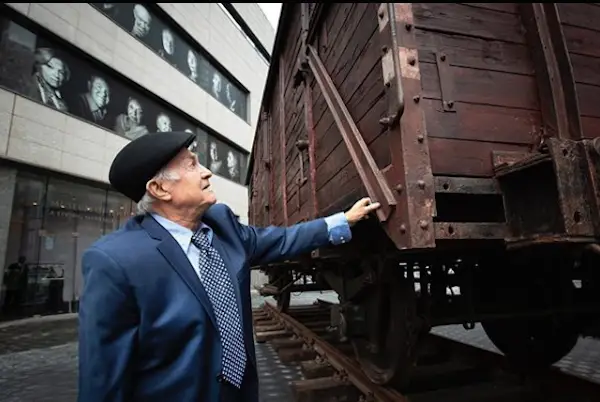 Via Instagram.
(Now-8/30/20) The most significant site of the Holocaust, Auschwitz was not a single entity, but a complex of 48 concentration, forced labor, and extermination camps, at which 1 million Jews—and tens of thousands of others—were murdered. Auschwitz. Not long ago. Not far away., a new exhibition at the Museum of Jewish Heritage—A Living Memorial to the Holocaust, explores the legacy of history's deadliest mass murder site. More than 700 original objects and 400 photographs are on display, many for the first time in North America. Among the artifacts: personal possessions, fragments of a barrack, a gas mask used by the SS, and an original German-made Model 2 freight wagon used for the deportation of Jews to the ghettos and extermination camps in occupied Poland. mjhnyc.org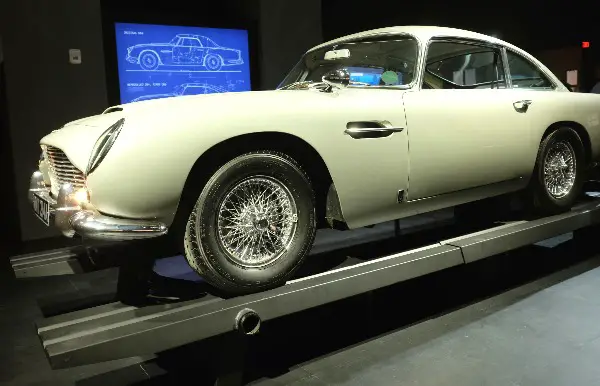 (Ongoing) You can experience the world of history's most famous spy at Driven: 007 x SPYSCAPE, a new exhibition inside New York's spy museum, SPYSCAPE. This immersive exhibition brings you into the Bond universe with sets, props, and insights about the creation of the ageless secret agent. Among the highlights: an Aston Martin DB5, the lab of Quartermaster (or Q), M16's gadget master, concept art from Oscar-winning production designer Sir Ken Adams, and an exploration of 2012 Bond film Skyfall's unforgettable final scene.
COMEDY
(12/13-12/14) Jeff Dye at Gotham Comedy Club.
PLUS
(12/12-12/14) Jim Norton at Carolines.
(12/13) Jerry Seinfeld at the Beacon Theatre, two shows.
Click here for more "Comedy Shows in NYC This Weekend."
KIDS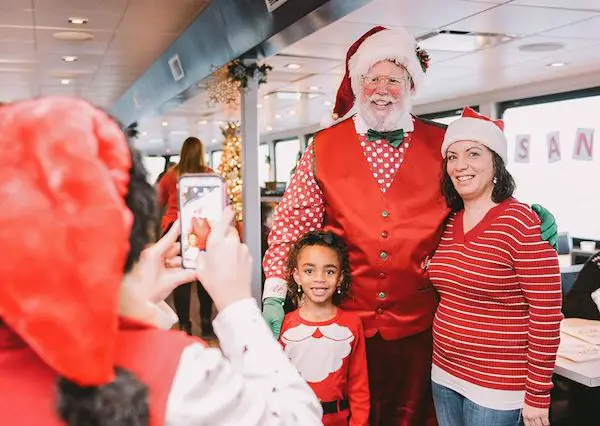 (12/14) Lunch with Santa Cruise aboard Spirit of New York. Enjoy a buffet and spend some scenic quality time with Santa. Boards 11:30am, sails noon-2pm. From $64.90 pp.
PLUS
(12/15) FREE! Holiday Sing-Along accompanied by tuba players at 46th Annual Merry Tuba Christmas at Rockefeller Center, 3:30-4:15pm.
(12/15) 109th Annual Reading of T'was the Night Before Christmas at the Church of the Intercession in Morning Heights. Young People's Chorus of Washington Heights led by YPC conductors Maria Peña and Gia Gan return to the Church of the Intercession for its 109th-annual Christmas tradition: a performance of holiday music and a candlelight reading of Clement Clark Moore's "Twas the Night Before Christmas," followed by a lantern procession and wreath-laying at Clement Moore's mausoleum at Trinity Church just across from Intercession Church. 3pm. FREE.
(Now-1/26) The New York Botanical Garden's Holiday Train Show is back! Marvel at model trains zipping through an enchanting display of more than 175 famous New York landmarks—imagine the Statue of Liberty, Brooklyn Bridge, Rockefeller Center, Central Park, and other favorites—each delightfully recreated from natural materials such as birch bark, acorns, and cinnamon sticks. Make your best holiday memories with crafts and carolers, seasonal treats, a visit from Thomas the Tank Engine, and so much more!
(Now-1/31/20) Just extended! Color Factory, a massive interactive art space, began in August 2017 in San Francisco. Wildly popular, the project has set up shop in SoHo and is sure to inspire lines as long as the cronut did at nearby Dominique Ansel Bakery. Designed by a wide spectrum of artists, Color Factory walks visitors through 16 rooms devoted to the wonder of color. You're invited to compliment someone using color words, discover your signature color, and read wishes for the world written by NYC school children on varicolored balloons. Each room is equipped with a camera that can take a picture of you and send it to your phone: the better to post with! 251 Spring St.,
support@colorfactory.co,colorfactory.co, @colorfactoryco
(Ongoing) "Here Be Dragons," a new interactive scavenger hunt in the American Museum of Natural History offered by Fable & Lark: Storied Adventures, draws from the menageries of creatures in both Fantastic Beasts and Fantastic Beasts: Crimes of Grindelwald. Participants will explore galleries throughout the museum as they answer questions, solve clues, engage in creative activities, and track down the origins of some of the creatures from both the Fantastic Beasts stories as well as other classic myths and tales. Grab your nifflers and join! Advance registration required. fableandlark.com
Updated! Read about more Instagrammable pop-up exhibits in NYC here.
(Ongoing) Exhilarating Family Fun at Stomp NYC. Special discount packages available!
Click here for more Things to Do with Kids in NYC This Weekend.
For more kids activities, check out our sister site nymetroparents.com!
SIGHTSEEING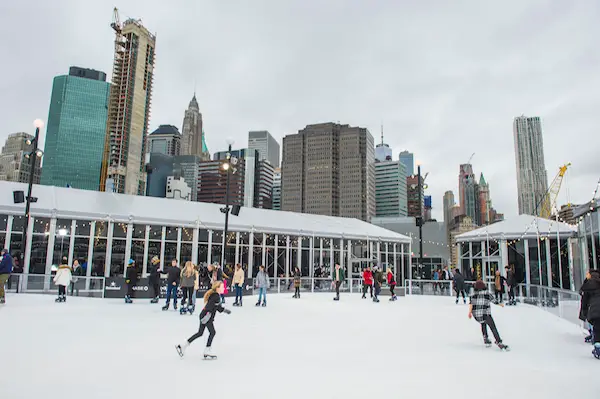 (Now-3/15/20) Grab a friend and skate your cares away downtown with rooftop views at Winterland at Pier 17.
Read here for more information on Ice Skating NYC.
PLUS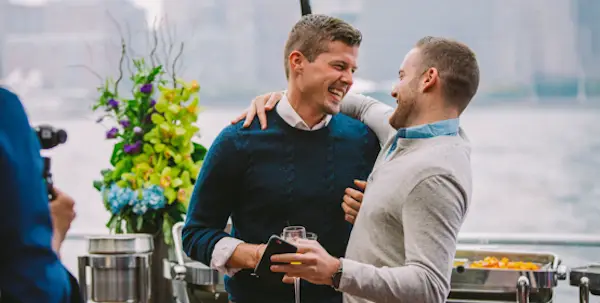 Throughout December, Bateaux New York offers a Holiday Lights Dinner Cruise, sailing from 7pm-10pm. Includes a three course dinner, an acoustic quartet and piano performance, and panoramic views. There is also a Christmas Eve Dinner Cruise, from 7pm-10pm, From $149.90. Grab the gang for the Holiday Bottomless Mimosa Brunch on Sundays, starting at $94.90. Ring in the new year with their New Year's Eve Cruise, from 9pm-1am, starting at $599.90. bateauxnewyork.com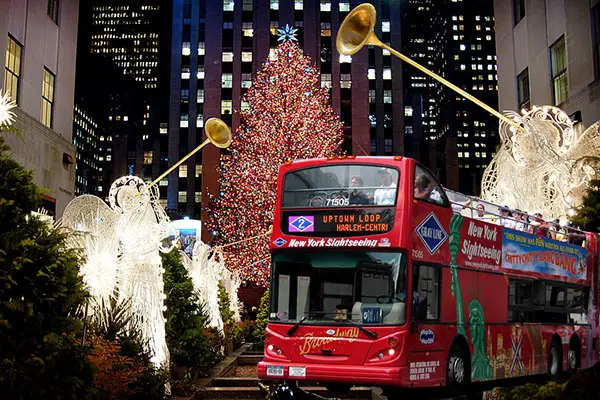 (Ongoing) Gray Line New York Sightseeing offers special Christmas Spectacular Starring the Radio City Rockettes™ combo tours, as well as trips to Woodbury Commons, where you can get the jump on designer outlet shopping. See newyorksightseeing.com for more.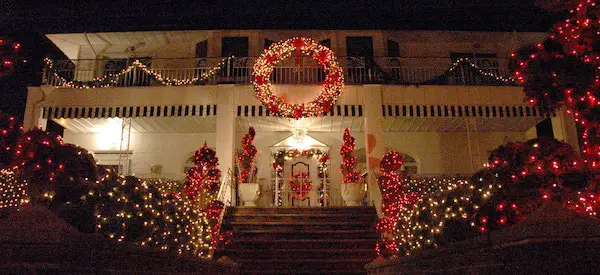 (12/1-12/31) Throughout the month of December, check out A Slice of Brooklyn's Holiday Lights Tour, which goes through Dyker Heights, Brooklyn, a neighborhood full of eye-popping displays. Offered every day except Christmas Day. Stock up on holiday treats and gifts on A Slice of Brooklyn's Chocolate Tour as well, offered every Monday, Wednesday, and Friday.
New! Learn How to Strut the Runway with Victoria's Secret Angel Alessandra D'Ambrosio at Madame Tussauds New York! "The Fashion Experience" is a new interactive attraction that has just opened at Madame Tussauds in Times Square.
(Now-1/5) LuminoCity Festival at Randall's Island is a Iight festival/immersive art experience spanning 16 acres with three theme parks: Winter Fantasy, Wild Adventure, and Sweet Dream, highlighted by over 23 sets of larger-than-life light art displays and a holiday night market.
(Ongoing) Part show. Part tour. All entertainment. THE RIDE is a one-of-a-kind experience that turns the streets of New York into a stage. Journey through Times Square and midtown Manhattan as the city's landmarks unfold before your very eyes. THE RIDE's theatres-on-wheels also tour lower Manhattan, with THE DOWNTOWN EXPERIENCE Powered by THE RIDE, which lets visitors re-live iconic moments in New York history through the magic of TimeLooper Virtual Reality Headsets. Use our coupon and save $10 off! *The RIDE HOLIDAY EDITION, runs 11/14-1/5/20.
The iconic Rockefeller Center Ice Skating Rink is open for the winter season. For information on reservations, skate lessons, or season passes, call 212-332-7654 or visit therinkatrockcenter.com. VIP packages are available. For more information on Rockefeller Center, visit rockefellercenter.com. (Please note, tree won't be up 'til Dec. 4.)
(Ongoing) A Slice of Brooklyn's Brooklyn Chocolate Tour visits artisanal chocolate sites Jacques Torres Chocolate in DUMBO, The Chocolate Room in Cobble Hill, Raaka in Red Hook, and Li-Lac Chocolates in Industry City, Sunset Park. Offered every Monday, Wednesday, Friday. All tours depart and return to Union Square.
(New!) Madame Tussauds New York Presents Broadway. Take a magical journey starting with a cocktail at the Broadway Bar, and then traveling through a kaleidoscope of your favorite musicals. Enter the world of Andrew Lloyd Webber's Phantom of the Opera, Joseph and the Amazing Technicolor Dreamcoat, Evita, Sunset Boulevard, and Cats. You can sing "Memory" with Grizabella the "Glamour Cat" and wear the Dreamcoat yourself as you become a Broadway star. The Phantom of the Opera will also guide you through this dazzling backstage experience, and perhaps do a little singing himself along the way. Live actors will be on hand to enhance the rush both on- and offstage.
(Ongoing) Get the full stadium experience with Yankee Stadium Tours, which offers exclusive access to New York Yankee historic spots like Monument Park, The Great Hall, and even down to the dugout. The daily tours also bring you close to baseball artifacts like Babe Ruth's bat, Lou Gehrig's jersey, and rings and trophies representing the Yankees' 27 world championships. Here is a $5 off coupon!
FOOD, MUSIC, AND NIGHTLIFE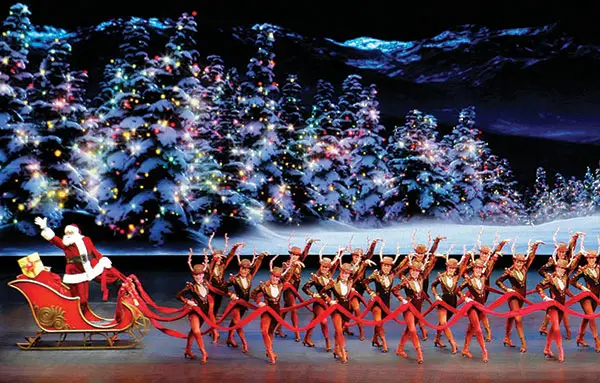 (Now-1/5/20) The Christmas Spectacular Starring the Radio City Rockettes® returns to dazzle for another holiday season! The 90-minute show features more than 140 performers and an original musical score and combines singing, dancing, and humor with traditional scenes.
PLUS
(12/12-12/29) 'Twas the Night Before Christmas, by Cirque du Soleil.
PLUS
(Now-1/5) Chris Botti's 15th Annual Holiday Residency at the Blue Note Jazz Club.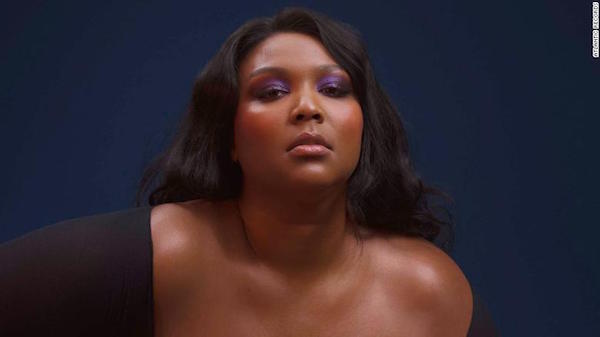 (12/13) Z100's Jingle Ball at Madison Square Garden with Taylor Swift, the Jonas Brothers, Camila Cabello, Halsey, 5SOS, Niall Horan, Lizzo, Dan + Shay, Monsta X, Lewis Capaldi, and Fletcher.
(12/13-12/14) New York Gay Men's Chorus presents its Annual Holiday Extravaganza concert at Skirball Center. With selections of everyone's favorites and important traditions all our own, this evening of sparkling entertainment shines with the powerful sound of nearly 300 voices. 8pm.
(12/13) Agnostic Front/Sick of It All at Black Thorn 51 in Queens.
(12/13) Damara Lynn Greene "Home for the Holidays" (R&B/Blues/Indie Soul) at Sugar Bar NYC. 8pm.
(12/14) Charles Duke "Hello Christmas Concert" (R&B/Pop) at Sugar Bar NYC. 8pm & 9:30pm.
(12/14) Kansas at the Beacon Theatre.
(12/14) Los Lobos perform at the New York Society for Ethical Culture.
(12/14) Harry and the Potters' 10th Annual Yule Ball at The Bell House. All ages. 5:30pm.
(12/15) Mariah: All I Want for Christmas Is You Tour stops at Madison Square Garden.
(12/15) Irish Arts Center Winter Solstice Celebration. New Yorkers of all backgrounds love this heartwarming celebration of well-woven musical traditions from Ireland and around the world. A parade of special guests old and new join hosts Mick Moloney, Athena Tergis, and The Green Fields of America for a raft of songs and stories to kick off the holiday season in this critically-acclaimed welcome to winter
(12/15, 12/22, 12/29) Dueling Pianos at Patrick's Restaurant & Oyster Bar. Doors 12:30pm, show at 1:30pm. Three Ways to Duel! $25 for entry; $45 for entry plus bottomless mimosas & Marys; $60 for entry plus bottomless mimosas, Marys, and an entree. Dueling Pianos is an all-request, rock-and-roll party where YOU pick the playlist. Two top piano entertainers mix music, comedy, and audience interaction in a singalong, laugh-along, dance-along show. Nothing is off-limits from pop, rock, country, hip-hop, hairbands, disco, punk, rock, standards, showtunes—if you can hum it, they can play it! Get tickets here.
(Now-1/20) The Late Late Tacky Christmas Takeover. Think your wacky grandmother's living room exploding with holiday decorations? The Late Late's Tacky Christmas Takeover brings all the tchotchkes, all the holiday colors mixed together, and all the decorations that can fit, with no theme in sight—it's fun, it's festive, and it's tacky! Guests can warm up with a number of specialty seasonal cocktails including the Oh, F...udge! with Hennessy VSOP, green chartreuse, hot chocolate, marshmallow meringue, and peppermint candy.
Click here to read more on 10 Seasonal Bars and Holiday Popups in NYC.
(12/15) Nova, Nova: Christmas Star performance at St. John the Divine. 2pm.
(12/15-1/4) Met Opera presents The Magic Flute. A beloved holiday tradition continues as Mozart's delightful fairy tale returns in the Met's abridged, English-language version for families, perfect for younger audiences, with no intermission and a running time of less than two hours. Lothar Koenigs conducts a dynamic cast of standout Mozarteans in Julie Taymor's magical production, an enduring Met classic with its eye-popping puppetry and stunning visuals. Soprano Kathryn Lewek reprises her hair-raising rendition of the malevolent Queen of the Night.
(Now-12/29) Anything Can Happen in the Theatre: The Musical World of Maury Yeston at The York Theatre Company. Catch this Off-Broadway premiere which features songs from the two-time Tony Award-winning composer and lyricist. The genius of Yeston's songs—intricate yet emotional, cerebral yet romantic, always melodic—is coupled with an outstanding cast, performing new tunes and showstoppers from the likes of Grand Hotel, Titanic, and Phantom. St. Peter's Church.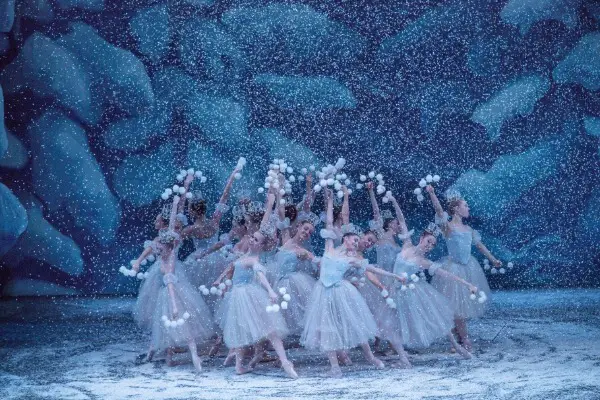 Photo credit: © Paul Kolnik
(Now-1/5 ) Tschaikovsky's beloved melodies transport viewers to a world where mischievous mice besiege a battalion of toy soldiers, and an onstage blizzard leads to an enchanted Land of Sweets. George Balanchine's The Nutcracker at nycballet.com.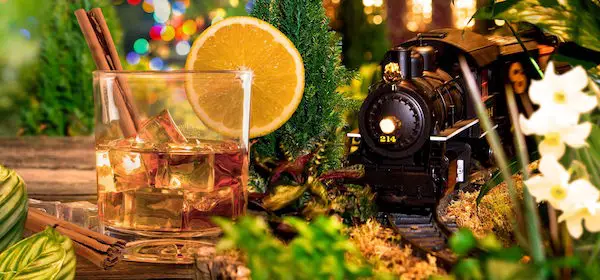 (12/14, 12/20, 12/21, 12/27, 12/28; 1/3, 1/4, 1/11, 1/18) Bar Car Nights at New York Botanical Garden. On these nights exclusively for adults 21 and over, the wintry landscape of NYBG sets the scene for festive outdoor adventures, with an after-dark viewing of the Holiday Train Show® as the centerpiece. Sip a cocktail as you journey through a series of station stops, including pop-up acts featuring some of NYC's favorite street performers.
(Ongoing) Rosé Mansion, everyone's favorite excuse to sample rosé, continues its fabulous run through 2019. You get tastings of 8 different pink wines as you travel through a champagne ball pit, a mini-theme park called Roséland, and a tree house. There are also two rosé wine bars where you can hang out, plus grub from Taco Dumbo. rosewinemansion.com, @rosewinemansion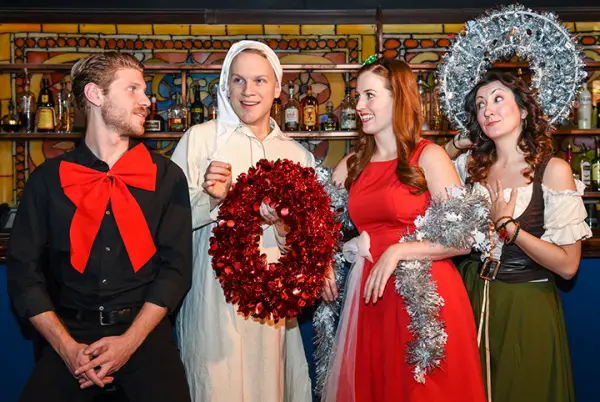 Photo: Russ Rowland.
(Ongoing) Sit back and enjoy music and three cocktails, while the cast of The Imbible gives insight into the history and science behind alcoholic beverages. Shows include A Spirited History of Drinking; Day Drinking: The Brunch Musical; and Christmas Carol Cocktails, now in its fifth smash/smashed season. Cheers to that! Save $15 with City Guide's coupon.
Click here for more Nightlife in NYC This Weekend.
For more LGBTQ-friendly events, visit our brother site at metrosource.com!
Click here for more information on The Best Things to Do in December. We've got January covered, too!
---
EVERYTHING TO DO NYC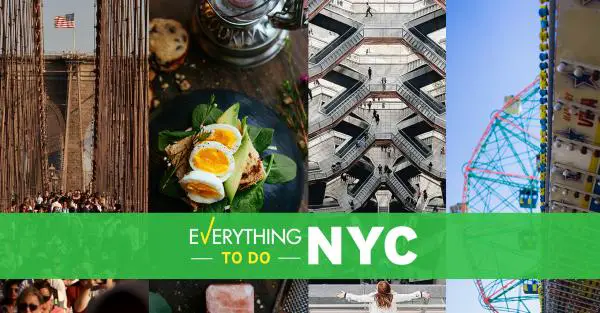 Want free advice on what to do and see in New York? Join our Facebook group Everything to Do NYC, a place for people to ask questions and get tips on how to make the most of the city.