(6/14-6/16) Looking for what to do in New York this weekend? We've got the latest on all the goings-on, from concerts to museum exhibitions to comedy to the best in city sightseeing. There's much to celebrate! This weekend is Father's Day Weekend, plus there are events for Flag Day, WorldPride, and much more!
(6/14) Official 2020 FDNY Calendar of Heroes Launch & Signing. Come celebrate the launch of your favorite calendar with NYC's Bravest. Drop by and meet the men and women of FDNY/EMS and get your 2020 calendar signed.
(6/14) Flag Day! The Sons of the Revolution in the State of New York and Fraunces Tavern Museum host the anniversary of the adoption of the flag of the United States (June 14, 1777) with a parade of flag-waving representatives of New York schools and organizations, starting at noon; all afternoon long, admission to the historic tavern is just a buck. The parade starts on the steps of City Hall at noon.
(6/14) Brew at the Zoo, summer edition, is coming to the Bronx Zoo on Friday. From 6 to 7:30pm grizzly bears, giraffes, lemurs, sea lions, and more are all on exhibit. Stop by and see your favorites before the drinking begins, with the zoo pouring samples of over 100 varieties of wine and beer. Food truck and zoo cafe bites will also be available.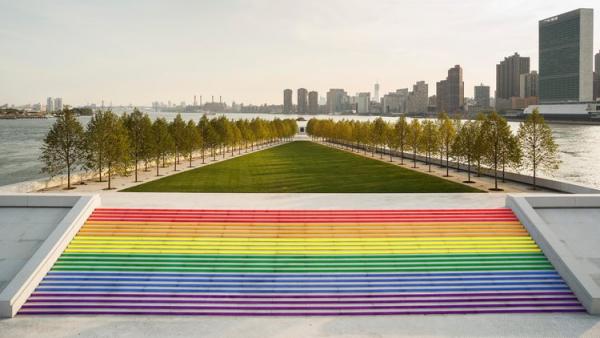 (6/15) On Saturday, June 15 from noon-6pm, FDR Four Freedoms State Park on Roosevelt Island will host a free WorldPride celebration for all ages, with VideoOut onsite all day capturing coming out stories for their online library, food trucks for a picnic on the lawn (and for the 21+ crowd, wine and beer available for purchase), and a visit from Drag Queen Story Hour, at 12:30pm and 2pm, featuring books that focus on diversity and inclusivity, from Little Bee Books. From Friday, June 14 to Sunday, June 30, you can check out Ascend with Pride. The park's monumental staircase will transform into a massive LGBTQ Pride Flag to celebrate the universal human rights articulated in FDR's Four Freedoms Speech: freedom of speech and expression, freedom of worship, freedom from want, and freedom from fear.
(6/15) Jammer Beach Party at Rockaway Beach. From 11am to sundown, enhoy a free party as Sixpoint Brewery takes over the boardwalk at Riis Park Beach Bazaar with beer, specialty cocktails, food, live music, boozy beach games, and much more.
(6/15) The Vinho Verde Wine Experience is back for its third year, returning to Chelsea. Taste ever-flowing wine from over 30 wineries in the Vinho Verde region of Portugal as well as food bites from some of NYC's hottest restaurants. The day-long festival, broken down into three sessions, will also include sommeliers hosting informative sessions about Vinho Verde, mixologists custom curating delicious beverages at the Vinho Verde Cocktail Bar, live music, and a photo booth.
(Now-6/16) Ends this Sunday! Last chance to catch Enter Laughing: The Musical, at the York Theatre! Based on Carl Reiner's semi-autobiographical novel, the hilariously tuneful Enter Laughing: The Musical careens through the misadventures of star-struck, stage-struck, woman-struck teenager David Kolowitz, who pratfalls his way into manhood via the theatre in 1930s New York City. As Jerry Seinfeld put it, "You can't pack more laughter and fun into a finite space and time!" Catch its limited engagement with the York Theatre Company.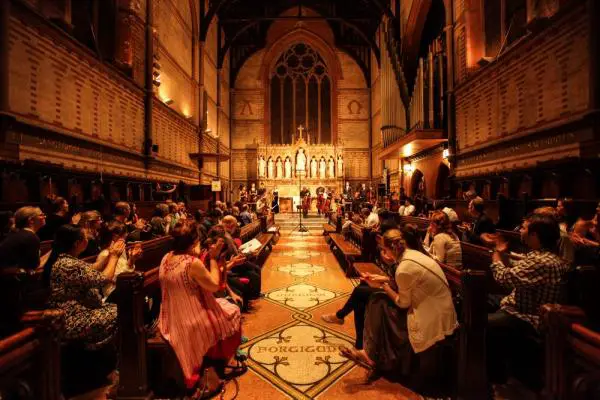 (Now-6/15) Chelsea Music Festival. The Chelsea Music Festival presents a series of classical and jazz chamber music concerts, featuring emerging artists from around the world performing all across Chelsea.
(Now-8/19) The popular Shakespeare in the Park program returns to Central Park. This year's productions include Much Ado About Nothing and Coriolanus.
THE BIG EVENT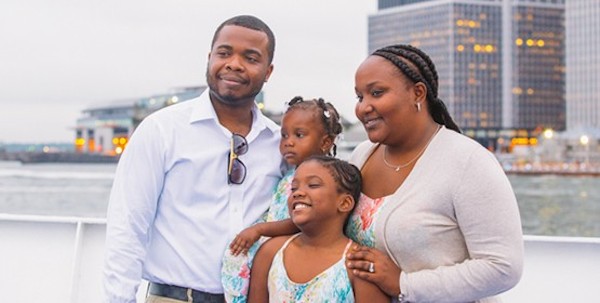 (6/16) Father's Day Cruises! Spirit Cruises leaves from Chelsea Piers with noon brunch and 7pm dinner buffet departures. The skylines don't come any more spectacular. For an elegant plated Father's Day Bottomless Mimosa Brunch Cruise or Father's Day Dinner Cruise, come aboard Bateaux, with live music on top of more of those breathtaking views. If Dad's a beer fan, hook him up with Hornblower's Father's Day Beer Brunch Cruise. The ride, aboard a luxury yacht, includes unlimited beer and mimosas, a live jazz band and DJ, and a bountiful brunch buffet.
PLUS
(6/16) Dads, be a kid for a day at the Intrepid Sea, Air, & Space Museum. The museum is celebrating dads by offering them admission for the price of a children's ticket! Download the coupon here and show it at the box office to redeem.
Click here for additional suggestions on What Do To for Father's Day in 2019 in NYC.
Treat Dad to a special meal with friends and loved ones. Click here for recommendations on Where to Dine for Father's Day in NYC.
EXHIBITION OF THE WEEK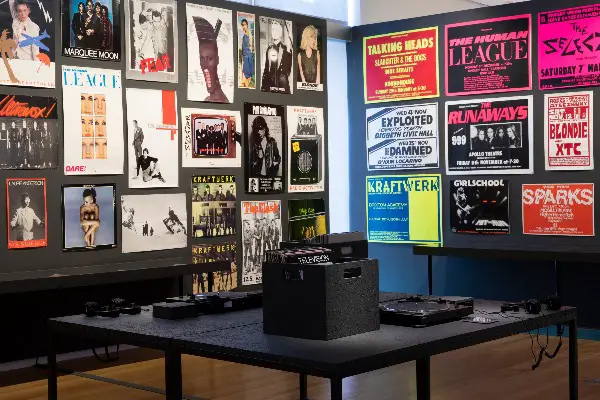 Installation view of Too Fast to Live, Too Young to Die: Punk Graphics, 1976-1986 at the Museum of Arts and Design. Photo by Jenna Bascom.
(Ongoing) Too Fast to Live, Too Young to Die: Punk Graphics, 1976-1986 at the Museum of Arts and Design. More than 40 years after punk exploded onto the music scenes of New York and London, its impact on the larger culture is still being felt. Born in a period of economic malaise, punk's energy coalesced into a powerful subcultural phenomenon that transcended music to affect other fields, and especially graphic design.Too Fast to Live, Too Young to Die explores the visual language of punk through hundreds of its most memorable graphics, from the shocking remixes of expropriated images and texts to the DIY zines and flyers that challenged the commercial slickness of the mainstream media. #PunkGraphics


PLUS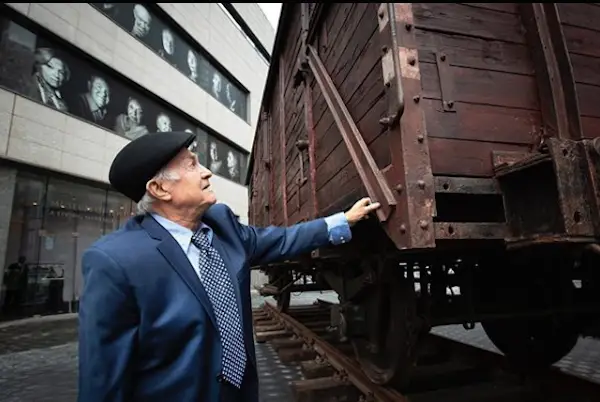 (Now-1/3/20) The most significant site of the Holocaust, Auschwitz was not a single entity, but a complex of 48 concentration, forced labor, and extermination camps, at which 1 million Jews—and tens of thousands of others—were murdered. Auschwitz. Not long ago. Not far away., a new exhibition at the Museum of Jewish Heritage—A Living Memorial to the Holocaust, explores the legacy of history's deadliest mass murder site. More than 700 original objects and 400 photographs are on display, many for the first time in North America. Among the artifacts: personal possessions, fragments of a barrack, a gas mask used by the SS, and an original German-made Model 2 freight wagon used for the deportation of Jews to the ghettos and extermination camps in occupied Poland. 36 Battery Pl. (1st Pl.), 646-437-4202, mjhnyc.org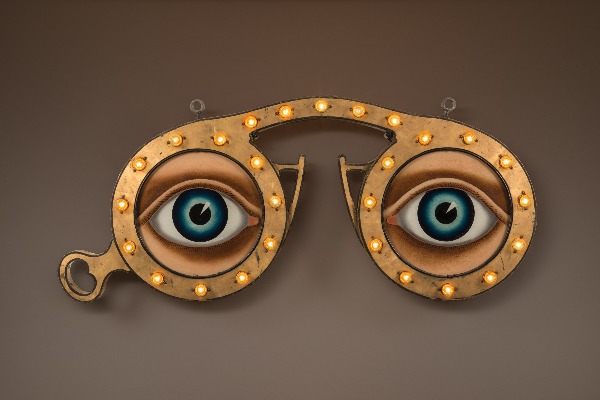 Optician's Trade Sign, E. G. Washburne & Co. 207 Fulton Street, New York City, c. 1915. Paint and gold leaf on zinc and iron, with glass and light bulbs 26 x 54 x 4". Collection of Penny and Allan Katz. Photo by Gavin Ashworth, New York.
(Ongoing) Folk art may seem like something that flourishes best in isolated areas, but it's been a vibrant tradition in the heart of New York City for centuries. In fact, many objects associated with the heartland were originally manufactured by artisans here. A new show at the American Folk Art Museum, Made in New York City: The Business of Folk Art, uses some 100 works by self-taught artists to tell the story of how New York became the commercial and financial capital of the country, as seen through the lens of the folk art that was made here. From stoneware cast in the West Village to advertising figures made on Canal Street to weathervanes forged in the Bronx to carousel animals carved on Coney Island, see how New York City was the center of it all.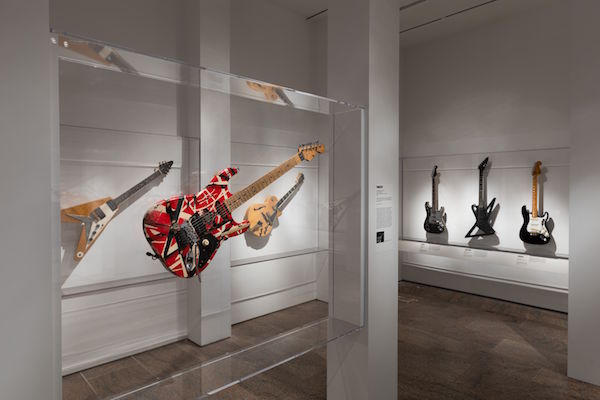 (Now-10/1) When you see the sheer volume (some 130) of mind-blowing instruments that have been played by a broad cross-section of iconic musicians, all tucked into one space, you'll understand why the sprawling Metropolitan Museum of Art is the appropriate place for the new show, Play It Loud: Instruments of Rock & Roll. It's the first time a music exhibit of this magnitude has been presented, with guitars alone including the white Fender that Jimi Hendrix played at Woodstock, Prince's 1993 "Love Symbol" guitar, and one of Pete Townshend's smashed Gibsons encased in Lucite.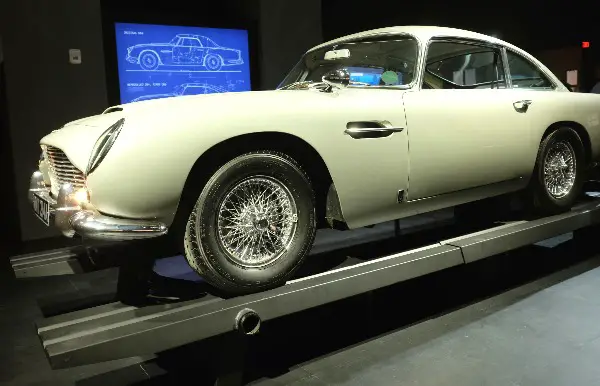 (Ongoing) You can experience the world of history's most famous spy at Driven: 007 x SPYSCAPE, a new exhibition inside New York's spy museum, SPYSCAPE. This immersive exhibition brings you into the Bond universe with sets, props, and insights about the creation of the ageless secret agent. Among the highlights: an Aston Martin DB5, the lab of Quartermaster (or Q), M16's gadget master, concept art from Oscar-winning production designer Sir Ken Adams, and an exploration of 2012 Bond film Skyfall's unforgettable final scene. Father's Day special! SPYSCAPE is giving all fathers free admission on Sunday, when at least one other family member pays for admission. The code to get free admission online is SPY DAD.
(Now-7/10 for Part One) Photographer Robert Mapplethorpe, who died 30 years ago of complications from AIDS, is the subject of Implicit Tensions: Mapplethorpe Now, now displaying the first installment of a two-part retrospective at The Solomon R. Guggenheim Museum. Mapplethorpe is known not just for his images, but for the controversies they incited. In 1989, after his death, his work became the centerpiece of a national debate about artistic censorship and what kinds of works public funds should cover (ironically, it was the debate that led to his widespread fame). Many of the images are graphic and retain the ability to cause discomfort, but time has lessened the shock; it has also brought to the forefront Mapplethorpe's technical proficiency and his ability to capture deeply insightful looks at his subjects.
COMEDY
(6/14-6/15) Aziz Ansari's Road to Nowhere stops at Radio City Music Hall.
PLUS
(6/14-6/15) Liza Treyger at Gotham Comedy Club.
(6/14) Woke AF: A Mind-Opening Variety Show at SubCulture. Woke AF is an all-inclusive comedy variety show where artists share about social issues they're passionate about. Comedy that they want to open your minds to. Comedy that they're sure will change your life. Friends. Family. Strangers. Prepare to get WOKE! 10pm.
(6/14) Lucky Cheng's Drag Cabaret Restaurant & Bar Presents: Drag Dinner Party. Dinner and drinks with a drag show! Lucky Cheng's, the originators of Drag Dining, which is now in its 25th year! The drag show starts after everyone's drink and dinner orders have been taken. Three-course prix fixe menu created by Executive Chef Saul Montiel and the kitchens of Cantina Rooftop.
(6/14) Janeane Garofalo, Pheobe Robinson, Jordan Carlos, No Two Drink Minimum-Exclusive Special Show at Eastville Comedy Club. 8pm.
(6/15) 1st Annual Coney Island Comedy, Music & Seafood Festival. Comedy line-up: George Wallace, Capone, TK Kirkland, Mark Curry, Smokey Suarrez. Music line-up: Big Daddy Kane, Chubb Rock, Milk Dee from Audio 2. Food menu: shrimp skewers, seafood rasta pasta, fried shrimp & waffles, fried catfish & waffles, fish tacos, curry shrimp, soft shell crab, glazed salmon, and more. Sounds by: DJ Envy Power 105.1. Doors open 7pm.
(6/15) Father's Day Comedy Show at Kings Theatre. It's the return of Earthquake's Father's Day Comedy show and the hilarious King of Comedy Cedric the Entertainer, plus Deon Cole and more.
(Ongoing) Check out great comedic talent every night at Broadway Comedy Club! Use our coupon and pay only $5 for admission!
Click here for more comedy shows in NYC this weekend.
KIDS
(6/14) Watson Adventures' Wizard School Scavenger Hunt for Harry Potter Fans at the Metropolitan Museum of Art. Follow in the footsteps of young wizards on a field trip to the Met in search of art that echoes characters, places, and enchanted objects in the Harry Potter books and movies. Keep your trusty wand handy as you track down a powerful sorceress, a Snape-like potions master, Hagrid-like giants, and cloaked and masked figures as scary as any Death Eater or Dementor.
PLUS
(6/15) Ice Cream Garden Social at the Mount Vernon Museum. Join in for some family fun during this "Path through History Weekend." Come to the garden to make ice cream, try historic toys and games, take a museum tour, and hear about the mouth-watering history of this sweet treat. 1-3pm.
(Now-11/3) Kids of all ages will want to check out the new Bronx Zoo Dinosaur Safari. It's the biggest, most realistic dinosaur safari ride in America. Travel back in time on a guided tour to learn about dinos of the past and descendent animals of the present. The experience will take riders through 2 acres of woods, in which they will meet animatronic dinosaurs, including two 40-foot-long T. rexes, a 60-foot-long herbivore called Omeisaurus, and the Spinosaurus, one of the largest carnivorous dinosaurs to ever exist.
(6/1-9/8) Above & Beyond: The Ultimate Flight Exhibition at The New York Hall of Science. NYSCI's summer exhibition uses flight simulation, augmented reality, touch tables, design and skill challenges, virtual reality, and more to immerse visitors in the wonders of flight.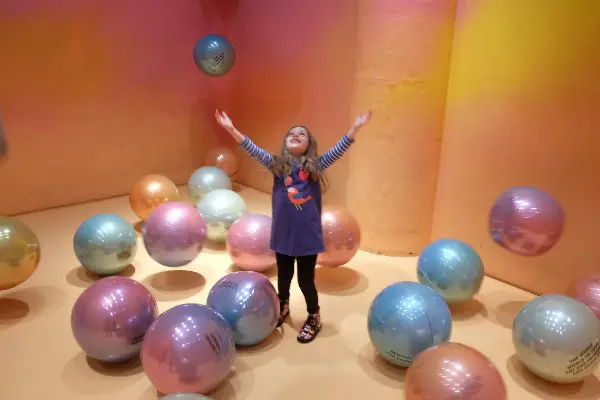 (Ongoing) Color Factory, a massive interactive art space, began in August 2017 in San Francisco. Wildly popular, the project has set up shop in SoHo and is sure to inspire lines as long as the cronut did at nearby Dominique Ansel Bakery. Designed by a wide spectrum of artists, Color Factory walks visitors through 16 rooms devoted to the wonder of color. You're invited to compliment someone using color words, discover your signature color, and read wishes for the world written by NYC school children on varicolored balloons. Each room is equipped with a camera that can take a picture of you and send it to your phone: the better to post with! On view now through August, 2019. 251 Spring St., support@colorfactory.co, colorfactory.co, @colorfactoryco
Updated!! Read about more Instagrammable pop-up exhibits in NYC here.
(Ongoing) Exhilarating Family Fun at Stomp NYC. Special discount packages available!
Click here for more events to do with kids this weekend.
For even more kids activities, and to learn more about the brand new Bronx Zoo Dinosaur Safari, check out our sister site nymetroparents.com!
SIGHTSEEING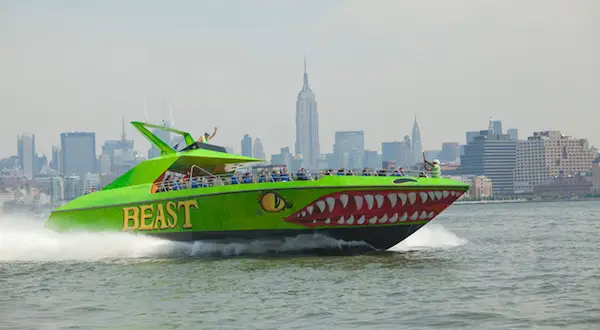 (Ongoing) Feelin' the need for speed? The BEAST Speedboat Ride is back! Zoom past the Statue of Liberty at a heart-racing 45 mph!
PLUS
(6/14-6/16) Hop-On, Hop-Out The Pride Experience Bus Tour with City Sightseeing. Join your hostess, the fabulous Anita Buffem, on this whimsical 2-hour journey highlighting the gay history of New York City. Your licensed New York City tour guide will provide the facts, while your hostess Anita provides the fun. Your route will take you north from Hell's Kitchen along Central Park past the infamous Central Park Ramble, then back south past historic locations such as The Ansonia Hotel, where Bette Midler was discovered while performing at the Continental Baths, Lincoln Center, Carnegie Hall, Times Square, Chelsea and, finally, Greenwich Village/The Stonewall Inn. Our open top double decker motor coach offers unobstructed views on this evening extravaganza that you won't want to miss! **Reservations required, runs every weekend in June.
(New!) Madame Tussauds New York Presents Broadway. Take a magical journey starting with a cocktail at the Broadway Bar, and then traveling through a kaleidoscope of your favorite musicals. Enter the world of Andrew Lloyd Webber's Phantom of the Opera, Joseph and the Amazing Technicolor Dreamcoat, Evita, Sunset Boulevard, and Cats. You can sing "Memory" with Grizabella the "Glamour Cat" and wear the Dreamcoat yourself as you become a Broadway star. The Phantom of the Opera will also guide you through this dazzling backstage experience, and perhaps do a little singing himself along the way. Live actors will be on hand to enhance the rush both on- and offstage.
(Ongoing) Get the full stadium experience with Yankee Stadium Tours, which offers exclusive access to New York Yankee historic spots like Monument Park, The Great Hall, and even down to the dugout. The daily tours also bring you close to baseball artifacts like Babe Ruth's bat, Lou Gehrig's jersey, and rings and trophies representing the Yankees' 27 world championships.
(Ongoing) For more than 70 years, Circle Line has been showing visitors the city, including the only cruise that goes all the way around Manhattan: Circle Line's Best of NYC Cruise. One trip will show off five boroughs, three rivers, and more than 20 bridges on the way to 101 New York City sights. State-of-the-art Empire Class ships have recently launched, providing quieter rides, better sound for the personable onboard guides, bigger windows, improved climate control, and more outdoor deck space. (For dining and entertainment, take a ride on Hudson's, a three-story "floating rooftop" that's a Circle Line sibling.)
(Ongoing) Part show. Part tour. All entertainment. THE RIDE is a one-of-a-kind experience that turns the streets of New York into a stage. Journey through Times Square and midtown Manhattan as the city's landmarks unfold before your very eyes. THE RIDE's theatres-on-wheels also tour lower Manhattan, with THE DOWNTOWN EXPERIENCE Powered by THE RIDE, which lets visitors re-live iconic moments in New York history through the magic of TimeLooper Virtual Reality Headsets. Use our coupon and save $10 off!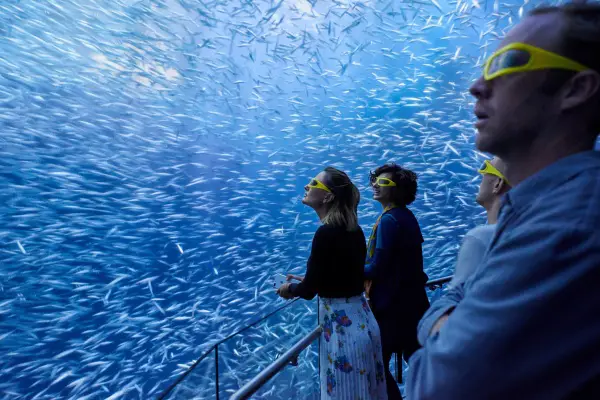 Immerse yourself in the deep, dark depths of the ocean, where Humboldt squid fight to the death and 50-foot whales ride overhead. Play with virtual sea lions, navigate a kelp maze, and more at National Geographic Encounter: Ocean Odyssey! Here's a $10 off coupon! Sip 'n Sea Fridays are back, 4-10pm, and Sip 'n Sea Sundays, 4-9pm.
Bring a loved one to take in the breathtaking view at Top of the Rock.
(Ongoing) Get all of the best of the Big Apple with the New York Sightseeing Pass, from Grey Line CitySightseeing. Mix and match your way to a supercharged experience with more than 100 attractions, tours, experiences, and destinations to choose from. Cruise through the harbor to the Statue of Liberty, take in the view of Manhattan from high up at One World Observatory, enjoy three-day access to the Metropolitan Museum of Art, and go wild at both the Central Park and Bronx Zoos. With the Sightseeing Pass, navigate New York City with ease on one of six double-decker bus tours, the Hop-On/Hop-Off ferry tour, dozens of themed walking and biking tours, or a horse and carriage ride. Relax with additional savings with discounts to dining, retail, and entertainment, plus access to the Woodbury Common shopping mall and Go Airlink airport shuttle. With the Sightseeing Pass, take advantage of full admission to attractions, saving you up to 65% of total visitation costs! sightseeingpass.com
EVERYTHING TO DO NYC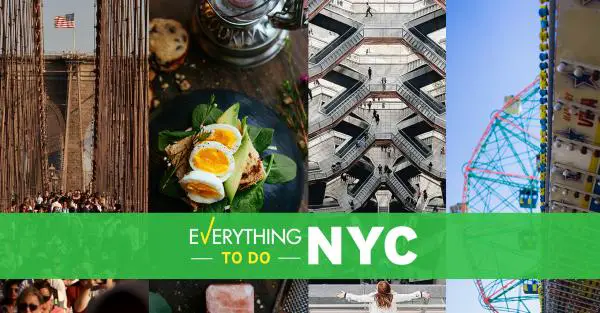 Want free advice on what to do and see in New York? Join our Facebook group Everything to Do NYC, a place for people to ask questions and get tips on how to make the most of the city.
FOOD, MUSIC, AND NIGHTLIFE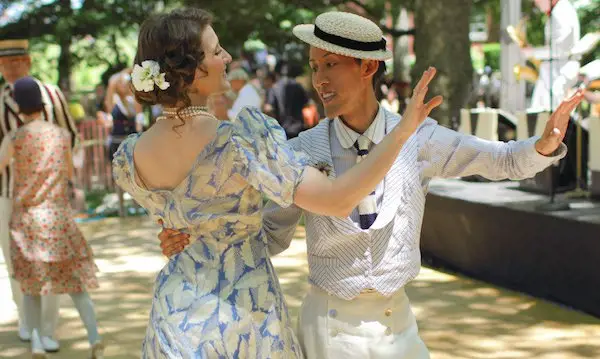 Photo: Flickr/Paul Stein
(6/15-6/16) The Jazz Age Lawn Party at Governors Island. (If you miss it this time around, there's one more weekend 8/24-25.)
PLUS
(6/14) Celebrate PRIDE with Ben & Jerry's Ice Cream Social at West Elm's Chelsea location, 5pm. This Pride Month, West Elm and Ben & Jerry's welcome all to their local West Elm store for a complimentary "Ice Cream Social" and to learn about the important work of the Human Rights Campaign (HRC) and how to get involved in local Pride Month activities.
(6/15) Death Cab for Cutie/Jenny Lewis at Forest Hills Stadium.
(6/15) Celebrate National Lobster Day aboard the North River Lobster Company.
(6/15) Saturday Night Party Cruise: Sail Your Cares Away with Hornblower Cruises. Escape on a mini-getaway without straying too far from the city lights on a three-hour cruise aboard a yacht. This weekend party on the Hudson River features a dance floor with Top 40 and rock music served up by a live DJ, and a cash bar where you can order your favorite cocktails. 9:30pm
(6/16) Egg Rolls, Egg Creams, and Empanadas Festival at the Museum at Eldridge Street.
(6/16) Classic Harbor Line's Bear Back Mountain Father's Day Cruise featuring a variety of culinary delights; a visit to the Trail-side Zoo, a stroll or row around Lake Hessian, and a hike up Bear Mountain for breath-taking views of the Hudson River valley.This 9-hour full day event starts with a 3-hour northbound cruise from Chelsea Piers to Bear Mountain State Park. More info and get tickets here.
(6/16) Feeling Wicked: The Magical Side of the American Songbook, with Emily Skinner & More at Feinstein's /54 Below. Hear the best of the classic American Songbook in four jewel-box revues created especially for a supper club setting, and featuring stellar talent from Broadway and beyond. From Wickedto "Witchcraft," Broadway and the American Songbook love the mysterious, the magical, and the miraculous. Featuring standards and legendary Broadway gems by Harold Arlen, Lerner and Loewe, Cy Coleman, Stephen Schwartz, Andrew Lloyd Webber, Disney classics, and more. 7pm & 9:30pm.
(Now-9/30) That's right, it's rosé all day once again. Rosé Mansion is back for another summer residency in NYC after a successful run last year. The designs in all 14 rooms will be brand-new, and the mansion will be twice the size of last year's iteration. You'll get tastings of 8 different pink wines as you travel through a champagne ball pit, a mini-theme park called Roséland, and a tree house! There will also be two different rosé wine bars where you can hang out, plus grub from Taco Dumbo on hand. 111 W. 32nd St., rosewinemansion.com, @rosewinemansion
(Ongoing) Smorgasburg is back! With locations now in Williamsburg, Prospect Park, and Hudson Yards.
For information on LGBTQ nightlife, visit our brother site metrosource.com! Planning on being in New York in June for WorldPride? We've got all the WorldPride 2019 info you need right here!
(Ongoing) The Imbible: A Spirited History of Drinking sweeps audiences on a 10,000-year journey across the globe, accompanied by three complimentary craft cocktails and world-class a cappella music. This groundbreaking show at New World Stages pours through the history and science behind drinks, traces their economic and political impact, conducts live demonstrations, and keeps you laughing all the way. If you're looking for a quintessential NYC brunch experience, check out weekend matinee edition Day Drinking: The Brunch Musical, where your ticket includes a create-your-own Bloody Mary Bar, authentic Irish coffee, and a seasonal Bellini. You'll also learn about the history of brunch and, more importantly, brunch cocktails. Use our coupon and save $15!
Click here for more nightlife in NYC this weekend.
---
Like what you see? Click here for more ideas on The Best Things to Do in NYC in June. We've got July covered, too! Going to be in town this summer? Read more about Where to Find Outdoor Concerts This Summer in NYC.