We all know the one big park in the center of Manhattan, but don't you ever wonder about the other green spaces around town? Well, we've got you covered with this list, featuring large and small parks in NYC that don't get as much press but are no less wonderful. Some aren't secrets to locals, like the ones in populous neighborhoods like Inwood in Manhattan or Flushing and Corona in Queens. Others will slip right under your nose as you walk down Houston Street or find your way through the Upper West Side. Go find your next favorite place for a picnic, a bike ride, or a quiet place for reflection with this collection of parks throughout Manhattan, Queens, and Brooklyn.
Best Under-the-Radar Parks in NYC: Rockefeller Park
Just a short walk away from the 9/11 Memorial is a gorgeous green space with peaceful waterfront views. Rockefeller Park is home to wide lawns, plenty of benches facing the Hudson River, and kids constantly playing on the sizeable playground. This park is particularly well-maintained, with lush grass and flower beds. Bonus: there are even public restrooms. 75 Battery Pl., bpcparks.org


Best Under-the-Radar Parks in NYC: Inwood Hill Park

If you're interested in seeing a bald eagle in New York City, go straight to Inwood Hill Park. Urban Park Rangers set bald eagles loose here beginning in 2002. A rugged space full of caves, natural hills, and a salt marsh, this area has been preserved in as natural state as possible, recalling the region's pre-colonial beauty. Extraordinary views of the Hudson River lie all along this park as well, plus other amenities like hiking and biking trails. Dyckman St. on the Hudson River, nycgovparks.org
Best Under-the-Radar Parks in NYC: Sakura Park
The Sakura in Sakura Park indicates the word for "cherry blossom" in Japanese. Over 2,000 cherry blossom trees lie in this Morningside Heights park, making it a must-visit in springtime. This tranquil space, which abuts Riverside Church, is perfect for a stroll or a seat in the elegant gazebo in the center. On Riverside Dr. between Claremont Ave. and 122 St., nycgovparks.org
Best Under-the-Radar Parks in NYC: Carl Schurz Park

The Upper East Side's Carl Schurz Park is named for a 19th-century German-American senator and New York newspaper editor. The park is also home to Gracie Mansion, a turn-of-the-nineteenth-century home now owned by the city where private events are sometimes hosted for important guests or weddings. The green space at Carl Schurz is best appreciated by walking east on 87th Street to Peter Pan Garden, where the beloved character's bronze image is set inside a lush cul-de-sac straight out of Neverland. Walk closer to the water, and you'll also find great views of the East River and Long Island City, Queens, across the water. East of East End Ave. between E 84th and E 90th St., carlschurzparknyc.org
Best Under-the-Radar Parks in NYC: West Side Community Garden
The Upper West Side is home to vibrant communities, one of which has planted its own garden. This little oasis consists of concentric circles of planters where members grow flowers and vegetables. Its amphitheatre-like setup also makes it ideal for community events. This garden is the kind of place you'd come and read a book in the sunshine! 123 W. 89th St., westsidecommunitygarden.org
Best Under-the-Radar Parks in NYC: Sutton Place Park
Sutton Place Park is a small plaza overlooking the East River. Named for the street that borders it, Sutton Place, the park features benches, greenery, and a bronze statue of a wild boar. Fun fact: Woody Allen shot a memorable scene with Diane Keaton in Manhattan at Sutton Place Park! East of Sutton Place between E. 56th and 57th Sts., nycgovparks.org
Best Under-the-Radar Parks in NYC: Atrium at The Ford Foundation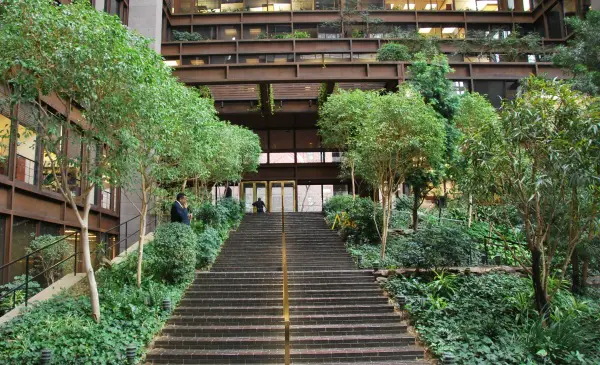 An eye-popping oddity on the east end of 43rd Street, this building's lobby takes "green space" to a whole new level. The Ford Foundation, a philanthropic organization, commissioned a veritable forest to be planted inside its headquarters' 160-foot-high glass atrium. This subtropical collection of trees, shrubs, and ground cover sits beneath the high walls of the building, with windows that look out onto the garden like an office building from the future. The atrium is open to the public from 10am to 4pm. 320 E. 43rd St., tclf.org
Best Under-the-Radar Parks in NYC: Liz Christy Community Garden
Founded in the Lower East Side in 1973, Liz Christy's is the city's oldest community garden. The park is named for the woman who founded the garden with the help of her Green Guerillas. This park contains a pond with fish and turtles, plus a wildflower habitat, a redwood tree, and growing vegetables. Visitors are welcome to stroll through and sit awhile, but the live eats are for members only. Houston St. btw. Bowery and Second Ave., lizchristygarden.us
Best Under-the-Radar Parks in NYC: Liberty Park
A short walk south of the 9/11 Memorial is the two-year-old Liberty Park. Located atop a parking garage, the park sits 25 feet above street level and offers respite from the manic energy of the Financial District with its long benches made of recycled teak and appealingly minimalist design. You'll also find three diverse sculptures: Santiago Calatrava's Greek Orthodox Shrine, Douwe Blumberg's "America's Response Monument," and Fritz Koenig's "Sphere," which once stood between the twin towers at World Trade Center Plaza. The park is open from 6am to 11pm. 155 Cedar St.
Best Under-the-Radar Parks in NYC: Flushing Meadows Corona Park
At nearly 900 acres, Flushing Meadows Corona Park is Queens' answer to Central Park. In addition to museums, a zoo, bike paths, and sporting fields, Corona Park also contains artifacts from two World's Fairs in the 20th century. In both 1939 and 1964, Flushing Meadows hosted The World's Fair. 1939 saw the area transformed into a beautiful park for millions of visitors to witness the dawn of inventions like air conditioning and the television. In 1964, the World's Fair celebrated the space age and transformed the park into a Jetsons-esque landscape of futuristic attractions. Come see the Unisphere, a giant globe installed in 1964, and the site of the 1939 time capsule buried in the ground, which is supposed to be opened in the year 6939! Entrance on 111th St. btw. 49th & 50th Aves., 718-760-6565, nycgovparks.org
Best Under-the-Radar Parks in NYC: WNYC Transmitter Park
This park is the former site of radio transmission towers for local NPR affiliate WNYC, hence the name. Located in Greenpoint, Brooklyn, this waterfront space has lush green lawns and a pedestrian pier, perfect for skyline views. When you walk in, you can't miss the memorable mural of a daydreaming girl by the art duo FAILE. And if you really want to commit to the Brooklyn ethos, take a bide ride to Transmitter Park. West St. between Kent St. and Greenpoint Ave., nycgovparks.org
Best Under-the-Radar Parks in NYC: Sunset Park
Sunset Park is the highest point in Brooklyn, sloping gradually downward like stadium seating for sunset views. You can see the East River, Hudson River, the Statue of Liberty, and lower Manhattan spread out like a painter's canvas. There are always plenty of local families enjoying food and fun, especially in the warm months. Pro tip: before sunset, grab some tacos al pastor at nearby Tacos El Bronco, bring them to the park, and enjoy the sun setting over the city with some of the area's best food. From 41st to 44th St. between 5th and 7th Aves., nycgovparks.org
Best Under-the-Radar Parks in NYC: Governors Island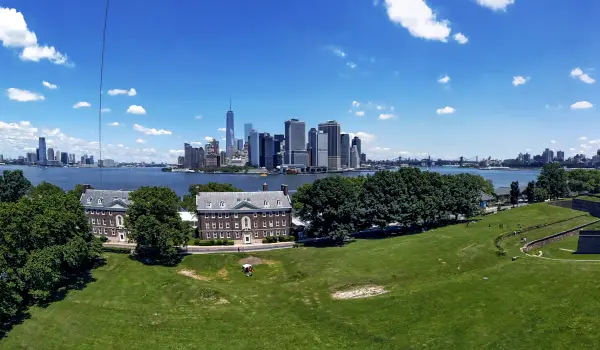 During the summer, Governors Island welcomes visitors for picnics, bike rides, walks, festivals, and—get ready—hammocks. That's right, there are 50 red hammocks in Hammock Grove, perfect for a luxurious rest in the sun. There's also a food court at Liggett Terrace, which sells everything from Blue Marble Ice Cream to dan dan noodles at Noodle Lane. Governors Island lies just yards away from Red Hook in Brooklyn and close to downtown Manhattan as well. The island is accessible via ferry. govisland.com