What Are the Best Bike Tours in NYC?
January 22, 2019 - by Merrill Lee Girardeau
When biking through New York City with a tour guide, you're getting one of the best sightseeing experiences the city can provide. A bike is in fresh air (unlike a bus), it's up-close to major landmarks and the oddities on the street (unlike a boat), and it's fast (unlike walking). Below are six of the best companies currently offering bike tours and experienced guides to take you through the areas of your choice with safety and in style!
Best of NYC Bike Tours: Brooklyn Giro Bike Tours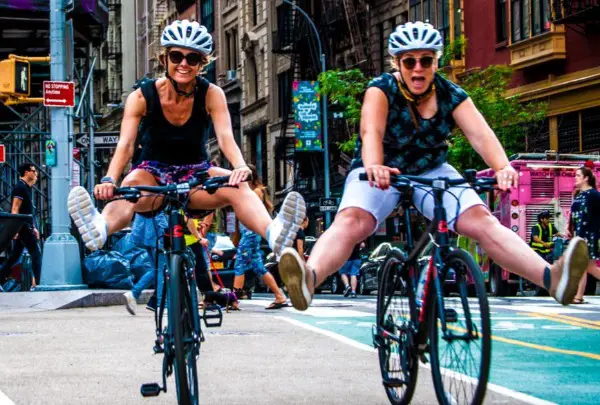 It may be winter, but the rides led by Brooklyn Giro Bike Tours are as popular as ever (their tours are limited in size and they do sell out, so we recommend booking well in advance). Choose from a fantastic range of adventures, like the 3-4 hour "The Brooklyn Tour," or "Brooklyn Waterfront," the half-day "A Day in Brooklyn," or "Ride the Bridges." There's much more beyond Kings County, too: like the NYC intro "Lower Manhattan" tour, plus a Manhattan and Central Park half-day, Queens, Bronx & Harlem, and even a "Beer Tasting Tour," which is an all-inclusive with brewery visits and tastings. 646-675-2194, brooklyngiro.com
Best of NYC Bike Tours: Bike and Roll NYC
Take a trek on a spin through New York with Bike and Roll NYC! Their guided tours of Central Park, the Hudson riverfront, and Brooklyn Bridge/Lower Manhattan are not to be missed. The Waterfront and Central Park tour is a unique spin on a classic: a 9-mile excursion along the Hudson River Waterfront Greenway, through the Upper West Side, and down through Central Park. They also provide Christmas bike tours of popular window displays during the holidays. 212-260-0400, bikeandrollnyc.com
Best of NYC Bike Tours: Bike Rent NYC
Bike Rent NYC offers tours through Central Park or over Brooklyn Bridge. You'll have a licensed guide show you Central Park sites like Bethesda Fountain and Strawberry Fields, or bike over the beautiful Brooklyn Bridge to snap endless photos of the skyline. These tours are each 2 hours long and are now offered at 30% off regular price if you book online (adults pay $49 at regular price). Bike Rent NYC also books a maximum of 18 guests to keep the groups more intimate. If you want to just rent a bike with no tour, they can also provide one near their Central Park location. Central Park: 203 W. 58th St., 212-541-8759; Brooklyn Bridge: 145 Nassau St., 212-767-1773; centralparkbiketours.com
Best of NYC Bike Tours: Bike the Big Apple
Looking for a little novelty in your bike tour? What about a trip through "The Ethnic Apple" or "The Surprising Bronx"? You'll find plenty to stimulate your imagination at Bike the Big Apple, where their weekly tours seek to stoke your curiosity. You can bike across the Brooklyn Bridge at sunset, grab a soul food lunch with your group in Harlem, or pedal through Times Square on a Friday night. Tours are $95-$99. 347-878-9809, bikethebigapple.com
Best of NYC Bike Tours: Blazing Saddles
Blazing Saddles boasts a bevy of bikes and equipment to maximize your free-wheeling trip! Their fleet of bikes include kids' bikes, trailers to hold small children, tandem bicycles, and other gadgets. Blazing Saddles also specializes in self-guided tours, during which you and your group can use a map and ride around town drinking in the sights. Their guided tours will take you through Central Park or over Brooklyn Bridge. Rates are around $45 for 2 hours with guided or self-guided tour, but book online and you may get a discount! 914-440-9094, blazingsaddles.com
Best of NYC Bike Tours: Central Park Sightseeing
This company provides a whole suite of Central Park-related services, from walking tours to picnics to wedding proposals (!). Their bike tours are offered in English, Spanish, and French. While they tour the eponymous park and bike the Brooklyn Bridge, we're most intrigued by the Harlem Highlights bike tour, a daily trip with a guide through Manhattan's largest neighborhood. It's $45 per person for a 2-hour tour. Locations at Central Park South, Columbus Circle, and Central Park North, centralparksightseeing.com
Best of NYC Bike Tours: Eco NYC Tours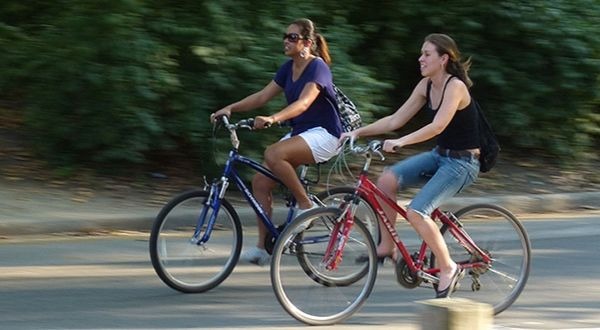 By now you're seeing a few common threads here: Central Park in 2 hours with a great guide. Eco NYC offers all of those at a standard price, but what sets them apart is their tours' availability in French, Spanish, Portuguese, and Arabic. Their company also offers bike rentals, pedicab rides, and carriage tours through Central Park and other prime sightseeing locations. 55th St. and Seventh Ave., 855-303-8353, ecocentralparktours.com
Looking for Free Group Planning Services?
Get free advice on planning your group's trip to New York.
RESTAURANTS

Multi-concept restaurant offering modern Japanese cuisine, a...

THEATER

In a heartbeat, 38 planes with 6,579 passengers were strand...

SHOPPING

DataVision is redefining retail with their new, fully intera...

SIGHTSEEING

Hop aboard these environmentally friendly twin-hulled catama...