Ever wanted a tour of the New York Times building? What about the Cathedral of St. John the Divine? You might get your chance at Open House NY 2017. Throughout the weekend of October 14th and 15th, Open House offers free tours of hundreds of sites throughout the five boroughs, most of which are usually off-limits to the public. Past years have included well-known locations like the Metropolitan Opera House and a segment of Central Park, in addition to more under-the-radar picks like the gorgeous Alexander Customs House in Battery Park and QueensWay park in Forest Park, Queens. Other sites included Woodlawn Cemetery in the Bronx (burial site of Herman Melville!) and a sensory deprivation lab in Carroll Gardens.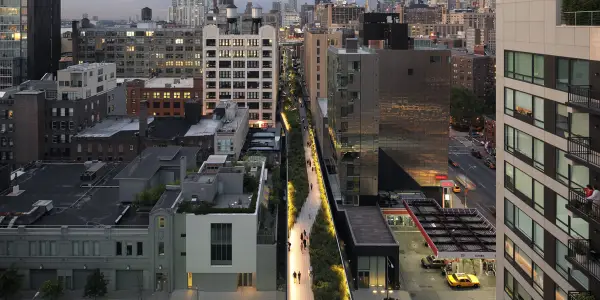 Walking Above Light High Line Lighting Tour. Image: Emile Dubuison
Check the website for the full list of sites, which will be released on October 4. Most require no reservation, but others will (particularly buildings still undergoing construction—you might have to wear closed-toe shoes).
To kick off the weekend, OHNY is hosting a launch party at DUMBO in Brooklyn at Jane's Carousel, a historic treasure in its own right, on Thursday, October 12. Drinks and snacks will be served, and you can chat to your heart's delight about which of the over 300 sites you plan to hit that weekend. Tickets start at $75 and proceeds benefit OHNY.