New Year's Eve Disco Inferno
Looking for things to do in NYC? Get our free email with 8 can't-miss city events every week
Sign-up Here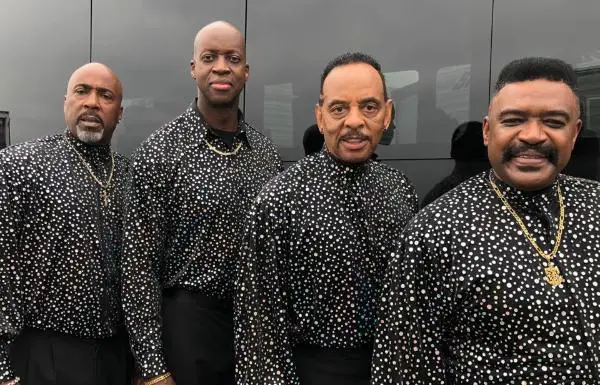 For more than 25 years, musical landmark The Iridium has been hosting intimate experiences of the world's best rock, jazz, blues, and beyond. This New Year's Eve, join them for dinner, disco, dancing, and an all-around memorable evening. Tickets are just $150! Or opt for a $350 package that includes a three-course meal and access to an open bar. The meal begins with an amuse bouche of shrimp, corn, and avocado soup shooters; followed by assorted hors d'oeuvres. Dinner brings a choice of entree, roasted half chicken, pan-seared salmon, or lamb shank. There will be a chef's selection for dessert. Performing live will be THE TRAMMPS featuring Earl Young, considered the greatest disco band of all time (famous for "Disco Inferno.") Special guests include Musique and DJ Tommy T.
THE TRAMMPS featuring Earl Young
Originally hailing from Philadelphia, Earl Young, Ron Baker and Norman Harris formed THE TRAMMPS in 1972. From that time forward, their unique blend of pulsating beats, catchy melodies and vocal harmonies embodied the essence of a style that grew to define an era.
Known as "The Group" to dance music devotees, THE TRAMMPS had three smash singles with Buddah Records, including "Zing Went The Strings Of My Heart" (Buddah, 1972, single), long before that label ever released an LP. It was only after the huge success of "Where Do We Go From Here" (Golden Fleece/Columbia, 1976), which scored big with its title track, that Buddah finally heard the cry and THE TRAMMPS' "Legendary Zing Album" (Buddah), was released in 1976. It included their earlier hits "Zing Went The Strings Of My Heart," "Pray All You Sinners" and "Sixty Minute Man," as well as the previously unreleased "Hold Back The Night," which went on to become one of the group's biggest hits. These LPs would prove to be the first of many top-selling and award-winning albums for THE TRAMMPS, long considered the "best disco group" of all time!
"Where The Happy People Go" was their first LP release for Atlantic (1976). It contained the hits "Disco Party," "Hooked For Life" and "Soul Searchin' Time." The album was showered with honors: Best Disco Album, Best Disco Artist, Best Disco Single and Best Disco Single Unreleased (Billboard,1976).
THE TRAMMPS were now at the top of their form. They continued to keep up a busy recording schedule while fast becoming one of the most sought-after touring acts of the period. Their next release, "Disco Inferno," (Atlantic, 1977) put THE TRAMMPS over the top, earning them their first gold. The title track (of the same name) emerged as the disco party anthem of the '70s.
Keeping with the times, Paramount Pictures produced Saturday Night Fever (1978), the ultimate narrative of the disco era. The film would not have been complete without John Travolta, a white suit, THE TRAMMPS and "Disco Inferno" (RSO Records, Soundtrack, 1978). The soundtrack brought the group a Grammy (Best Album) and went on to become one of the top ten best-selling albums, best-selling soundtracks and the #1 best-selling double album in music history.
Earl Young has continued to bring the very best of THE TRAMMPS' legendary dance music to audiences everywhere. From The White House to Disneyland, Madison Square Garden to Hammersmith Odeon, Brazil to Japan...to those of us who survived the 70's and to those who are enjoying it "again for the first time"..."What goes around comes around," says Earl, "and it's THE TRAMMPS' time once again!"
THE TRAMMPS are enjoying the re-release of "Disco Inferno" on compilation albums. It can also be heard in the feature films "Ghostbusters," "What's Love Got To Do With It," "Carlito's Way," and "Kingpin," among others.
MUSIQUE
In the late 1970's, MUSIQUE emerged after having received immediate world wide recognition as one of the most exciting female vocal groups of Disco, Dance and Pop Music.
Their 1978 debut album on Prelude Records "Keep On Jumpin'" led them to the top of the charts with their hit "In the Bush." MUSIQUE received a 1979 RIAA Certified Gold Record for their debut album which became an international hit with world wide sales of over 25 million. By p!acing high on three crossover charts, Disco, R&B, and Pop in not one position, but two, MUSIQUE'S sound was unquestionable proof that these girls would continue their unique impact around the world for years to come. "Keep On Jumpin'" and "In the Bush" are both distinctly different, and are yet unmistakably MUSIQUE. As a result, MUSIQUE very deservedly earned Billboard's 1980 "Best Female Group Award."
MUSIOUE has performed all over the world to audiences who have fallen in love with their songs, their style and their phrasing. In Caracas, Venezuela at The Poledra 20,000 fans joined them in singing their songs "Summer Love," and "Keep On Jumpin'". Their first hit tune "In the Bush" was number one for a full year on the charts in Brazil and Venezuela.
At The Roberto Clemente Stadium in Puerto Rico, MUSIQUE starred with Willie Colon and Tito Puente. The Trio is known for some of the most successful world tours in the past 20 years, performing in such places as Korea, Japan, Singapore, The Philippines, Germany, Ecuador, England, Switzerland, Austria, Nigeria, Italy and France. MUSIQUE's fame has brought them many invited appearances on television all over the world, one of which was their very own one hour television special filmed in Mexico City and produced by Talevisa S.A.
Today, MUSIQUE enjoys more success and recognition than ever before. At the Paramount-Madison Square Garden, WPLJ Seventies Dance Party in New York City MUSIQUE played to two sold out shows, and was honored with having a total of 11,000 people giving them a standing ovation.
Most recently, MUSIQUE has also been featured on MTV'S "Rockin' Thru The Week." Presently, MUSIQUE's versatility has created new dimensions to their performance by adding an infectious tribute to all the "Great Diva's of Seventies Dance Music" and "The Donna Summer Medley."
MUSIQUE's lead singer Mary Seymour is the force that drives the group. Mary was also a featured vocalist with the Atlantic Records recording group Change, made famous by Luther Vandross. The album, "Glow of Love" was another to receive a one million RIAA Certified Gold Record. Again, Mary helped to create one of the most exciting performing acts in musical history when Change co-starred with Rick James on his 1981 tour of the United States. On Broadway she was a featured singer in the Musical "HAIR" at the Biltmore Theater, and she also starred in the Tony Award Winning Broadway Musical at the Lunt Fontaine Theater, "Raisin" in the role of Ruth Younger. Off Broadway, in 1990 she was featured as a surprise guest artist in the playt "Forbidden Planet." Additionally, Mary Seymour has many times demonstrated her live performance abilities in such entertainment capitals as The Convention Center, The Aladdin Hotel in Las Vegas Nevada, Trop World in Atlantic City, La Bourcella of Via Reggio, Italy and Number One in Porto Fino Italy.
Mary Seymour and the sound of "MUSIQUE" ARE ONE, Mary Seymour is "MUSIQUE."
Keep an eye on your email used to purchase your tickets- in the days leading up to New Year's Eve you will receive documentation that must be printed and carried on your person in order to gain access to the Times Square area.
Venue: The Iridium
1650 Broadway (at 51st St.) Map
212-582-2121