A Rare Look Inside the Space Shuttle Enterprise
Looking for things to do in NYC? Get our free email with 8 can't-miss city events every week
Sign-up Here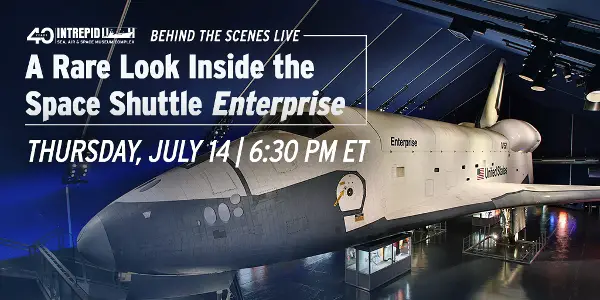 Assembled 45 years ago, the space shuttle Enterprise was the prototype for the five orbiters that followed. During this special virtual tour, the Intrepid Museum's Curator of Aviation, Eric Boehm and former NASA Astronaut Mike Massimino, will take visitors inside the space shuttle!
The interior of Enterprise is not open to the public, and few people have had the opportunity to examine or even see inside this marvel of engineering. Don't miss this incredible and rare opportunity!
Participants
Eric Boehm is the Aviation Curator at the Intrepid Sea, Air & Space Museum. He was a member of the curatorial team that produced the temporary exhibit "On the Line-The Intrepid in the Vietnam War". In 2014 he curated "HUBBLE@25", an exhibition celebrating the 25th anniversary of the Hubble Space Telescope. In 2017 he was lead curator of "Drones, Is the Sky the Limit?", a large scale exhibition regarding the history, development and social impact of UAV technology in both the military and civilian domains. This exhibition is now traveling internationally.
Since 2005 Eric has also been directing the refurbishment and preservation of the Intrepid's 27 aircraft and the prototype space shuttle orbiter Enterprise, a program he created from the ground up.
Eric is a key member of the Museum's Exhibition and Content Committees, charged with formulating proposals to effectively develop comprehensive institutional projects. He is also a key member in the Museum's oral history project, interviewing former crew members, aviators, and astronauts for use in research and exhibit development.
Eric is a 20-year veteran of the United States Air Force with experience in aircraft maintenance, public relations, and exhibit development. Eric has a Bachelor of Science in History Education from Empire State College, State University of New York.
Mike Massimino is a former NASA astronaut and currently a professor of mechanical engineering at Columbia University in New York City. He has flown in space twice, each time making two spacewalks on repair and servicing missions of the Hubble Space Telescope. Massimino appeared as himself on five episodes of the hit show, The Big Bang Theory. His autobiography Spaceman was recently adapted and released for young readers. Massimino is the senior advisor of space programs at the Intrepid Museum. For more, visit mikemassimino.com and follow @Astro_Mike.
Venue: Virtual Event
Map
212-245-0072