The Manhattan Art & Antiques Center is the largest center of its kind in the country, boasting 100 galleries and three full floors filled with antiques, fine art, decorations, silver, and jewelry. European, Asian, and African art is also on display at this treasure trove of cultural antiquities. Whether you're looking to buy, sell, or simply take in some of the many wonders of the world, the Manhattan Art & Antiques Center is a must. Open seven days a week, every New York City visitor should stop by this one-of-a-kind antique haven at some point during their stay.
You'll find a wide array of collectibles within the Manhattan Art & Antiques Center, including fine art, antique clocks, arms & armor, and Meissen porcelain.
Fine Art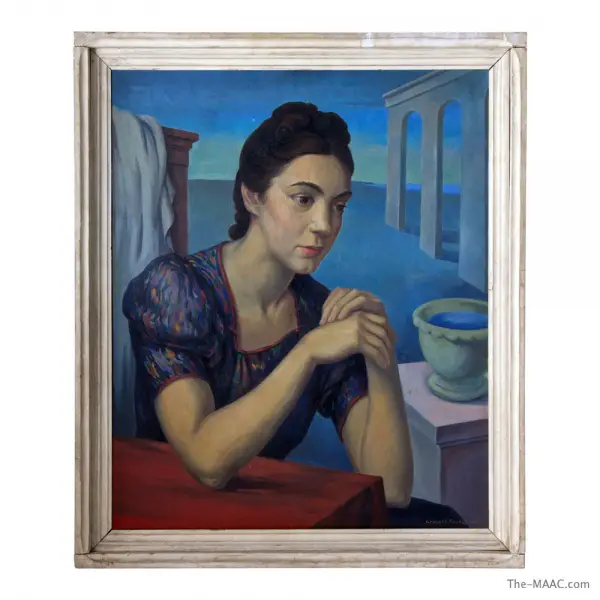 American tempera on board of a woman by Kenneth Stubbs (1907- ), dated 1940. Height: 27″ Width: 23" Gallery: Jo Vento.
The Manhattan Art & Antiques Center's fine art collection is extensive, containing works by Picasso, Hilde Kayn, Karl Zerbe, Jean Cocteau, and Peter Dean amongst other famed artists. The styles of the art is just as eclectic, ranging from woodcuttings and oil-based paintings to ceramic plates and pottery vases.  
Antique Clocks
Antique Ormolu and Marble Garniture Set. A French ormolu and white marble three piece garniture set comprising of a mantel clock and pair of matching urns. A pair of putti hold the clock on an oval white marble base. Gilt bronze and white marble, France, 1890. Gallery: F & P Associates. 
You'll find all sorts of antique clocks at the center, including F & P Associates, Lev Tov Antiques, Solomon Treasure, Blum Antiques, Joseph Saidian & Sons, Hoffman-Gampetro, Robin's Antiques, Alexander's Antiques, Bella Antiques, Alskom Art Gallery, Hadassa Antiques, Sakai Antiques Inc. and the Kenneth James Collection. A Jade Table Clock, Modern "Champagne Bucket" Desk Clock, and Art Deco clocks are included in the mix of collectibles.
Arms & Armor

Samurai Armor. Metal, Japan, 20th century. Akasaka Collection. 
Weaponry collectors will enjoy perusing the halls of the Manhattan Art & Antiques Center, where centuries-old weapons and armor can be found in the collection. Zule fighting sticks, Fumban shields, samurai armor, a 17th century Persian helmet, and a steel samurai helmet and mask are all on display, as well as multiple Japanese samurai dolls. You'll also come across European, Turkish, and Indonesian swords, as well as Turkish pistols amongst many other great finds.
Meissen Porcelain

Meissen Porcelain Monkey Band. A great collection of first quality Meissen figures of the "Monkey Orchestra" originally modeled by Kandler. Set includes conductor, flute players, singers, pianist, cellist, guitar player, drummer and more. Meissen porcelain, Germany, 1870-1900. Alexander's Antiques.
The antique Meissen porcelain collection at the center carries a range of figures, including some specific pieces from early Chinese Meissen. Paired parrots, a "Four Seasons" cupid centerpiece, an enamel vase, a cat, a dog, a monkey band, a mirror, and a couple of cockatoos. The impressive collection of Meissen porcelain at the Manhattan Arts & Antiques Center is particularly colorful, making every work a gem for collectors in the field.
Even More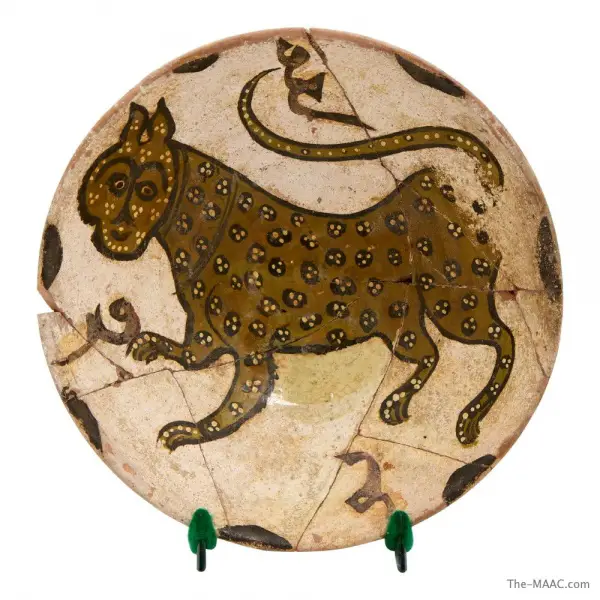 A Samanid slip painted pottery bowl with an olive green spotted lion or leopard against a white background. Iran, 9th century AD. Anavian Gallery.
You'll also find African art, ancient antiquities, antique furniture, antique jewelry, antique silver, antique boxes, art deco, Asian art, bronze & marble sculpture, ceramics & porcelains, chandeliers & lighting, Chinese exports, coins & medals, jade, Japanese art, maps & globes, Mideastern (Islamic) art, objects of art, paintings, perfume bottles, pottery, rare books, religious art, sculpture, tapestries, textiles, vintage accessories, vintage brass, vintage glass, vintage posters, vintage serveware, and vintage toys within the Manhattan Art & Antiques Center.
Plan a Visit

The Manhattan Art & Antiques Center is open seven days a week from 10:30am to 6pm, with the exception of Sunday, when it is open from 12pm to 6pm. There is no entry fee or required ticket purchase for visiting the center.
1050 Second Ave. at 56th St., 212-355-4400, www.the-maac.com