Now on 10th Avenue in the Theater District you can find "French dining, redefined." Come to the new bistro Le Privé for escargots, beignets, salad Nicoise, and a range of classic French dishes in the comfort of a red-ceilinged dining room decked with chandeliers. 
Le Privé accommodates pre-theater diners as well as the weekend brunch crowd. Its approachable menu presents an outstanding array of French foods for every palate. Plus the wine list boasts a breadth of French labels, including several Champagne varieties, and speakeasy cocktails at the bar. The whimsical, romantic atmosphere extends to the back patio outside, filled with red tables and chairs reminiscent of Paris. The rear wall bears a mural with an appropriate French phrase, Sois belle à ta façon ("Be beautiful in your own way").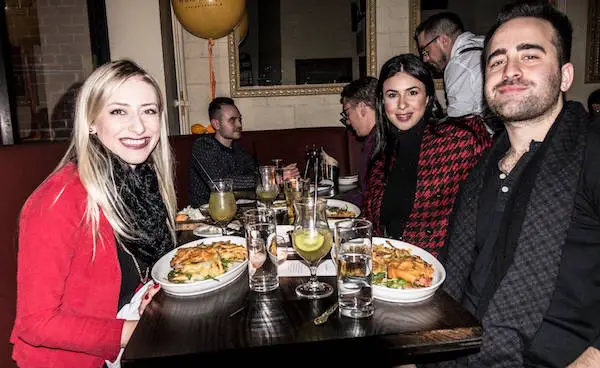 A Veuve Cliquot party at Le Privé. Facebook.
The dinner menu offers appetizers like soupe à l'oignon (onion soup, topped with gruyère cheese) and tuna tartare with waffle-style potato chips (or gaufrettes). There are also raw seafood options like oysters and a shrimp cocktail. For mains, the classic roast chicken comes with green beans and potatoes au gratin, and the griot (fried pork) is served with grilled asparagus. The duck, served with roasted parsnip and celeriac puree, also gets high marks. Other wholesome, flavorful dishes unique to the dinner menu include seafood paella and a vegetarian-friendly offering of roast cauliflower with green tomato gazpacho. 
The helpful waitstaff will gladly recommend a glass of wine for you, whether you're looking for a glass of rosé, Sancerre, or a bottle of Châteauneuf du Pape. The cocktails on the menu include Champagne-spiked Désobéissante, the gin-and-citrus Couleur du Sud, or La Belle Vie with cachaca and kiwi-basil emulsion. If you're around for drinks and snacks at the bar, try one of Le Privé's assortments of cheese or charcuterie.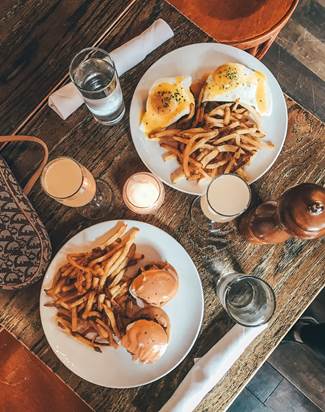 Come to Le Privé for an inspired brunch with plenty of Veuve to go around (it's buy two bottles, get the third free during brunch hours). You might favor a traditional quiche lorraine or falafel Benedict made with pickled green tomato, poached egg, and tomato aioli. The Benedicts go on, with variations made with crispy pork and cured salmon. On the sweet side, there are beignets and crèpes. Classic brunch cocktails on offer include mimosas, Bloody Marys, and bellinis.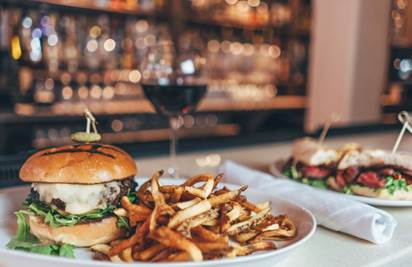 At lunch, you'll find entrees like the lamb burger with roquefort and roasted tomato jam, as well as spicy steak tartare with sunchokes. One of the stars of the dinner menu also makes an appearance: escargots in parsley butter and garlic. On your midday Parisian excursion, you can also enjoy three glasses of wine for the price of two during lunch. Très bien! 
---
Le Privé is located at 626 10th Ave. To make a reservation, call 212-837-2795 or visit lepriveny.com.