Strip House brings New York soaring steak, sides, and dessert at two convenient locations. The original downtown location, awarded two stars by the New York Times, stands near Union Square, while midtown offers mouth-watering pan-seared steaks at a bi-level space near Bryant Park. With a menu this rich (in many senses of the word), you'll want to revisit Strip House for business dinners, dates, family meals, and your next big event. As for drinks, head to the Strip House Speakeasy below the downtown location.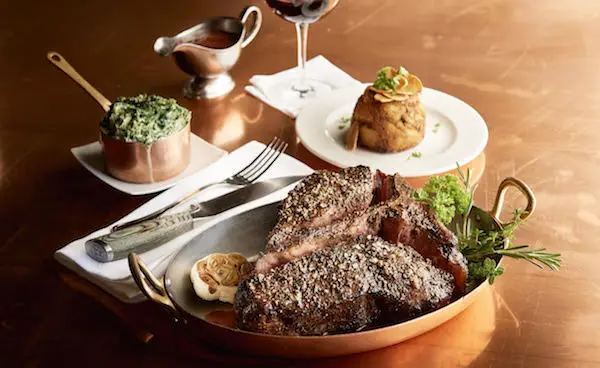 The star of the show is the namesake New York strip, served in delectable 20-ounce portions with the bone in. This rich, juicy piece of meat is coated with a generous layer of salt and pepper and served with a bulb of garlic and a sprig of rosemary, as are all other Strip House steaks. Cuts like the porterhouse for two and rack of lamb with maitre'd butter are also sure to impress even the pickiest carnivore. Your steak will be presented with table-side carving for an added flourish as well.
Classic Strip House sides include the creamed spinach with black truffle and crispy potatoes fried in goose fat. But potatoes come in many forms here, such as the garlic-herb fries, potatoes au gratin, and baked potato with sour cream, bacon, and cheddar. It's a hard choice on the spot, but trust us: all are worth a try.
Start your meal with a savory jumbo lump crab cake, made with pickled celery root, sea lettuce, and chipotle aioli. Other standout seafood offerings include the jumbo shrimp cocktail, Seafood Plateau with an array of raw seafood, and the outsized Maine lobster entree, served broiled or steamed.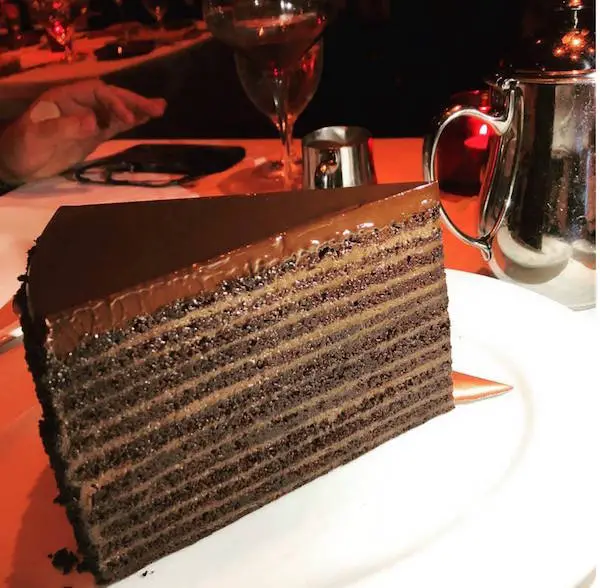 Heavenly: Strip House's 24 Layer Chocolate Cake.
For dessert, Strip House offers cheesecake, key lime pie, and baked Alaska, but it's the chocolate cake people order again and again. This massive dessert is 24 layers strong and covered with creamy, bittersweet chocolate ganache. Save room for this one; it's worth it.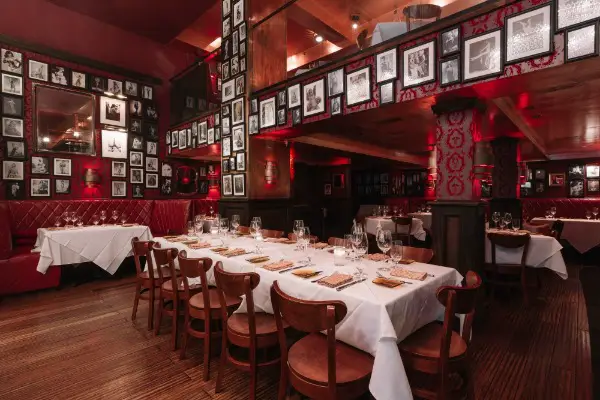 Both Strip House locations are designed with vivid red covering the walls and banquet seating. An homage to the double-entendre name, the walls also feature photographs of 1930s burlesque stars. You'll engage with a generous, knowledgeable wait staff during your stay and certainly won't leave hungry. This is an upscale meal with an upscale price tag, but the atmosphere stays laid-back and friendly.
Strip House earned the coveted Wine Spectator Best of Award of Excellence in 2018. Ask your server about their deep catalogue of reds, whites, and roses during your dinner at either location or at the Speakeasy below the dining room at Downtown. Located at the garden level, the Speakeasy is marked with street signage and serves wine, beer, cocktails, and a full dinner menu.
Book one of Strip House's locations for your next event. Downtown's more intimate location seats 100 and accommodates 130 standing. The Speakeasy downstairs holds 32 seated and 40 standing guests. The large, bi-level Midtown location has a private lounge for a party of 20 and semi-private spaces on the mezzanine level. The entire restaurant seats 200 and accommodates 220 standing guests. Strip House has an additional location in Vegas if you're visiting that Strip anytime soon! —Merrill Lee Girardeau

Strip House Downtown is located at 13 E. 12th St. Call 212-328-0000 or visit striphouse.com/venues/downtown for reservations. Strip House Speakeasy is located at 11 E. 12th St. Call 212-838-9197 or visit striphouse.com/venues/speakeasy for reservations. Strip House Midtown is located at 15 W. 44th St. Call 212-336-5454 or visit striphouse.com/venues/midtown for reservations.