They're back. As of Monday, international travelers have begun to arrive, and the headlines have been full of the anticipated positive impact on tourism. The Governor has taken notice. Monday's "Bring Back Tourism, Bring Back Jobs" announcement included nearly half a billion dollars for the sector. There's more money bound for the city, as the infrastructure bill brings billions to our mass transit.

City Guide is back, too. After over a year and a half of a digital-only presence, we are excited to report that yesterday we shipped pages to the printer. Look for the guides to be distributed to key hotels starting November 18th, ahead of the Thanksgiving crowds. A MediaPost article has more details on our return here. Right on cue for the border reopening, we have been fielding a series of requests for additional copies of our City Map; to replenish map supplies or receive the new City Guides, please reach out to our Director of Operations Management, Ray Winn. Other comeback notes include:
Covid cases are plunging in NYC. Headlines like "Here Comes the Travel Boom" are everywhere. Delta reports a 450% surge in international bookings. Tourism research firms have shaved a year off the rebound timeline in their latest forecasts—U.S. hotels could be fully recovered by next year. At City Guide we certainly think so, and we're backing that with our newly redesigned magazines hitting the city next week.
The Rockettes visit the Empire State Building as part of the festivities for the opening of the 2021 show. Noemad Reid/MSG Photos.
LINKS OF INTEREST
NYC
BEYOND NYC
CITY GUIDE INFLUENCER-CONCIERGE NIGHTS ARE BACK!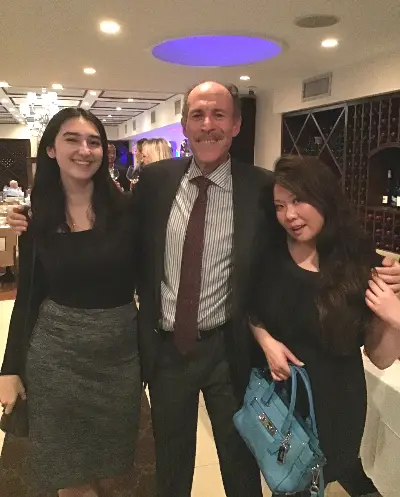 Pictured: Marie Nehme, The Sea Fire Grill Marketing Director, Eli Marcus, Executive Director, City Guide, and Dee Lee, Hotel Ambassador.
Last Thursday, City Guide hosted its first post-pandemic concierge event at the highly Zagat-rated The Sea Fire Grill. From there the group attended an exclusive dress rehearsal for the Radio City Christmas Spectacular.
EVERYTHING TO DO FACEBOOK GROUP POST OF THE WEEK
City Guide's Facebook Group Everything to Do NYC is coming up on 60,000 members, bringing together a mix of tourists making plans and locals giving advice. It's a great barometer of what visitors are thinking. There were nearly 100 comments on this request:
I live in NYC and I'm looking for a new fine dining restaurant for a celebration. I've been to I been to Peter Luger's, Mastro's, Peak and Buddakan.
Le Pavillon, Per Se, 11 Madison Park, Le Bernardin, One World Observatory, STK, Avra Estiatorio, River Cafe, Jean Georges, Temple Court, Tratorria Dell'Arte, Le Coucou, La Grenouille, Momofuku Ko, Gramercy Tavern, Strip House, Minetta Tavern, Queensyard, Restaurant Daniel, and 4 Charles Prime Rib were among the suggestions. The group is a great way to reach customers in real time as they're making decisions about where to invest their time and money in NYC. If you're not a member yet, join us!