Il Cortile opened its doors in September 1975 and has been a Little Italy institution ever since. Il Cortile (meaning "the courtyard" in Italian) serves delicious, high-quality Italian food in a convivial space full of friendly staff, satisfied diners, and plates of heavenly pasta. Owned and operated by the Esposito family, Il Cortile invites your family to celebrate your next special occasion here, whether you're hosting a company function, a small family reunion, or a large wedding reception. Read on to find out about the available spaces, menus, and more for your next event!
Events at Il Cortile: The Rooms
No matter the size of your event, you'll love the warm, retro feel of Il Cortile's space. Features like exposed brick, abundant greenery, and Roman statues will put your guests right at home. Speak with Il Cortile's event coordinator, who will be happy to walk you through space accommodations for the size of your party. An intimate gathering of 30 or more can be held in Caesar's Room, while the light-filled Garden Room, topped with a glass atrium and filled with greenery, can hold 80 or more guests. Reserve the spacious Front Room with the dark-wood bar, or hold a small party in the cocktail lounge with its relaxed brown leather couches. If you have an extra-large event, these spaces can be combined to accommodate everyone. Find out more about the event spaces available at Il Cortile here.
Events at Il Cortile: The Food
As a preeminent Little Italy restaurant, let Il Cortile put your mind at ease, and check the catering off your list. The restaurant can provide buffet-style or seated dinner menus, depending on your preference. A seated dinner affords you a wide selection of menus (eight in all!). Your guests will receive five courses including family-style antipasti, pasta, salad, main, and dessert. The eight menus vary according to the dishes you'd like to see on the menu and are priced according to the selections offered. Menu #1, for example, offers a choice of linguini, fettuccine, and rigatoni for the pasta course, whereas Menu #2 offers three completely different pastas. Check out all of these menus to see which one suits your event, and feel free to talk to the experts at Il Cortile, who can guide you to the right choice.
For a buffet-style meal, you have three options. All give you antipasti, salad, main, a carving station, a vegetable side, and choice of dessert. Buffet Menu #1 gives you a limited—but still delicious!—array of choices, including baked clams, penne with pesto, and the chef's seasonal fish special. Buffet Menu #2 expands guests' options, offering a wider selection of antipasti, carved meats, and desserts. If your event occurs on a weekday, take a look at the Weekday Buffet Package, which might be the most affordable option of the three.
Other specialized menus like Butler Hors D'Oeuvres and a kids menu are available for your event as well. Any special requests you have for a certain course? Il Cortile will do their best to accommodate you.
Events at Il Cortile: The Works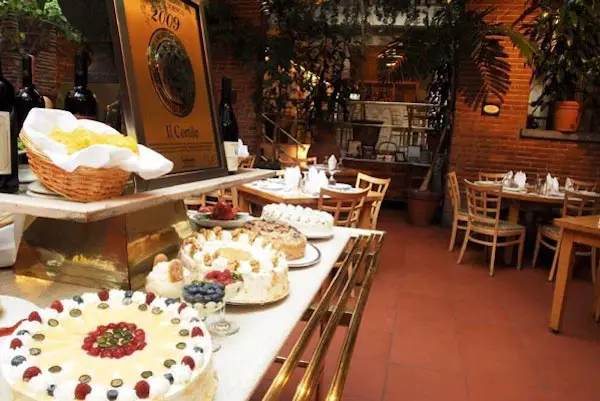 Take your event to the next level with amenities generously provided on request. Drinks are available at a range of timeframes and are priced accordingly. Have an open-bar cocktail hour, or a wine and beer-only open bar for four hours. (See other options laid out on the website.) Il Cortile can also provide homemade cakes for your wedding reception, baby shower, or birthday, no matter the size of your party. Choose chocolate bavarian cake with hazelnuts or Valentines cake with raspberry sauce, among others.
Flourishes like hand-lettered place cards, restroom and coat room attendants, AV equipment, flowers, and special linens can personalize your event, making it feel all the more special. Call Il Cortile today, and plan your dream event with buon gusto.
Il Cortile is located at 125 Mulberry Street. Call 212-226-6060, email info@ilcortile.com, or visit ilcortile.com to learn more.