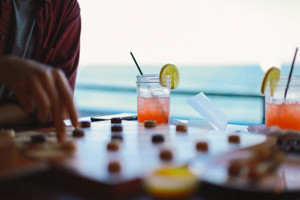 Inside Scoop: Spirit Cruises
Spirit Cruises is New York City's most vibrant and entertaining dining vessel. Its bountiful buffets, stunning skyline and Statue of Liberty views, and non-stop DJ music provide a one-of-a-kind New York experience. Cruising the Hudson River year-round, Spirit has a variety of lunch, dinner, moonlight and holiday cruises, plus dozens of themed cruises, to choose from. Our ships depart from Chelsea Piers in New York and Lincoln Harbor in Weehawken, NJ.
Be among the first to cruise the newly renovated Spirit of New York and an all-new menu by Chopped champion Chef Eric LeVine. The renovations include vibrant lighting and decor, fresh carpeting and chairs, a newly constructed outdoor bar and rejuvenated interior bars, interactive dance floors and DJ booths with customizable lighting, and more.
Light up your night aboard Spirit Cruises and Bateaux New York with front row seats to the city's fireworks extravaganza. As part of "NYC's Chinese New Year" festival, we invite you to witness the world-class display right on the Hudson River! Dine, dance and delight in our creative cuisine, live entertainment and explosive skyline views of the Statue of Liberty, One World Trade Center, Brooklyn Bridge & more!

Spirit Cruises Video
Meet the Entertainment Cruises New York fleet in this short video.
Also, check out Spirit Cruises for catering and special events on video here.
Spirit Cruises in the News
Smart Meetings: featured Spirit of New York's Latin Moonlight Cruises as a top activity for groups seeking a team building activity that's also a learning experience. This is great with the upcoming holiday season and Smart Meetings reaching a wide audience of corporate planners. http://www.smartmeetings.com/meeting-planning/92275/group-learning-through-team-building
About.com: Top go-to travel guide features fall foliage cruise as a fun way to go leaf peeping in the city. http://manhattan.about.com/od/eventsandattractions/fl/5-Fun-Ways-to-See-Fall-Foliage-in-NYC.htm
NY1: Valarie D'Elia shares the best ways to see fall in the city, from land and sea and mentions Spirit's fall foliage cruises. http://www.ny1.com/nyc/all-boroughs/travel/2016/09/26/ny1-travel-with-val-best-ways-to-bring-in-fall--on-land-and-at-sea.html
Travel With Val: Features fall foliage cruises and positions as a top way to sightsee in the city. http://www.travelwithval.com/spirit-cruises-to-host-fall-foliage-voyages/
NJ Meetings + Events: Top meetings and events trade outlet features the Spirit of New Jersey as the best way to celebrate the start of the fall season. http://nj.meetingsmags.com/celebrating-fall-river
Hi Class Magazine: Local New Jersey outlet targeting an affluent audience profiles the Spirit of New Jersey's fall foliage cruises. http://hiclassmag.com/foliage-cruises-on-the-hudson-river/
Go To Travel Gal: Top travel blogger rounds up what's new in NYC this fall and mentions fall foliage cruises. http://www.gototravelgal.com/whats-new-in-new-york-city-this-fall/
WISH-TV: Lyn Mettler of Go To Travel Gal featured as on-air travel expert and mentions Spirit of New York cruises as a top activity to do this fall in NYC. (segment attached)
Hotel F&B: Hospitality trade outlet rounds up the best lemonade based summer cocktails and includes Spirit of New York's Blue Island Lemonade. http://www.hotelfandb.com/menus/wine-beer-spirits-cocktails/summer-cocktails-lemons-lib
Paste Magazine: Top lifestyle outlet features Spirit of New York in a roundup of most Instagrammable spots in the city for New York Fashion Week.
https://www.pastemagazine.com/articles/2016/08/the-most-instagram-able-spots-for-new-york-fashion.html
Broadway World: Local outlet highlights Spirit of New York's Labor Day Weekend cruises as a top staycation idea in New York City.
http://www.broadwayworld.com/bwwfood-wine/article/LABOR-DAY-STAYCATION-in-New-York-City-20160901
Oyster.com: Go-to travel guide outlets features Atlantica and Manhattan Elite in a roundup of over-the-top ways to get hitched.
https://www.oyster.com/articles/54840-7-over-the-top-ways-to-get-hitched/
USA Today: Spirit Cruises leads the travel tips column of top NYC sightseeing and cruise experiences, highlighting delicious cuisine, specialty cruises and impeccable views of iconic landmarks.
http://traveltips.usatoday.com/new-york-sightseeing-cruises-33938.html
TravelChannel.com: Bateaux leads a roundup of best NYC sightseeing experiences, noting the glamorous and romantic atmosphere and fantastic three-course dining.
http://www.travelchannel.com/destinations/us/ny/new-york-city/articles/see-new-york-city-by-boat
FabFitFun: As a result of hosting freelance writer Jenn Rice, she featured the Spirit brunch cruises in a bucket list roundup of best experiences in NYC to check out before summer ends. Jessica – check out the image she chose! J
https://fabfitfun.com/magazine/summer-guide-to-nyc/
TravelPulse: Features Spirit of New York in a roundup of must-do activities in the city before Labor Day.
http://www.travelpulse.com/news/features/summer-in-the-city-5-must-do-activities-in-nyc-before-labor-day.html
Manhattan Digest: Positioned Spirit of New York as a top recommendation on how to spend your last Summer Friday in the city, targeting a local audience seeking unique summer experiences.
http://www.manhattandigest.com/2016/08/17/how-to-spend-your-final-summer-fridays-in-manhattan/
Check out the Spirit Cruises blog here, and Spirit Cruises on Instagram here.