Must-Sees at the Museum of Modern Art (MoMA)
November 30, 2016 - by Chelsey Grasso
The Museum of Modern Art is one of New York City's gems when it comes to getting your eyes on famous works of art, and it's open to the public no matter the season. Escape the cold winter or the summer heat and enjoy everything this beloved institution has to offer, from Pablo Picasso paintings to Frida Kahlo self-portraits. Really, you can see it all at MoMA!
What to See at the MoMA: Vincent Van Gogh's The Starry Night (1889)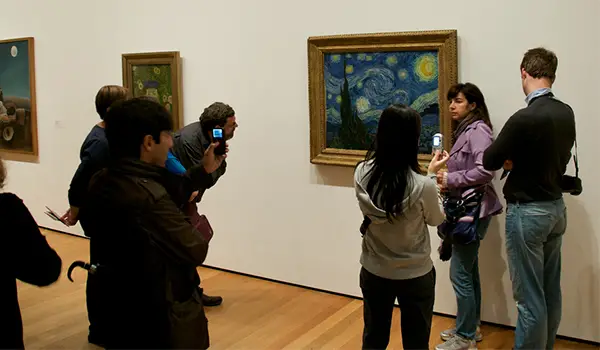 Image: Mario Antonio Pena Zapateria/Flickr
Perhaps the most sought-out work of art in the entire MoMA, Vincent Van Gogh's The Starry Night always has a crowd gathered around it. The work itself is relatively small (roughly 29 inches by 36 inches) and was painted with oil on canvas. While Van Gogh created over 2,000 oil paintings, The Starry Night is by far his most popular, inspired by impressionism, neo-impressionism, and pointillism.
What to See at the MoMA: Frida Kahlo's Self-Portrait with Cropped Hair (1940)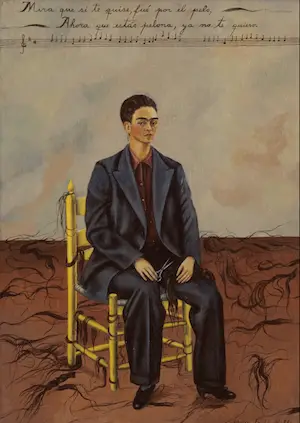 Frida Kahlo is known for producing quite a few self-portraits during the height of her career, and Self-Portrait with Cropped Hair is one that particularly draws interest from the art world. Painted a month after her divorce from legendary artist Diego Rivera, this famed painting shows Frida dressed in oversized men's clothing while her long strands of hair cover the ground around her.
What to See at the MoMA: Monet's Water Lilies (1914-1926)

Image: Luca Vanzella/Flickr
If you're looking for the perfect spot to be introspective while wandering the bustling corridors of the MoMA, take a seat in front of Monet's Water Lilies. This enormous oil on canvas painting consists of three panels, each over 6 feet tall and 13 feet wide. Water Lilies is an immersive work that transports you to the Giverny garden that it was inspired by, and it is one of few paintings that exists in its size and scale.
What to See at the MoMA: Salvador Dali's The Persistence of Memory (1931)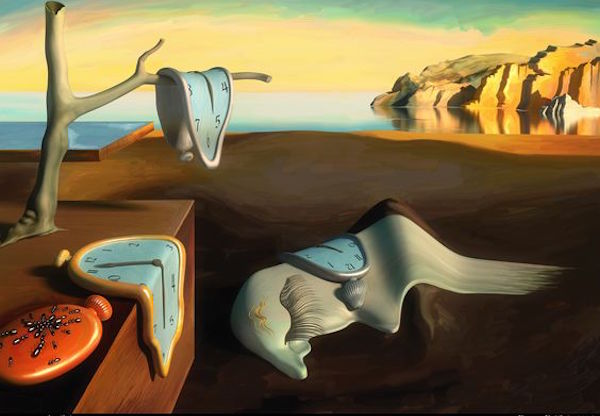 If anything on display at the MoMA will put you into a dream state, it has to be The Persistence of Memory by Salvador Dali. With its melted clocks hanging from branches and over a disfigured facial profile that's oozing indistinguishable textures, you can easily spend a quarter of an hour staring at this work of art in total and complete awe. Like many of the greats, it was painted with oil on canvas.
What to See at the MoMA: Andy Warhol's Campbell's Soup Cans (1962)
Image: RVPhotog/Flickr
Andy Warhol's Campbell's Soup Cans… you know them, you love them, and now you can see them in person at the MoMA. Painted with synthetic polymer paint on thirty-two canvases, this work of art is one that makes a scene. Each canvas measures 20 inches in height and 16 inches in width, and you'll find the name of a different soup flavor on each one.
What to See at the MoMA: Jackson Pollock's One, Number 31, 1950 (1950)
Pollock's canvases may look like something a child could paint, but their size and history make them something worth truly admiring. One, Number 31, 1950 sprawls over 17 feet across and 8 feet high, covered in oil and enamel paint. Go on, let the splattering of colors take you over…you wouldn't be the first and you certainly won't be the last.
What to See at the MoMA: Pablo Picasso's Les Demoiselles d'Avignon (1907)

Image: Phil Roeder/Flickr
Last but not least is Pablo Picasso's Les Desmoiselles d'Avignon, an oil on canvas painting that epitomizes Picasso's jagged style and teetering composition. Another enormous painting, this one stands at 8 feet tall and nearly 8 feet wide, making the nude figures on this canvas larger than life.
Looking for Free Group Planning Services?
Get free advice on planning your group's trip to New York.
RESTAURANTS

Multi-concept restaurant offering modern Japanese cuisine, a...

THEATER

Kander and Ebb's "musical vaudeville" in which Roxie Hart ga...

SHOPPING

DataVision is redefining retail with their new, fully intera...

SIGHTSEEING

Spirit Cruises is New York City's most vibrant and entertain...