Best Restaurants in West Harlem
September 29, 2017 - by Merrill Lee Girardeau
Once a purely residential area, Harlem has become its own destination for visitors to New York, especially those looking to eat well. The Restaurant Rows on Lenox Avenue and Frederick Douglass Boulevard bring Southern-inspired cooking to the north, in addition to other flavors from around the world.
Whether you're visiting Columbia University or visiting Alexander Hamilton's former home, you'll have an abundance of mouth-watering options. Some of the tastiest food in the city—chicken and waffles, mac 'n cheese, ooey-gooey cookies—comes from the kitchens in West Harlem. Sample even one of these seven options, we know you'll agree!
Eating in West Harlem: Row House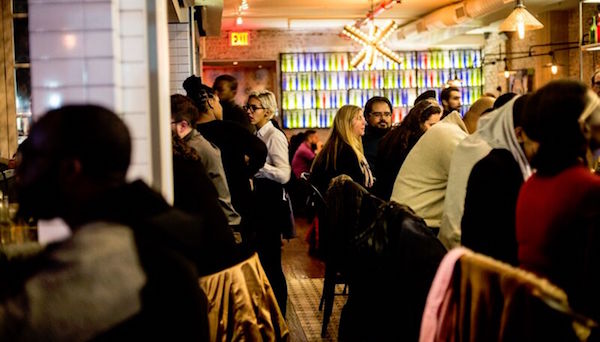 Part of Frederick Douglass Boulevard's Restaurant Row, Row House offers elevated, Southern-inspired cuisine. At brunch, go for the Crab Cake Benedict or the popular Shrimp and Grits. Served at brunch and dinner, Row House also makes a mean Mac 'n Cheese and Chicken and Waffles. If you're looking for your veggie fix, the Kale and Quinoa salad with beets, fennel, goat cheese, and hazelnut-mustard vinaigrette fills you up with each savory, crunchy bite.
2128 Frederick Douglass Blvd, 212-256-0019, rowhouseharlem.com
Eating in West Harlem: Melba's
Melba's soul food is some of the best in a neighborhood full of stiff competition. In fact, its famous Chicken and Waffles recipe prevailed on an episode of
Throwdown with Bobby Flay
. Not only is the chicken fried to perfection, but the waffle batter includes egg nog! If that's not enticing enough, their sides of yam and collard greens are transporting, as is the fried catfish.
300 W 114th St, 212-864-7777, melbasrestaurant.com
Eating in West Harlem: Levain Bakery
If you're anywhere within striking distance of 116th and Frederick Douglass Blvd, you can't not visit this tiny legend of a bakery. With cookies half the size of your head, gooey and warm in the middle, the occasional line outside will come as no surprise. All flavors of Levain cookies make you want to cartwheel, but we're partial to the Dark Chocolate Chocolate Chip.
2167 Frederick Douglass Blvd, 646- 455-0952, levainbakery.com
Eating in West Harlem: The Grange
The Grange does just about everything right. From its note-perfect Southern cuisine to the hip-country-store atmosphere to its wide variety of specialty cocktails, come to The Grange day or night for some of the best Harlem has to offer. The Country Breakfast, with eggs, bacon, and foie-gras hash browns, is the quintessential brunch choice. Or come for drinks and apps; we recommend the raspberry-pink Harlem Strut cocktail with Herb Roasted Bone Marrow.
1635 Amsterdam Ave, 212-491-1635, thegrangebarnyc.com
Eating in West Harlem: Max Soha
In addition to its choice wine list, Italian bistro Max Soha also has amazing pasta entrees. Try the Ortolana with fettuccine, seasonal vegetables, and sheep's milk ricotta, or the delectable Lasagna Fatta In Casa, which is served in a funky saucepan. The large dish of Pollo Marsala will satisfy your protein cravings, and then some. Top it all off with creme brulee.
1274 Amsterdam Ave, 212-531-2221, maxsoha.com
Eating in West Harlem: Mumbai Masala Indian Grill
With Indian food as an anomaly in Upper Manhattan, Mumbai Masala brings high-quality cuisine to the area for reasonable prices. Start with the bread: fluffy, sweet Onion Naan. Another tempting appetizer is the Samosa Chaat, a savory pastry with chickpeas inside and three chutneys for dipping. Chicken Korma and Red Pumpkin Thoran are spicy, smooth entree dishes served family style.
1768 Amsterdam Ave, 212-368-0100, mumbaimasalanyc.com
Eating in West Harlem: ROKC
ROKC should be your first stop for a few reasons, and most of them are cocktails. First is the Lychee Cocktail, served in a lightbulb (that's right). Second, The Truffle, a vodka-based drink topped with parmigiano reggiano and truffle-infused honey. Third is The Grapefruit, served in a skull-shaped mug and spouting smoke from little chimney-straws in the liquid. Beyond these photogenic cocktails full of complex flavor, head to ROKC (Ramen, Oysters, Kitchen, Cocktails) for the $1.50 happy-hour oysters and some of the city's best ramen.
3452 Broadway, rokcnyc.com
Looking for Free Group Planning Services?
Get free advice on planning your group's trip to New York.
RESTAURANTS

Burke's dual-concept restaurant opened in 2005 and spans the...

THEATER

The Tony-winning creators of "Ragtime" transport us from the...

SHOPPING

Pandora, one of the leading names in jewelry for more than 3...

SIGHTSEEING

Customized, state of the art fleet will get you from the air...