Bill Murray—veteran comedian, actor, golfer, occasional bartender, and poetry lover, can now (officially) add singer to his resumé. Murray and German cellist Jan Vogler, along with Brazilian pianist Vanessa Perez and Vogler's wife, violinist Mira Wang, recently participated in a TimesTalk to discuss their new project, a recording called New Worlds, that will be released on the label Decca Gold in September. It combines classical pieces, American standards, and literary readings. They also treated the audience to some live performances, as they prepare for a tour, with a stop at Carnegie Hall October 16.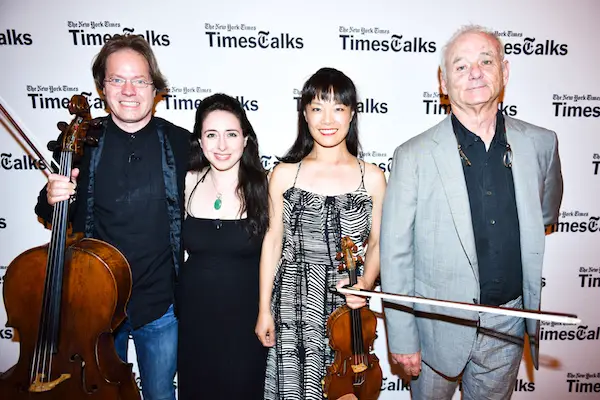 Photo: Griffin Lipson/BFA.com
Murray and Vogler recalled how they met on a plane from Berlin to Newark. During the flight, Murray had inquired about how Vogler would stow his cello, when he explained it had "its own seat." The two continued chatting and even happened to catch a Murray classic on board, Stripes. They stayed in touch, with Murray catching Vogler's performance in Berlin at the Dresden Festival.
Then in 2016, Murray and Vogler were at Poets House' annual Poetry Walk Across Brooklyn Bridge (Murray has been a big supporter of the Poets House since the 90s). "We could go places. If you talk and I play, people would come," Vogler said to Murray. The idea stuck. They eventually committed to recording at the Baryshnikov Arts Center.
As always, Murray charmed the audience. "You've got to be pretty good to be a bad singer," joking about his performances as Nick the Lounge Singer on SNL. But singing is a passion that has stayed with him, since childhood. "I've always loved to sing," Murray said. (Some may remember his lovely performance of Roxy Music's "More Than This" in Lost in Translation.) He even fronted a rock n roll HS band called the Dutchmasters, singing cover songs. "Something different is happening when you're singing. When you sing, it a representation of yourself. It's pure, in a way."
Murray eased into the evening performance, initially reciting poems, eventually leading the audience to sing along to Gershwin's "It Ain't Necessarily So," from Porgy and Bess.
The quartet has already performed several times in Berlin.
The live format continues to be a mix of reciting poetry and other literary pieces with musical accompaniment, to Murray full on singing with the group. "It's a real grace for me to work with this talent," continues Murray. "I've always been a collaborator...They're fearless. We're having the time of our lives."
Murray capped the evening with a stirring reading of poet Lucille Clifton's "blessing of the boats," as the group performed Saint Saens's "The Swan."