Looking for some authentic Brazilian flavors in the heart of Manhattan? Brazil Brazil, a favorite on Restaurant Row near Times Square, is your spot. Filled with live music, a cozy vibe, and great eats, you'll find a special dining experience here no matter the occasion.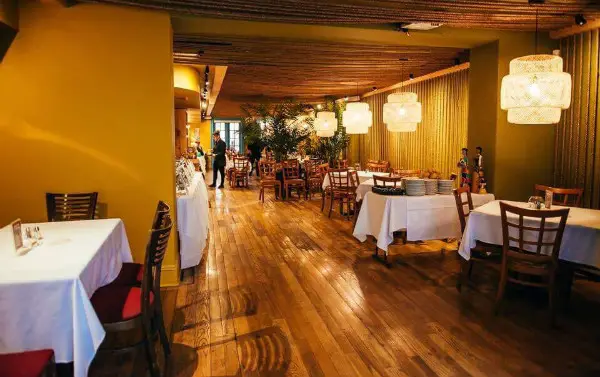 The atmosphere at Brazil Brazil is as charming as it gets in New York City. Some wall decorations feature homey finds, while others showcase worthy wine bottles. Vintage posters are on display, as is a backlit bar that changes colors as it glows. Take advantage of summer outdoor dining: up front a sunken porch and planters provide some privacy, while still allowing vantages of all the Restaurant Row action. There's also an all-weather garden in back.


A range of authentic Brazilian dishes fills the menu, including favorites like frango Copacabana (sautéed chicken breast with mushrooms), feijoada (a classic black bean stew served with collard greens, orange, farofa, and rice), and camarao no coco (sautéed shrimp with mushrooms, herbs, and coconut milk, in a fresh coconut shell). The Brazil Brazil Salad makes for a tropical taste as it mixes organic greens with fruit and heart of palm, topped off with shrimp and Brazilian sausage.
Craving something with a bit of char? Picanha na chapa, a traditional Brazilian sirloin steak served on a sizzling platter, starts off the impressive grill menu, and it's followed up with the churrasco misto plate (prime beef, chicken, pork tenderloin, and sausage) and some seriously tempting steaks. There are perfect caipirinhas from the bar to complement.
A bounty of seafood will make salmon, bass, cod, and tilapia fans happy. The bacalhau à Gomes de Sá is one of the most popular choices: shredded cod with a savory burst of onion, potato, and olive. The camarao Paulista is another Brazilian favorite, made with sautéed jumbo shrimp in a light butter-garlic sauce. Brazil Brazil also offers a wide selection of pastas, salads, appetizers, and even vegetarian options to suit every kind of diner.
Live Brazilian music is performed on Friday and Saturday evenings, making the atmosphere that much more authentic and inviting. Add some pizazz to your weekend by enjoying the sweet sounds of Brazilian music while you wine and dine at Brazil Brazil.
328 W. 46th St., 212-957-4300, brazilbrazil46.com