Brooklyn Bridge Park has it all: state-of-the-art playgrounds and sports fields, grassy fields and places to eat, and one of the best views of the downtown New York skyline in all of the city. Plus, it's just a subway stop away from Manhattan on the 2 or 3 train, and it's big enough to make for a fufulling day-trip.
Brooklyn Bridge Park is located around the entrance to the Brooklyn Bridge and stretches mostly south about 1.3 miles along the East River. It's in perfect view from the Brooklyn Heights Promenade—an elevated walkway with spectacular viewing spots for the city and the water. This modernized park includes six piers, as well as sections known as Empire Fulton Ferry, John Street, and Main Street. Each holds a different purpose and is catered towards different age groups.
Pier 1 (and Fulton Ferry Landing)
Pier 1 Photo: Julienne Schaer
Fulton Ferry Landing sits at the bottom of Old Fulton Street at the park entrance and directly next to Pier 1. On top of eateries and live music, this is the perfect spot to sit back and take in the most breathtaking panoramic view of Manhattan. Social media-savvy youngsters, get your phones out for that Insta pic, and for you lovers, this view will surely bring back those butterflies all over again. This was also the most crowded part of the park when I visited and seemed to be geared more towards adults than kids.
There are many places to grab a bite to eat at the Fulton Ferry Landing. These include No. 7 Sub, Luke's Lobster, and the Brooklyn Ice Cream Factory. You can enjoy your food while catching classical music performances five days a week year-round at Bargemusic. Additionally, the East River Ferry and New York Water Taxi take off from the landing; if you're interested in a relaxing ride along the river, there is a kiosk nearby where you can purchase tickets.
If you want some dinner, drinks, or just a refreshing lemonade, you can check out the concessions at Pier 1: Lizzmonade and Brooklyn Bridge Garden Bar.
Lastly, Pier 1 has its own playground, a circular park hidden by the surrounding trees (which took me a while to find). It's your basic playground here with climbing fixtures, a small slide, and a playhouse.
Pier 2
Pier 2 is all about sports. Here you will find any and all games and sporting courts that you could imagine: five basketball courts (two covered), bocce (similar to outdoor bowling), three shuffleboard courts, a huge turf field, and six tennis and handball courts (no nets, just a wall where you bounce the ball off of yourself). On top of that, there is a fitness area with plenty of strength machines. A newer feature to the park (but a throwback for most of us) is the roller rink, for open skating as well as recreational league play. After admission price (which varies), skate rentals are $6.
If you are bringing your tiny tots, they will be sure to enjoy the swinging area, as well as hopscotch and foursquare—two games that kids still cannot resist.


Pop-Up Pool
For those days when it's just too hot to be outside and you can't hear the end of it from your kids, the hidden gem of Brooklyn Bridge Park awaits you. Located between Piers 2 and 3, children can swim freely while you tan with your toes in the sand (or escape from the sun under an umbrella with a good book). There are also plenty of lawn chairs on the "beach" section and a food stand for snacks, which sounds relaxing, kids or not. Swimmers are welcome for 45-minute sessions only on a first-come, first-served basis. The pool is open daily, 10am-6pm, from June 29 through Labor Day weekend.
Pier 3 Greenway Terrace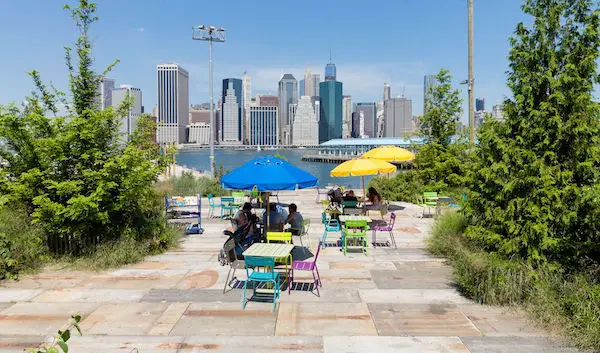 Greenway Terrace Photo: Etienne Frossard
Pier 3 is a small, quiet, and laid-back area to relax. There are granite rocks and boulders piled high to sit on and admire the amazing view, accompanied by cute and colorful tables and chairs set up around the Brooklyn Bridge Book Cart. If you're looking for an escape during your down time, pick out a book to read here.
If you're up for a little exercise, think about taking the Brooklyn Greenway route with your bike, twisting and turning around the piers. You can also rent a public Citi Bike. Brooklyn Bridge Park has five adjacent stations for your convenience.
And, if you're worried about the sirens and beeps of city life, in order to keep this area peaceful, there are sound-attenuating hills to minimize the traffic noise in the park.
Pier 4 Beach
Although this is a nice area, it is quite small. It is a beach in the sense that there is sand, stones, and water, but good news for some is that there won't be too many kids running and splashing around. Sitting by the river with sand between your toes is definitely a possibility, so come for the scenery and the serenity.
Pier 5
There are plenty of things to do at Pier 5. The wide pathway around the perimeter of the pier is perfect for walking, running, or sitting on a bench and enjoying the breeze (the same goes for Pier 2). The pier itself is made up of three soccer fields, with nets surrounding the area and plenty of people running around and kicking balls. Also spotted were some toddlers playing with water guns on the turf. Additionally, there are two small connecting playgrounds at the front of the pier.
For all of those dads and manly men out there, there is a fishing area at the far end of the pier, accompanied by bait prep stations with sinks, for all of your fishing fantasies. This is a perfect area for a family trip or to come with your friends after a long day.
After being worn out, head over to the picnic peninsulas where you can grill up some burgers and dogs for a barbecue—a very unique attraction to the park. Plus, Pier 5 is also home to Ample Hills Creamery, serving 10 flavors of its famous ice cream. Today's cheat day, right?
Pier 6
Water Lab Photo: Etienne Frossard
Although there is a lot to offer here otherwise, Pier 6 is perfect if you are 1) a small child or 2) the parent of a small child. This is heaven for little ones as there are five separate playgrounds. There are also several other features to the pier that make it unique. First, there is Fornino, a café at which you can enjoy some wood-fired pizza, which is always a plus.
If you walk towards the water, you will come across more green than you have probably seen in awhile if you're a New Yorker. Flowers, bushes, and trees surround the pier giving off the impression that there aren't subway rats lurking just a few blocks away. At the far end, there is a field where I spectated some couples picnicking, as the view is awesome and a spiraling "Understanding" sign can be seen.
There are three regulation-sized volleyball courts at Pier 6 complete with nets, sand, and colorful beach chairs for spectators. Play a game with your friends or join a tournament!
Pier 6 is home to five playgrounds: Sandbox Village, Water Lab, Slide Mountain, Marsh Garden, and Swing Valley. Each playground is hidden from one another, giving a lot of privacy, which I believe is one of the most unique parts of this pier. Just follow the trees and paths until you find your destination.
Sandbox Village is truly what it says it is—a huge sandbox, maybe the largest in the city. On top of that, there are wooden fixtures to sit on, a playhouse to climb into, as well as rocks, logs, a slide, and more.
The Water Lab is advertised as the park's most popular playground, and for good reason. There are jets and geysers squirting water into the air and kids running through having a jolly time. There are rocks and boulders to climb over, but definitely be careful, for it looks a little bit dangerous and slippery. The Water Lab is only open when outside temperature is 80 degrees and higher, and closed during inclement weather.
Slide Mountain brings a lot of park features into one—the main feature is the two-story high slides that will give your kids a thrill. There are also jungle gyms and climbing fixtures as well as a sand box.
Marsh Garden is a woody area designed with the purpose of children getting in touch with nature, surrounded by trees and small rocky pathway.
Lastly, Swing Valley has multiple swinging areas divided by greens. There are hills and trees dividing these 10 swing sets, one for every age—baby swings, average swings, and even Tarzan ropes. And, if kids have a fall, parents should feel comfortable knowing the ground is soft, blue, and bouncy. The privacy of each swing set is definitely a plus as well.
So for all of you out-of-towners, we know that there are probably tons of parks in your hometowns, but if you need any convincing, just look at the view. It can't be beaten.
More Activities
If you aren't too tired after visiting the six piers, there are many other spots in and around the park to visit:
Empire Fulton Ferry: Empire Fulton Ferry Lawn, Jane's Carousel, Picnic Grove, St. Ann's Warehouse, Triangle Garden

Main Street: Pebble Beach, Main Street Playground, Main Street Dog Run, 99 Plymouth, Environmental Education Center, DUMBO Boulders

Squibb Park & Bridge
St. Ann's Warehouse Photo: Pavel Anatov
Details
Location: 334 Furman St., Brooklyn Heights
Hours: All areas open daily. Pier 2: 6am-11pm; Pier 5: 6am-11pm; Pier 6 Volleyball Courts: 6am-11pm; Playgrounds are open dawn to dusk, the remainder of the park is open 6am-1am
Restrooms: Located at Pier 1, Pier 2, and Pier 6, as well as at Squibb Park and Main Street
For more information: 718-802-0603 or brooklynbridgepark.org