Sure to be a hit this fall season and beyond, TripAdvisor's top-rated NYC tour company A Slice of Brooklyn Bus Tours  has launched its Brooklyn Chocolate Tour, which visits artisanal chocolate sites Jacques Torres Chocolate in DUMBO, The Chocolate Room in Cobble Hill, Raaka in Red Hook, and Li-Lac Chocolates in Industry City, Sunset Park.
Did you know that the average American consumes 12 lbs. of chocolate annually? (The Swiss apparently really go wild, consuming 22 lbs. a year!) Chocolate has only been offered in solid form in the United States for roughly 200 years, first brought over in trade in 1756. 


Offered Monday, Wednesday, and Friday, The Chocolate Tour is a must, not only for chocoholics. Whether you're a local, a daytripper from Philadelphia, or visiting New York City for the first time, the comfortable bus tour takes you through some of the most beautifully scenic spots in New York City and Brooklyn. Conducted by tour director and founder of the 11-year old company, Tony Muia, your guide instantly makes his guests feel at home, offering informative tidbits about Brooklyn's history, the histories of the companies, plus some good-natured laughs. Muia, along with owners at the other sites, further inform on the "bean to bar" process, as well as offer demonstrations which travelers on their own would never get to experience.
Jacques Torres, a master pastry chef who once worked at Le Cirque, opened his first chocolate location in Dumbo in 2000. The beautifully packaged chocolate treats taste as amazing as they look, from dark chocolate covered pomegrante seeds, white chocolate and milk chocolate covered mondiants, NY themed boxes of chocolate covered peanuts with taxi and train illustrations, plus a wide assortment of pastries, hot chocolate, and more. 
The Chocolate Room, located in Cobble Hill, is owned by husband-wife team Jon Payson and Naomi Josepher. The cozy, enlongated family establishment serves up a decadent hot chocolate, and their chocolate cakes were named by Oprah Winfrey in 2007 as the best. (You can also check out their products at the upcoming Oct. 1 Chile Pepper Festival at Brooklyn Botanic Garden.)
Midway through the tour, Muia brings the bus for a stop at scenic Valentino Pier in Red Hook, Brooklyn, where you can not only stretch your legs but grab some stunning photos and video of the Manhattan skyline and the Statue of Liberty.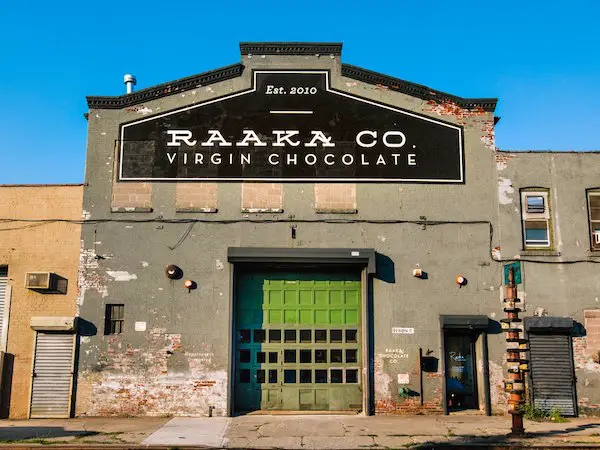 Third stop on the tour is the Raaka Co. Chocolate Factory in Red Hook (Raaka is Finnish for "raw"). Participants get to tour the factory facilities, learn about the chocolate making process, and try various chocolate confections, including decadent staples Bourbon Chocolate and Pink Sea Salt, as well as new flavors made weekly, such as Apple Pie. 
Last stop on the tour is Li-Lac Chocolates. With various Manhattan locations, it is the oldest Manhattan-based chocolate company, established in 1923. The newest location is situated in trendy Industry City. Their kosher-factory-and-store-in-one offers a wide selection of classic confections, including dark-chocolate almond bites, as well as a variety of New York-centric chocolate gift sets including an Empire State Building, and Easter-staple chocolate bunnies.  
A Slice of Brooklyn's Chocolate Tour leaves at 10am sharp from Union Square in Manhatttan and returns there. The length of the tour is four hours and costs $50—advance purchase is required. For reservations, visit asliceofbrooklyn.com.