CHIHULY Glass Exhibit Illuminates the New York Botanical Garden
April 20, 2017 - by Linda Sheridan
CHIHULY, a new exhibition of nearly two dozen installations, plus myriad hand glassblown pieces and drawings by renowned Washington-born glass sculptor Dale Chihuly, opens at New York Botanical Garden April 22nd, with a weekend-long, eye-opening celebration.
Chihuly's Sapphire Star
The exhibition, two years in the making, encompasses works spanning 40+ years of Chihuly's illustrious career. Presented both in and out of doors, it will be complemented with a series of jazz evenings, films, poetry readings, and events for children throughout the summer. The garden exhibit marks Chihuly's first time returning to New York since 2006, when he presented the show Blue Herons at NYBG.
Chihuly, 75, has created more than a dozen well-known series of works, among them Cylinders and Baskets in the 1970s; Seaforms, Macchia, Venetians, and Persians in the 1980s; Niijima Floats and Chandeliers in the 1990s; and Fiori in the 2000s.
The New York Botanical Garden serves as the perfect natural canvas to present Chihuly's brilliantly colored body of work, primarly created from hand-blown glass, mixed with other materials such as paint, steel, neon, and polyvitro. Earlier drawings, painted works, and glass pieces by Chihuly are also on display in the LuEsther T. Mertz Library Building.
Born in 1941 in Tacoma, Washington, Chihuly was introduced to glass while studying interior design at the University of Washington. In 1968 he received a Fulbright Fellowship to work at the Venini glass factory in Venice. He persevered through an auto accident in 1976 that left him blind in one eye, continuing to work. He eventually created a team, Chihuly Studio, based in Seattle, to execute his visions. From thinking through concepts to finish, some concepts can take up to six months, said Britt Cornett, head of exhibitions at Chihuly Studio.
The exhibit offers an interactive guide for visitors, using location-aware technology, by web or on smart phones. The Interactive Guide is made possible by Bloomberg Philanthropies.
For the Opening Weekend Celebration, April 22-23, the fun starts at the Leon Levy Visitor Center with a parade featuring giant puppets, drummers, stilt walkers, and other performing artists. The festivities continue around the Enid A. Haupt Conservatory with food, drink, lawn games, and live music. Flame work demonstrations will be given by artists from Brooklyn's UrbanGlass from noon-4pm. On April 22, there will be an Earth Day procession at 1pm and 3pm, starting in the Native Plant Garden.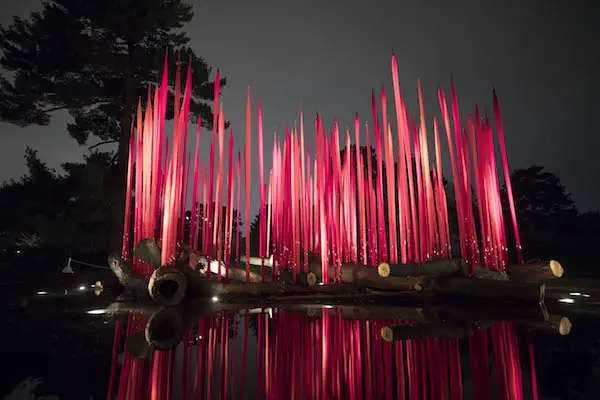 Chihuly's Red Reeds on Logs at nighttime (above) or Neon 206 (image below-206, after Washington area code!) are visually striking. NYBG's CHIHULY exhibit will be complemented with a series of jazz evening events throughout the summer.
Use of light plays an integral role in CHIHULY—beautiful during the day, the exhibit takes on striking additional resonance during the evening hours. CHIHULY Nights will take place on Saturdays (only), April 29-June 24; then Thursdays July-August, and Thursdays-Saturdays, September-October. The nights will cover 6:30pm-10:30pm. After sunset, experience CHIHULY's installations illuminated, plus enjoy a rotating lineup of peforming artists and musicians, food, cocktails, and shopping. $35, child (2-12) $15.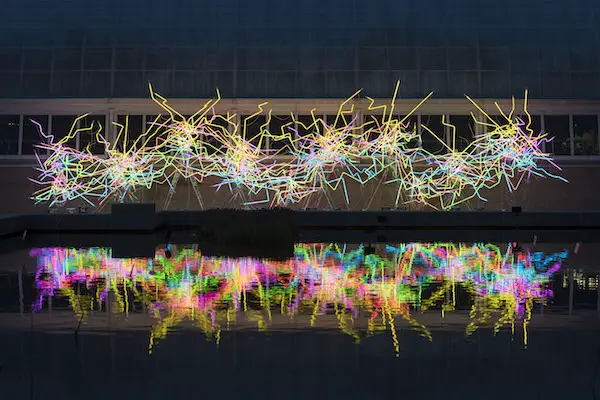 In addition, on June 16, July 14, and August 18, there will be a special NYBG Summer Concert Series: JAZZ & CHIHULY. Using the glass-domed conservatory as a backdrop, three concerts will showcase today's jazz talent, with seating on the Conservatory Lawn.
June 16 sees The French Connection, with an ensemble led by trumpeter Alphonso Horne and Parisian chanteuse Camille Bertault; July 14, trombonist Chris Washburne and pianist Andre Mehmari will appear for Celebrating 100 Years of Jazz; and August 18, Songs of Protest & Reconciliation, led by and starring Damien Sneed, joined by trumpeter Keyon Harrold. Doors open 6pm; concerts run from 7pm-8:30pm, and CHIHULY viewings continue until 10:30pm. $45 pp.
Advance tickets purchase for Evenings and concerts are recommended.
Chihuly's Palazzo Ducale Tower, inside NYBG. Photo: Linda Sheridan
Fans can head over to NYBG's shop, where various original CHIHULY pieces are on display for sale, as well as lithographs and other items.
CHIHULY, sponsored by Bank of America, runs through Oct. 29. For more information, visit nybg.org.
Looking for Free Group Planning Services?
Get free advice on planning your group's trip to New York.
RESTAURANTS

New York City's most famous landmark, the Empire State Build...

THEATER

Kander and Ebb's "musical vaudeville" in which Roxie Hart ga...

SHOPPING

Find the right gear for your workout. ...

SIGHTSEEING

Opened to the public in 1913 thanks to the ingenuity and amb...