Christmas Trees in New York: Alternatives to Rockefeller Center
November 26, 2018 - by Evan Levy
Say "New York at Christmas" and an image of the Rockefeller Center Christmas tree may well pop into your head. And why not? It's the biggest, Christmasy-est, most holiday-ish tree around. But New York also has a number of other amazing trees scattered throughout the city. To get you in the holiday spirit, we've listed a sampling. So grab that candy cane, dust off your striped mittens, and get tree-ing!
Christmas Trees in New York: The American Museum of Natural History
Inspired by exhibits and objects in the museum, this 13-ft. tree—which has been a feature of the museum's holiday season for 40-some years—holds more than 800 origami designs that have been hand-folded by artists from around the word. This year's theme, Oceans of Origami, was inspired by the American Museum of Natural History's special exhibition Unseen Oceans. If you want to get your craft on and make some origami ornaments yourself, volunteers from Origami USA will be there to show you how to create your own piece of origami art.
Fun Fact: It takes almost a year of planning, but the actual decorating of the tree takes less than a week. (Through January 13, 2019.)
Christmas Trees in New York: The Metropolitan Museum of Art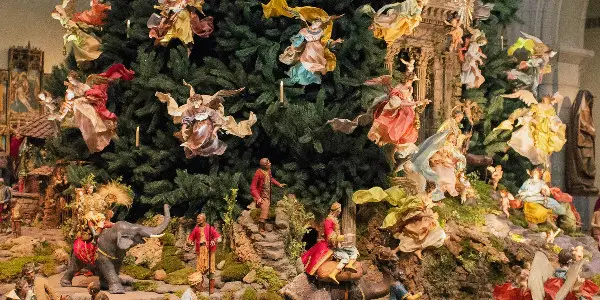 Right across the park from the AMNH, the Metropolitan Museum of Art has its own holiday tree. The Neapolitan Crèche and Christmas tree is a time-honored tradition at the Met, complete with period music and tree lighting ceremonies. Adorned with silk-robed angels and more than 50 cherubs, the tree is enhanced with the display of a crèche, complete with wise men and animals. More than 200 18th-century Neapolitan crèche figures were presented to the museum in 1964 and have been on display at the holidays for more than 40 years.
Fun Facts: The arrangement of the figures and the angels on the tree vary slightly from year to year. The third generation of the family that originally gave the figures is now involved in the installation. (Through January 6, 2019.)
Christmas Trees in New York: Lincoln Square
On November 26 from 5:30 to 9pm, holiday festivities come to the Upper West Side in the form of the 19th annual Winter's Eve festival at Lincoln Square, billed as New York's largest holiday festival. It kicks off with the tree lighting: This tree is 30 feet tall and almost 15 feet across, so it's no slouch. Artists, street performers, musicians, and more join the festivities as a tree is lit in Dante Park (Broadway and 63rd Streets). Local stores and restaurants host food tastings and activities.
Christmas Trees in New York: Cathedral of St. John the Divine
Head uptown to see the peace tree at the Cathedral of St. John the Divine (and of course, the amazing building itself—it's the world largest Gothic cathedral.) The 20-foot tree is covered with 1,000 paper cranes, which were inspired by a victim of Hiroshima. The cranes themselves stand for luck, peace, or redemption, depending on which source you believe. No matter which one you choose, it's an amazing sight. (Dec. 8, 2018-Jan. 3, 2019)
Christmas Trees in New York: Charles A Dana Discovery Center
Also uptown: The 19th annual tree lighting at the Discovery Center in Central Park (inside the Park at 110th Street between Fifth and Lenox Avenues) takes place on November 29, 2018 at 5:30pm. While you're there, meet Santa, sing carols, and sip some hot cocoa. The event includes the lighting of a flotilla of trees on the Harlem Meer.
Christmas Trees in New York: Brookfield Place
And if you're thinking: Who has a fresh new twist on the Christmas tree? Ta da! For a modern slant on the holiday, venture to Brookfield Place, the downtown shopping mecca. Designed by LAB at Rockwell Group, "Luminaries" is a reimagined take on a holiday tradition—a lighting display suspended from the ceiling of the Winter Garden in Lower Manhattan. Filled with glowing LED lights, the suspended lanterns will be on view through January 29.
Christmas Trees in New York: New York Stock Exchange
Downtown's the place to be for the lighting on the NYSE Christmas tree on Nov. 30. Performances (which include heavy hitters like members of the Rockettes and the Globetrotters) start at 2:30pm, with the tree-lighting ceremony slated for 5pm. (11 Wall Street.) The tree has 1,000 strands of multi-colored lights and a six-foot star.
Christmas Trees in New York: Bryant Park
The tree lighting ceremony in Bryant Park comes with a side of skates—it is, in fact, called the tree lighting "skate-tacular." An original holiday tale is read by a narrator, while world-class skaters act out (skate out?) the characters; it all culminates in the tree lighting. This year, actor Alan Cumming will be in charge of festivities, with ice skating performances by Olympian skaters Johnny Weir, Kaetlyn Osmond, Megan Duhamel, Eric Radford and Jeremy Abbott. After that, the public is invited to a (free) skating session. (Dec. 4.) bryantpark.org/wintervillage
Christmas Trees in New York: The New York Botanical Garden
The holiday tree and menorah lighting ceremony take place on December 2 at 4pm—complete with an old-fashioned sing along. (The group of trees all lit up is a seriously great sight.) And for an authentic winter tree experience, the Garden offers its Winter Wonderland tree tour on various days, to see their conifer collection and old growth forest. In New York, that's about as close to the source as you can get.
For more on how to celebrate the holidays in NYC, click here.
Looking for Free Group Planning Services?
Get free advice on planning your group's trip to New York.
RESTAURANTS

Brings together the character of Hell's Kitchen past with th...

THEATER

Kander and Ebb's "musical vaudeville" in which Roxie Hart ga...

SHOPPING

DataVision is redefining retail with their new, fully intera...

SIGHTSEEING

Start by ascending to the top of the tallest building in the...