On stage, he was Ziggy Stardust, Aladdin Sane, and The Thin White Duke. On celluloid, an alien (The Man Who Fell to Earth), an aging vampire (The Hunger), and Goblin King (Labryinth). David Bowie, the beloved English singer/New York transplant who sang about "Changes" and is revered for perpetually changing his sound and look over a five decades-plus career, is being celebrated in the exhibition David Bowie is, now open at the Brooklyn Museum.
David Bowie as alt-ego Aladdin Sane, on his album cover, photographed in 1973 by Brian Duffy.
Give yourself ample time for this immersive, chronologically organized, audio-visual experience, a solid two hours at least. Once you hear Bowie speaking in your ear via Sennheiser audio technology, pay attention. Each station of the sprawling fifth-floor exhibit has its own synchronized sound bite. If you miss something, you can always stop back and listen again.


This is the first-ever retrospective of the visionary's body of work, exploring his creative process of reinvention, collaborations, and how his bold characterizations shaped his listeners' own identities. The Brooklyn Museum serves as the final stop for this exhibit, which debuted in 2013 at London's Victoria and Albert Museum (since its opening, the exhibit has been seen by more than 1.8 million people).
At left, Bowie's Lightning Bolt Pantsuit by Freddie Burretti. Right, an asymmetric knitted bodysuit by Kansai Yamamoto. Both from 1973.  
The show includes hundreds of significant objects from Bowie's teens to his death in 2016, including handwritten lyrics, original costumes, keys to his old apartment in Berlin, photography, set designs, album artwork, and rare performance material. Many of the items are exclusive to the Brooklyn Museum presentation. 
Original album artwork from Bowie's 1980 Scary Monsters. 
"With mainstream appeal and yet an avant-garde heart, David Bowie was one of the most original artists of our times. He challenged the status quo and continually took us on new musical explorations with his forward-thinking and groundbreaking presentations. David Bowie continues to be the apex for many artists in wide-ranging disciplines," said Matthew Yokobosky, Director of Exhibition Design, Brooklyn Museum.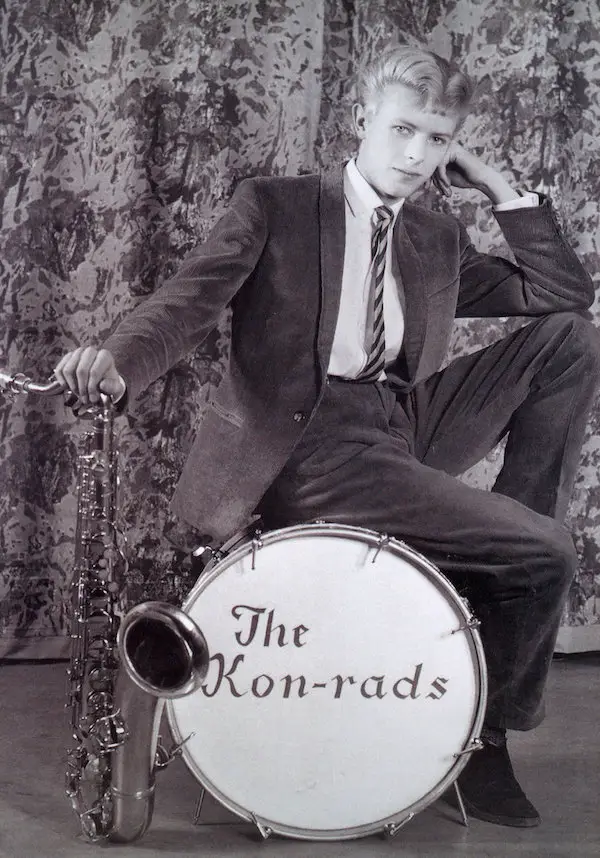 A very young David Bowie in a publicity photo for his first group The Kon-rads, 1966.
Born David Robert Jones in Brixton, London, Bowie was inspired to become a performer after seeing a Little Richard concert when he was 13. He officially changed his name to David Bowie in 1965 and left London to embark on a career in music and acting. Bowie explored myriad sounds and styles. His persona as androgynous starman Ziggy Stardust took off in 1972, later evolving to Aladdin Sane in 1973; from 1975 to 1976, he went white blond as The Thin White Duke. (An accident from a fight with a childhood friend left him with his distinctly two colored irises.)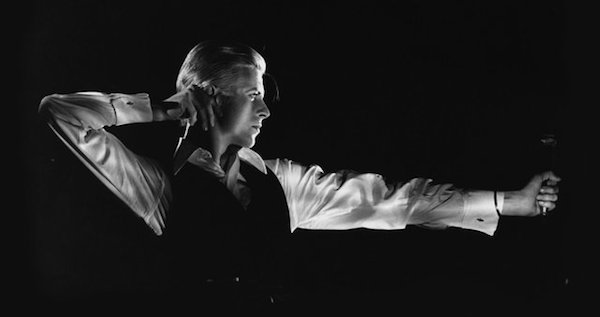 David Bowie as The Thin White Duke on the Station to Station Tour, 1976. Photo by John Robert Rowlands.
Bowie moved to the U.S. in 1974, recording what he called "plastic soul" on the album Young Americans. The song "Fame" gave him his first #1 hit. During a period of introspection and getting clean, he spent three years in Berlin, where he recorded Heroes at Hansa Studios, about lovers kissing by the Berlin Wall. This year marks its 40th anniversary; the recording recently was commemorated on a BBC radio documentary. Further commercial success for Bowie came in 1983 with his bestselling album Let's Dance, produced by Nile Rodgers. He married Somalian supermodel Iman in 1992 and had a daughter Alexandria Zahra (his firstborn is filmmaker Duncan Jones, born to Bowie's first wife Angela). The family eventually settled in New York's SoHo. He was often seen as a regular at The Strand and McNally Jackson bookstores. Bowie quietly crafted his coda, Blackstar, released on Jan. 8, 2016, his birthday. He died just two days later, at 69, after a battle with cancer. Posthumously, he won the 2017 Grammy Award for Best Alternative Music Album.
There is so much to see and learn from the exhibit, you'll probably need a second viewing—there are drawings Bowie made with Laurie Anderson; a display of a computer program he co-created in 1995 called the Verbasizer to help mix words to write lyrics (along with a video clip of Bowie explaining the process); there's even a section where one can sit and watch film clips of Bowie from The Man Who Fell to Earth, Labryinth, The Prestige, and more. One room features clips of Bowie performing Heroes, in addition to rare concert footage from his Diamond Dogs tour, where he shocked fans by saying it would be his last time on tour. 
At the end of the exhibit, in addition to a terrific shop brimming with t-shirts, exhibit books, special prints, and more, there's a room filled with beautiful fan art that was saved by Bowie, on display. 
David Bowie is was curated by Victoria Broackes and Geoffrey Marsh from the Department of Theatre and Performance at the V&A. Lightning Bolt tickets ($35) for priority access to are on sale now. General tickets, $20. Lightning Bolt tickets (skip the line,) $35. Exclusive packages start at $85. David Bowie is will run at the Brooklyn Museum through July 15, 2018. For more information and to purchase tickets, visit brooklynmuseum.org.