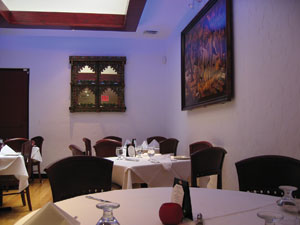 Sharp-eyed foodies can look around a restaurant and tell a great deal about it from the mix of diners. They'll like what they see at Darbar -- because the room is filled with large tables of Asian diners who obviously approve of its tasty, authentic food, a good sign.


Darbar, in a sleek, narrow East side duplex, boasts a classy, quiet milieu. Its upstairs dining room is a place of glazed brick walls, a high, sky-lighted ceiling, candles, white table cloths, instrumental music from Indian motion pictures, Indian artifacts and smooth, sophisticated service.
Manek Irani and Jessie Singh, who own the Indian Taj restaurants in Jackson Heights, Lindenhurst, Long Island, and Greenwich Village, have perfected their winning formula at Darbar. In addition to creating a serene atmosphere, they hired Vikram Gomez, a gifted chef from Bombay, and offer a bountiful bargain ($13.95) lunch buffet, which has resulted in full houses every day for lunch and brisk dinner business.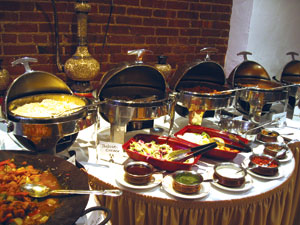 Chef Gomez's diverse, sprawling menu combines traditional Indian favorites (curry, korma, vindaloo, biryani, tikka, tandoori) with fine fusion creations that accommodate more conservative western palates (garlic venison chops, trans-ethnic Maine crab cakes, potato croquettes stuffed with goat cheese, rosemary naan and cilantro-pesto tandoori shrimp).
Try those amusingly-named crab cakes. They are indeed crab - nearly all crab, not bread or filler - and their curry-ginger twist bestows a welcome and unusual flavor. Other recommended starters are those chive-flecked croquettes, an aromatic garlic and white wine sauteed shrimp dish called Jinga Tanka, and the British-inspired mulligatawny soup of creamy pureed lentils and sprightly fresh vegetables. Scoop and sop up both appetizers and entrees with a few of Darbar's vast array of satisfying tandoori breads.
Among the noteworthy main courses are a sizzling, scorching shrimp vindaloo, a goat curry, replete with soft, tender, fall-away meat, fried eggplant in an exotic oriental sauce and tasty garlic venison chops.
All the usual Indian sweets, plus chocolate cake and cheesecake, can be ordered for dessert. We sampled a soupy kheer (rice pudding), a sweet, interesting almond-covered carrot pudding (both housemade), mango ice cream and a rich, dense, terrific kulfi, or Indian ice cream.
152 E. 46th St. btw. Lexington & Third Aves., 212-681-4500; darbarny.com
---
Richard Jay Scholem was a restaurant critic for the New York Times Long Island Section for 14 years. His A La Carte Column appeared from 1990 to 2004. For more "Taste of the Town" reviews, click here.