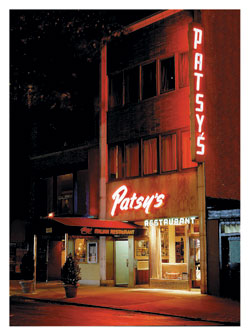 Patsy's is more than a restaurant -- it's a New York City tradition, a landmark Italian eating place, an institution, and a colossus. Patsy's opened 63 years ago on West 56th Street, where it remains to this day (in the building next to the original site since 1954). Pasquale "Patsy" Scognamillo opened it and was its first chef. His son, Joe, succeeded him and, for the last couple of decades, his grandson, Sal, has been the kitchen commander.

There are very few New York City restaurants that have been around since the '40s, fewer still that are at their original location, and almost zero that have been run by the same family over all those years.

The phrase "they must be doing something right" applies here. Patsy's, which sells its cookbooks and six sauces far and wide, is the quintessential Italian restaurant. It's a warm, welcoming, convivial, white-tablecloth spot with a long, familiar menu of traditional Marsala, marinara, Bolognese, Amatriciana, puttanesca, and cacciatore dishes.

What's not to like here? There's a flower and a tiny ceramic pitcher of extra-virgin olive oil on every table. An antique clock hangs on high. The din of satisfied, no-nonsense diners fills the air. Celebrities, theatergoers, couples, and large Italian families fill the tables. The pasta is homemade. The knowledgeable, tuxedoed maître d' has been here for 30 years. The spiffy waiters wear sharp formal jackets with gold epaulets, and the soft, soothing food tastes as though an Italian mama cooked it.

The dishes, dress, and ambiance are all caught in a wonderful time warp. The plump stuffed artichoke is packed with breadcrumbs, olives, capers, anchovies, and topped with slivers of garlic. The classic antipasto contains all the usual suspects: prosciutto, roasted peppers, provolone, mozzarella, and soppressata -- but at Patsy's they cover a whole dinner-sized plate and come on a pool of good balsamic. Diners are advised to keep it simple here. The best dish sampled was an off-the-menu presentation of homemade fettuccine, with an onion-y tomato sauce flecked with very fresh basil, that vibrated with flavor, as did sautéed spinach laced with garlic. Breseola -- thinly sliced aged beef that's been dried and salted, then topped with a dab of tomato sauce -- is a dish I'd order again.

Desserts that come on a rolling cart included a cassata cake topped with toasted almonds rather than sugar, and a towering triangle of multi-layered chocolate cake coated with shards of chocolate.

236 W. 56th St. btw. Broadway & Eighth Ave., 212-247-3491; www.patsys.com. Hours: Sun thru Thurs 12 til 9:30pm, Fri & Sat 12 til 10:30pm.

Richard Jay Scholem was a restaurant critic for the New York Times' Long Island section for 14 years. His A La Carte column appeared from 1990 to 2004. For more "Taste of the Town" reviews, click here.