A world of rainbows, sparkles, and very big hair is coming to New York City as DreamWorks Trolls The Experience arrives in midtown. Sprawled across multiple floors, this interactive adventure will thrill fans of the movie Trolls and pretty much any kid who likes to dress up, bang on things, collect glitter, or dance.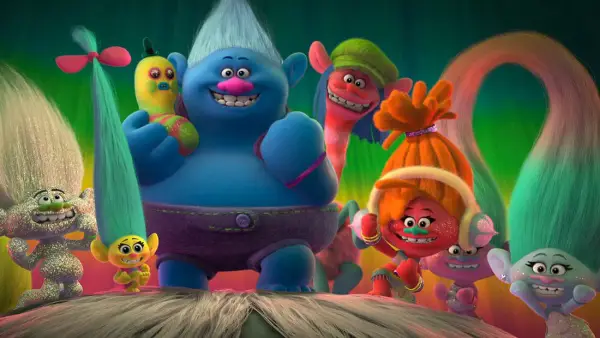 DreamWorks Trolls The Experience sets out to "use technology in a way that's both innovative and engaging," according to Nicole Feld of Feld Entertainment. (If the name Feld Entertainment sounds familiar, it's because of their history with some of the most successful family entertainment destinations, running from the Ringling Bros. Circus to Disney on Ice.) Here, Feld Entertainment has partnered with NBCUniversal and DreamWorks to deliver a unique new attraction to a classy stretch of West 57th Street.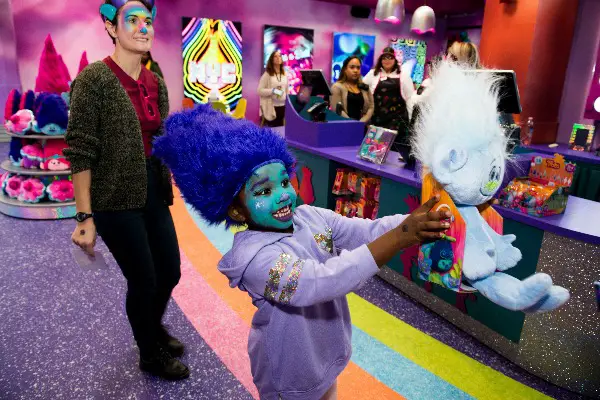 In addition to the Instagrammable moments that DreamWorks Trolls The Experience is all about, there's also a next level of memory making. Kids get to create their own scrapbook during the course of their visit. In addition, they'll be able to take home several souvenirs, allowing them to relive it in the weeks and months to come. Unlike the photo-op pop-ups currently proliferating in New York, DreamWorks Trolls The Experience also tells a story. As kids follow the rainbow trail floor they'll find it's guiding them "on a journey that's more than just a museum, more than just a place to take pictures," in the words of James Shea, Show Director/Creative Development at Feld Entertainment.


Experience ambassadors make the visits interactive and increase the personal feel of a trip here. Step one is the total troll transformation at the "Hair We Go Salon." Four troll wig options are available. Fun-house mirrors in the space help amplify the transition from the everyday world to something magical. Coming up is the chance to play in a musical space, before moving on to the "Sparkle on Caterbus," which puts kids in an air tunnel full of flying gems. Among many great photo ops for parents, this one offers particularly great views through the bus windows. (Speaking as a parent, I found it impossible to move through the spaces here without smiling.)
Everything culminates with the donning of "glitter goggles" for the "Poppy's Best Day Ever!" celebration. This is a dance party and 3D extravaganza. There is some incredible technology at work, with a 3D screen that demonstrates more depth and truer colors than what you've ever seen before. Kids will be startled—in a good way—as creatures come flying off the screen. The big songs you've been waiting for from the Trolls soundtrack are played now and kids get to shake their stuff in an upbeat dance party.
There's even more fun at the downstairs "after party." Families can take advantage of photo booths, which print on the spot, for finishing up those scrapbooks. Poppy herself will be there for a special "meet 'n' play." It's more than just a photo op, as kids have the chance for hugs, dancing, and showing off of their scrapbooks.
There's a gift shop and beyond it the Troll Treats Café, which features candy and goodies from New York's beloved City Bakery. In other words, they've thought of everything at DreamWorks Trolls The Experience.
Tips for Visiting DreamWorks Trolls The Experience
Strollers are easily accommodated at a parking station near the entrance. The attraction's location on West 57th Street is easier to negotiate than the streets around Times Square, which can be too crowded for strollers.
Trains are convenient: the A/B/C/D/1 trains stop at Columbus Circle Station and the N/Q/R/W trains come into 57th Street. Both stations are just a couple of minutes walk from the experience.
There are two "VIP experience" upgrades available: the deluxe private salon "Hair We Go" Experience staffed by glitter gurus, who are the "stylists to the troll stars." The Personalized Keepsake Scrapbook is an enhancement on the standard scrapbook, with even more activities for kids.    

The café and gift shop are open to visitors without the requirement of purchasing a ticket.
Tickets are $40 each and are required for everyone aged 2 and up.
DreamWorks Trolls The Experience is open daily, Monday through Friday from 10am-8pm, and weekends from 9am-8m. Last entry is at 6:30pm (the experience is designed to take 60-90 minutes).
The attraction opens for previews on Monday, October 22nd. The official opening will be on Thursday, November 15th. During preview period, tickets will be discounted to $25.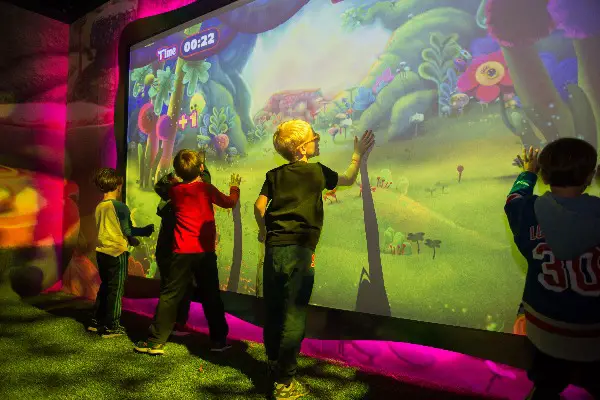 DreamWorks Trolls The Experience is located at 218 W. 57th St. (btw. Broadway & Seventh Ave.), 855-316-8306, trollstheexperience.com.