New York is full of must-dos, have-to-sees, and can't-misses. One of those is definitively Times Square. Fun fact: It was named after the New York Times when the paper was headquartered there in the early 20th century. Times Square is the place that everyone knows, and everyone has heard about and seen pictures of—and why not? Full of theaters and megastores and neon lights and larger-than-life signs, it's unlike anywhere else. It seems to be a particular magnet for preteens, so with that in mind, here's how to do Times Square with kids in tow. (Or more to the point, them leading the way and you in tow.)
They Want Candy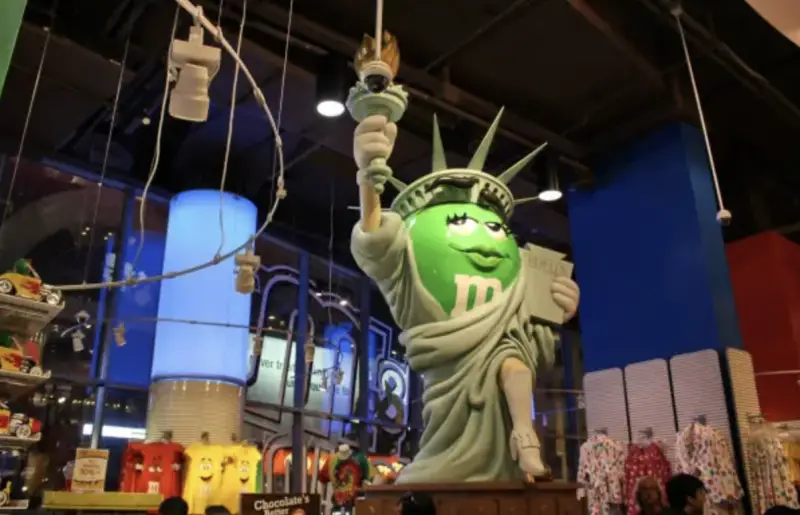 Even familiar things are more appealing when they're in a new place. With that in mind, head to M&M'S Times Square. Here, the M&Ms seem to be more colorful. (They are in fact, more colorful, as they come in 15 colors, including stone, hot pink, and blue lagoon, and you can even get them personalized.) Plus, you can get them packaged in every conceivable kind of case, from mini candy jars to Christmas ornaments.
If your allegiance lies with the Hershey's chocolate bar, you can also head to Hershey's Chocolate World. Here's where you can have a rich (chocolate) milkshake, choose a decadent s'more, indulge in a giant cupcake, or buy chocolate-themed clothing.  And of course, there's plenty of actual chocolate, including the option to mix and match a variety of chocolate goodies.
Instagram Opportunities in Times Square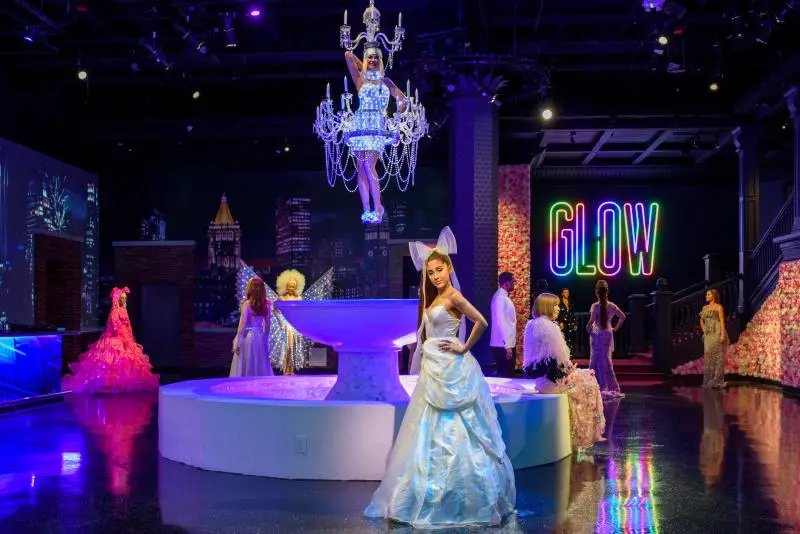 Looking for a celebrity encounter? Stop by Madame Tussauds New York for an up-close and personal experience with the (wax figures of) your favorite celebs. Join the Ghostbusters and help capture Slime; be a guest on The Tonight Show; and even strut the runaway with top models. Plus, you'll find newer experiences, like coming face to face with Warner Bros' Icons of Horror, and meeting wax figures like Bad Bunny and Dwayne "The Rock" Johnson. And in an experience called the Glow Gala, you can encounter A Listers like Ariana Grande, Katy Perry, and Lady Gaga. Preteens should be prepared for endless Insta-worthy opportunities.
Tweens and Broadway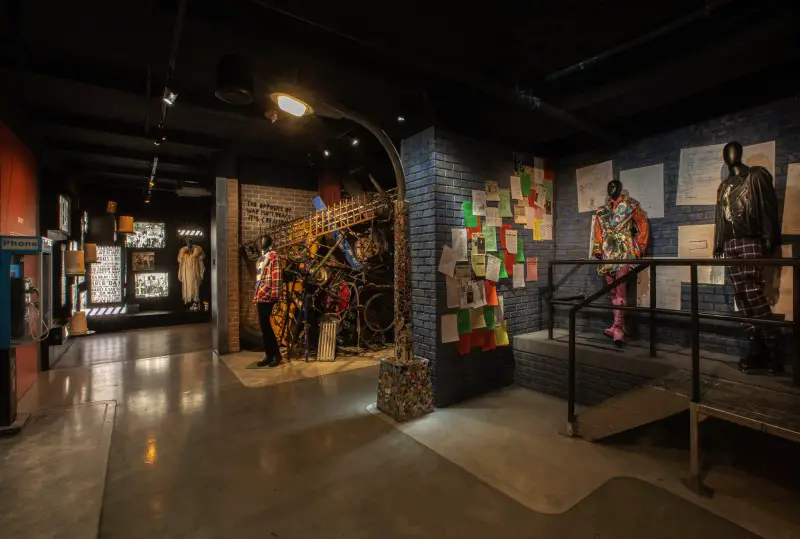 Rent and Bring in 'da Noise, Bring in 'da Funk. Photo by Monique Carboni.
For the theater buffs in your group, the new Museum of Broadway beckons. The museum offers interactive experiences focused on groundbreaking experiences in Broadway history. Explore The Map Room, focused on the city's theaters; and follow the Timeline of Broadway, including highlights of Broadway pioneers and innovative musicals, all through installations designed by Broadway designers and well-known visual artists.
For a taste of Broadway with your meal, check out Ellen's Stardust Diner. You'll find great food and drink in addition to live performances from the famous singing waitstaff, who continue a long line of Broadway actors who have made Ellen's their launching pad.
And what would a trip the heart of New York be without seeing a Broadway show? You can try your luck at TKTS, the discount ticket booth; it offers discount tickets to Broadway and off-Broadway shows—both plays and musicals--as well as music and dance performance at a substantial discount, from Disney offerings to more sophisticated fare.
For Comic Book Fans
For a fun stop a little off the beaten track, check out Midtown Comics. It has an enormous list of comics, graphic novels, and even a section for young readers, with titles from Star Wars to Archie to Sonic the Hedgehog and the Teenage Mutant Ninja Turtles. Kdis are likely to want to hang out here for many hours.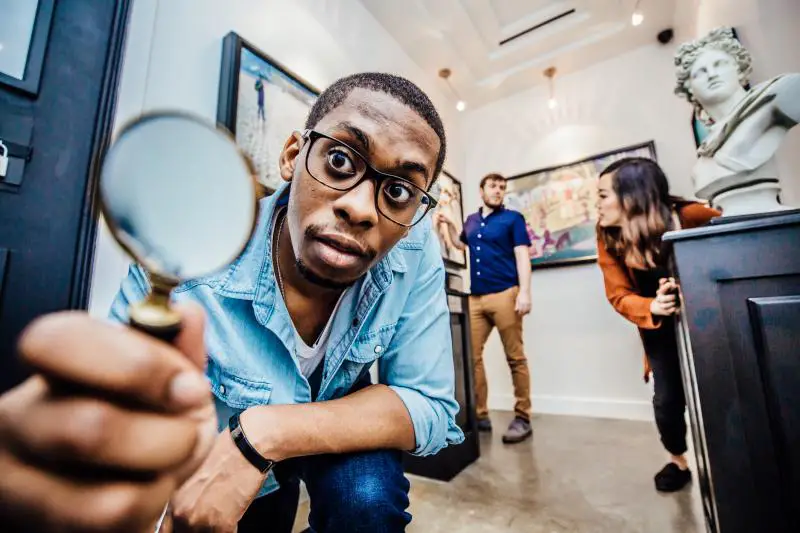 Next, head a little ways east of Times Square to The Escape Game, where you can choose from escape room themes including "The Heist," in which you must recover a famous painting—by stealing it back from the person who stole it; and "Gold Rush," which asks participants to locate a hidden inheritance. Experiences are 60 minutes, and you have your pick from ones that are either action-packed or more light-hearted.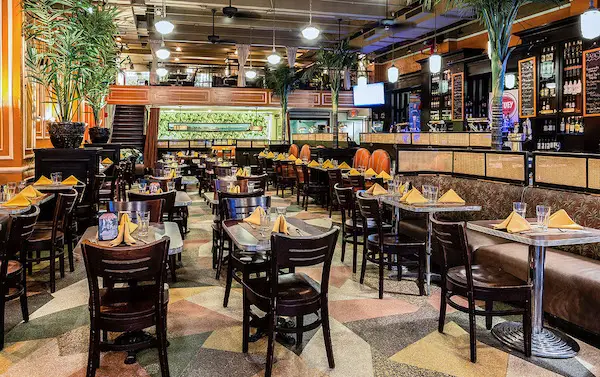 Havana Central in the heart of Times Square.
When it's time to refuel, preteens will undoubtably enjoy Carmines—it's big, noisy, and serves family-style portions of Italian food—get pasta and eggplant parmigiana to share. Feeling more like tacos? Head to Los Tacos No.1. Here's where everyone can choose from a selection of tacos, quesadillas, tostados, and more, plus a variety of Mexican sodas. And just a short walk from the heart of Times Square, Schnippers offers a huge variety of burgers, plus sandwiches, chicken fingers, fries and sides, mac 'n' cheese, and even salads. In other words, picky eaters welcome. You can give your tweens a taste of island culture with a visit to Havana Central. This spacious 1950s-style eatery serves authentic Cuban home cooking, with empanadas, wings, chips and guacamole, chicken and rice, ribs, vegetarian platters, sweet plantains, French fries, and other items that match up to tween palates. (At this point, parents may be opting for some of Havana Central's legendary mojitos.)
Other Fun Ideas
Everything's more fun when you're doing it somewhere else—and that includes bowling. Check out Bowlero bowling lanes, which offers lanes with HD video walls showing everything from family films to music videos. There's also an arcade with video games and pinball machines, plus billiards (note: on Fridays after 9pm, it's 21 and over.)
That same philosophy holds true for The Disney Store. Here's where fans of Marvel, Star Wars, Pixar, and of course, Disney, can find merchandise from clothing to costumes to toys and games. There's also stuffed animals from Frozen, Lilo & Stitch, Cinderella, Toy Story, and more.
Tween soccer fans might prefer the Pele Soccer Store, which offers a huge selection of jerseys, soccer equipment, cleats, commemorative items and memorabilia, autographed items, figurines, and even soccer-themed backpacks, bags, and watchbands.
Save some time just to walk around and take in the giant billboards and signs—some four stories high—rows of theaters, and tourists from absolutely everywhere.

Luciano Mortula - LGM / shutterstock.com
Too much for one day? (For you; probably not for them.) This is New York, New York—the city that's so nice they named it twice—save some for the next day! There's always more to see and do here.
Read Next | Looking for some family-friendly hotel options in Times Square? Check out our guide to Choosing the Best Hotel in NYC.