When booking hotels in NYC, you can get overwhelmed by all the ones on offer. Luckily, we're here to help. Whether you're looking for an affordable trip for a couple, pet-friendly hotels in NYC, hotels for a group or conference, or an all-out bachelorette party, there's a New York hotel for you! 
As with any travel plans, it's best to book as early as possible and stay aware of peak travel times to the city, i.e. summer and the holidays. If you're a first-timer to NYC, you may also want to scan our neighborhood guides to find an area that inspires your wanderlust. Once you find a hotel, search the website for special deals, or even reach out to inquire about discounts.
Click below to jump to a category: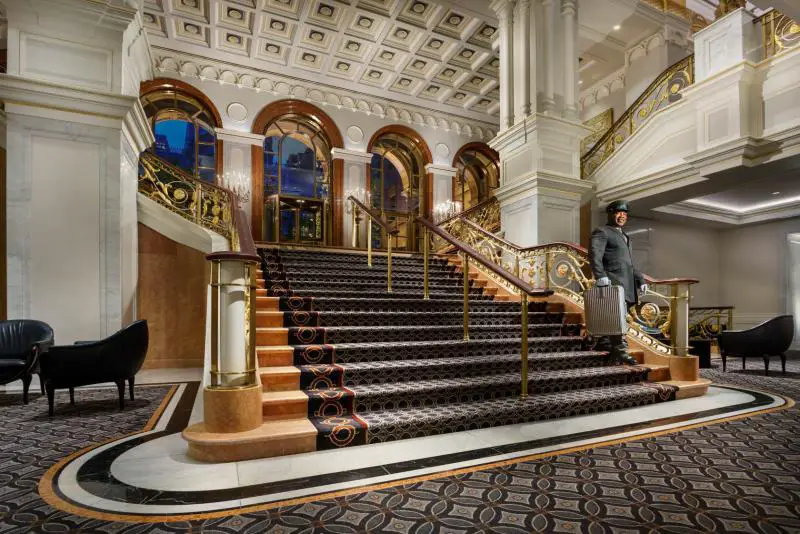 The grand lobby at the Lotte New York Palace. 
Planning to visit NYC for 2022 or beyond? New York hotels are prioritizing your health and safety with COVID-specific cleaning policies and, often, flexible bookings. Book with confidence after a spin through our guide to finding the best hotel in New York City.
10 Things to Consider when Choosing a Hotel in NYC
1. Do you want to stay at one of the hotels near Broadway shows in NYC?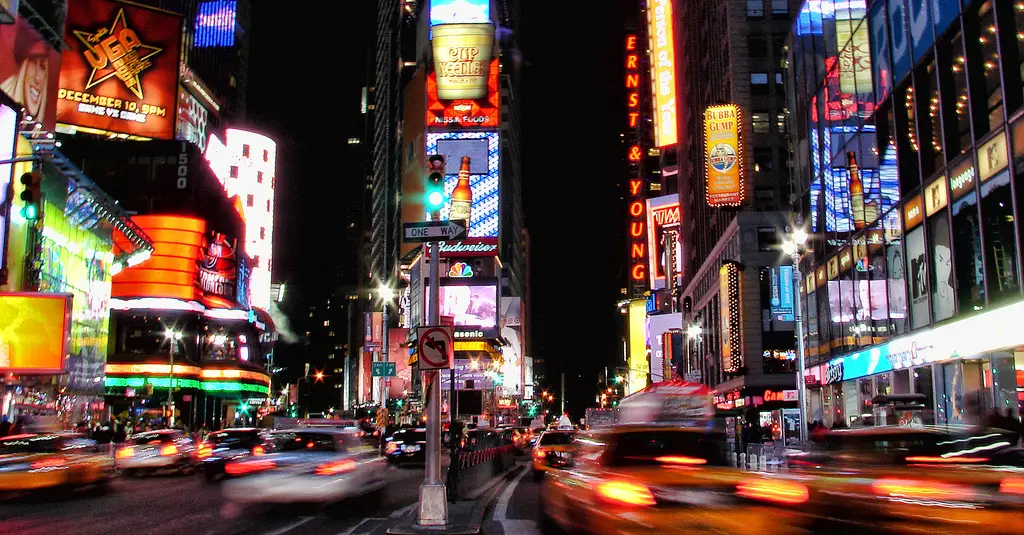 Hotels cluster near the Broadway shows in NYC, which find their home in and around Times Square and the Theater District. In fact, according to Times Square's official site, there are 44 within walking distance of Broadway. Popular options include the Marriott Marquis and the Millennium, but that's just the beginning. Whether you've already purchased your ticket to Company or plan to brave the TKTS line, there's a hotel nearby for you.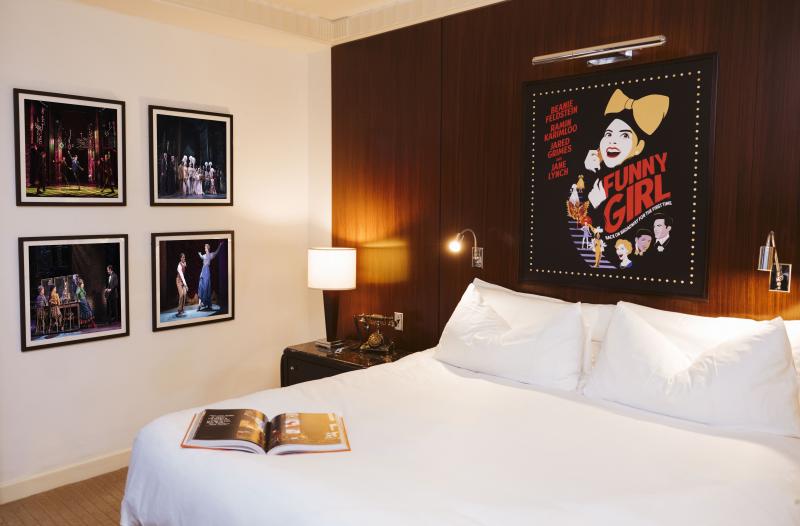 Some nearby hotels even offer up Broadway-themed suites. Sofitel New York is the official hotel of the Tony Awards and it's right in the heart of everything on West 44th Street. The hotel boasts three theatre-inspired stays, the Broadway Juliette Balcony Suite, the Tony Awards Terrace Suite, and the recently unveiled FUNNY GIRL Suite (above) featuring signature décor from the Broadway hit. Each suite is unique and showcases iconic Broadway memorabilia like scripts, posters, Playbills, invitations, props, and photos.
Still weighing the pros and cons of staying in Times Square? This area has plenty to love, from great theatre and music to a wide range of shopping and dining. You can't beat its central location. It's also family-friendly, with attractions like Rockefeller Center and Madame Tussauds nearby. However, it's also bright, loud, and crowded, so it's not the ideal option for everyone.
2. Are you looking for hotels with rooftop bars in NYC?

Magic Hour atop the Moxy Times Square. Photo courtesy Tao Group.
Your best night out in NYC might just be at the top of your hotel—if you book the right one, that is. Check out our guide to the best rooftop bars in NYC, which lists the many hotels with rooftop bars in NYC offering tasty drinks, skyline views, and Instagrammable backdrops for day or night. To name a few, Moxy Hotels in Times Square and the East Village both have standout rooftop bars (Moxy Times Square has a putt-putt course!), while the indoor/outdoor bar at the Kitano Hotel in Midtown East presents a showstopping view of the Empire State Building.  
3. Do you want to stay at one of the hotels near Central Park?
Nothing can replace a jaunt through Central Park. New York's backyard is located in the middle of Manhattan, with landmarks like Columbus Circle and the Guggenheim Museum along its borders. For walkable distance to Central Park, choose a hotel in one of the following neighborhoods: the Upper East Side, Upper West Side, Midtown West, or Midtown East. 
The Upper East and West Sides flank Central Park on its long sides and are very accessible to the Reservoir, the Great Lawn, the Zoo, and other attractions. However, as these areas are more residential, they also feature fewer hotels. Two popular hotels near Central Park, The Pierre and the Empire Hotel, are both located on the busy southern ends of these neighborhoods.  
Luxury hotels line the southern end of Central Park on 59th street. The iconic Plaza Hotel and the Park Lane Hotel both overlook the park's natural beauty. A few blocks south is the Theatre District, so the Times Square area isn't too far either. 
4. Are you looking for NYC hotels with parking?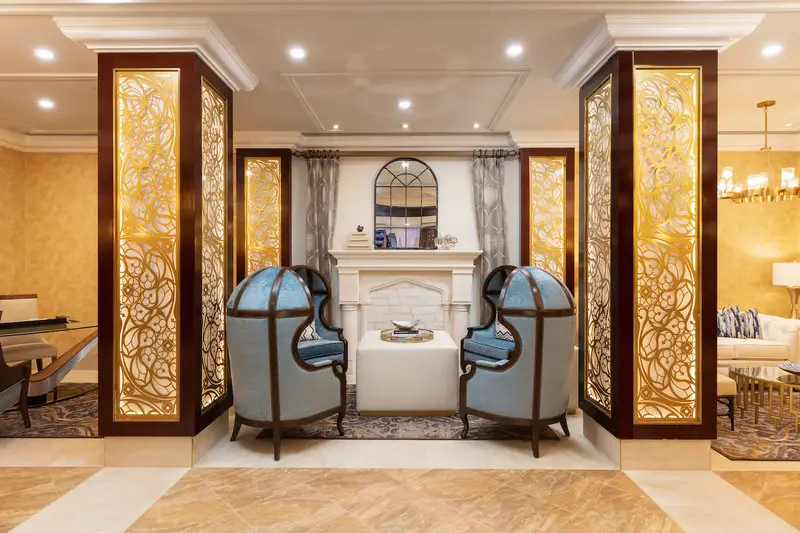 For a limited time, the newly renovated Westgate New York Grand Central in Midtown East is offering free parking. 
Driving into the city? You'll need overnight space for your car, not just for you. First, check your hotel's website for parking recommendations, as some NYC hotels secure parking spaces at nearby lots for your convenience. Keep in mind that you'll likely pay extra for your spot and may be discouraged from moving your car during your stay (a.k.a. no "in and out privileges"). However, don't discount this amenity before considering how long you're willing to search for cheaper parking. A free space is a tantalizing possibility, but you may spend valuable time and energy finding it. 
If your hotel in NYC doesn't offer parking, search for parking lots in the neighborhood, paying close attention to security and pricing. In popular areas, low-cost and free parking spots are few and far between—plus, parking space is in higher demand than ever. If you're dead-set on a deal, you may expand your search farther from your hotel, as a more remote area may be less expensive. An app may come in handy: Spot Hero will let you choose from competing garages for the best price and location for your needs.
Free parking in New York is infamously hard to come by. Don't count on free lots, and check for meters when parking on the street. When searching for free street parking, the less crowded the area, the better your chances. Try calmer neighborhoods like Harlem or Brooklyn, for instance. If you're staying in Times Square, though, your odds are slim. Regardless of the neighborhood, look for free street spots late in the day on Fridays, when folks might be vacating their spots for weekend getaways. 
5. Do you need pet-friendly hotels in NYC?
Many hotels in NYC offer pet-friendly accommodations for your furry friends. Some even provide food, treats, and beds! However, you'll likely pay a surcharge for this service, and some hotels may set a weight limit for your pet. Read the fine print before you book. Then read our tips for traveling to NYC with a dog. 
6. Are you choosing a hotel in NYC for a group trip?
Bachelorette and bachelor parties, school groups, work trips, and wedding guests can all find affordable group rates throughout New York. However, many hotels in NYC don't broadcast their pricing for groups, so reach out to ask about rates based on your trip's timing and group size. The larger your group, the more likely you are to get a good deal (many hotels set the threshold at 10 or more rooms to receive a group discount). If your group is too small for a group rate but too big for one room, you might consider sharing a suite or two, which may cost less in the long run. 
In addition to pricing, consider location, location, location. Do you want to stay in action-packed Times Square, a popular nightlife neighborhood like the Lower East Side, or in laid-back Brooklyn? If you're planning around a high-priority activity—whether part of your sightseeing, or a major event like a wedding or reunion—factor that into your search for group hotels in New York City. 
Beyond your hotel selection, City Guide has you covered on group travel tips and a list of fun group activities in NYC for you and your crew.
7. Traveling with kids? Consider a family suite at a hotel in NYC.

A pool deck is one of multiple amenities at Margaritaville Resort Times Square.
Family-friendly hotels in New York City can be found throughout the city. A suite or a pair of connected rooms can cut down on costs by avoiding paying for separate rooms. Some suites even come with kitchenettes in case you're feeding kids at odd hours. However, not all suites are made equal: New York hotel rooms are often smaller than you expect. If you're bringing a travel crib for a baby or counting on a roll-away bed, it may fit with little room to spare (if at all!). 
Search aggregators like Hotels.com for family-friendly suites, and book early for the best selection at the best price. Then read up on our tips for traveling with kids. 
8. Are you choosing a hotel in NYC for a conference?
Convenient lodging near your NYC conference is just a few clicks away. Whether you're organizing the conference or just attending, you can find accommodations near your meetings, presentations, talks, and other events. If your conference is occurring at a hotel in NYC, ask the organizer if they secured a block of rooms (and if they did, book fast before they're gone!). If your conference occurs at an event venue like the massive Javits Center on the Hudson River, there are several hotels nearby, plus Hudson Yards for culture, dining, and shopping during your off hours. 
On the other hand, you may prefer to stay off-site in an area farther from your conference venue. The artsy East Village and uptown hotels in Harlem provide both lower-cost lodging and more offbeat attractions in the city. If you opt for this, however, be willing to travel farther to and from your conference.  
9. Boutique hotels in NYC offer unique experiences.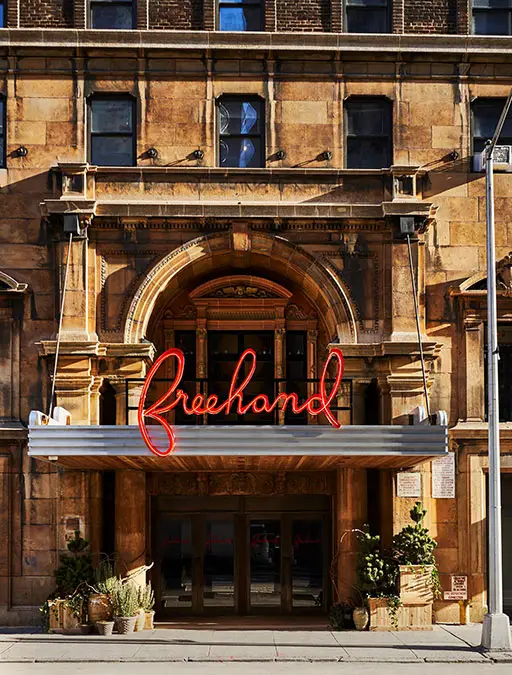 Petite and fashionable, boutique hotels in NYC make the most out of their small spaces. You'll find them throughout the city but may associate them with downtown areas like Greenwich Village. Take note that, more than most NYC hotels, your room may not have much space beyond the bed. However, with a smaller accommodation you'll get more personal service, and probably some great amenities too. 
There's the Freehand Hotel in Gramercy, featuring great Wes Anderson vibes, and The Standard's East Village location for style matched with substance (including a wonderful bar/restaurant downstairs). Even more petite is the High Line Hotel, featuring 60 rooms located in a renovated 19th-century building near the beautiful High Line park. Read on for more historic hotels below. 
10. Do you want to stay at one of the historic hotels in NYC?
A Superior guest room at The Carlyle.
The most famous hotel in New York—if not the world—is The Plaza, home to Eloise and the Beatles (well for one night, anyway). This 19-story building opened for guests in 1907 and now boasts shops and dining open to the public on its lower floors. 
Other historic hotels in NYC include The Carlyle on the Upper East Side, which has provided classic New York luxury since 1930. The Carlyle also boasts a preeminent performance space and Bemelmans Bar for drinks amidst one-of-a-kind murals. There's also Hotel Edison, nearly a century old and a short walk from Times Square and Broadway. Hotel Edison's Rum House also made our list of great cocktail bars near Broadway shows, in case you're up for a Dark and Stormy. With a gold-gilded lobby, three bars including the recently reopened Gold Room, and a grand staircase that leads up to the Madison Avenue entrance and its iron-gated courtyard, Lotte New York Palace  embodies the opulence of the Gilded Age along Fifth Avenue.
The Pros and Cons of Staying Near Times Square
Times Square is often referred to as "The Crossroads of the World," although it was on the seedy side through the 1990s. Now tens of millions of people visit it each year and it's one of the city's most popular destinations for tourists.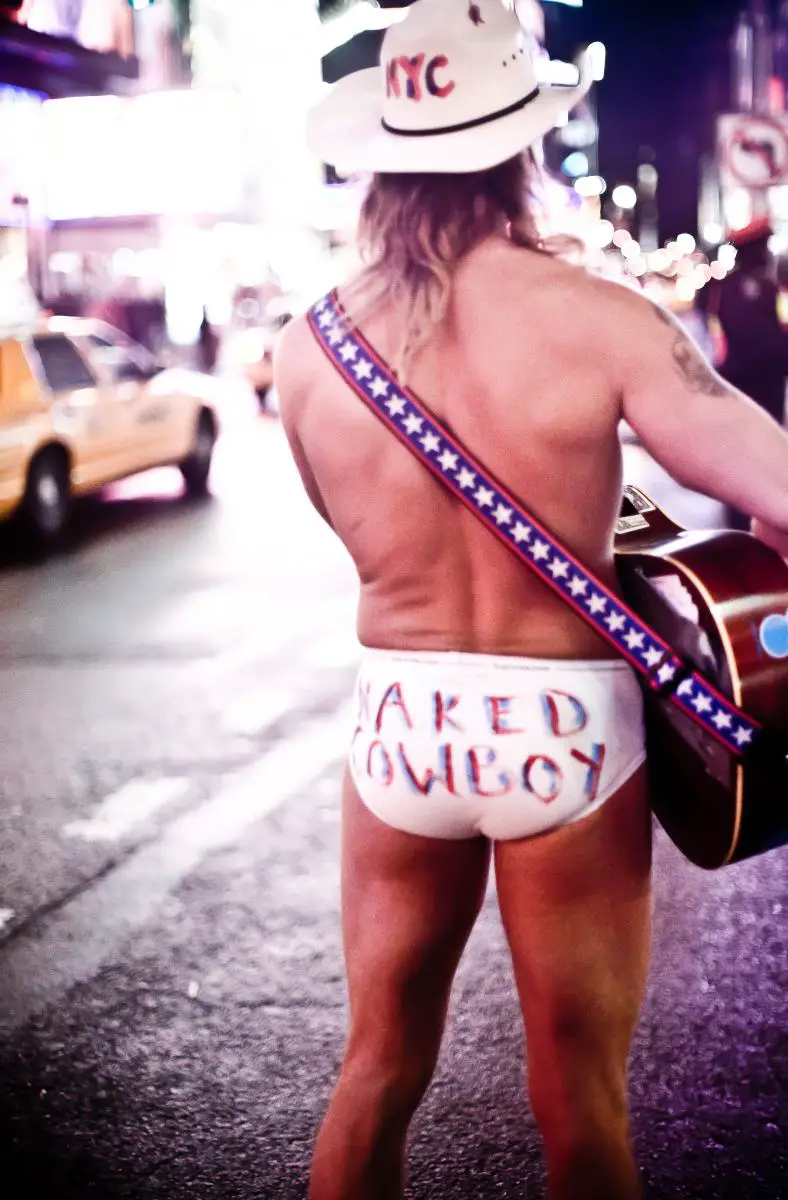 When you walk through Times Square, there are performers everywhere—one of the most infamous of which is the Naked Cowboy. It's bright, it's loud, and it's crowded. Some people might love the energy, while for others, another neighborhood may be a better home-base during a New York Trip. Many big-name hotel brands have hotels in and near Times Square. For example, there's the Hyatt Centric Times Square, which has more than 500 guest rooms, and a rooftop restaurant with great views. The Knickerbocker has been refurbished but still has a beautiful Beaux-Arts exterior. The Michelangelo is a high-end, Italian-inspired hotel that's great for theatergoers.
One of the most well-known of the Times Square hotels is the New York Marriott Marquis, which is right in the heart of the action. There are rooms overlooking Times Square, and it's home to The View Restaurant and Lounge, which is a revolving restaurant boasting panoramic city views.
Yet another option is the Westin New York at Times Square, offering regular guest rooms and one-bedroom suites that are family-friendly.
The Pros of Staying Near Times Square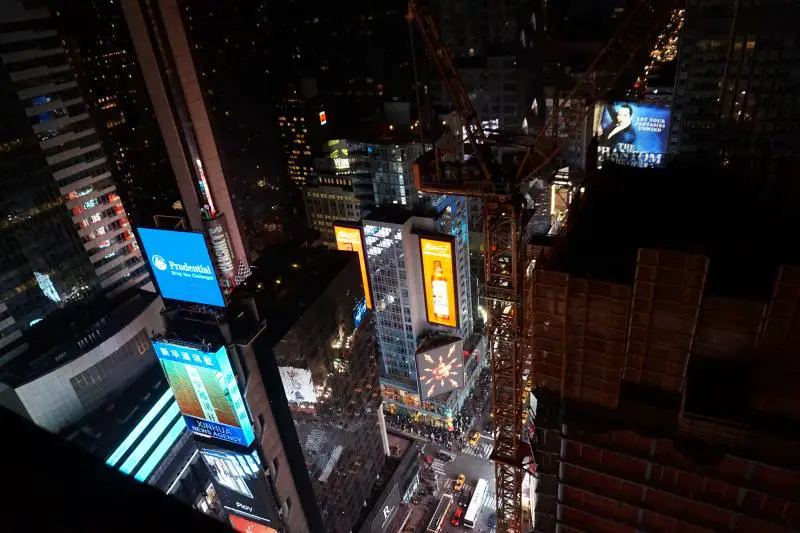 The following are some of the upsides of staying in or near Times Square:
Many of the hotels in the area offer rooms with views, and it really is amazing to look down on Times Square. You feel like you are literally at the center of the world.

Times Square hotels tend to be family-friendly since it is such a tourist-centric part of the city. Most of the standard rooms throughout New York are very small, but there are larger room options in some of the Times Square hotels for larger families. At the Crowne Plaza Times Square Manhattan, there's even a family-friendly indoor pool.

If you're going to see anything on Broadway, staying near Times Square also puts you near the theaters.

Almost every train line in the city goes through 42nd Street. The shuttle/S and 7 trains make it easy to transfer to other lines, and there is an abundance of buses and cabs too.
The Cons of Staying in Times Square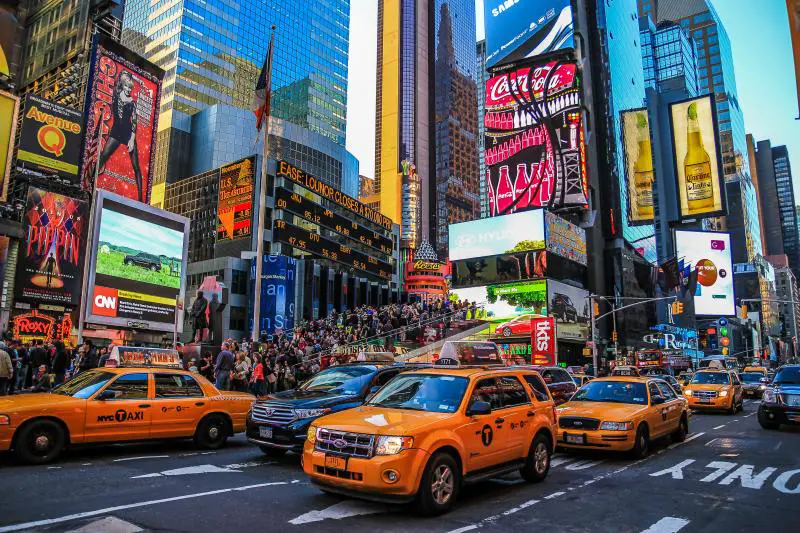 Richard BURGER/Flickr.
First and foremost, the crowds are intense. It can be challenging just to walk out the door of your hotel.
Other downsides of staying in Times Square include:
If you're taking a car through Times Square to get anywhere else, double the time you expect it will take and then some.

If you have kids, it can be stressful to try and keep up with them since the crowds and traffic are so intense.

While there will be plenty of cabs in the area, it's tough to hail them in the middle of Times Square.
So, to stay in Times Square or not? It can be a good home base for first-timers to the city, the central location is unbeatable, and there's plenty of excitement. But if you're looking for local charm, you'll probably want to target someplace at least a few blocks away.
For more how-to on planning your best trip to NYC, check out our Trip Tips!