The best Thanksgiving dinners at NYC hotels: Forgo the cooking and cleaning this year and take advantage of a holiday-friendly New York hotel, particularly one that's connected to a fine restaurant. You'll be able to conveniently retire and digest after your Thanksgiving meal. Whether you're a tourist in town over the Thanksgiving break, or looking for a family holiday meal in New York City, hotel restaurants are great places to get filled up in style. We've got a rundown of the hotel restaurants with the best in traditional holiday fare, with new takes on old classics including chestnut stuffing and Brussels sprout hash, and—of course—plenty of turkey.
Image: NoMad Restaurant
Thanksgiving Dinners Flatiron: NoMad Restaurant (1170 Broadway)
Fine delicacies such as foie gras, truffles, and bone marrow add a refined and truly indulgent flair to this year's holiday feast at the NoMad in the Flatiron. Following along with recent NoMad Thanksgiving meals, diners with sophisticated palates can expect to be amused with dishes such as bone marrow-crusted short ribs, chestnut stuffing, and truffle risotto. Be assured, a most indulgent holiday meal awaits!
Thanksgiving Dinners Midtown: Southgate at JW Marriott Essex House (160 Central Park South)                                                                                 
Southgate, the sleek and modern eatery at the iconic JW Marriott Essex House, is sure to impress with its traditional Thanksgiving feast, alongside its expansive raw bar. Expect a few fun twists including Brussels sprouts hash, kale, and mushroom wild rice, and a cheese board sourced from local favorite, Murray's Cheese. With its prime position on the parade route, the hotel offers special packages for rooms that offer untethered views and a bottle of champagne to toast the holiday.
Thanksgiving Dinners Tribeca: Locanda Verde at the Greenwich Hotel (377 Greenwich St.)
Plan ahead to spend a relaxing evening in the comforts of Locanda Verde, the toast of the Greenwich Hotel in Tribeca. A casual and easygoing atmosphere gives way to an indulgent culinary holiday celebration, as chef Andrew Carmellini pulls out all the stops for a memorable three-course meal by way of wood-burning oven-roasted turkey and roasted acorn squash. Best of all, in-suite dining on the special holiday is welcomed and encouraged, giving you the freedom to celebrate in the comfort of a robe.
Thanksgiving Dinners Flatiron: The Breslin Bar & Dining Room at the Ace Hotel (20 W. 29th St.)
Shedding the classics of a holiday hearth, expect a new spin on Thanksgiving at the chic Ace Hotel as The Breslin Bar rolls out a non-traditional Thanksgiving menu, hipster style. You won't find turkey on the menu—in its stead find a more flavorful Cornish rock hen with sourdough stuffing. First courses include either a bay scallop or wild mushroom and chicory salad.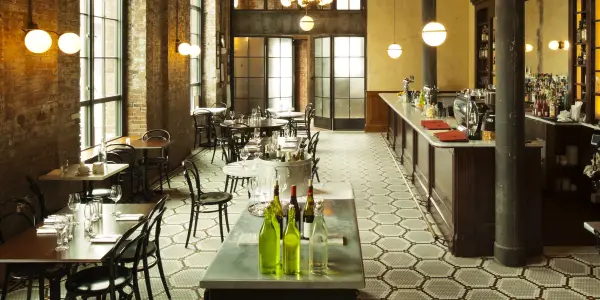 Thanksgiving Dinners Williamsburg: Reynard at the Wythe Hotel (80 Wythe Ave., Williamsburg, Brooklyn)
With a daily menu that highlights some of the best of artisanal Brooklyn cuisine, chef Sean Rembold of Reynard at the Wythe Hotel has set a high bar for gourmands. This Thanksgiving he'll move it even higher with a five-course prix fixe meal. Expect non-traditional highlights, in keeping with previous years' menus that have included striped bass and rib roast, along with the standard holiday soups, turkey, and pumpkin pie.
---
For more of the best Thanksgiving meals in New York City, click here.