For a city that never sleeps, New York offers surprisingly few late-night dessert offerings. We've rounded up some solid options in a variety of neighborhoods, whether you're looking to top off a late dinner, a night of theater, or just hankering for something sweet around 11pm (it happens). Onward for great shakes, cakes, cookies, and more!
Best Late-Night Desserts in NYC: Caffe Palermo
Our Little Italy pick is Caffe Palermo, the mecca of cannolis. Try at least one classic cannoli, plus other Italian treats like tiramisu, profiteroles, and lady fingers. The cappuccinos and hot cocoa make perfect pairings with dessert as well. Caffe Palermo might be best described as the Katz's of dessert, with its wide selection, longstanding local appeal, late-night hours, and just the right amount of kitsch. Open till midnight Sunday through Thursday and till 2am Friday and Saturday. 148 Mulberry St., 212-431-4205, caffepalermo.com
Best Late-Night Desserts in NYC: Empire Diner
If you like stepping into nostalgic spaces, go to Empire Diner for lots of silver mid-century accents and exteriors straight out of an Edward Hopper painting. An update on classic diner fare, Empire Diner's menu wows with dishes from patty melts to fennel-dusted salmon. The dessert menu is great top-to-bottom, from creme brûlée doughnuts with mini coffee milkshakes to the Empire Sundae, to the salted chocolate layer cake made with smooth chocolate ganache. They also have an impressive slate of milkshakes (toasted marshmallow, anyone?). Open til 1am every night in Chelsea. 210 10th Ave., 212-335-2277, empire-diner.com
Best Late-Night Desserts in NYC: Insomnia Cookies
via Instagram.
With a name like Insomnia Cookies, this chain of little cookie shops has a corner on the late-night dessert market. There are 10 locations in Manhattan, so you have ample opportunity for a chocolate chip peanut butter cookie at 2am. Insomnia also delivers! Most locations are open until 3am at the earliest every night of the week. Locations throughout the city, insomniacookies.com
Best Late-Night Desserts in NYC: Jacob's Pickles
via Instagram.
Jacob's Pickles ends up shouldering much of the younger crowd on the Upper West Side late at night. That may be because it's open so late, or because it's one of the most dependably excellent spots for eating and drinking in the neighborhood. Regardless, if you're looking for dessert, come for one of their rotating selections. Right now they're serving up deep-fried Oreos, biscuit bread pudding, and half-baked chocolate chip cookie pie with ice cream. Jacob's Pickles' kitchen is open until 12:30am Sunday through Tuesday, 1:30am Wednesday, and 2am Thursday through Sunday. 509 Amsterdam Ave., 212-470-5566, jacobs.picklehospitality.com
Best Late-Night Desserts in NYC: Junior's Cheesecake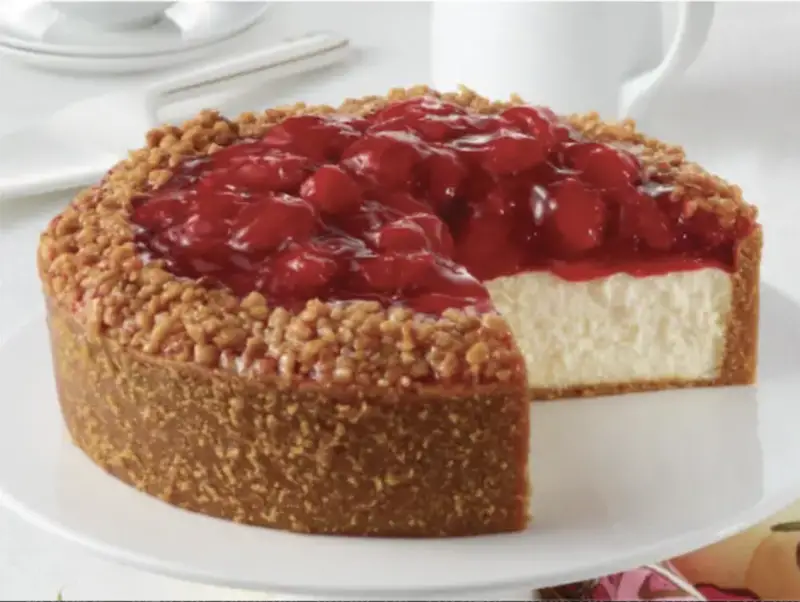 In the wide world of New York cheesecake, Junior's is a cut above the rest. Located in the heart of Times Square, it's a great place for a late slice after catching a show on Broadway. The devil's food, strawberry, and plain cheesecake flavors will keep you singing into the night. 1515 Broadway, 212-302-2000, juniorscheesecake.com
Best Late-Night Desserts in NYC: Milk Bar Midtown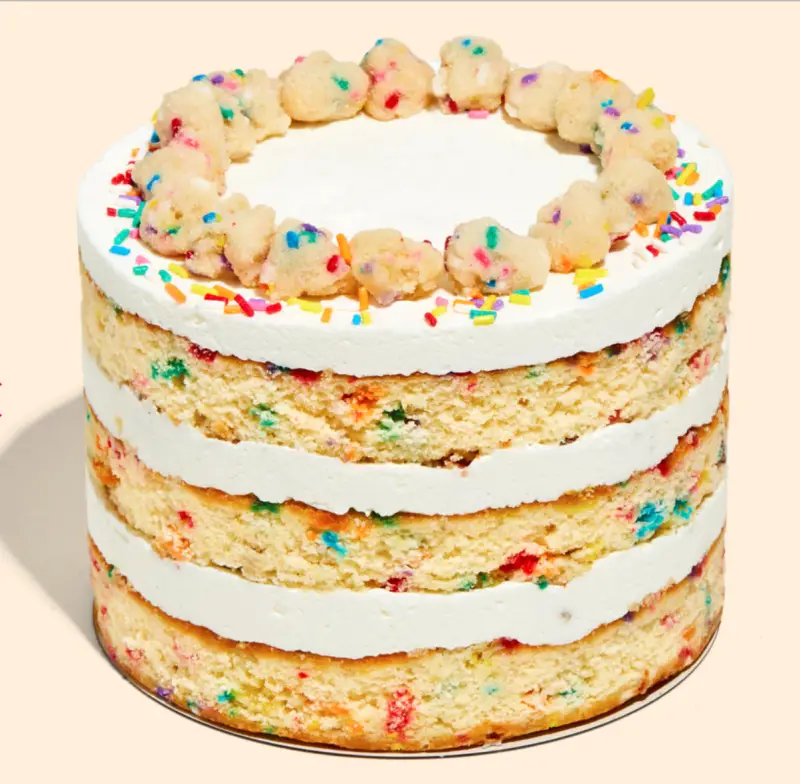 You won't be able to sit down at Milk Bar, but it won't matter much once you taste cereal milk-flavored soft serve with corn flakes to top it off. This dessert empire (a Momofuku spinoff) has eight other locations throughout the city as well. You can have your Compost Cookie, birthday cake, or crack pie shake anytime before midnight from Thursday to Saturday. If you want your fix Sunday through Wednesday, come before closing at 11pm. 15 W 56th St., 347-577-9504, milkbarstore.com
Best Late-Night Desserts in NYC: Petee's Pie Company
via Instagram.
A quaint pie shop on the raucous Lower East Side makes a pretty intriguing paradox. Come by Petee's for undeniable slices of cherry, key lime, and black bottom almond chess pie. There aren't many seats at the small counter, but you'll devour your slice in no time, whether sitting or standing. Petee's Pie Company is open till midnight Sunday through Thursday and till 1am Friday and Saturday. 61 Delancey St., 646-494-3630, peteespie.com
Best Late-Night Desserts in NYC: Pies 'n Thighs
Williamsburg has plenty of late-night food, but a good dessert is hard to find. Unless you go to Pies 'n Thighs, where you can—and will—have great pie. Go straight for the bourbon pecan, although the banana cream is no slouch either. Their donuts are also worth a try, whether it's chocolate cake-flavored or filled with malted cream. Yum! If you're craving Nashville hot chicken, Pies 'n Thighs has a stellar version, also served late. Open till midnight every night. 166 S. 4th St., Brooklyn, 347-529-6090, piesnthighs.com
Best Late-Night Desserts in NYC: Rice to Riches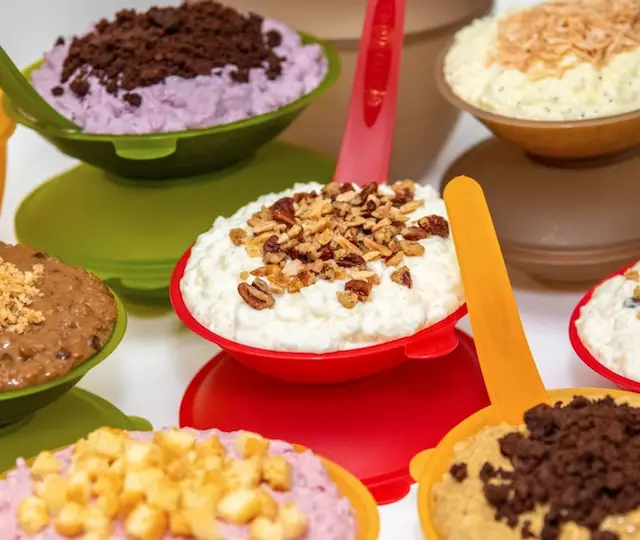 If you've ever walked down Spring Street in Nolita, there's a good chance you stepped inside Rice to Riches out of pure curiosity. From the wide, bubble-shaped window in front to the interior chock-full of cheeky signage, the place feels cut out of a cartoon from the future. Fittingly, the rice pudding flavors include Understanding Vanilla, Oreo-gasm, and Almond Shmalmond. Rice to Riches is open till 1pm Sunday through Thursday and 1am Friday and Saturday. 37 Spring St., 212-274-0008, ricetoriches.com
Best Late-Night Desserts in NYC: Serendipity 3
Brace yourself for a tureen of slushy chocolate wonder at the adorable Serendipity 3. The Frrrozen Hot Chocolate is famous for a reason: it's perfectly textured and Ovaltine-sweet. Other over-the-top desserts include the Outrageous Banana Split, the Coward's Portion (ouch!), and "Big Apple" Pie. Located in Midtown East near Bloomingdales, Serendipity is open till midnight Sunday through Thursday and 1am Friday and Saturday. 225 E 60th St., 212-838-3531, serendipity3.com
Best Late-Night Desserts in NYC: Shake Shack
We barely need to sell you Shake Shack. This classic fast-food fare has had all the hype it could ever need. But just know that the Hell's Kitchen location is open till midnight every night for you and your Chocolate Chocolate Cookie Dough concrete. The Triple Chocolate Brownie Shake, or the Oreo Funnel Cake Shake are some other delectable options. You're welcome. 691 8th Ave., 646-435-0135, shakeshack.com
Best Late-Night Desserts in NYC: Spot Dessert Bar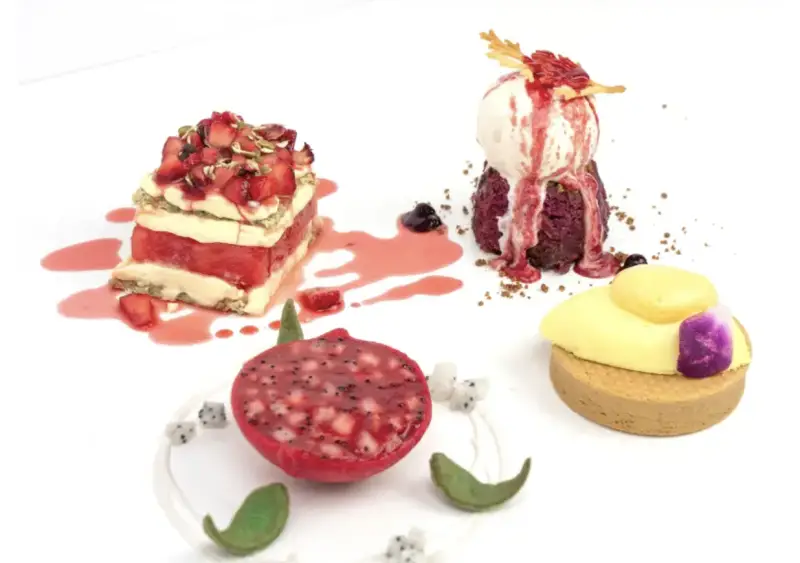 A term like "seasonal dessert tapas" is a bit of a head-scratcher, but trust us when we say Spot Dessert Bar has it covered in the sweets department. Spot is best known for its Matcha Lava cake, which is sensational to look at and to eat, in addition to other innovative, Asian-inspired dishes. Take the Big Orange mousse (shaped like an orange stuck in pie crust) and the s'mores-like Cookie Camp in a tiny skillet. These desserts are best experienced with groups of friends, which will cut down on the total price and allow you to try several in one sitting. There are locations in the East Village, midtown, and Flushing, Queens, all open till midnight or 1am every night of the week. spotdessertbar.com