Utsav, a woman-owned, bi-level restaurant in the Theater District, has been serving a dynamic combination of Indian and Chinese cuisine now for more than 23 years.  Let your palate enjoy the celebration (Utsav is Urdu for celebration) of exotic flavors, including now, a new Bengali menu.
All photos courtesy utsavny.com
Owner Nandita Khanna comes from a family with restaurants in Calcutta and Tokyo, including BAR – B - Q, one of the oldest Indian Chinese restaurants in Calcutta, 60 years on. Utav's new Bengali menu draws on the culinary style of the Bengal region, encompassing Bangladesh and the Indian states of West Bengal and Tripura. The cuisine is characterized by its diverse flavors, use of mustard oil, and a wide range of confectioneries and desserts. Rice is a staple, often paired with freshwater fish.


In a nod to Khanna's Calcutta heritage, Utsav's new Bengali menu features delectable dishes such as appetizers like vegetable chop (Kolkata-style crumb-coated vegetable cutlet served with a Kasundi mayo sauce), mutton chop, and macher chop (fish croquette served with a spicy tomato ketchup). For the main course, patrons can enjoy dishes like kosha mangsho (Bengali-style mutton curry), bhetki macher paturi (fish steamed in banana leaf), Bengali alur dum (potato curry), cholar dal (sweet lentil curry), Bengali chicken rezala (a creamy and rich Moghlai curry in a cashew-based sauce), chingri malai curry (coconut shrimp curry), and charchari (assorted vegetable curry).
The menu also offers sides like luchi (deep fried puffed bread), begun bhaja (shallow fried eggplant), and ghee bhaat (basmati rice cooked in ghee). You'll want to save some room for dessert, too, with sandesh (three-piece Bengali milk cake), or mishty doi (a classic Bengali dessert—yogurt sweetened with jaggery, set in a clay pot).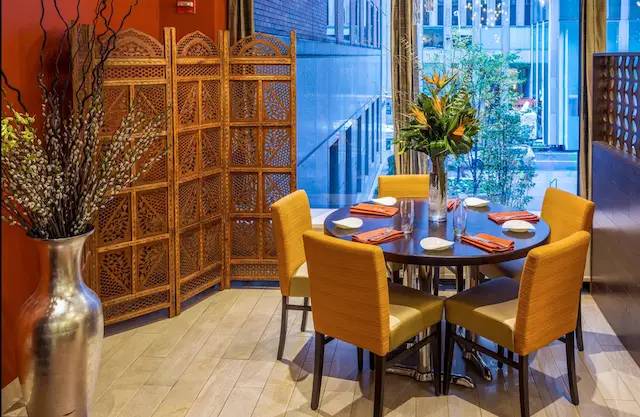 Utsav is located right next to the Roundabout Theatre Company's Laura Pels Theatre. A welcoming entrance gives way to a full bar and a small seating space for evening bar patrons.
While upstairs, the floor to ceiling windows offer elevated views of an attractive, open plaza of trees, bushes, and globe lights in the heart of the Theater District. Diners can choose from either an à la carte or a prix fixe menu. Lunch specials are offered daily at $24.95.
You'll find mouthwatering staple Indian appetizers such as samosas (above), along with stand out main dishes such as Chicken Malai Kabab (Boneless Chicken Breast, Amul Cheese Marination, Cardamom), and Tandoori Lamb Chops (Mustard, Cashew Marinade, Crispy Okra Salad).
There also also plenty of vegetarian options, for example the Achari Gobhi Aloo (cubes of potato and cauliflower, cooked with onions tomatoes and spices) or the Baigan Bhurta (a roasted eggplant puree with onions that has a nice spiced up kick), plus a variety of naans (Garlic/Rosemary/Jalapeño Cheese/Peshawari Naan).
In addition to the main dining area, there is also a private dining area for special parties, with elegantly designed purple and saffron elements, evoking an exotic oasis.
Utsav, 1185 Sixth Ave. (enter at 46 St., btw. Sixth-Seventh Aves.), 212-575-2525, utsavny.com