Pier 57 in Hudson River Park has opened a sprawling new series of public spaces, anchored by Market 57, curated by Jamestown, with input from the James Beard Foundation (JBF), focusing on women- and BIPOC- owned dining destinations aligned with JBF's mission of good food anchored in talent, equity, and sustainability. It's part of a $400 million redevelopment of the property, created in partnership with Jamestown, The James Beard Foundation, Google, Hudson River Park, RXR, and Youngwoo & Associates. Market 57 is also JBF's first ever food hall. 
In addition to the food hall, there is Good To Go, an additional kiosk of JBF approved vendors that serve as an incubator for local small businesses; Platform by the James Beard Foundation, a modern showcase kitchen and educational space featuring culinary arts programming and events—including a rotating chefs-in-residence program set to launch in May, a series of community spaces, a City Winery, and stunning rooftop views that overlook Little Island and downtown. 
Formerly the NYC Department of Marine and Aviation shipping and storage terminal, Pier 57 was built in 1907 and reconstructed in 1952; it is listed on the National Register of Historic Places, as a significant part of New York City's history.
"The reactivation of Pier 57 marks the start of a bright, new chapter along the New York waterfront and serves as a reminder of what makes our state so great," said New York Governor Kathy Hochul. "From its world-class eateries showcasing the talents of emerging chefs and entrepreneurs to its vibrant classrooms, galleries, and community spaces, the new Pier 57 promises to be a destination that serves New Yorkers and visitors alike. I thank the Hudson River Park Trust and its development partners for their work to transform this historic pier into a neighborhood gem, and I look forward to seeing and experiencing the new facility very soon."       


"The James Beard Foundation is committed to celebrating, supporting, and elevating the people behind America's food culture," said Kris Moon, President and COO of JBF. "Pier 57 is an exciting opportunity to bring our Good Food for Good™ philosophy to both the industry and food lovers as part of a vibrant, community-centered space."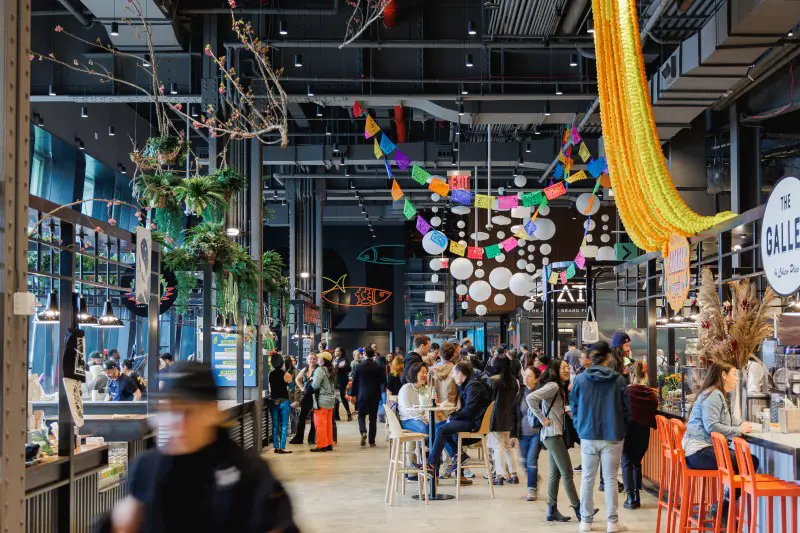 Market 57 , James Beard Foundation's first ever curated food hall. All photos courtesy Pier 57.
The vendor list was curated by Jamestown with input from the James Beard Foundation (JBF), with a focus on women- and BIPOC- owned dining destinations that are aligned with their mission of championing a standard of good food anchored in talent, equity, and sustainability. 
On site are: Indian restaurant Ammi, Japanese comfort food Bessou, specialty coffee at Bird & Branch, Due Madri by Butcher Girls, Brooklyn cookies at The Good Batch, Local Roots, Ras Plant Based, LoLo's on the Water, ice cream with Indian spices at Malai, Mexican fare at Mijo, The Real Mothershuckers, Nolita dumpling darling Nom Wah, Harlem Hops, Northeastern Thai at Zaab Zaab, and The Galley by Lobster Place.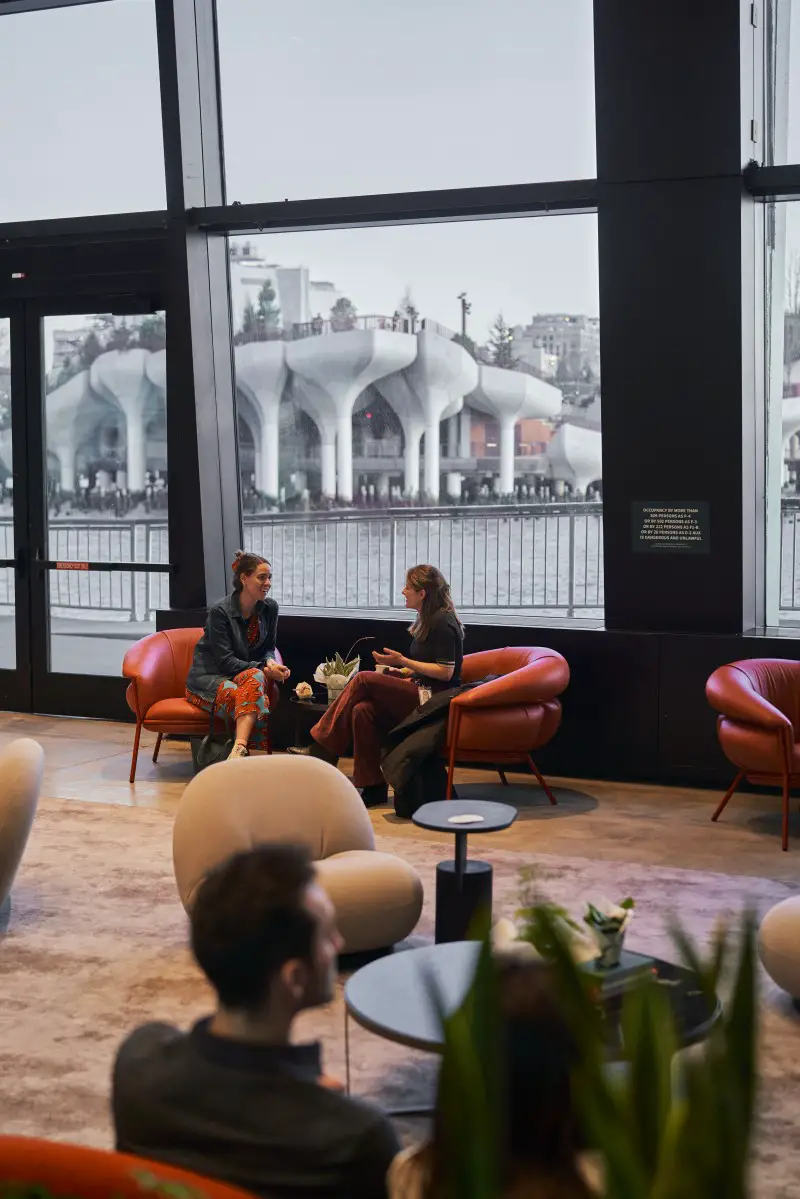 In addition to the food hall, Google, the anchoring office tenant, has provided a series of community spaces, also managed by Jamestown. These include rooms with flexible layouts that will be available for booking by local nonprofits, community organizations, cultural groups, and more, and a public gathering place—called the Living Room—located on the ground floor of the Pier's southern edge. The Living Room will include seating and tables for people to connect and gather and provide visitors with views of the Pier, nearby Little Island, lower Manhattan, and Hudson River. 
"Pier 57's many publicly-accessible spaces will enhance neighborhood connectivity and provide new access to the waterfront," said Michael Phillips, President of Jamestown. "The food hall will further diversify Chelsea's vibrant food scene, while also fostering and incubating local entrepreneurship." 
"We're excited to help bring Pier 57 back to life as both a community amenity and cornerstone of our New York City presence," said Torrence Boone, Vice President of Global Client Partnerships and Site Leader for Google New York. "Together with Jamestown, we will deliver a dynamic experience-driven food, retail, and cultural destination at Pier 57 that connects to and supports the broader Chelsea community and beyond." 
There are also events space and restaurant from City Winery, classroom and gallery space for the HRPT, two additional full-service restaurants, and a public rooftop park. 
"RXR is delighted to welcome the James Beard Foundation to Pier 57 - and to support JBF's vision of food-based educational and community enrichment," said William Elder, EVP Managing Director Leasing NYC. "RXR - along with partner Youngwoo & Associates, has developed and repurposed this historic site to create a home for innovative initiatives like this."   
Pier 57 is open daily, from 11am to 8pm; its rooftop is open from 6am-1am. For more information, visit pier57nyc.com