A tropical oasis awaits nestled in the heart of SoHo. The good news is that you won't be jet-lagged, don't need to exchange your currency, and that it's so well hidden from the street by lush vegetation that you'll feel like you've escaped to an island getaway.
Images courtesy of Gilligan's.
At Gilligan's, which is attached to the Soho Grand Hotel, the verdant mountain backdrop you might have hoped for is replaced by a seafood tower of oysters, tuna tartare, chilled crab salad, and shrimp that would fill most reasonable folks.
Here, watermelon is a staple ingredient, and appears not only in frozen margarita form, but as a burrata with aged balsamic and basil and delivered with slices of grilled sourdough.
In terms of libations, you'll find that these Manhattanites know how to kick it up a notch: The Spicy Skipper combines mezcal and a jalapeño-infused blanco tequila with lime, pineapple, agave, and cilantro for a tangy little number that left my guest happily perked up. "It felt like a bee landed in my mouth for a second," he laughed after a sip. As you might expect in a restaurant looking to bolster its Caribbean bona fides, there are several drinks that also lean into rum varieties, and the Cooler than Coco is a particular winner in uniting Jamaican and white rums with coconut, banana, and lime with caramelized pineapple.
The dense foliage provides a certain degree of privacy, as well as a respite from the polished wood and iron of so many Manhattan eateries—which makes Gilligan's an ideal spot for small parties or a romantic getaway.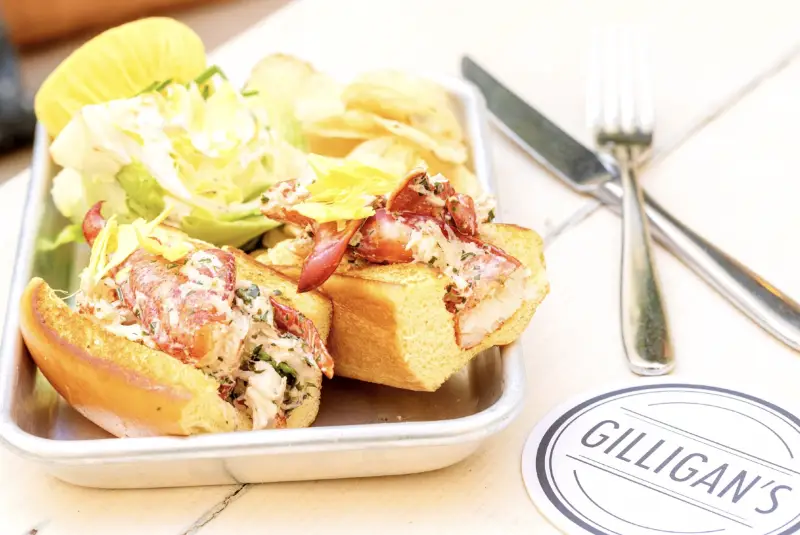 The skirt steak (oftentimes a gamble) arrived blessedly gristle-free and well seasoned alongside a Calabrian chilli with chimichurri; the lobster roll was an unexpected and flavorful surprise on the menu, super-fresh and served Maine style.
There's a classic image of New York in the summertime that opens a mid-'60s song: "Hot town, summer in the city; back of my neck gettin' dirt and gritty." Give Gilligan's (which seems to take its name from the '60s sitcom) a visit, and it will whisk you from the island of Manhattan to one of equatorial delights, free of hot town grit. Kick back, and be pleasantly shipwrecked for a lazy afternoon or evening.
310 W. Broadway, 212-965-3271, gilligansnyc.com