If you're new to New York City, a neighborhood that shouldn't go unvisited is the East Village. While Midtown may be more famous for its tons of attractions, the East Village with its chic boites and Off-Broadway action should also be prioritized. So do yourself a favor and dedicate one day to the East Village. I promise you won't regret it.
1. Check out Stomp
Grab a friend one evening to enjoy the show Stomp. This Off-Broadway treat is a unique musical must, where its members create music by the use of garbage cans, brooms, and pretty much anything that doesn't qualify as a traditional instrument. It's a unique and exciting show, one you shouldn't miss. stomponline.com
2. Have a beer with the Irish at Thirsty Scholar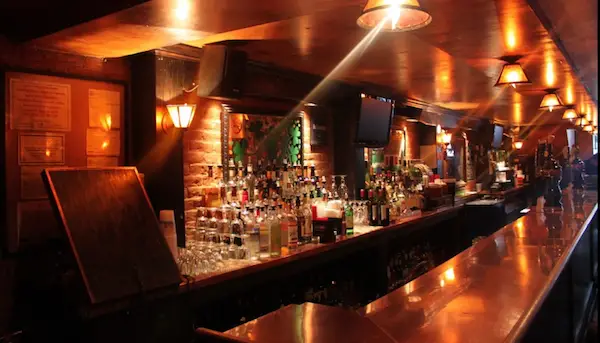 I'm biased as this is one of my favorite bars in New York. It's super low-key, some might even describe it as a dive bar, but what you miss out in regards to minimal seating you gain in great conversations and a top-notch atmosphere! The place is a contemporary Irish bar with a focus on beer. If you're looking to grab a cold one with the boys (or girls) in a laid-back atmosphere, head on over to the Thirsty Scholar. thirstyscholarnyc.com
3. Experience Blue Man Group
Looking for something different to do?  Book tickets to see Blue Man Group. New York City is all about seeing and experiencing new things. Watching one of the Blue Man Group's performances should be one of them. It's a theatrical show like nothing you've ever seen, lead by three blue men (yes, you read that right) and the show includes music, comedy, and theatrics. Read up on it on their website and book your tickets now! blueman.com
4. Rest your feet in Tompkins Square Park
New York is big. You'll quickly feel a bit overwhelmed over the enormity of it all, but there is so much to see and so much to do and not enough time. But, for you to fully enjoy the beauty and excitement New York has to offer, you need a break from time to time. Take 15 minutes and relax in Tompkins Square Park. Bring a beverage and sit down at one of the many benches and just embrace the fact that you're currently in New York and let that sink in while you recharge.
5. Wine and dine at The Smith

Looking for a popular destination for a bite in the East Village? Look no further than The Smith. Be aware; this place gets packed. Which is understandable because their food is great and affordable. It gives you the feeling of low-key chic, and their menu has something for everyone. The Smith is one of my go-to lunch/brunch places in the East Village when I'm craving American cuisine. The restaurant also has several locations throughout the city. thesmithnyc.com
About the author: Nina is the Engagement and Corporate Communications Analyst for RentHop, a national apartment rental site based in New York City. She moved overseas from Norway three years ago and has since been living and working as an expat in New York, enjoying everything the city has to offer.