Manhattan's Lower East Side is a neighborhood of stories.
What began as an immigrant, working-class neighborhood has morphed into a destination for eating, drinking, shopping, and exploring. But it's a neighbored that hasn't lost its roots, so you're likely to pop into a trendy clothing store, then come upon a building from the early 1900s—and that's part of its charm.
Brian Holland/Flickr.
Below, a guide to getting the most out of the Lower East Side.
Shopping on the Lower East Side
November 19
Combining new and vintage finds for the home, November 19 is the place for the whimsical (a koala bear head pencil holder) as well as the sophisticated (understated placemats).
Assembly New York
Part classic, part cutting-edge fashion, Assembly New York offers men's and women's clothing, accessories, and jewelry—both new and vintage, in a range of styles and prices.
LAAMS
From varsity jackets to tees, LAAMS is the place for vintage streetwear, art, and books—plus it has its own screen printing and denim workshops.


Grit N Glory
Calling itself a rock n roll boutique, Grit N Glory offers tees, clothing (miniskirts, flare pants) and housewares—plus they have a tattoo studio.
Kallmeyer NY
In the market for upscale, classic clothes in a neutral palette? Kallmeyer has clothes for work or an evening out, many in a loose silhouette and shades of black, white, and camel.
Food and Drink on the Lower East Side
Economy Candy
When it comes to candy, Economy Candy has, well, everything. What started as a pushcart that sold candy is now a mega candy wonderland. But it would be a pity not to take advantage of all they offer. If it's nostalgia you're seeking, they have everything from jelly rings to root beer barrels. But if it's something more unusual, you can try a Bob Ross Make Your Own Gummy Kit, or perhaps Butterfinger Candy Pop Popcorn. Whatever you're there for, you'll probably find it.
Katz's Deli
Even if you have no plans to "send a salami to your boy in the army," (a poster with the saying hangs in the restaurant, a relic from bygone days) Katz's Deli, founded in 1888 and originally called Iceland Brothers), is an essential stop on the Lower East side. Yes, the ordering system is confusing, but the pastrami sandwiches, matzoh ball soup, half sour pickles, and hasn't-changed-in-years setting make it all worthwhile.
Ludlow Coffee Supply
With a proprietary blend coffee roasted in Red Hook and carefully thought-out food, Ludlow Coffee Supply is a good choice among all the coffee offerings available in the area. Choose from beverages including cold brew, Vietnamese iced coffee, or a Maple Latte, and try the avocado toast with sprouts, toasted sesame seeds and pickled shallots, or perhaps a kale salad with apples and dried cherries.
Koneko Cat Cafe
The first Japanese-inspired cat café in the U.S., Koneko ("kitten" in Japanese) offers a Japanese-inflected menu (think gyoza, okonomiyaki --a savory Japanese pancake, with either pork or veggies—and peanut butter miso cookies. Plus cats. Lots and lots and lots of cats, all of whom are adoptable. Have a coffee, snack on a pastry--and maybe go home with a new furry feline friend.
Essex Market
A fixture on the Lower East Side since 1940, Essex Market moved to its current home in 2019; it now includes the market, a demonstration kitchen and event space, and a mezzanine for noshing and relaxing. The real draw, of course, are the vendors, offering everything from the L.E.S. Ice Cream factory to Puebla Mexican Food, Ni Japanese Deli, the New Star Fish Market, and the Valley Shepherd Creamery. When you're done, you can get a haircut at Czar's Grooming, or even take in some art at Cuchifritos Gallery + Project Space.
Diller
If Diller sounds like a place where pickles are sold, you're right—it is. Not just any pickles, though—their specialty is fried. (The restaurant is vegetarian with vegan options, just FYI.) Choose from tacos, an eggroll, rice balls, loaded tater tots, and brined fries, to name a few options, plus drink offerings like, yes, pickled pineapple lemonade.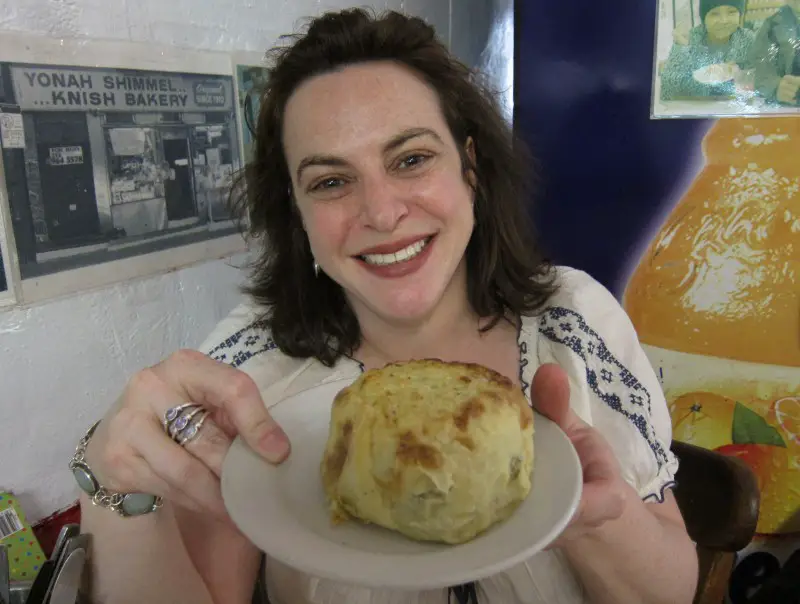 Scott Beale / Laughing Squid
Yonah Schimmel Knish Bakery
Serving knishes since 1910, Yonah Schimmel may have a celebrity clientele, been featured in shows like Billions, and also been voted "Best Knish in New York" by numerous outlets, but their fame still lies in their potato laden orb with a crisp layer of dough. Try the classic, or more "modern" flavors like sweet potato, sweet cheese, or broccoli. They even offer a mixed vegetable knish, with string beans, carrots, and peas. If you're so inclined, you can also try latkes, borscht, or noodle kugel. Just make sure you have a knish on the side.
Forsythia
What started as an apartment pop-up has turned into Forsythia, an Italian restaurant that includes antipasti like asparagus in brown butter and preserved lemon; handmade pastas (try the braised short rib-stuffed pasta). There's an a la carte bar menu and a good selection of wine as well.
Bars on the Lower East Side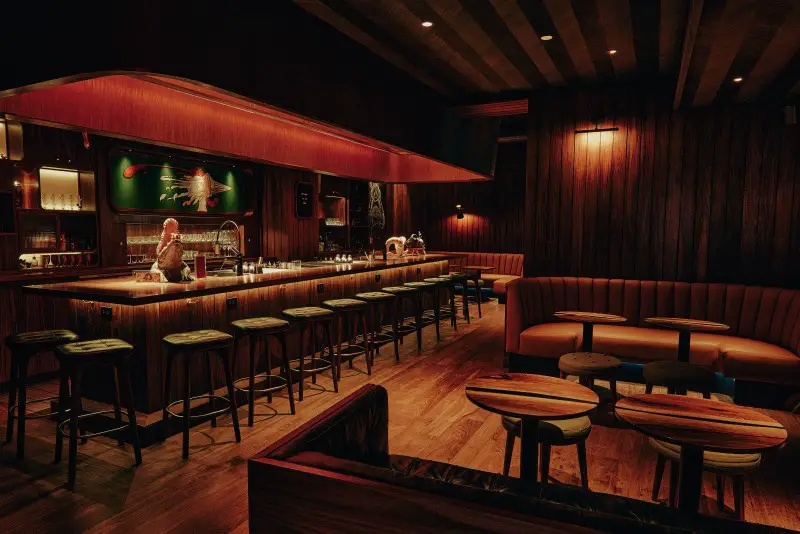 Double Chicken Please Back Room, photograph courtesy of Emmanuel Rosario. (Double Chicken was crowned "The Best Bar in North America" at the second annual North America's 50 Best Bars Awards in May of 2023.)
The LES has a lively and ever-expanding bar scene. On the second floor of Freeman's Restaurant you'll find Banzabar, a good pick for small groups and cocktails that fall into categories like "Here There Be Monsters;" drinks sport names like The Uncanny Valley (hemp distillate, lemon, Aqua Faba, and Rouge Verjus).
One of only two speakeasies that operated Prohibition and is still alive and well today, The Back Room has a hidden entrance, played host to both movie stars and gangsters, and offers cocktails with '20s-inspired names like The Bees Knees and Girl Friday. Attaboy makes its home in a cool space with an even cooler menu—there's Bodega Breakfast (whiskey, cold brew, everything bagel syrup cream cheese egg yolk, bagel chips—and yes, it's a drink) and Ross' Penicillin (Scotch, lemon juice, ginger-honey syrup). And Double Chicken Please is the place to go for "Taptails" (cocktails on tap) and of course, a menu of unusual chicken sandwiches.
Stuff to Do on the Lower East Side
Metrograph
Inspired by the commissaries from Hollywood's' golden age, Metrograph offers an eclectic film program plus numerous dining options, from a lobby bar to a restaurant and private dining room. Designed to welcome filmmakers as well as local neighborhood patrons, it's the kind of place to enjoy a cocktail and a favorite flick.
Tenement Museum
Telling the stories of working-class residents who moved to New York from other countries, the Tenement Museum is housed in two historic buildings. It's an amazing opportunity to understand and immerse yourself in the everyday lives of the families who made their homes there-and helped make the city what it is today.
Photo by Rick Naramore.
Museum at Eldridge Street
Housed in a gorgeous National Historic landmark, the Museum at Eldridge Street is actually part of the Eldridge Street Synagogue, opened in 1887. It's the first great house of workshop built in America by Jewish immigrants from Eastern Europe, and stands today as a marker of the historical wave of Jewish immigration to the Lower East Side.
Angel Orensanz
Originally built as a synagogue (and still sometimes used as one), the Angel Orensanz Center is now primarily known for being an art, performance, and event space. A museum on the upper floors is dedicated to the work of art Angel Orensanz, a Spanish sculptor and painter, and includes sculpture, light boxes, and drawings. Artists, writers, and musicians have collaborated and performed there, from Phillip Glass to Maya Angelou. They also publish a magazine, host a weekly local TV show, and are home to a swanky even space as well as a library of social and cultural history.
Seward Park
Sporting the first municipally built playground in the U.S., Seward Park offers a lot for a small park. For starters, there's the playground and garden—and don't forget  to check out the statue of Togo, a sled dog who delivered medicine to victims of an epidemic, and who also has his own Disney movie.
Pizza School
Sure, you could just grab a slice at the corner pizzeria—but wouldn't it be fun to make it yourself? Sign up for a pizza making class at Pizza School, and learn how to make sauce and dough, be privy to perfect dough stretching techniques—and have a great story to bring to your next pizza party.