Summer is here and NYC's Business Improvement Districts (BIDs) are working overtime to bring locals and tourists alike enjoyable and pocket-friendly ways (many FREE!) to enjoy all the city has to offer! Here, we've rounded up some of the best experiences.
THE TIMES SQUARE ALLIANCE
For more than 30 years, The Times Square Alliance has been promoting Times Square and the creativity, energy, and edge the neighborhood is known for. All summer long you can enjoy programming in the neighborhood. Look for live DJ Sets, Live Jazz with Lincoln Center performances, and more.
FULL JULY SCHEDULE TSQ LIVE
Wednesday, July 12, 5pm: Live Music with Pioneer Works | Ciarra Black (Broadway & 43rd St)
Thursday, July 13, 5pm: Live Music with Jazz at Lincoln Center | Mariel Bildsten Septet (Broadway & 46th St)
Friday, July 14, 6pm: Live Music on Summer Fridays | Brooke Alexx (Broadway & 46th St)
Tuesday, July 18, 5pm: DJ Sets with Disco Tehran (Broadway & 43rd St)
Wednesday, July 19, 5pm: Live Music with Pioneer Works | Brent Arnold: Solo Cello & Electronics (Broadway & 43rd St)
Thursday, July 20, 5pm: Live Music with Jazz at Lincoln Center | Naledi Masilo [in honor of Nelson Mandela's Birthday Celebration] (Broadway & 46th St)


Friday, July 21, 5pm: Live Music with Carnegie Hall | Gregorio Uribe (Broadway & 46th St)
Tuesday, July 25, 5pm: DJ Sets | (Broadway & 43rd St)
Wednesday, July 26, 5pm: Live Music with Pioneer Works | Kwami Winfield (Broadway & 43rd St)
Thursday, July 27, 5pm: Live Music with Jazz at Lincoln Center | Roxy Coss (Broadway & 46th St)
Friday, July 28, 6pm: Live Music on Summer Fridays | (Broadway & 46th St)
Also in Times Square coming up: The Fabulous Thunderbirds perform at Iridium July 18-19. Ruben Studdard sings Luther at Sony Hall July 19.  timessquarenyc.org
GRAND CENTRAL PARTNERSHIP
Pershing Square Sounds returns this summer to Grand Central, with FREE lunchtime jazz concerts noon-1:30pm and happy hour concerts Wednesdays from 5-6:30pm that will run through September 26th! Dance Party NYC is a citywide event that takes place on  August 5th, with the neighborhood and Grand Central Partnership participating. Also, check out Public Art on Park Avenue—there are currently 4 different artists that have sculptures displayed along Park Avenue in Midtown East and north of the district on the Upper East Side; they'll remain up through October 31st. A great resource for exploring the area is the Grand Central Partnership Interactive Map, which provides a complete listing of area restaurants, bars/lounges, retailers, and more. grandcentralpartnership.nyc
HUDSON YARDS HELL'S KITCHEN ALLIANCE
The Hudson Yards Hell's Kitchen Alliance (HYHK) puts on a full lineup of activities in a lovely stretch on the west side. Head to Bella Abzug Park to enjoy:
Kids Fitness: Get your day started with an awesome fitness class with Zing on Wednesdays at 11am. Eventbrite Link. Fitness Boot Camp: In partnership with the Manhattan Plaza Health Club, catch free high-intensity training workouts on Tuesdays and Thursdays at 7am. Eventbrite Link. Yoga Flow: Unwind with relaxing yoga in a beautiful urban oasis on Mondays, Wednesdays, and Saturdays. Weekday sessions start at 6pm and Saturdays at 10:30am. Eventbrite Link. Kids Concert: Join in a kid's concert with Mike Messer for fun tunes, sing-alongs, and dancing on Tuesdays at 10:30am. Eventbrite Link. Kids Bubble Show: Bubbles in the park with Gabe Gross, takes place on Wednesdays at 10am. Eventbrite Link. Vinyl Nights: Dance to the hits that shaped New York City culture at Vinyl Nights, Thursdays from 6-9pm. Eventbrite Link. Salsa Classes: Dance to a mix of Salsa and Bachata at Pa' La Calle dance classes on Wednesdays from 6-9pm. Eventbrite Link. hyhkalliance.org
LINCOLN SQUARE BID
Summer Jazz Sensations concerts are FREE and will continue each Wednesday now through August 30th, from noon to 1:30pm at Dante Park (Columbus Avenue and West 63rd St.) as part of the Lincoln Square BID's programming. It's the perfect way to enjoy a lunch break concert, and grab a bite from local eateries. Lincoln Center's BAAND Together Dance Festival features five days of FREE dance performances July 25th-29th, by five of America's top dance companies: Alvin Ailey, American Dance Theater, American Ballet Theatre, Ballet Hispánico, Dance Theatre of Harlem, and New York City Ballet (sponsored by Chanel)—part of Lincoln Center's second annual Summer for the City. lincolnsquarebid.org
THE GARMENT DISTRICT ALLIANCE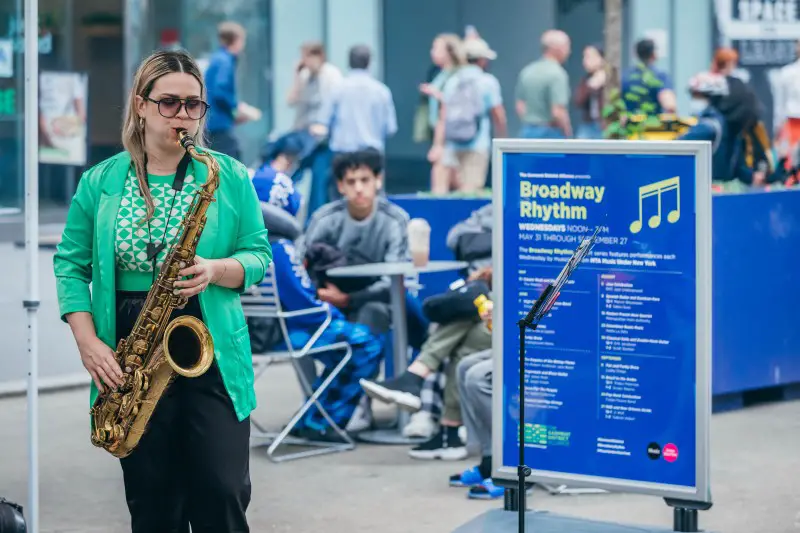 Photo: Alexandre Ayer.
The Garment District Alliance's free summer concert series Broadway Rhythm has returned. Wednesdays from noon to 2pm through September 27th featuring musicians from MTA Music Under New York.  Broadway Squeeze: on Thursdays through August 31st, pedestrians can cool down with free Renegade Lemonade at the Broadway Squeeze stand. Broadway Stage: Tuesdays from July 11th–August 29th, the community can enjoy performances in music, dance, and experimental theater presented by The Tank, a champion of artists in pursuit of new ideas and forms of expression. For those wanting to learn more about the history of the Garment District, sign up for FREE Walking Tours (July 12, July 26, August 1). To reserve your spot, email MikesNYCtours@yahoo.com. Meet at the Garment Worker Statue; NE corner of 7th Ave and W. 39th Street at 10:25am SHARP! The tours run for one hour. garmentdistrict.nyc
BRYANT PARK
The BRYANT PARK BID and Bryant Park itself offer a wide array of FREE summer programming, including the 30th anniversary of Movie Nights ( July 3rd School of Rock, July 10th Roman Holiday, hit link for all shows, 8pm) , as well as Broadway in Bryant Park  (July 6th will include lunchtime performances from Book of Mormon, Kimberly Akimbo, Some Like it Hot, and Wicked, plus a presentation by Taiwan Tourism Bureau) hosted by Lite FM host Helen Little, free yoga classes on Tuesdays through September 27th, picnics, and more. bryantpark.org
EAST MIDTOWN PARTNERSHIP
The EAST MIDTOWN PARTNERSHIP is bringing back its popular "Summer Streets" program, where sections of Park Avenue will be temporarily closed to traffic on Saturdays between 7am and 1pm. This year's dates are August 5th, 12th, and 19th. This initiative allows pedestrians to enjoy car-free streets and participate in activities such as biking, walking tours, fitness classes, and interactive installations. eastmidtown.org
MEATPACKING DISTRICT
Late summer nights in the Meatpacking District, ahh!  Among activities from the BID you'll find The Sweat Sessions are in Hudson River Park's 14th Street Park. Enjoy a variety of classes like yoga, bootcamp, dance cardio, boxing, and pilates. Track your workout with a borrowed Pixel Watch or FitBit Versa 4 from the BID's partners at The Google Store, and take part in training with NYC's top instructors while enjoying breathtaking city views. Don't miss out on this free fitness experience and remember to BYOM (Bring Your Own Mat). RSVP HERE. MUSIC ON THE COBBLES: Enjoy live musical performances in Meatpacking every Wednesday and Saturday all season long. Get ready for a thrilling lineup of musicians that add to the overall exhilaration of enjoying the outdoors in New York City, and relax into the sounds of summer. MORE INFO. meatpacking-district.com
UNION SQUARE
Union Square is the bustling intersection of the Flatiron District, Chelsea, Gramercy Park and the East Village, home to famous weekly Greenmarket (check the updated vendor list on the app here), and their annual Holiday Market.  
This summer on Thursdays: CityPickle and Union Square Partnership are excited to bring pickleball to the North Plaza from 9am - 7pm, presented by Visit Seattle and Paragon Sports.  Make your free one-hour court reservation via the CityPickle app or book online. 
Fitness buffs, switch up your morning workout with a pilates session! All ages and levels are welcome to learn new stretches and breathing techniques with Aura Physical Therapy on the South Lawn at 8am. Save your spot here.
Wind down Thursday evenings with an outdoor movie! Starting at 8pm, bring your blankets and popcorn for family-friendly movies all summer long on the Center Lawn. Films include July 20-Clueless, July 27-Labryinth, Aug. 3 -Clue.
MORE INFO: summerinthesquare.nyc
 
BROOKLYN
 
In DUMBO , you'll find all the action under 'The Arch' at 80 Pearl Street. Every weekend through October, in the Dumbo Archway, check out Brooklyn Flea. Also, now through July, FREE programming with the DUMBO BID includes:-Live at the Archway concerts and visual arts programming from 5pm to 8pm on Wednesdays (Dumbo Archway); Drink and Draw workshops from 6pm to 8pm on Tuesdays (Dumbo Archway); the Six Foot Platform interactive art installations from 12pm to 6pm on Saturdays (Washington Street, beginning July 15); Bliss Factory Fridays from 6pm to 9pm (Dumbo Archway through July 14); Dumbo Game Night from 5pm to 7pm on Thursdays (Dumbo Archway). dumbo.nyc
DOWNTOWN ALLIANCE
Every Friday afternoon, between 2pm & 5pm, enjoy Happy Hour specials, and DJ performances, as part of Summer Fridays at The Seaport.  Shop and dine at the 53,000 sprawling new food market and restaurant destination, Tin Building, created by Jean-Georges Vongerichten. Governors Island is brimming with events, including brunch and drinks at Gitano Island, return of the New York Poetry Festival July 28-29, free outdoor films July 7, Aug. 11, and Sept. 1; FAD Market Pop Up July 15-16, Aug. 19-20, Sept. 16-17, and more. On Aug. 10, the Downtown Alliance's Dine Around Downtown Series and celeb author/chef Rocco de Spirito host Mezzo on the River, at 4pm. Learn how to cook with the best Lower Manhattan chefs! Get tickets here. downtownny.com