First-time visitors and seasoned New Yorkers can't resist the pull of Times Square. Often called the heart of New York City, Times Square pulses in the middle of Manhattan, drawing people in with bright lights, Broadway stars, and brilliant attractions from dining to shopping to sightseeing. 
Click on a category below to jump to that section:
Times Square, New York Overview
Times Square is the crossroads of commerce and the performing arts, exhilarating and overwhelming at once. What was once the city's seedy underside is now a magnet for family-friendly tourism and world-famous Broadway shows. At the top of One Times Square, the Waterford-crystal New Years Eve Ball awaits its big drop at the turn of every new year. This honored ceremony has run nearly every year since 1907. Back then, the ball was considerably less glitzy, composed of iron and wood. 

Luciano Mortula - LGM / shutterstock.com
After a recent revamp, the plaza at Times Square (bounded by 42nd and 47th streets on 7th Avenue and Broadway) is more pedestrian-friendly than ever. Snap pictures, take in the splashy super-signs, and people-watch for free entertainment in these swaths of crowded public space. You'll observe plenty of street performers—the Naked Cowboy and unlicensed characters among them—as well as salespeople peddling tickets to attractions and performances. Just below you is the enormous Times Square subway station, with several subway lines accessing just about every NYC neighborhood.
Hang out on the massive red steps beside the TKTS booth while you wait for discounted Broadway tickets in the center of Times Square's hustle and bustle. Times Square's 24-hour spectacle also holds a surprise near midnight, when its huge animated signs coordinate in an artistic display to mark a new day in New York.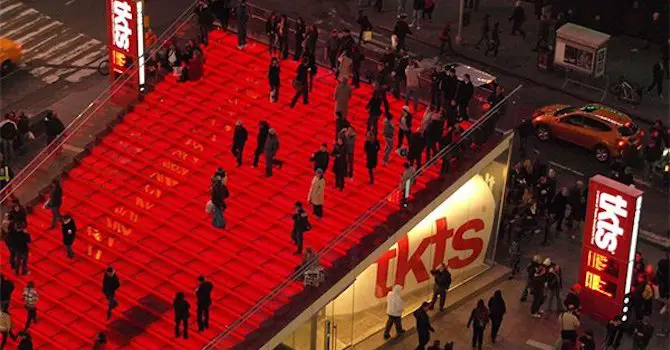 Gigantic stores representing your favorite brands surround the plaza, and most are open for late-night shopping sprees. Interspersed are famous Times Square restaurants and a multitude of hotels. 
The Theater District
The Theatre District comprises Times Square and the surrounding area: roughly Sixth to Ninth avenues, between West 42nd and 56th streets. With 41 Broadway theaters, many of which are landmarked, the Theater District is a world leader in live theatrical performance. Family-friendly musicals, dramatic plays, and movie star-studded comedies abound in all seasons. Within mere blocks of each other, you can see a long-running favorite like The Lion King, a new classic like Hamilton, and the work of an up-and-coming playwright on or Off-Broadway.  
Miguel Cervantes and the ensemble of Hamilton, (c) Joan Marcus 2021
We recommend researching the Broadway shows you'd like to see before you arrive, as well as looking for affordable tickets. A great option for getting Broadway tickets is by visiting the TKTS booth in Times Square. TKTS sells tickets for 20-50% off for day-of performances for several Broadway plays, musicals, and Off-Broadway shows. The prices and shows available change daily and are posted outside the TKTS booth and on the TKTS app. 
Times Square Restaurants 
Whether you're looking for a spot to grab a bite before heading to a Broadway show or you need to fuel up before shopping and spending more time in the neighborhood, we've got you covered. Check out this ultimate guide to restaurants in Times Square, the Theater District, and Restaurant Row. It's full of info on the best Times Square Restaurants, including:
Times Square Stores 
Times Square is home to a variety of shopping destinations, including large, expansive locations of your favorite stores. Here's a short list of the Times Square stores, starting with a few out of this world experiences and destinations that should be on your to-visit lists.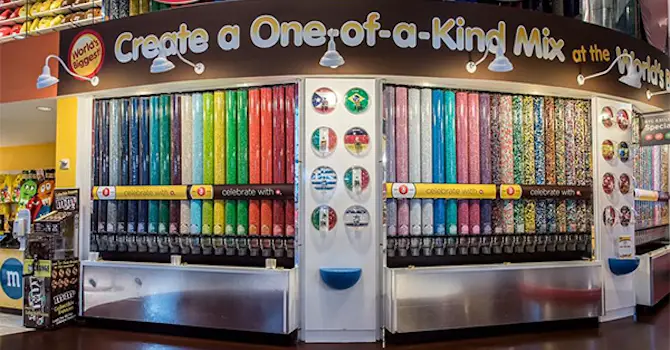 Everybody loves chocolate, which is why M&M's World New York makes for the perfect souvenir shopping experience in the heart of Times Square. This iconic shop features everything from playful apparel and unique drinkware to candy dispensers and, of course, chocolates galore. Along with the typical rainbow of M&M's colors, you'll also find an array of hard-to-find colors of the famed candy, including pastels, neon, and uniquely printed candies. 
1600 Broadway, Times Square • 212-295-3850 
When it comes to chocolate bars, Hershey's Chocolate is king—even in NYC! Hershey's Chocolate World is nearly impossible to miss thanks to its iconic light-up signage. If visiting Hershey's isn't on your to-see list, it should be! As if the outside isn't impressive enough, inside you'll find fresh Hershey's Cookies delivered straight from Hershey, Pennsylvania, along with a slew of other classic Hershey products and candies. Plus, starting soon, you can create your own REESE'S Peanut Butter Cup stuffed with your favorite mix-ins. 
20 Times Square, 701 Seventh Ave., Times Square • 212-581-9100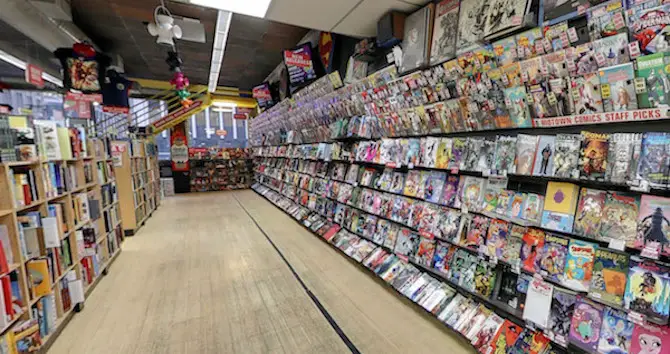 Buying comics? Your first and only stop is Midtown Comics, providing new and back issues of your favorite series. Midtown also stocks manga, graphic novels, toys, trading cards, and more. You'll always find a helpful, expert staff member to help you find whatever you need. Don't be surprised if you lose time while exploring the shelves. If you find too much to bring back in your suitcase, Midtown Comics has a great online store as well. 
200 W. 40th St., Times Square • 800-411-3341
Krispy Kreme Times Square
New Yorkers and visitors alike come to the Times Square area for the theater, and Krispy Kreme's Times Square flagship is just that: a theater. Or, well, a doughnut theater, showcasing the doughnut-making process, from the mixing of ingredients to the conveyor belts that carry the pillows of sweetness from station to station, to the literal waterfall of glaze that makes Krispy Kreme doughnuts the shiny sweet treats craved by so many. As if that wasn't enough, the Times Square location features the brand's largest Glaze Waterfall, a 2-foot tall stream of the sweet topping that coats the Original Glazed, and the world's largest Hot Light. It's open 24/7, so you can satisfy your craving whenever it hits! 
1601 Broadway, Times Square •  646-540-1153
Other stores in Times Square include:
Things to Do in Times Square 
New York City is known for its frequent celebrity sightings, but if you really want to get up close and personal with some of America's biggest names, you're best off heading to Madame Tussauds New York. The  replicas you'll find in Madame Tussauds are so life-like that you'll have to do a double take. Morgan Freeman, Taylor Lautner, Sofia Vergara, and the Royal Family are just some of the famous faces you'll find waiting to join your next selfie. 
234 W. 42nd St., Times Square • 866-841-3505
RiseNY
Go on a soaring journey of NYC at this Times Square attraction. RiseNY is a flight simulation ride (the first of its kind in Manhattan!). You will be lifted 30 feet into the air and take in the spectacular views of NYC while suspended inside a projection dome featuring aerial footage that creates the sensation of flight. Plus, the full motion seats let you dip, turn and soar, while wind, mist, and scents heighten the experience.
160 W. 45th St., Times Square • 601-228-2201
If you have energetic kids (or kids at heart) who need to blow off steam, take them to Dave & Buster's for an afternoon of playing arcade games. Air hockey, Mario Kart, Dance Dance Revolution, Skee Ball…the list goes on and on. And if you need to refuel before heading to your next sightseeing destination, you and your family can also fuel up with crowd-pleasers like mini pretzel dogs, chicken fingers, and mac 'n' cheese. 
234 W. 42nd St., Times Square • 646-495-2015
Bowlero Times Square
Looking for a family or group activity to kill time before dinner or your Broadway show? Why not go bowling? Bowlero Times Square features cool lanes with black lights, soft lounge seats, and huge HD video walls that play live sports, music videos, and classic family films. You can also spend time here in the arcade, which has state-of-the-art and classic games, play billiards, or hang in the sports bar.
222 W. 44th St., Times Square • 212-680-0012
Hotels in Times Square
Trying to figure out the best hotel for your trip to NYC? Want to stay in a hotel in Times Square? The good news is there are dozens of hotels in Times Square. The bad news? You have dozens of hotels in the neighborhood to sift through to find the right one. Here are just some of the hotels located in the Times Square area: