Wondering how does TKTS work? If you're looking to see a show in New York City, you might be shocked by the ticket prices listed online, but there are ways to score discount seats. Here's what you need to know about TKTS and getting the cheapest tickets to Broadway in NYC.
Flickr: Tom Byrne.
The TKTS line welcomes a near-constant stream of theater-going hopefuls to the center of Times Square on a big set of red stadium seats. TKTS sells tickets for 20-50% off for day-of performances of several Broadway plays, musicals, and Off-Broadway fare. Ticket prices and show availabilities do change daily and are posted outside the TKTS booth and on the TKTS app. If you seek tickets for less and don't have a strong preference for a certain show, TKTS might be for you.
TKTS Times Square
Located "under the red steps" in Father Duffy Square at Broadway and 47th Street.
TKTS hours are:
| | |
| --- | --- |
| Monday: | 3:00pm - 8:00pm |
| Tuesday: | 3:00pm - 8:00pm |
| Wednesday: | 11:00am - 8:00pm |
| Thursday: | 11:00am - 8:00pm |
| Friday: | 3:00pm - 8:00pm |
| Saturday: | 11:00am - 8:00pm |
| Sunday: | 11:00am - 7:00pm |
(If there is a matinee performance for sale on Tuesday, Thursday, or Friday, the booth will open at 11am. Check the electronic boards or the TKTS app for show schedules.)


Getting Here
Subway lines 1, 2, 3, 7, N, Q, R, S to Times Square
TKTS Lincoln Center
Located in the David Rubenstein Atrium at 61 W. 62nd St.
TKTS Lincoln Center hours:
For Same-Day Matinee and Evening Performances and
Next-Day Matinee Performances:
| | |
| --- | --- |
| Tuesday: | 11:00am - 6:00pm |
| Wednesday: | 11:00am - 6:00pm |
| Thursday: | 11:00am - 6:00pm |
| Friday: | 11:00am - 6:00pm |
| Saturday: | 11:00am - 6:00pm |
Tickets for Lincoln Center events are also sold here when available.
Getting Here
Subway lines A, B, C, D, 1 to 59th Street/Columbus Circle or 1 to 66th Street/Lincoln Center.
TKTS Times Square opened for business on June 25, 1973, and quickly became a mecca for theatregoers from all over the world. Making shows affordable with same-day discount tickets and fostering a community of theatre lovers on Duffy Square, TKTS is one of New York City's most photographed landmarks. Housed under distinctive red glass steps, the current TKTS Booth opened in 2008 and has garnered more than a dozen international design awards. The glowing red staircase above TKTS was the first public space to open in Times Square, and it quickly became a popular destination for locals and visitors 365 days a year. TKTS' small service fee (currently $6 per ticket) is used to operate the booth and to help fund TDF's many service programs.
ABOUT TDF: Founded in 1968, TDF is a not-for-profit service organization for the performing arts, dedicated to bringing the power of the performing arts to everyone. TDF's mission is to sustain live theatre and dance by engaging a broad and diverse audience and eliminating barriers to attendance. TDF fulfills its mission with a variety of programs that expand access, cultivate communities and support the makers of the performing arts.
Other Ways to Score Discount Broadway Tickets in NYC: Use Your Words
You'll discover a few new terms once you hit the Theater District, and everyone will assume you know what they mean. Now's the time to learn them.
Let's say there's a certain show you'd like to see. You can wait at that venue for rush tickets or lottery tickets. Typically these are the cheapest available seats for any given show. "Rush" means there are only a limited number of cheap tickets when the box office opens on the day of the show; "student rush" means you're required to show a student ID to make your purchase. Prices always vary according to show.
Lottery tickets require less waiting time. You simply enter your name at the theater of the show you're hoping to see and go about your business, then return to listen for your name to be called. Usually lottery tickets are distributed within an hour of show time, while rush tickets are distributed the same morning of the show. Certain shows offer digital lottery tickets online and require you to visit the theater only should you win. Here's a complete list of rush and lottery options, compiled alphabetically by show.
How to Score Discount Broadway Tickets in NYC: Wait Times
Wait times for tickets most often depend on the popularity of the shows involved. It's a simple matter of supply and demand. Shows that have been playing for years or haven't received a lot of buzz will often have more tickets available for less money, while more popular shows don't need to sell discounted tickets ever in order to fill the house every day (we're looking at you, Harry Potter and the Cursed Child). For example, a long-running show like Chicago shouldn't have too long a rush line, while other Tony-winners will have people lining up early in the morning outside the venue for rush spots. Popular shows might not even have available tickets at TKTS or any other online discount providers (although it never hurts to check!).
So, if you're planning to wait in a rush line, budget an hour or two for less-popular shows and a minimum of three hours for blockbusters. Remember that regardless of the day of the week and regardless of the show, you should definitely arrive at the theater in the morning, around 8am or so. Get coffee!
For TKTS, set aside about 30 minutes of wait time. You could wait up to an hour during peak times like Saturday evening and Sunday afternoon. The TKTS app also provides real-time wait updates, which gives you a look at all TKTS locations: Times Square, Lincoln Center, South Street Seaport, and downtown Brooklyn. Non-Times Square booths do tend to have shorter wait times (especially in Brooklyn). The Play Express line at TKTS also has significantly reduced wait times if you're looking for less singing and dancing Broadway spectacle.
Also keep in mind that you have a better chance scoring great deals with less of a wait on weekdays rather than weekends.
How to Score Discount Broadway Tickets in NYC: Have Fun!
You're in NYC, so there's no reason not to have a fun time on line. Making friends with those around you can make time fly. These new friends can also hold your place—and vice versa—when you need to step away for a bathroom break or a refreshment. Play interactive games on your phone like Heads Up!, or give your pals an online quiz like "Which Broadway Diva Are You?" (I got Kristin Chenoweth: Score!). If you think ahead, you can also bring small analog games like a deck of cards.
For those extra-long waits in rush lines for popular shows, a portable chair, a fully-charged phone, a book, and snacks will make your time spent much more bearable.
How to Score Discount Broadway Tickets in NYC: Know Your Online Options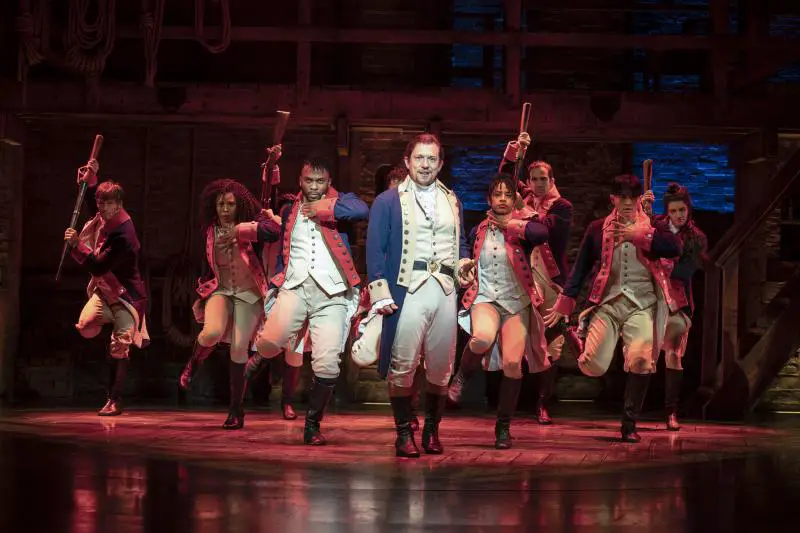 Miguel Cervantes and the ensemble of  Hamilton, (c) Joan Marcus 2021.
The discount-ticket landscape has changed dramatically over the past few years with the advent of digital outlets. Certain shows like the aforementioned Hamilton offer a popular digital lottery for $10 day-of tickets (your chances are slim, but the form only takes a minute to fill out). Other services like TodayTix or New York Show Tickets are like TKTS, but online and not always for day-of shows. Such membership services as TDF (the organization behind TKTS) and Play by Play set membership fees, but reward you with super-cheap tickets for your patronage. If you know which show you most want to see and/or are willing to do some research, you can sometimes find discounted tickets before you arrive in the city so you don't have to wait in line at all!