Of the countless pluses propelling A Beautiful Noise, The Neil Diamond Musical into Broadway's must-see arena, first on the list would seemingly be the mega hits. These songs  blasted the pop charts from the late '60s through the early '80s: "Cracklin' Rosie," "September Morn," "Kentucky Woman," "America," and on…a catalog as staggering as it is iconic. Yet onstage at the Broadhurst Theatre, it's Neil Diamond, embodied by Will Swenson (Neil-Then) and Mark Jacoby (Neil-Now), who brings the songs not so much to life as of life—his life, from billboard to backstory to present day.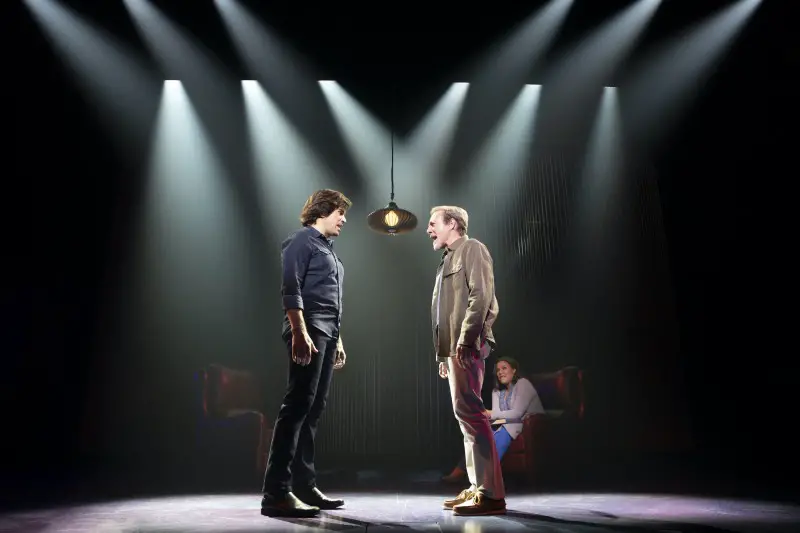 Neil-Then Will Swenson and Neil-Now Mark Jacoby face off before the Doctor (Linda Powell). All photos by Julieta Cervantes.
Making this particular musical bio uniquely compelling is the way it bookends the artist's past career and personal life with a present-day scenario unfolding between Neil-Now and his therapist (Linda Powell), who gets the attention of a reticent Diamond by whipping out a massive volume entitled "The Complete Lyrics of Neil Diamond."


"The demands of Neil's situation and where he goes in his psychotherapy in my scenes is a challenge," says veteran Broadway actor Jacoby. "You go to difficult places, and I do it eight times a week."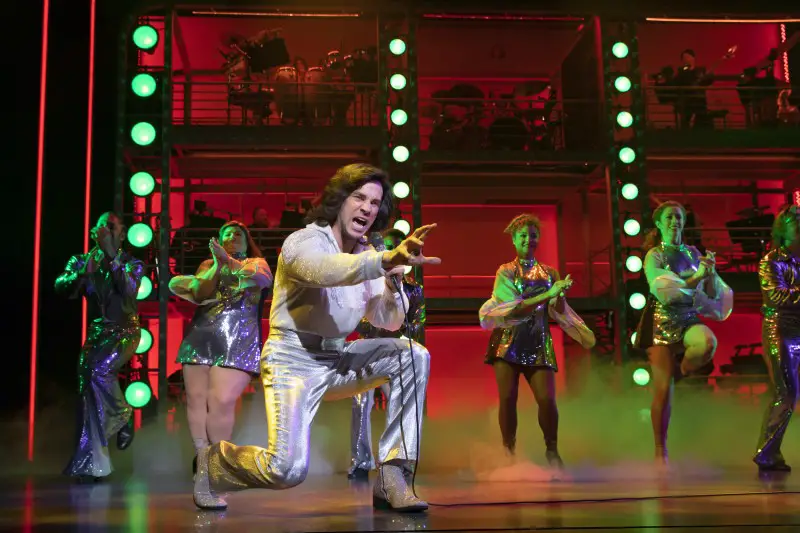 Will Swenson as Then-Neil.
As for sharing a character every night for 2 hours and 15 minutes, Jacoby accepts the fact that Swenson grew up listening to and singing Diamond's greatest hits. "I defer to Will on all things Neil Diamond. He knows what he's doing and why. I'm in awe of what he does."
Unlike his onstage alter-ego, Jacoby's initial exposure to Diamond was far from exhaustive. "I know I heard his songs, he was of my day, but I could not have told you it was him singing—I just knew the music," he recalls, adding, "But then I was never all that knowledgeable about pop music."
Having joined the production during its Boston tryout in May of 2022, Jacoby remembers making it a point to observe Diamond the one or two times he showed up at rehearsals, mostly to see what the singer was like when he wasn't performing. "I tried to be around him whenever I could, but it was never as much as I wanted, so I went back and watched several of his interviews to get a sense of that one-on-one that I have with the therapist."
The interchange between Neil-Now and the Doctor leads into the show's counterpoint: flashbacks featuring Swenson's powerhouse trajectory from unknown to superstar, and the relationships that shaped both his personal life and career—warts and all. And while some of the numbers are presented in performance format (most notably the "Stadium Medley," spanning three concerts and the songs "Soolaimon," "Thank the Lord for the Night Time," and "Crunchy Granola Suite"), the majority are incorporated into the storyline.
The show is masterfully directed by Tony winner Michael Mayer (Spring Awakening), with a book by Anthony McCarten (Bohemian Rhapsody) and stunning choreography by Steven Hoggett (Harry Potter and the Cursed Child). The production sails through Diamond's intro to Tin Pan Alley as a songwriter (his first gold record? "I'm a Believer," recorded by The Monkees) to finding his own voice, jettisoning his first marriage to Jaye Posner (Jessie Fisher) for second wife Marcia Murphey (Robyn Hurder), and pursuing a seductively brilliant, tempestuous, ultimately exhausting career that turned him into a legend, but not without consequences.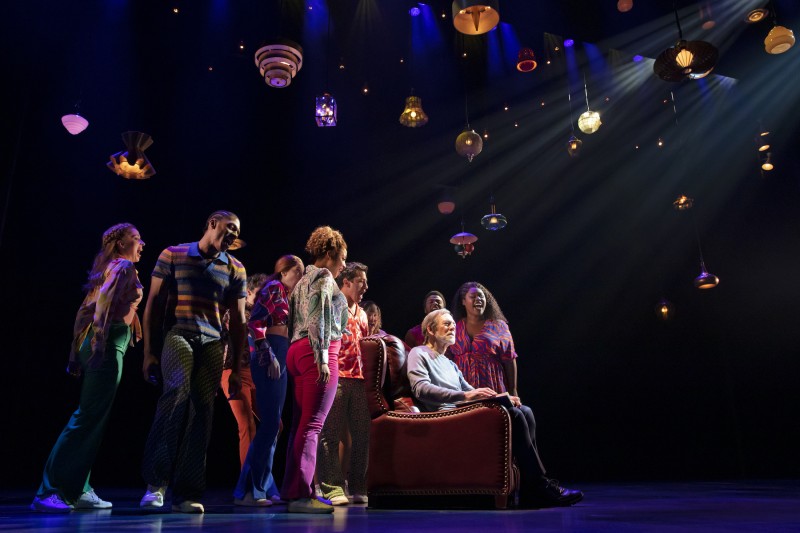 As Neil-Now explains to his therapist, "I'd created a beautiful monster, but a monster nonetheless. And always, the demand for new music...new music. Another album...or a soundtrack…"
In the end, though, we run with it. Because it's Diamond's staggering output that brings us to our feet with infectious beats and seminal melodies that are hard-wired into our hearts. They soar and we soar with them. And (spoiler alert) the curtain call invites us to do what we've been tempted to do throughout the show—sing along.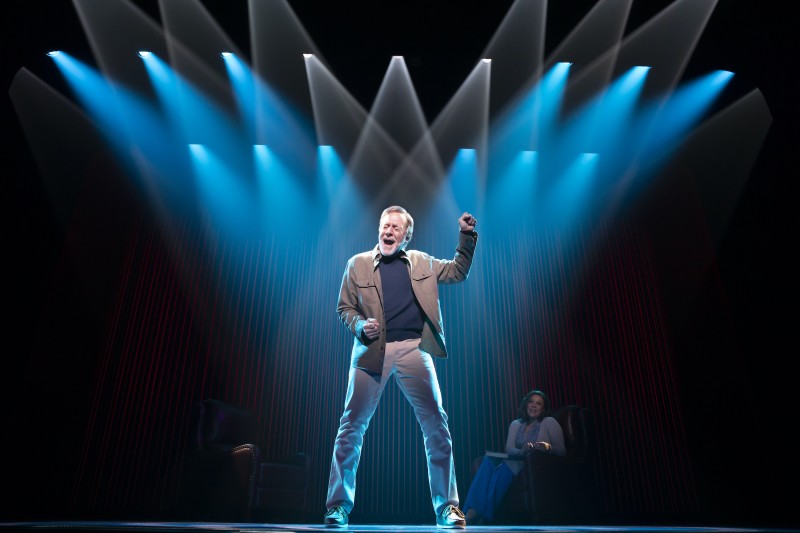 Interestingly, Jacoby, whose Broadway career includes playing the Phantom of the Opera and a Tony nomination for his leading man performance in Show Boat, also has to wait till nearly the end before his amazing singing voice is heard in the show's penultimate number, "I Am…I Said," alongside Swenson.
"I do find myself wishing that people who see A Beautiful Noise would somehow be able to know Neil Diamond personally, he's such an inspiring person, very unaffected and sincere," says Jacoby. "His is a pure kind of artistry that's completely engaging, and in his presence you feel it. I would hope it comes through in our show."
A Beautiful Noise, The Neil Diamond Musical is playing at Broadway's Broadhurst Theatre, 235 W. 44th St. For tickets call 212-239-6200 or visit abeautifulnoisethemusical.com.