Our Broadway guide will help you navigate the world's most famous theatre district. We've got everything that's showing in December 2023, with running times and theatre locations.
BROADWAY SHOWS IN NYC 2023
DECEMBER BROADWAY SHOWS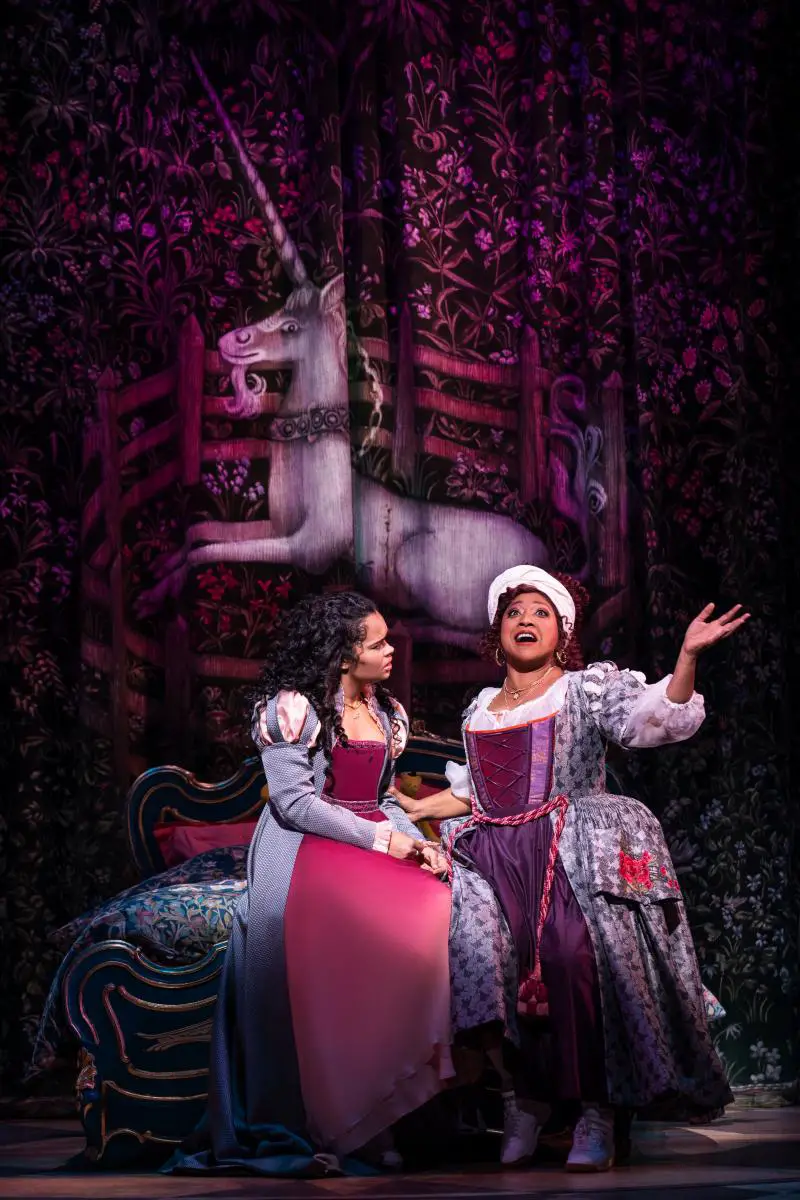 Lorna Courtney and Melanie La Barrie in & Juliet, photo credit Matthew Murphy.
& Juliet (Stephen Sondheim Theatre, 124 W. 43rd St.) (Opened 11/17/22) (2 hrs., 30 mins.) This new jukebox musical comedy asks: what would happen next if Juliet ditched her famous ending for a fresh beginning and a second chance at life and love—her way? Featuring a playlist of pop anthems including "Baby One More Time," "Roar," and "Can't Stop the Feeling." (andjulietbroadway.com)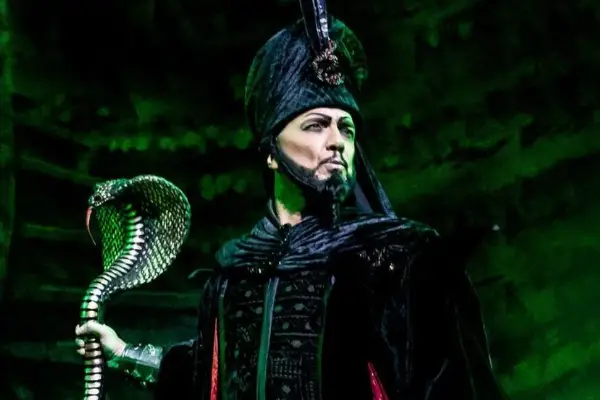 New to the Aladdin cast: Dennis Stowe takes on the role of Jafar.
Aladdin (New Amsterdam Theatre, 214 W. 42nd St.) (Opened 3/20/14) (2 hrs., 30 mins.) Like The Lion King, this Disney musical developed from animated origins has been a total crowd-pleaser since it arrived in 2014. This family-friendly magic carpet thrill ride flies onto the stage teeming with romance, mischief, and, of course, a wildly madcap Genie! The end result is a not-to-be-missed Broadway spectacular! (aladdinthemusical.com)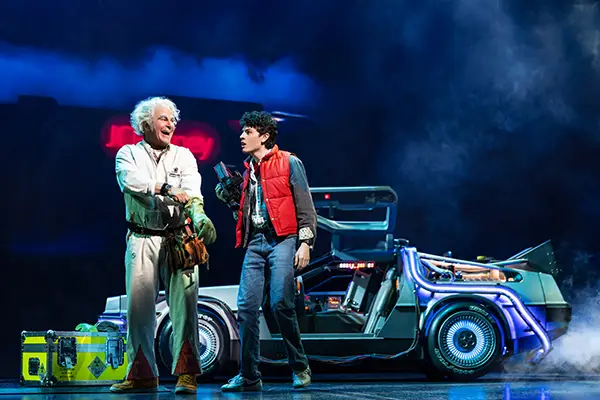 Roger Bart (Doc Brown) & Casey Likes (Marty McFly) in Back to the Future: The Musical. Credit: Matthew Murphy and Evan Zimmerman, 2023.
Back to the Future: The Musical (Winter Garden Theatre, 1634 Broadway) (Opened 8/3/23)  (2 hrs., 40 mins.) Based on the classic Michael J. Fox film, the show centers on teen Marty McFly who's sent back to 1955 in a DeLorean that's been transformed into a time machine by his friend Doc Brown. But before returning to 1985, he has to make sure his teenaged parents fall in love—or he'll cease to exist. (backtothefuturemusical.com)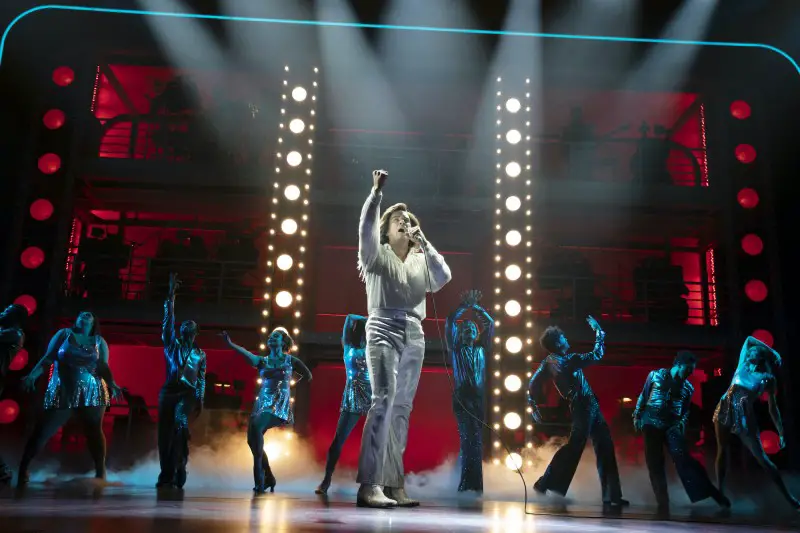 Will Swenson (Neil – Then) leads the cast of "A Beautiful Noise, The Neil Diamond Musical." Photo by Julieta Cervantes.
A Beautiful Noise, the Neil Diamond Musical (Broadhurst Theatre 235 W. 44th St.) (Opened 12/1/22) (2 hrs., 15 mins.) With his break into songwriting in the 1960s and meteoric rise in the 1970s—and plenty of crushing disappointments and mega-triumphs along the way—Neil Diamond has been a superstar for 5 decades. How did a poor Jewish kid from Brooklyn become one of the most universally adored showmen of all time? The answer awaits in this electrifying musical set to his era-defining smash hits. (abeautifulnoisethemusical.com)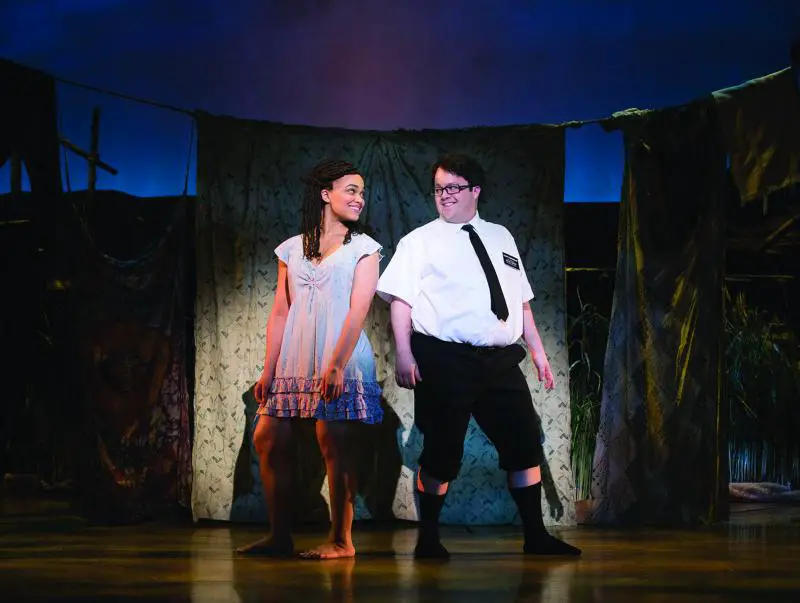 Kim Exum and Cody Jamison Strand in The Book of Mormon, photo by Julieta Cervantes.
The Book of Mormon (Eugene O'Neill Theatre, 230 W. 49th St.) 2011 Tony, Best Musical (Opened 3/24/11) (2 hrs., 30 mins.) One of Broadway's most successful, Tony-winning (nine in 2011!) musicals, from Trey Parker and Matt Stone—the duo behind South Park—follows a couple of wide-eyed Mormon missionaries whose first official assignment takes them to a remote village in Uganda. Divinely profane in all the right places! (bookofmormonbroadway.com)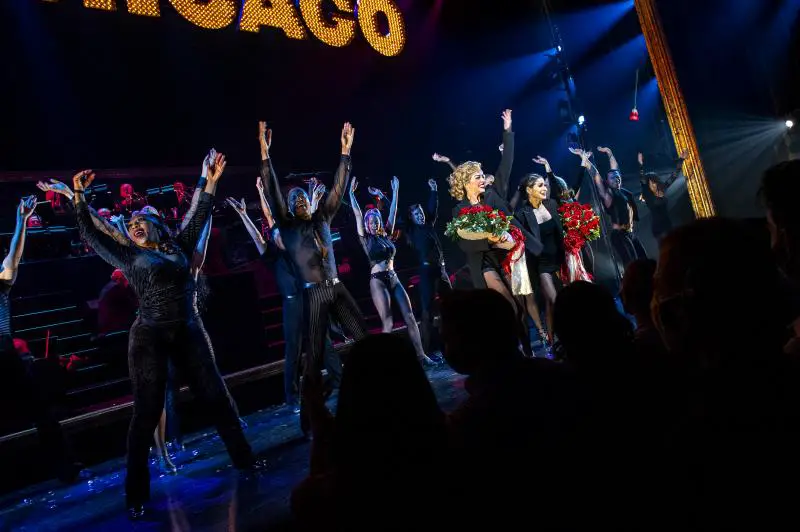 Chicago reopening night, 2021. Photo: Daniel Rader.
Chicago (Ambassador Theatre, 219 W. 49th St.) 1997 Tony, Best Musical Revival (Opened 11/14/96) (2 hrs., 30 mins.) Kander and Ebb's musical vaudeville about those murderous tootsies Roxie Hart and Velma Kelly picked up a Tony for Best Musical Revival back in 1997 and has reigned as one of Broadway's fiercest hits ever since. Sparkling with Bob Fosse's choreographic legacy, the show's cavalcade of colorful characters includes everyone from Billy Flynn and Mamma Morton to Amos Hart and Mary Sunshine. (chicagothemusical.com)
Gutenberg! The Musical (James Earl Jones Theatre, 138 W. 48th St.) (Opened 10/12/23) (1 hr., 45 mins.) Original stars of The Book of Mormon—Tony nominees Andrew Rannells and Josh Gad—return to Broadway in this two-man musical spoof-a-thon about aspiring playwrights/best pals Bud and Doug as they take on every role and sing every song at a backers' audition for their dubious new project: a splashy epic musical about printing press inventor Johannes Gutenberg. Thru 1/28/24. (gutenbergthemusical.com)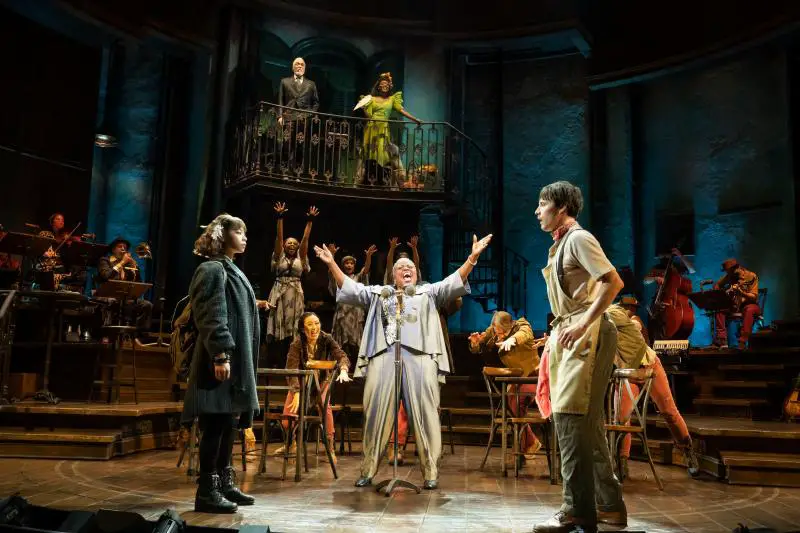 Matthew Murphy.
Hadestown (Walter Kerr Theatre, 219 W. 48th St.) 2019 Tony, Best Musical (Opened 4/17/19) (2 hrs., 30 mins.) This unique and stunning musical by singer-songwriter Anaïs Mitchell and director Rachel Chavkin follows musical follows the overlapping love stories of Orpheus & Eurydice and Hades & Persephone. The action unfolds in both a stylized New Orleans setting and Hades' stomping ground, The Underworld. As for the score, think New Orleans jazz melded with American folk music. (hadestown.com)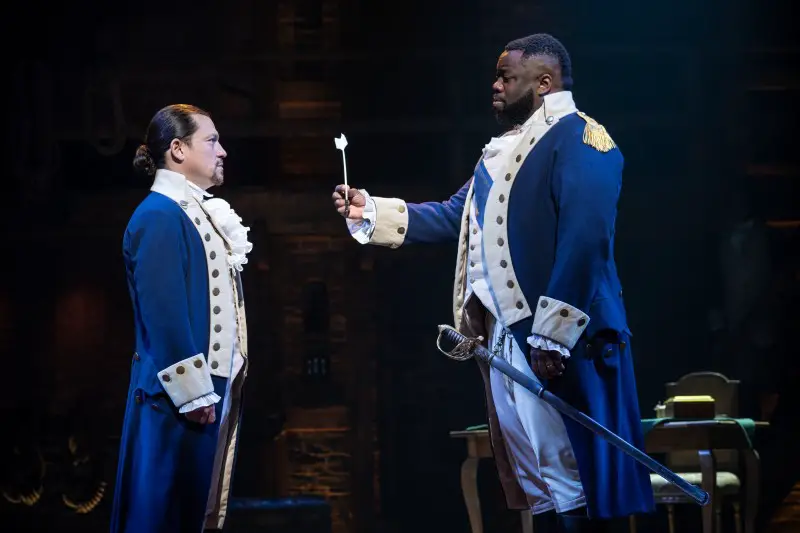 Miguel Cervantes and Tamar Greene, (c) Joan Marcus 2023
Hamilton (Richard Rodgers Theatre, 226 W. 46th St.) 2016 Tony, Best Musical (Opened 8/6/15) (2 hrs., 55 mins.) Visionary writer/composer Lin-Manuel Miranda's white-hot historical musical that redefined Broadway. Told through a score of musical theatre, hip-hop, jazz, and R&B, the Pulitzer Prize-winning show has also scooped up Tony, Olivier, and Grammy awards. (hamiltonmusical.com)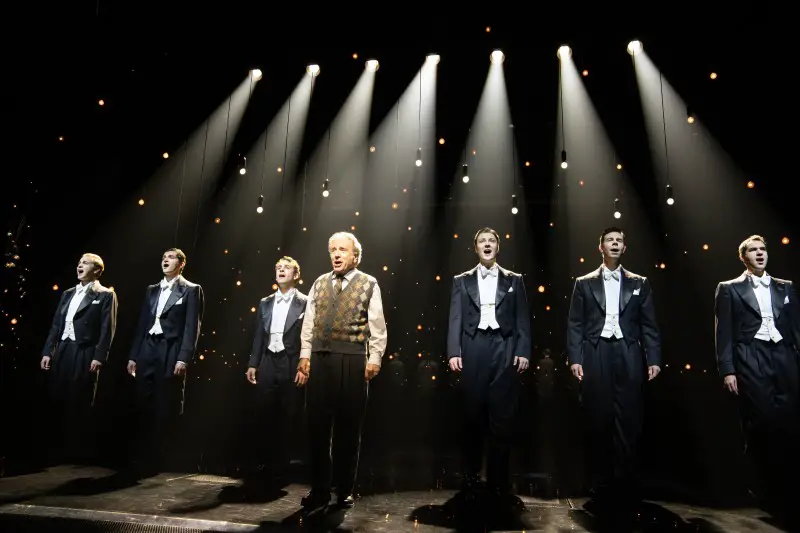 Steven Telsey, Blake Roman, Danny Kornfeld, Chip Zien, Eric Peters, Sean Bell, and Zal Owen. Photo by Julieta Cervantes.
Harmony (Ethel Barrymore Theatre, 243 W. 47th St.) (Opened 11/13/23) (2 hrs., 30 mins) Featuring an original score by Barry Manilow and Bruce Sussman, this new musical is based on the true story of the Comedian Harmonists, a group who sold millions of records, made dozens of films, and sold out mega theaters during the 1920s & 30s. Their harmonies and comedic hijinks catapulted these six young men from singing in the subway tunnels of Berlin to international superstardom. (harmonyanewmusical.com)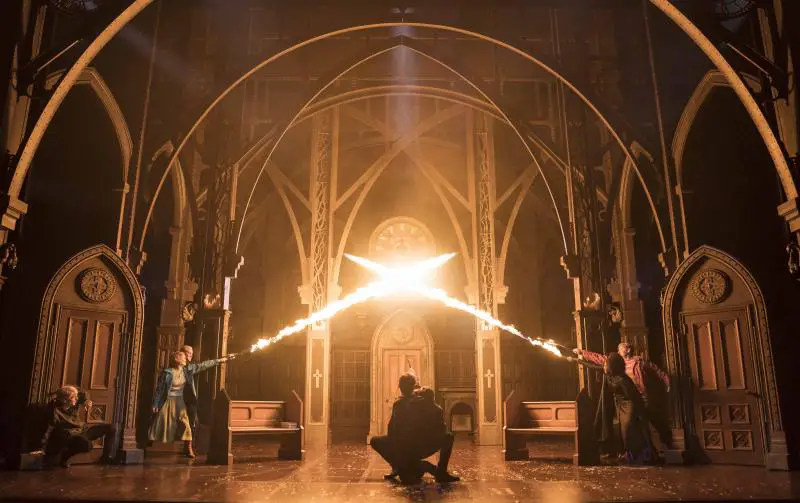 The cast of Harry Potter and the Cursed Child, photo by Matthew Murphy.
Harry Potter and the Cursed Child (Lyric Theatre, 214 W. 43rd St.) 2018 Tony, Best Play (Opened 4/22/18) (3 hrs., 30 mins.) This visually spectacular production begins where the film series ends and follows the friendship between Harry's son Albus and Draco's son, Scorpius—BFFs whose magical misadventures involve Time-turner shenanigans and a mysterious friend. Familiar characters plus a new generation of Hogwarts students make this a must-see for fans of the books and movies. (harrypottertheplay.com)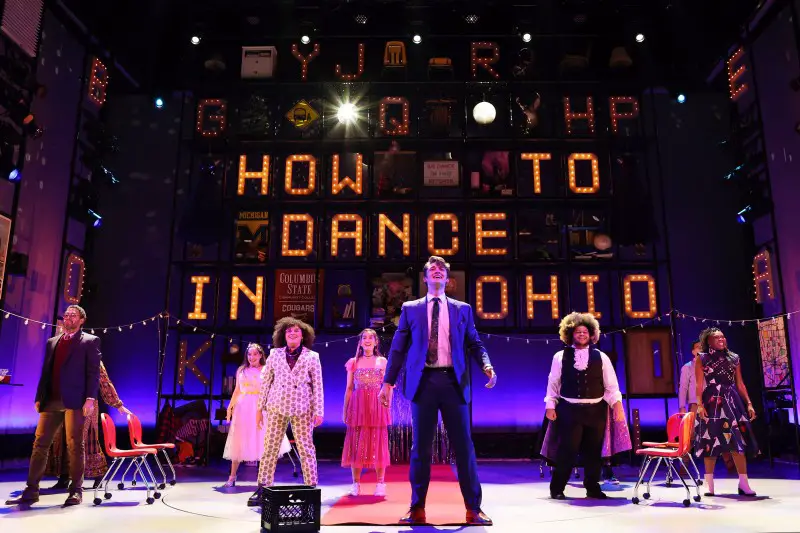 Photo: Curtis Brown.
How to Dance in Ohio (Official opening is December 10th at the Belasco Theatre, 111 W. 44th St.) Inspired by Alexandra Shiva's documentary of the same name, the musical is set at a group counseling center in Columbus, Ohio, where seven autistic young adults prepare for a spring dance—a challenge that breaks open their routines as they experience love, stress, excitement, and independence. The show features the original autistic actors who starred in the show's world premiere in Syracuse. (howtodanceinohiomusical.com)
Ray Anthony Thomas (Foster), Lucy DeVito (Amelia), Danny DeVito (Sam) in Roundabout Theatre Company's world-premiere production of I Need That by Theresa Rebeck. Photo: Joan Marcus, 2023.
I Need That (American Airlines Theatre, 227 W. 42nd St.) (Opened 11/2/23) (100 mins., no intermission) In this new comedy by Theresa Rebeck, Sam doesn't go out, opting instead for the safety of his house in the company of his many, many things. But when a notice arrives alerting him that he must clean up his property or face eviction, he's forced to reckon with what's trash, what's treasure, and whether we can ever know the difference between the two. Starring Danny DeVito, his daughter Lucy DeVito, and Ray Anthony Thomas. Limited engagement thru 12/30. (roundabouttheatre.org)
Kimberly Akimbo (Booth Theatre, 222 W. 45th St.) 2023 Tony, Best Musical (Opened 11/10/22) (2 hrs., 20 mins.) In this new musical Kim is a bright and funny Jersey teen who happens to look like a 72-year-old lady. And yet her aging disease may be the least of her problems. Forced to maneuver family secrets, borderline personalities, and possible felony charges, Kim is determined to find happiness in a world where not even time is on her side. (kimberlyakimbothemusical.com)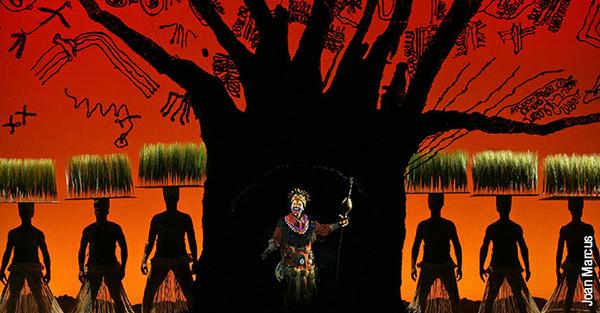 The Lion King (Minskoff Theatre, 200 W. 45th St.) 1998 Tony, Best Musical (Opened 11/13/97) (2 hrs., 30 mins.) The longest-running Disney production to grace Broadway—it arrived in November of 1997—this Tony-winning stage adaptation of the animated classic is a musical and visual treasure-trove to be savored. Set in the flourishing African Pride Land, the story follows lion prince Simba as grows from cub to king. Along the way, he makes friends, falls in love, and is subject to the machinations of his power-hungry uncle, Scar. (lionking.com)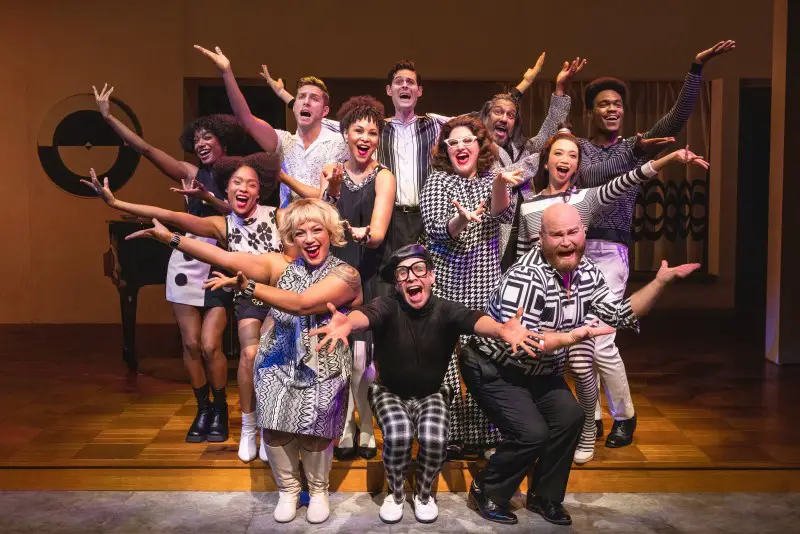 Photo: Matthew Murphy, 2023.
Merrily We Roll Along (Hudson Theatre, 141 W. 44th St.) (Opened 10/10/23) (2 hrs., 30 mins.) Spanning three decades in the entertainment business, this Stephen Sondheim musical charts the turbulent relationship between composer Franklin Shepard and his two lifelong friends—writer Mary Flynn and lyricist & playwright Charley Kringas. An inventive cult-classic ahead of its time, the show features some of Sondheim's most celebrated and personal songs. Starring Daniel Radcliffe as Charley, Jonathan Groff as Franklin, and Lindsay Mendez as Mary. Limited engagement thru 3/24/24. (merrilyonbroadway.com)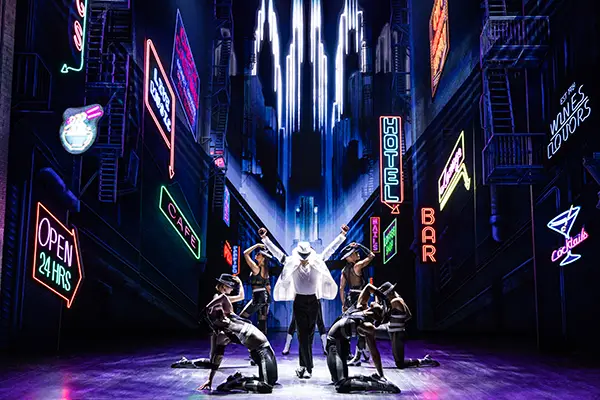 MJ the Musical (Neil Simon Theatre, 250 W. 52nd St.) (Opened 2/1/22) (2 hrs., 35 mins.) The new musical bio featuring over 25 Michael Jackson hits comes with a staggeringly impressive pedigree: book by two-time Pulitzer Prize winner Lynn Nottage and direction/choreography by Tony-winner Christopher Wheeldon. (mjthemusical.com)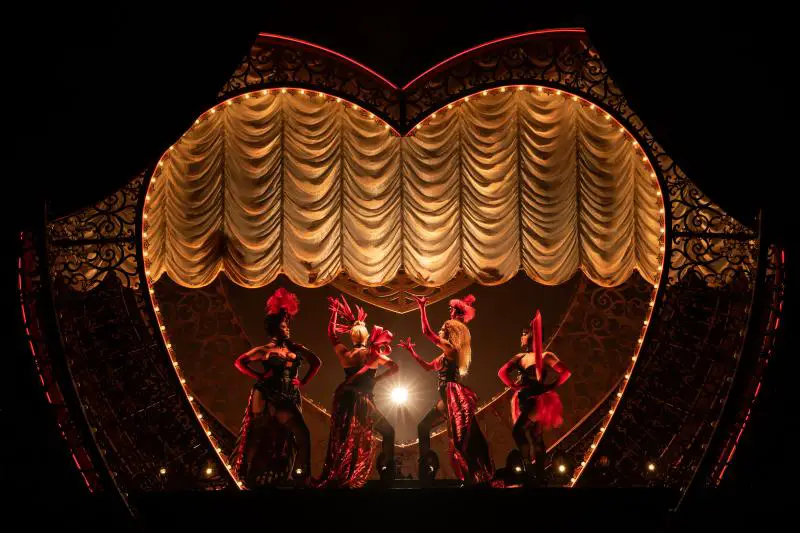 Moulin Rouge! The Musical (Al Hirschfeld Theatre, 302 W. 45th St.) 2021 Tony, Best Musical (Opened 7/25/19) (2 hrs., 35 mins.) A gleefully flamboyant stage adaptation of Baz Luhrmann's 2001 cinematic jukebox mashup, this Tony-winning musical from the 2019/2020 season takes place in a world where Bohemians and aristocrats rub elbows, reveling in the decadence and high kicks in the legendary Parisian night spot once upon a retro time. Add a love triangle, Toulouse-Lautrec, and a score of over 70 songs!(moulinrougemusical.com)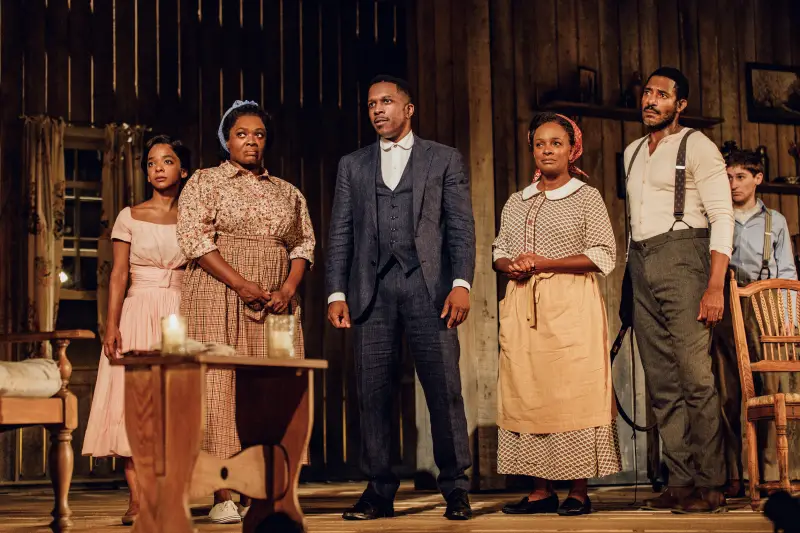 Photo by Marc J. Franklin.
Purlie Victorious: A Non-Confederate Romp Through the Cotton Patch (Music Box Theatre, 239 W. 45th St.) (Opened 9/27/23) (1 hr., 45 mins., no intermission) Over half a century after its Broadway debut, actor/ playwright Ossie Davis's groundbreaking satire is back in a new production starring Tony and Grammy winner Leslie Odom, Jr. (Hamilton) as traveling preacher Purlie Victorious Judson, who returns to his small Georgia town to save the local church and emancipate the pickers who work on an oppressive cotton plantation. Thru 2/4/24. (purlievictorious.com)
(Left to Right): SHUCKED cast members John Behlmann ("Gordy"), Alex Newell ("Lulu"), Caroline Innerbichler ("Maizy") and Andrew Durand ("Beau").  Photo by Emilio Madrid for SHUCKED on Broadway. 
Shucked (Nederlander Theatre, 208 W. 41st St.) (Opened 4/4/23) (2 hrs., 15 mins.) What do you get when you pair a semi-neurotic New York comedy writer with two Nashville superstars? A hilarious farm-to-fable musical about, well, corn. Shucked is the new musical comedy that proves sometimes tearing down a few walls, rather than growing them, is the only way to preserve our way of life. Thru 1/14/24. (shuckedmusical.com)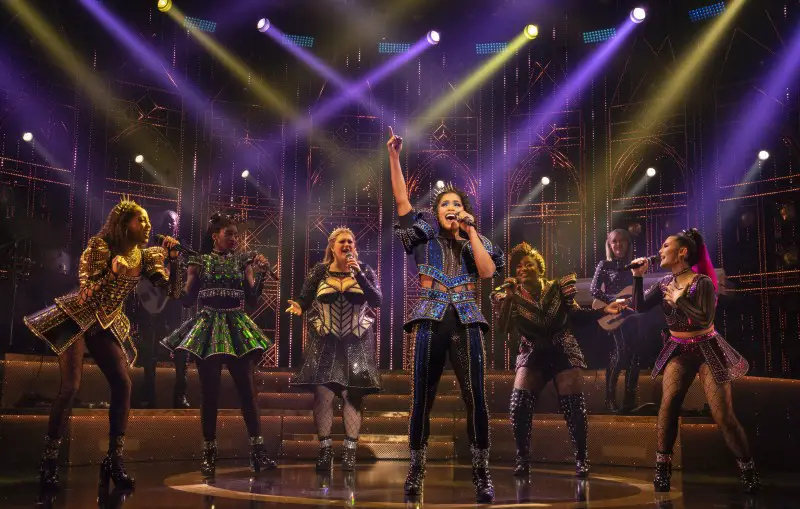 Photo: Joan Marcus.
SIX (Brooks Atkinson Theatre, 256 W. 47th St.) (Opened 3/12/20) (80 mins., no intermission) Divorced, beheaded, died, divorced, beheaded, survived. From Tudor Queens to Pop Princesses, the six wives of Henry XIII take the mic to remix 500 years of historical heartbreak into an exuberant celebration of 21st-century girl power. This new original musical is the global sensation that everyone is losing their heads over! (sixonbroadway.com)
Christian Borle and J. Harrison Ghee. Photo: Marc J. Franklin.
Some Like It Hot (Shubert Theatre, 225 W. 44th St.) (Opened 12/11/22) (2 hrs., 20 mins.) Starring Tony winner Christian Borle and Kinky Boots alum J. Harrison Ghee, this new musical comedy based on the classic film follows two musicians fleeing Chicago after witnessing a mob hit. With gangsters in pursuit, they join in an all-girl band, but can they hide in plain sight, or will the mob and/or love be their undoing? Thru 12/30. (somelikeithotmusical.com)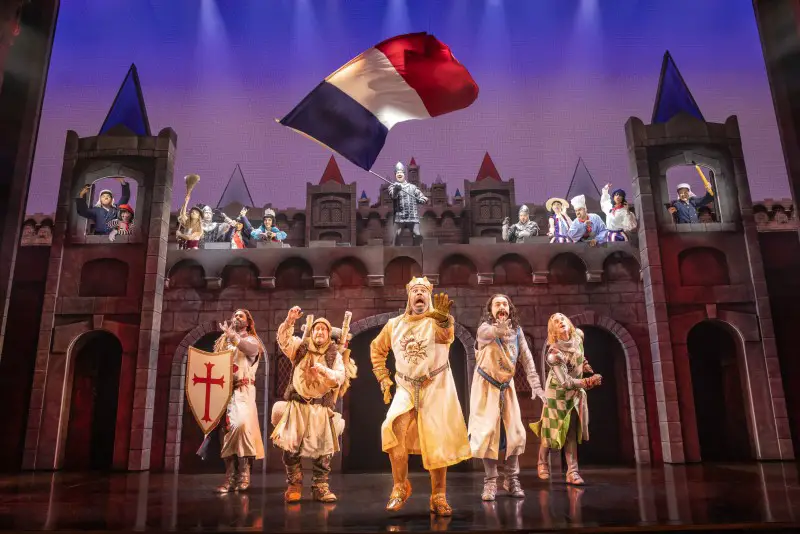 Photo by Matthew Murphy/Evan Zimmerman.
SPAMALOT (St. James Theatre, 246 W. 44th St.) (Opened 11/16/23) (2 hrs., 15 mins.) Lovingly ripped from the film classic Monty Python and the Holy Grail, this revival has everything from flying cows to killer rabbits, British royalty to French taunters, dancing girls, dancing knights, coconuts, rubbery shrubbery, and the lady of the lake. With book and lyrics by Eric Idle and music by Idle and Juan Du Prez, the score includes "Always Look on the Bright Side of Life," "The Song That Goes Like This," and "Find Your Grail." (spamalotthemusical.com)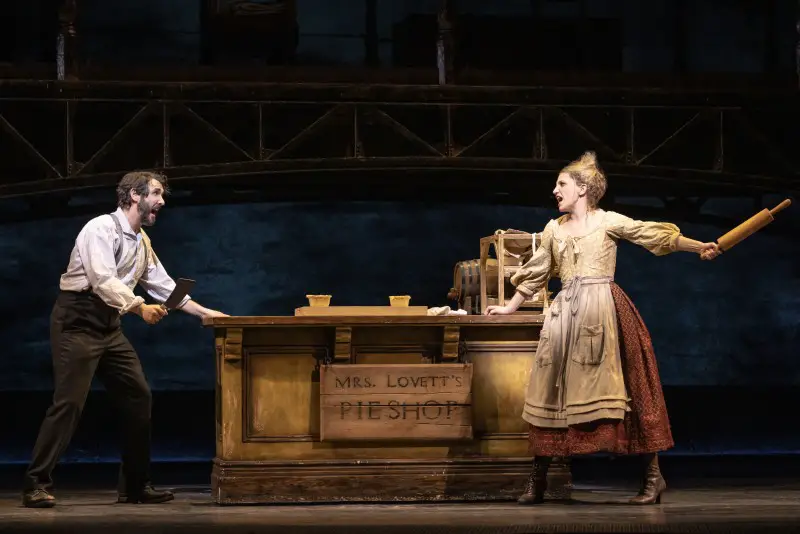 Josh Groban and Annaleigh Ashford in the 2023 Broadway production of SWEENEY TODD, Photo by Matthew Murphy and Evan Zimmerman.
Sweeney Todd: The Demon Barber of Fleet Street (Lunt-Fontanne Theatre, 205 W. 46th St.) (Opened 3/36/23) Josh Groban and Annaleigh Ashford star in this revival of the Stephen Sondheim-Hugh Wheeler musical about a resourceful pie shop owner and a vengeful barber out for blood. Together, they wreak havoc on Fleet Street and serve up the hottest—and most unsettling—pies in London. (sweeneytoddbroadway.com)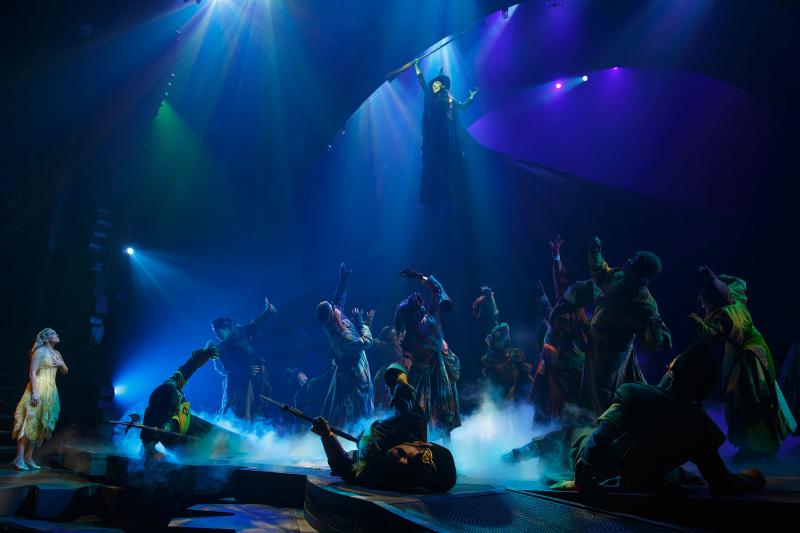 Photo by Joan Marcus.
Wicked (Gershwin Theatre, 222 W. 51st St.) (Opened 10/30/03) (2 hrs., 45 mins.) One of Broadway's biggest success stories, this fantasy musical, based on the best-selling novel by Gregory Maguire, follows the friendship between two young girls—one smart, misunderstood, and green-hued; the other beautiful, ambitious, and popular. Wicked takes the world of Oz's fairy tale roots and replants them into an eye-popping production that turns the original story spectacularly upside down. (wickedthemusical.com)
COMING SOON TO BROADWAY
November 28th: Appropriate (Official opening is December 18th at the Helen Hayes Theatre, 240 W. 44th St.) In this darkly comic drama, the Lafayette family has returned to their late patriarch's Arkansas home to deal with the remains of his estate. Eldest daughter Tori hopes they'll remember and reconnect; brother Bo wants to recoup some of the funds he spent caring for Dad; but when estranged brother Franz appears and mysterious objects are discovered among the clutter, the family is forced to face the ghosts of their past. Starring Sarah Paulson and Elle Fanning. (2st.com)
December 19th: Prayer for the French Republic (Official opening is January 9th at the Samuel J. Friedman Theatre, 261 W. 47th St.) (3 hrs.) In 1944, a Jewish couple in Paris desperately awaits news of their missing family. More than 70 years later, the couple's great-grandchildren find themselves facing the same question as their ancestors: "Are we safe?" This celebrated work by Joshua Harmon (Bad Jews) is about history, home, and the effects of an ancient hatred. Thru 2/4/24. (manhattantheatreclub.com)
January 6, 2024: Days of Wine and Roses (Official opening is January 28th at Studio 54, 254 W. 54th St.) Adapted from JP Miller's 1962 film and 1958 teleplay, this searing new musical by The Light in the Piazza's Adam Guettel (score) and Craig Lucas (book) is about a couple falling in love in 1950s New York and struggling against themselves to build their family. Starring Tony winner Kelli O'Hara and Tony nominee Brian d'Arcy James. Thru 4/28/24. (daysofwineandrosesbroadway.com)
February 6, 2024: The Notebook (Official opening is March 14th at the Gerald Schoenfeld Theatre, 236 W. 45th St.) In this new musical based on the bestselling novel by Nicolas Sparks that inspired the iconic film, Allie and Noah—both from different worlds—share a lifetime of love despite the forces that threaten to pull them apart. Featuring a score by multi-platinum singer/songwriter Ingrid Michaelson and a book by Bekah Brunstetter (This Is Us, The Cake). (notebookmusical.com)
February 2, 2024: Doubt: A Parable (Official opening is February 29th at American Airlines Theatre, 227 W. 42nd St.) Sister Aloysius, principal of an all-boys Catholic school in the Bronx, is feared by students and colleagues. When she suspects nefarious relations between a charismatic priest and a student, she wrestles with what's fact, what's fiction, and how much she'll risk to expose the difference. This Pulitzer and Tony-winning play stars Tyne Daly and Liev Schreiber. Thru 4/14/24. (roundabouttheatre.org)
February 24, 2024: Water for Elephants (Official opening is March 21st at the Imperial Theatre, 249 W. 45th St.) After losing what matters most, a young man jumps a moving train unsure of where the road will take him and finds a new home with the remarkable crew of a traveling circus, and a life—and love—beyond his wildest dreams. Seen through the eyes of his older self, his adventure becomes a poignant reminder that if you choose the ride, life can begin again at any age. (waterforelephantsthemusical.com)
February 27, 2024: An Enemy of the People (Official opening is March 18th at Circle in the Square Theatre, 235 W. 50th St.) A small-town doctor considers himself a proud, upstanding member of his close-knit community. When he discovers a catastrophe that risks the lives of everyone in town, he raises the alarm. But he is shaken to his core when those in power not only try to silence him—they try to destroy him. Starring Emmy winner Jeremy Strong opposite Emmy winner Michael Imperioli. (anenemyofthepeopleplay.com)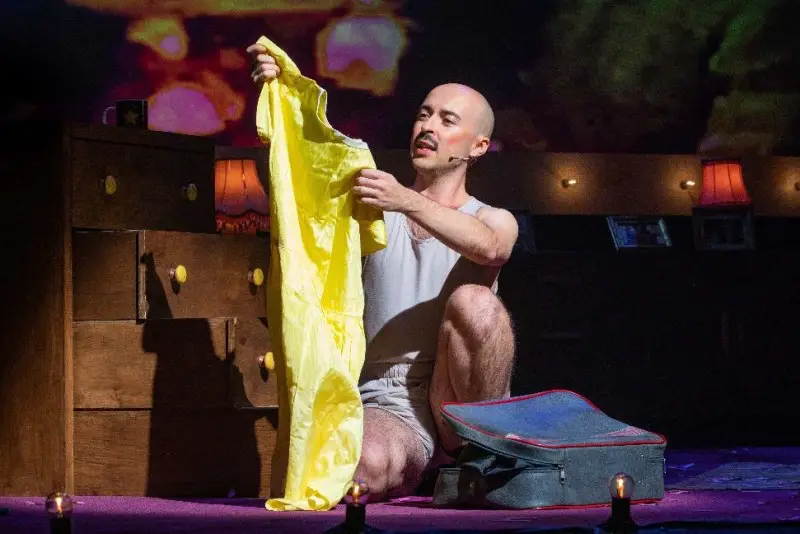 Photo by Mark Senior.
February 27, 2024: My Son's A Queer (But What Ca You Do?) (Official opening is March 12th at the Lyceum Theatre, 149 W. 45th St.) Following a sold-out run in London, writer/ performer Rob Madge brings his solo play to Broadway. It follows a family's exploration and acceptance of their son's love for all things Disney, theatre, and identity as a Queer human. Love and self-discovery are blend with pop-culture for fairy tale fanboy/girls (and everyone in between). Limited 16 week run. (mysonsaqueerbroadway.com)
March 8, 2024: The Who's Tommy (Official opening is March 28th at the Nederlander Theatre, 208 W. 41st St.) Tony-winning creators Pete Townshend (music/lyrics/book) and Des McAnuff (book/direction) have reunited to bring the myth and spectacle of The Who's 1969 rock opera to life. Tommy Walker, after witnessing his father shoot his rival, is lost in the universe, endlessly and obsessively staring into the mirror. An innate knack for pinball catapults him from reticent adolescent to celebrity savior. (tommythemusical.com)
March 16, 2024: The Outsiders (Official opening is April 11th at the Bernard B. Jacobs Theatre, 242 W. 45th St.) In Tulsa, Oklahoma, 1967, the hardened hearts and aching souls of Ponyboy Curtis, Johnny Cade and their chosen family of 'outsiders' are in a fight for survival and a quest for purpose in a world that may never accept them. This gripping new musical reinvigorates the timeless tale of 'haves and have nots', of protecting what's yours and fighting for what could be. (outsidersmusical.com)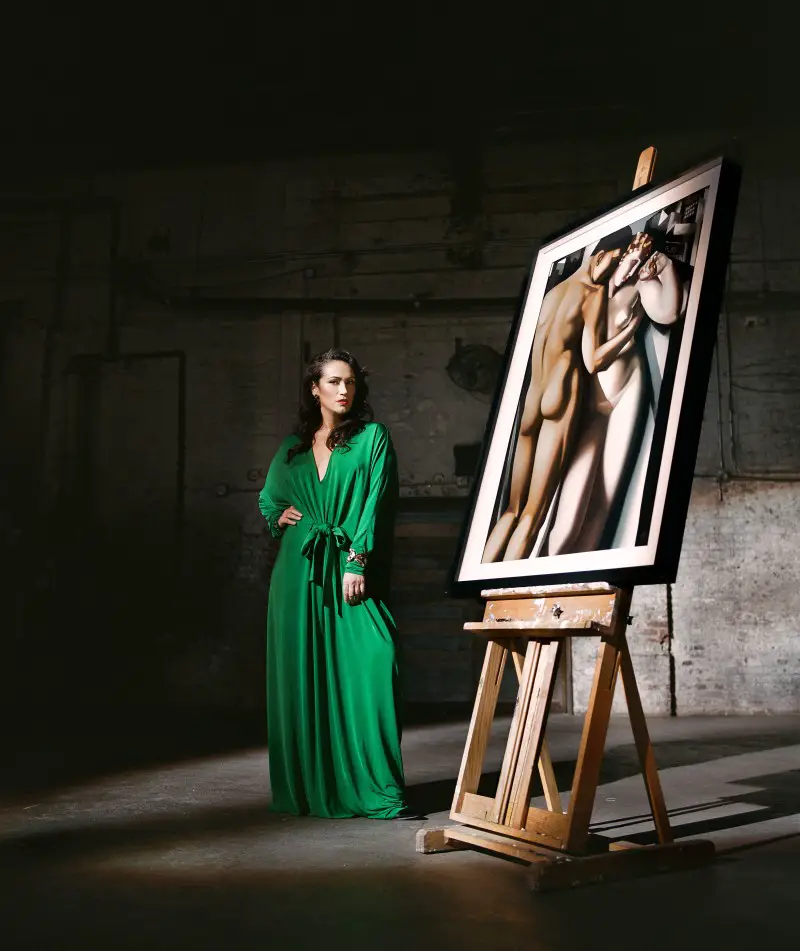 Lempicka art credit: Tamara de Lempicka Estate, LLC,
March 19, 2024: Lempika (Official opening and theatre TBA) This new musical follows the life of Polish painter Tamara de Lempicka who flees the Russian Revolution to Paris with her aristocrat husband. While making her mark as a portraitist in Paris society, she meets her muse in the free-spirited Rafaela, from the city slums who leaves her torn in her affections. Spanning decades of political turmoil and told through a pop-infused score, the show explores the contradictions of a world in crisis, a woman ahead of her era, and an artist whose time has finally come. (lempickamusical)
March 29, 2024: The Heart of Rock and Roll (Official opening is April 22nd at the James Earl Jones Theatre, 138 W. 48th St.) This new feel-good musical rom-com centers on a couple of 30-somethings who know exactly what they want from life—until they find each other. It's going to take "The Power of Love," and a little help from their friends, to show them the way. The score is made up of Huey Lewis and The News megahits like "Workin' For A Livin'," "Stuck With You," and "If This Is It." (theheartofrockandrollmusical.com)
March 29, 2024: The Wiz (Official opening is April 17th at the Marquis Theatre, 1535 Broadway) This first Broadway revival of 1975's Tony-winning/groundbreaking twist on L. Frank Baum's "The Wonderful Wizard of Oz"—with its soul/gospel/jazz/rock/pop/funk score—invites audiences to ease on down the yellow brick road (with some decidedly 21st-century twists and turns), alongside Dorothy and her iconic companions. Starring Wayne Brady in the title role. (wizmusical.com)
March 26, 2024: Suffs (Official opening is April 18th at the Music Box Theatre, 239 W. 45th St.) In 1913, the women's movement is heating up in America, anchored by the suffragists—"Suffs," as they call themselves—and their pursuit of the right to vote. Reaching across generational, racial, and class divides, these women entertain and inspire us with the story of their hard-won victory in an ongoing fight. In her new musical, Shaina Taub boldly explores the victories and failures of a struggle for equality that's far from over. (suffsmusical.com)
April 1, 2024: Cabaret at The Kit Kat Club (Official opening is April 20th & @ 21st at the August Wilson Theatre, 245 W. 52nd St.) The visionary new production of the Kander & Ebb classic performed in-the-round with original London stars Eddie Redmayne and Gayle Rankin. It's Berlin in the Kit Kat Club, a decadent sanctuary from the brewing Nazi mindset, where artists, performers, misfits and outsiders can be themselves as they invite you into their world to partake of dreamlike spaces, iconic cabaret, and food & drink add-ons. (kitkat.club/broadway)
April 2, 2024: Mary Jane (Official opening TBA at the Samuel J. Friedman Theatre, 261 W. 47th St.) Oscar nominee Rachel McAdams stars in Amy Herzog's story of a single mother in an impossible family situation. Faced with seemingly insurmountable odds, Mary Jane relies on unflagging optimism and humor, along with the wisdom of the women around her who have become a makeshift family, to take on each new day. But will inner strength and newfound friendships be enough to see her through? (manhattantheatreclub.com)
April 2, 2024: Mother Play (Official opening is April 25th at the Helen Hayes Theatre, 240 W. 44th St.) It's 1962 and Phyllis (Jessica Lange) is supervising her teenage children, Carl (Jim Parsons) and Martha (Celia Keenan-Bolger), as they move into a new apartment. The family endures — or survives — the changing world around them. Blending theatricality, surreal farce, and tenderness, Pulitzer Prize-winning playwright Paula Vogel reveals timeless truths of love, family, and forgiveness. (outsidersmusical.com)
April 2, 2024: Uncle Vanya (Official opening is April 24th at Lincoln Center Theaters' Vivian Beaumont Theater, 150 W. 65th St.) In Heidi Schreck's new translation of Anton Chekhov's classic, the lives of Sonya and her uncle Vanya, who have devoted their lives to managing the family farm in isolation, are upended when her celebrated, ailing father and his young, charismatic wife move in. People fall in love, desires and resentments erupt, and the family is forced to reckon with the ghosts of their unlived lives. Featuring Steve Carell in the title role alongside an all-star cast. (lct.org)
May 17, 2024: Home (Official opening TBA in June at American Airlines Theatre, 227 W. 42nd St.) Cephus Miles has the whole world in his callused hands—until his sweetheart Pattie Mae goes off to college and marries another man. This play by Samm-Art Williams is a muscular and melodic coming-of-age story that gives voice to the unbreakable spirit of all Americans who have been searching for a place to belong. Thru 7/28/24.