Broadway shows in New York are a Big Apple mega draw—if not THE mega draw—thanks to blockbuster stagings, historical theatres, celeb performers, and unsurpassed production values. Our Broadway guide, with its theatre listings, news, and behind-the-scenes info, is here to help you navigate the world's most famous theatre district!
MOULIN ROUGE'S NEW SPARKLING DIAMOND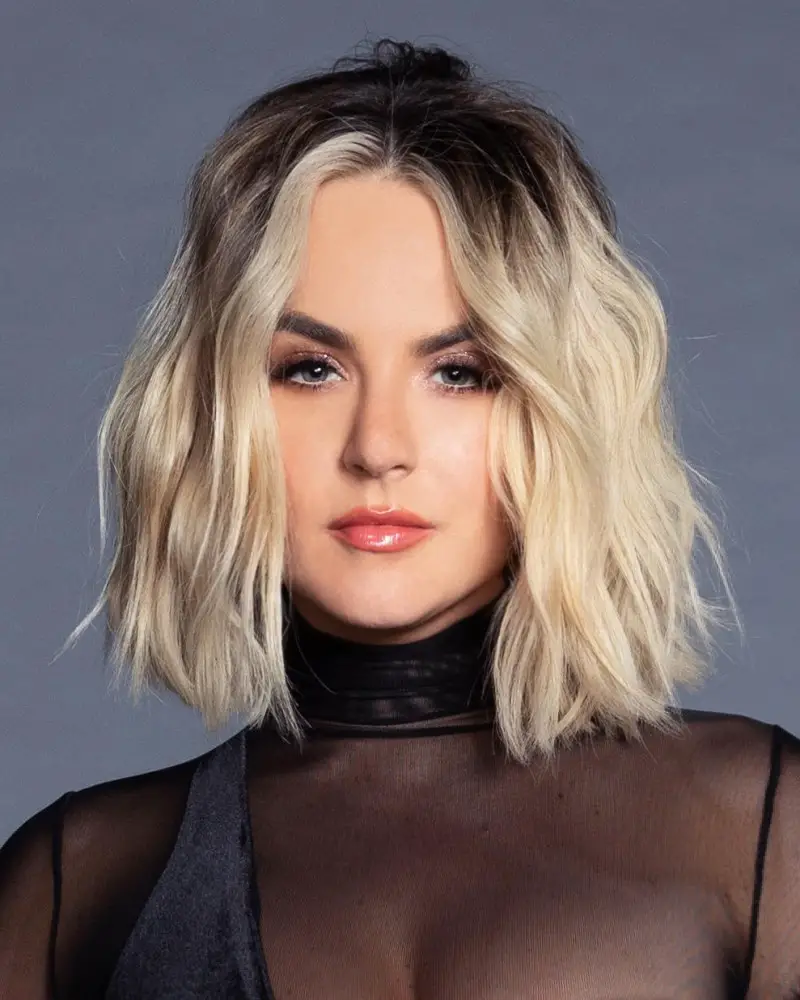 JoJo Levesque, photo by Alfredo Flores.
Looking for a reason to revisit 2021's Tony winning Best Musical? Or maybe you're a devotee of Platinum-selling singer/songwriter/actress Joanna "JoJo" Levesque who, as it happens, will be making her Broadway debut as Satine in Moulin Rouge! The Musical at the Al Hirschfeld Theatre on April 11th.
The chart-topping solo artist ["Leave (Get Out),"] is well matched to a character whose showstopping entrance is marked by a mondo-mashup number that features everything from "Diamonds Are a Girl's Best Friend" and "Material Girl" to "Single Ladies" and Brick House". Upon landing the role, JoJo took to social media to post, "This show is a full-on feast for the senses and the opportunity to play Satine feels like the culmination of so many dreams. I cannot believe I get to join this phenomenal cast and company!!!! You guys blow me away!!!"
During her limited engagement in Moulin Rouge!—14 weeks ending on July 16th—JoJo will play opposite Tony nominee Derek Klena in the role of Christian. Ashley Loren and Tony winner Aaron Tveit, the show's current Satine and Christian, will take their final curtain calls on Sunday, April 9th.
LOOKING AHEAD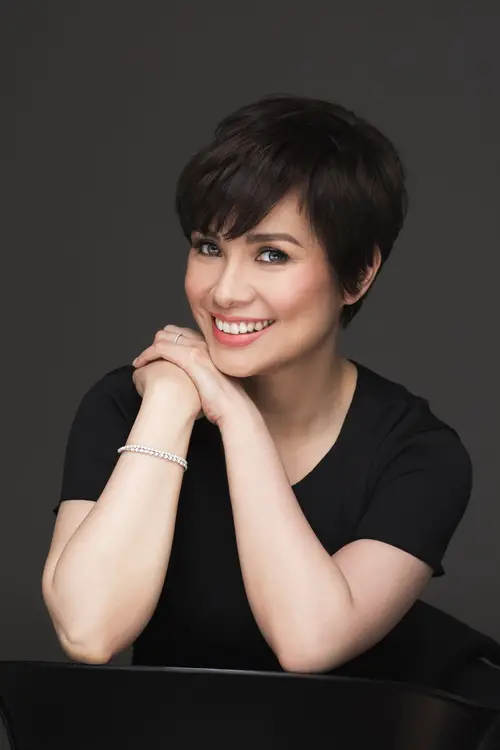 LeaSalonga. photo credit Raymund Isaac.
Even though it won't be starting previews until June 17th, you can now order tickets Here Lies Love, a new musical centering on Filipina First Lady Imelda Marcos' rise to power and her eventual downfall fueled by the Philippine People Power Revolution. Featuring music by Grammy, Oscar, and Tony Award winner David Byrne and Grammy winner Fatboy Slim, the show, developed and directed by Tony winner Alex Timbers alongside Olivier Award nominee Annie-B Parson (choreography), has already built up serious buzz.
In a statement, the producers expressed their mutual excitement for the project: "As a team of binational American producers—Filipinos among us—we are thrilled to bring Here Lies Love to Broadway! We welcome everyone to experience this singularly exuberant piece of theatre. The history of the Philippines is inseparable from the history of the United States, and as both evolve, we cannot think of a more appropriate time to stage this show. See you on the dance floor!"
Adding to the musical's draw was the subsequent announcement that Manila-born performer Lea Salonga will be joining the cast for five weeks (7/11 through 8/13) in the role of Aurora Aquino—mother of Benigno 'Ninoy' Aquino. Salonga, who is also one of the show's producers, picked up both Olivier and Tony Awards for playing Kim in Miss Saigon. Notably, once she ends her run, the Aurora character will be played by guest stars from the Philippines.
Producer and costume designer Clint Ramos said, "Lea Salonga has singularly secured a place for Filipinos on the Broadway stage," said producer & costume designer Clint Ramos. "That she joins us as both performer and producer, where she creates a pipeline for Filipina actresses, is profoundly historic. Lea continues to be a beacon of light and source of pride for the Philippines."
A STATEMENT FROM ANDREW LLOYD WEBBER
I am shattered to have to announce that my beloved elder son Nick died a few hours ago in Basingstoke Hospital. His whole family is gathered together and we are all totally bereft. 
Thank you for all your thoughts during this difficult time.
IT'S A DATE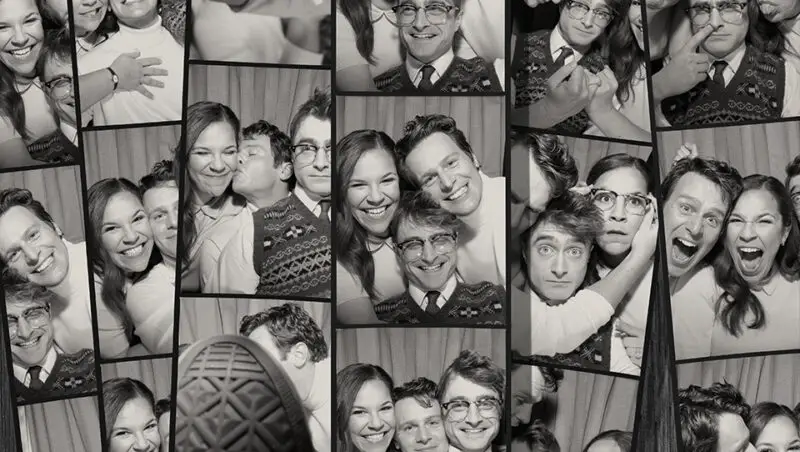 After an extended sold-out run Off-Broadway, Olivier Award-winning director Maria Friedman's celebrated Menier Chocolate Factory & New York Theatre Workshop production of Merrily We Roll Along has set a date for its Broadway transfer: Tuesday, September 19th. With music & lyrics by Stephen Sondheim and a book by George Furth, the showbiz saga centers on a trio of friends/collaborators—composer Franklin Shephard, writer Mary Flynn, and playwright/lyricist Charley Kringas. Jonathan Groff, Lindsay Mendez, and Daniel Radcliffe – the trio who raked in kudos for their Off-Broadway performances – return to their roles. Not surprisingly, the limited 18-week run is already showing signs of being a runaway Broadway must-see.
Based on the play of the same name by George S. Kaufman and Moss Hart, the musical's Broadway debut in 1981 under the direction of Hal Prince was a flop—a rarity for both composer and director—closing after 16 performances and 52 previews. However, the current Friedman incarnation has clearly turned the corner in terms of success, with reviews for the New York Theatre Workshop calling the production "intoxicating" "superlative", "hilarious" and "heartfelt".
BROADWAY BOMBSHELL
Remember when Smash was a hit NBC musical drama in 2012-2013, regaling viewers with the good, the bad, and the boffo world of Broadway? Well, if all goes according to plan, it will be transformed into a stage musical during the 2024-2025 season. Here's the award-winning superteam low-down as it stands right now: Marc Shaiman (music & lyrics), Scott Wittman (lyrics), Rick Elice & Bob Martin (book), Joshua Bergasse (choreography) and Susan Stroman (direction).
Several songs written by Shaiman and Wittman for the TV show — including the Emmy-nominated "Let Me Be Your Star" — will be incorporated into the musical, and in case you were wondering, the storyline will still follow the madcap putting together of the fictional Marilyn Monroe musical "Bombshell". That said, the Broadway version will not be a carbon copy of the series. In short, expect some major theatrical twists and turns.
Steven Spielberg, whose original idea led to the NBC series, had this to say about the project: "Smash is near and dear to my heart, and it was always my hope that a musical inspired by the show would eventually come to the stage. We now have an incredible creative team, and I'm looking forward to completing the Smash journey which began with my producing partners over ten years ago."
Added producer Neil Meron, "Ever since the show ended…not a week goes by that someone doesn't ask us when will they see Smash as a musical. We think we've come up with something the die-hard series fans will love but that will also be exciting for people who never saw an episode of the show. And above all else it will be a valentine to the Broadway musical and the exhilarating rollercoaster ride of bringing one to life."
NO ROOM
In an unexpected turn of events, it was announced on March 16th that the Broadway production of ROOM starring Tony winner Adrienne Warren has been postponed indefinitely.
Scheduled to begin previews on April 3rd leading up to an April 17th opening at the James Earl Jones Theatre, the official reason given for pulling the  plug so close to opening night was "a shortfall in capitalization."
"In the midst of our rehearsals we were informed by one of our Lead Producers that due to personal reasons, they did not intend to fulfill their obligations to the production," said producer Hunter Arnold. "Since being notified, the rest of the producing team has exhausted all possible avenues to keep the show on track, but the narrow timeline and economic shortfall created by this series of events has proven to be insurmountable. We are incredibly disappointed not to be able to open this remarkable production at this time and are especially heartbroken for our incredibly talented cast and creative team who were hard at work in the rehearsal room."

Producers Sam Julyan and James Yeoburn added: "We have been honored to share the story of ROOM since its world premiere in 2017 in London and its subsequent productions in Dublin, Scotland, and Ontario. We truly believe that today's disappointing news will not be the end of ROOM on stage."
PLEASE NOTE: Already purchased tickets to ROOM will be refunded. Buyers should return to point of purchase to process their refunds.
BROADWAY NEWS (Breaking Buzz and Insider Info)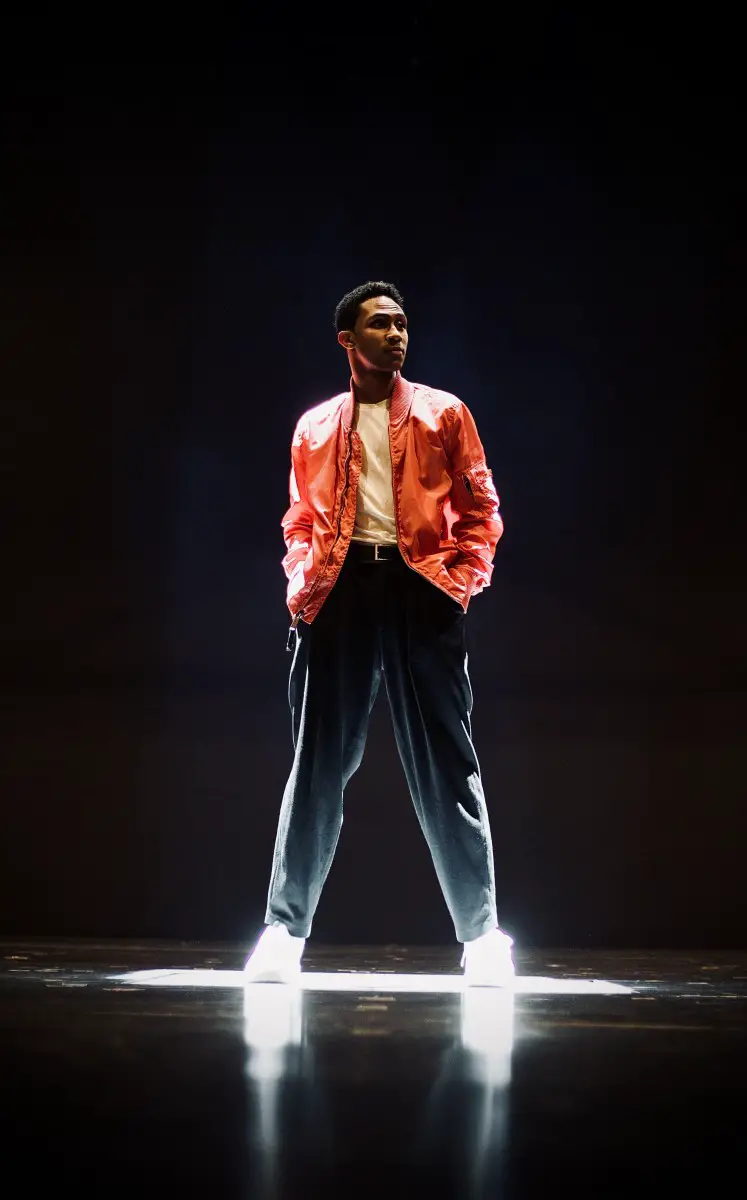 Elijah Rhea Johnson is Broadway's new MJ, photo by Drew Elhamalawy.
Producers of the hit MJ The Musical announced that Elijah Rhea Johnson will be the new Michael Jackson following Tony winner Myles Frost's departure from the show on April 2nd.  Johnson, whose Broadway debut in the as the title character will take place on April 4th, helped develop the role of "Middle Michael" during the show's workshop phase.
"Those of us who worked with Elijah during the developmental workshops knew, when his schedule didn't allow him to join the original Broadway cast, we hadn't seen the last of him or his remarkable talent," said MJ director Christopher Wheeldon. "Though we might have initially seen him as 'Middle Michael' it is so clear to me now that adult Michael is who he was born to play. Myles is leaving behind some pretty big loafers to fill, and Elijah is more than ready to wear them."
Having recently revisited the phenomenal musical Hadestown to see Lillias White, Tom Hewitt, and Jewelle Blackman bring down the house playing Hermes, Hades, and Persephone respectively, I'm pleased to report all three have extended their contracts. White and Hewitt have signed on through June 4th, while Blackman's final show will be June 25th. What can I say, these are not-to-be-missed performances, so reserve your seats ASAP!
The ferociously farcical Peter Pan Goes Wrong, from (spoiler alert??) the same creators who gave Broadway (and currently Off-Broadway) the unapologetically screwball The Play that Goes Wrong began previews on March 17th at the Ethel Barrymore Theatre following a ten-year string of variations in London (Best New Comedy Olivier Award nominee), tours of the U.K., on the BBC, and in Canada. This slapstick swan dive into J.M. Barrie's world of vengeful pirates and kids who refuse to age comes, like its predecessor, courtesy of "The Cornley Drama Society," whose personal, backstage, and onstage shenanigans proudly collide at a breakneck pace. Official opening is set for April 19th.
Shucked at the Nederlander Theatre is a new musical comedy directed by three-time Tony winner Jack O'Brien (Hairspray) and featuring a cast that includes Tony nominee Grey Henson (Mean Girls) and Kevin Cahoon (Monarch). Tony winner Robert Horn penned the uniquely corn-fed tale. As for the score, that comes from Grammy winning Nashville songwriters Brandy Clark and Shane McAnally.
At Lincoln Center's Vivian Beaumont Theater, the Aaron Sorkin (To Kill a Mockingbird; The West Wing) revamp of Lerner & Loewe's classic musical CAMELOT is in previews for an April 13th opening. The score, we're assured, hasn't been tampered with, nor has the Arthur-Guenevere-Lancelot romantic triangle and other key plot elements. Under the direction of Tony winner Barlett Sher (South Pacific), the company is led by Tony winner Andrew Burnap (The Inheritance), Phillipa Soo (Hamilton), and Jordan Donica (My Fair Lady).
The Olivier-winning adaptation of Life of Pi by Lolita Chakrabarti is up and running at Broadway's Gerald Schoenfeld Theatre, promising audiences the unforgettable theatrical journey that dazzled on London's West End, including performances by Olivier Award-winning "Best Actor" Hiran Abeysekera in the title role, and "Best Supporting Actor" winners, puppeteers Fred Davis and Scarlet Wilderink. Official opening night is March 30th.
BIDDING ADIEU TO A BROADWAY LEGEND
The Phantom of the Opera, Broadway's longest running show ever will play its final performance on April 16th. Andrew Lloyd Webber's iconic musical opened in January, 1988 and picked up a Tony a few months later. Based on the Gaston Leroux thriller, the script and score center on a beautiful young soprano and the mysterious masked figure who adores her. Featuring Andrew Lloyd Webber's "Music of the Night," the musical is as iconic as it is a visual masterpiece.
Confirming the departure, the shows website posted: "We are sad to confirm that after 35 years on Broadway, Phantom will play its final performance at the Majestic Theatre…This will be our final extension on Broadway. Tickets are currently on sale for performances through April 15th, 2023. Our final performance…is not available for purchase."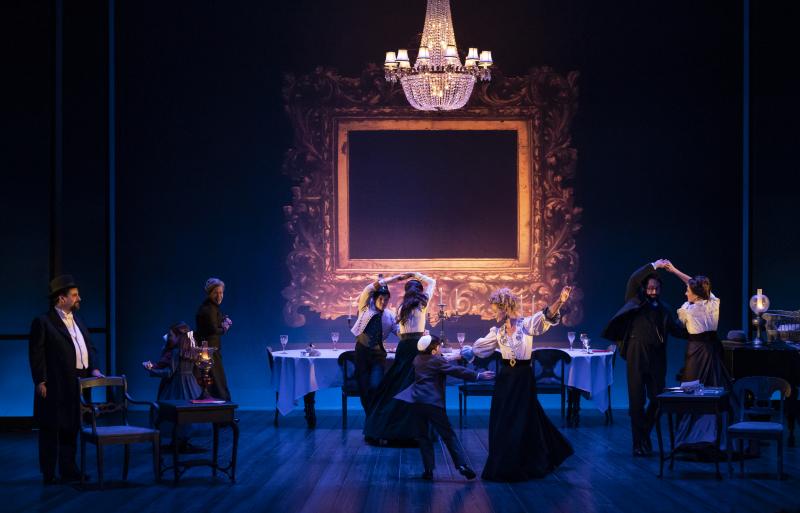 The Broadway Company of Leopoldstadt. Photo by Joan Marcus (2022).
Leopoldstadt, Tom Stoppard's Olivier Award-winning Best New Play, has recently experienced a number of cast changes, starting with Joshua Malina (Big Bang Theory, The West Wing, Sports Night), who will assume the role of Hermann. Other company newcomers will include Dave Register (Harry Potter and the Cursed Child) as Fritz, and Cody Braverman as Young Leo.
In addition, changes are also in line for three current cast members: Jesse Aaronson, who plays Aaron, will also be taking on the role of Leo; Charlotte Graham will assume the role of Nellie; and Sarah Killough will be playing Eva.
Recently extended through July 2nd, Tom Stoppard's Olivier-winning play is a passionate drama of love and endurance that begins in the last days of 1899 and follows one extended family deep into the heart of the 20th-century.


LOOK FOR MORE BROADWAY NEWS FOLLOWING THE COMPLETE LIST OF BROADWAY SHOWS BELOW.    
BROADWAY SHOWS IN NYC 2023
MARCH BROADWAY SHOWS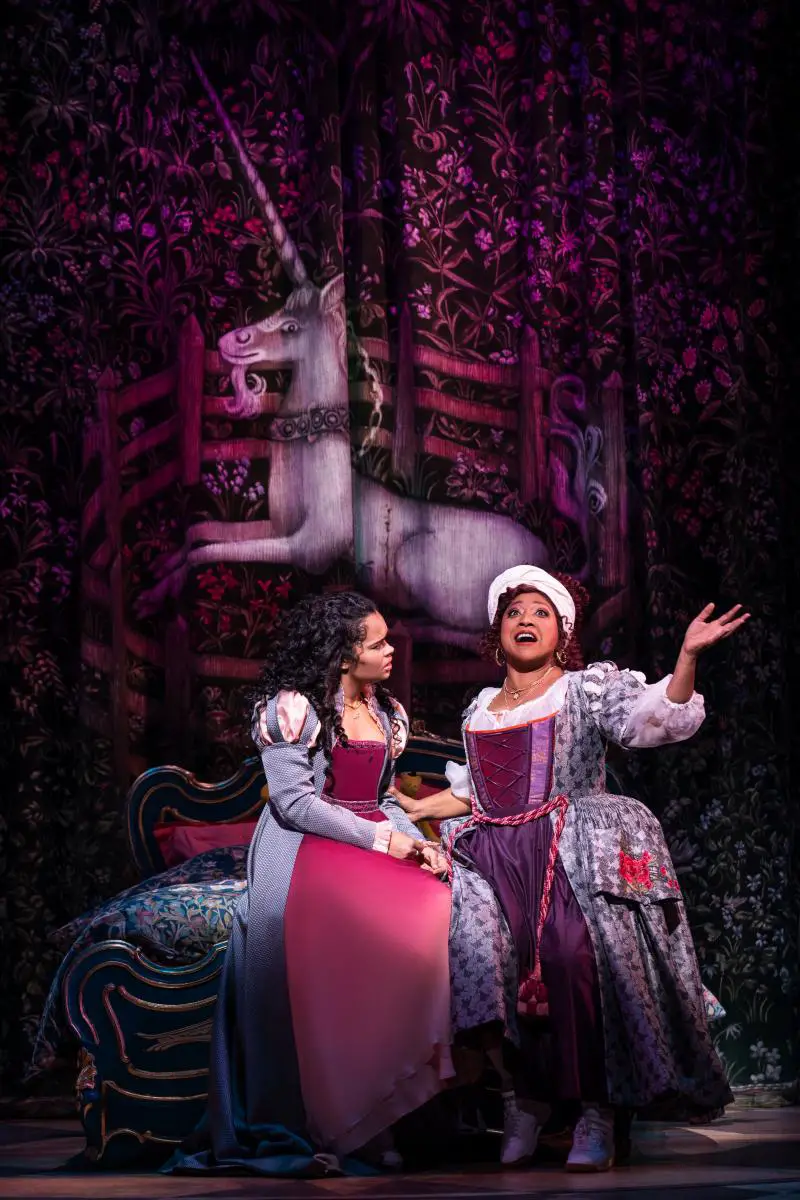 Lorna Courtney and Melanie La Barrie in & Juliet, photo credit Matthew Murphy.
& Juliet (Stephen Sondheim Theatre, 124 W. 43rd St.) (Opened 11/17/22) (2 hrs., 30 mins.) This new jukebox musical comedy asks: what would happen next if Juliet ditched her famous ending for a fresh beginning and a second chance at life and love—her way? Featuring a playlist of pop anthems including "Baby One More Time," "Roar," and "Can't Stop the Feeling." (andjulietbroadway.com)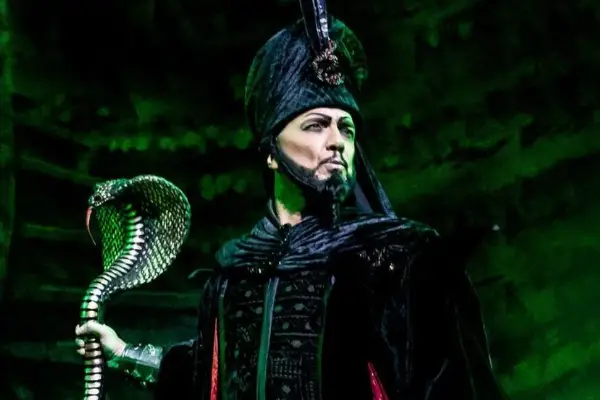 New to the Aladdin cast: Dennis Stowe takes on the role of Jafar.
Aladdin (New Amsterdam Theatre, 214 W. 42nd St.) (Opened 3/20/14) (2 hrs., 30 mins.) Like The Lion King, this Disney musical developed from animated origins has been a total crowd-pleaser since it arrived in 2014. This family-friendly magic carpet thrill ride flies onto the stage teeming with romance, mischief, and, of course, a wildly madcap Genie! The end result is a not-to-be-missed Broadway spectacular! (aladdinthemusical.com)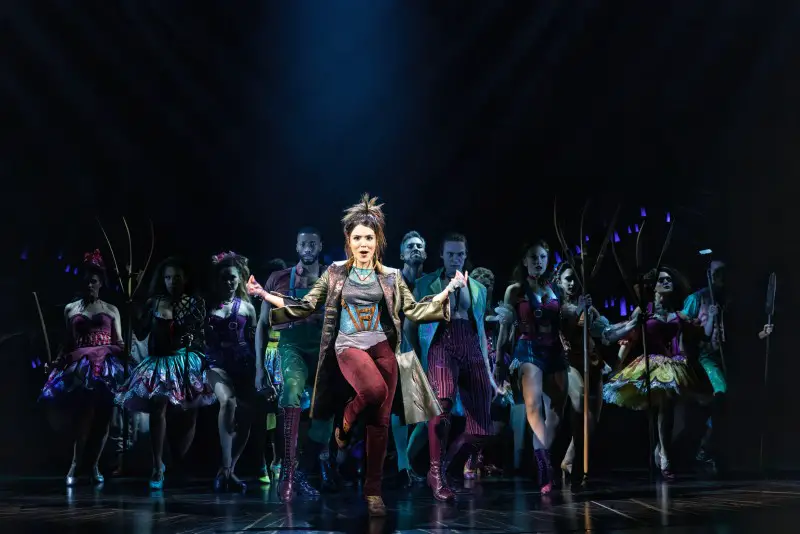 Linedy Genao and cast, photo by Matthew Murphy.
Bad Cinderella (Imperial Theatre, 249 W. 45th St.) (Opened 3/23/23) Andrew Lloyd Webber's contemporary take on the classic fairy tale is set in the kingdom of Belleville, where the fields are idyllic, the prince is charming, and the townsfolk are ravishing. Only one stubborn peasant stands in the way of absolute perfection: Cinderella. To the flawless residents and royals, this damsel IS the distress. (badcinderellabroadway.com)
A Beautiful Noise, the Neil Diamond Musical (Broadhurst Theatre 235 W. 44th St.) (Opened 12/1/22) (2 hrs., 15 mins.) With his break into songwriting in the 1960s and meteoric rise in the 1970s—and plenty of crushing disappointments and mega-triumphs along the way—Neil Diamond has been a superstar for 5 decades. How did a poor Jewish kid from Brooklyn become one of the most universally adored showmen of all time? The answer awaits in this electrifying musical set to his era-defining smash hits. (abeautifulnoisethemusical.com)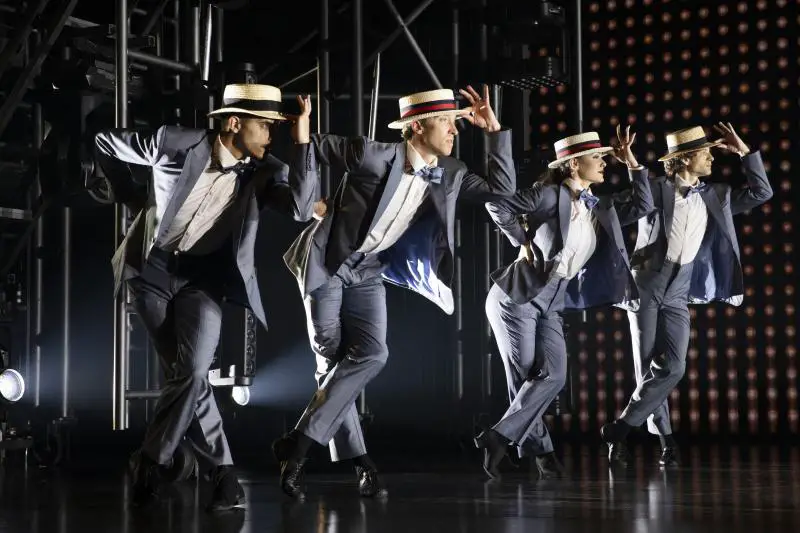 Photo by Julieta Cervantes,
Bob Fosse's DANCIN' (Music Box Theatre, 249 W. 45th St.) (Opened 3/19/23) (2 hrs., 15 mins.) A celebration of the art form Bob Fosse loved, perfected, and changed forever. Reimagined for the 21st century by Wayne Cilento, who starred in the original Broadway production, the show features some of Fosse's most inventive and seldom-performed choreography. (dancinbway.com)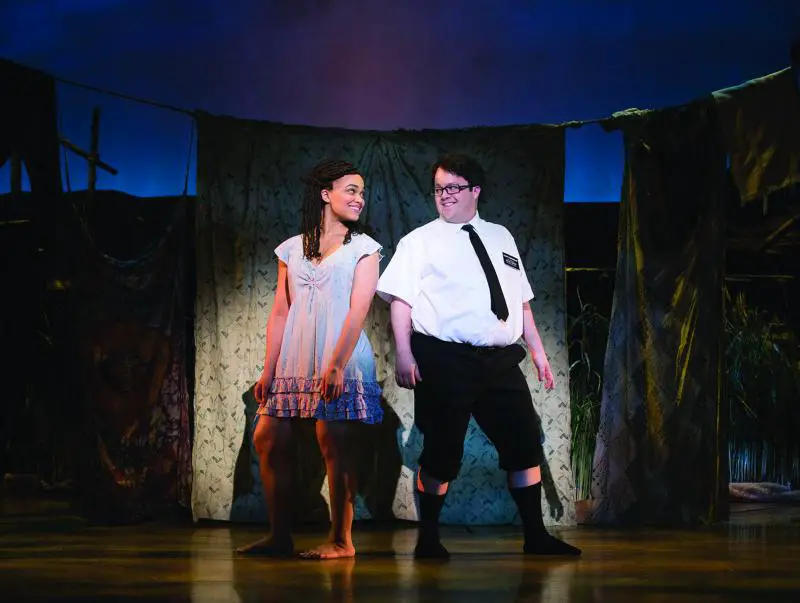 Kim Exum and Cody Jamison Strand in The Book of Mormon, photo by Julieta Cervantes.
The Book of Mormon (Eugene O'Neill Theatre, 230 W. 49th St.) 2011 Tony, Best Musical (Opened 3/24/11) (2 hrs., 30 mins.) One of Broadway's most successful, Tony-winning (nine in 2011!) musicals, from Trey Parker and Matt Stone—the duo behind South Park—follows a couple of wide-eyed Mormon missionaries whose first official assignment takes them to a remote village in Uganda. Divinely profane in all the right places! (bookofmormonbroadway.com)
CAMELOT (Official opening is April 13th at Lincoln Center Theaters' Vivian Beaumont Theater, 150 W. 65th St.) (2 hrs., 55 mins.) This new version of Lerner & Loewe's classic musical has been reimagined for the 21st-century by award-winning writer Aaron Sorkin. Based on the original book by Alan Jay Lerner, the epic tale, centering on King Arthur, Queen Guinevere, and Sir Lancelot, features an iconic score that includes "If Ever I Would Leave You" and, of course, "Camelot." (lct.org)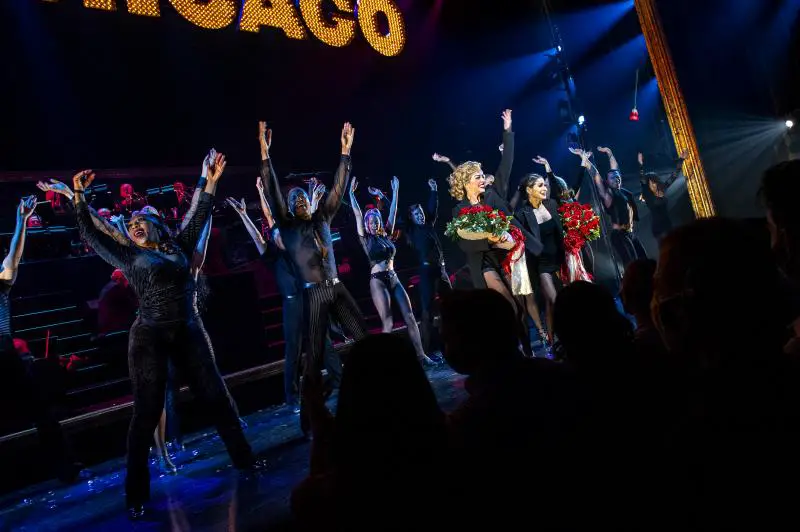 Chicago reopening night, 2021. Photo: Daniel Rader.
Chicago (Ambassador Theatre, 219 W. 49th St.) 1997 Tony, Best Musical Revival (Opened 11/14/96) (2 hrs., 30 mins.) Kander and Ebb's musical vaudeville about those murderous tootsies Roxie Hart and Velma Kelly picked up a Tony for Best Musical Revival back in 1997 and has reigned as one of Broadway's fiercest hits ever since. Sparkling with Bob Fosse's choreographic legacy, the show's cavalcade of colorful characters includes everyone from Billy Flynn and Mamma Morton to Amos Hart and Mary Sunshine. (chicagothemusical.com)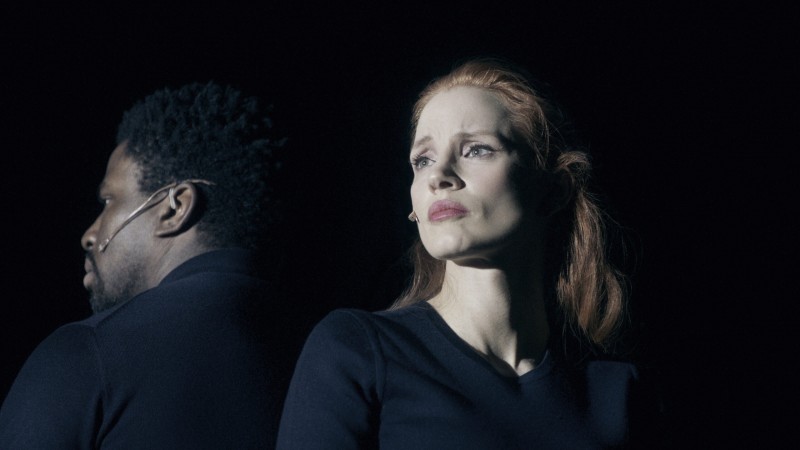 Photo by Emilio Madrid.
A Doll's House (Hudson Theatre, 141 W. 44th St.) (Opened 3/9/23) (1 hr., 50 mins., no intermission) When Henrik Ibsen's drama about a married woman who defies tradition in the most profound way debuted in 1879 it shocked audiences and triggered a new era of theatre. Playwright Amy Herzog's re-energized version, starring Oscar winner Jessica Chastain, makes relevant the story for a whole new generation. Thru 6/10/23. (adollshousebroadway.com)
The cast of the New York premiere production of Pulitzer Prize Winner Fat Ham, written by James Ijames, co-produced by National Black Theatre and The Public Theater. Photo credit: Joan Marcus.
Fat Ham (Official opening is April 12th at the American Airlines Theatre, 227 W. 42nd St.) (95 mins., no intermission) In James Ijames' Pulitzer Prize-winning play, Juicy is a queer Southern college kid grappling with identity, when the ghost of his father shows up demanding they avenge his murder—not an easy assignment for this sensitive Black man in search of his own happiness and liberation. From an uproarious family cookout emerges a compelling examination of love and loss, pain and joy. Limited engagement thru 8/6. (fathambroadway.com)
Ramin Karimloo (Nick Arnstein) and the cast of Funny Girl. Photo: Matthew Murphy, 2022.
Funny Girl (August Wilson Theatre, 245 W. 52nd St.) (Opened 4/24/22) (2 hrs., 50 mins.) This long-awaited first Broadway revival of the celebrated Fanny Brice musical bio comes to life with a revised book by Tony winner Harvey Fierstein. Thru 9/3. (funnygirlonbroadway.com)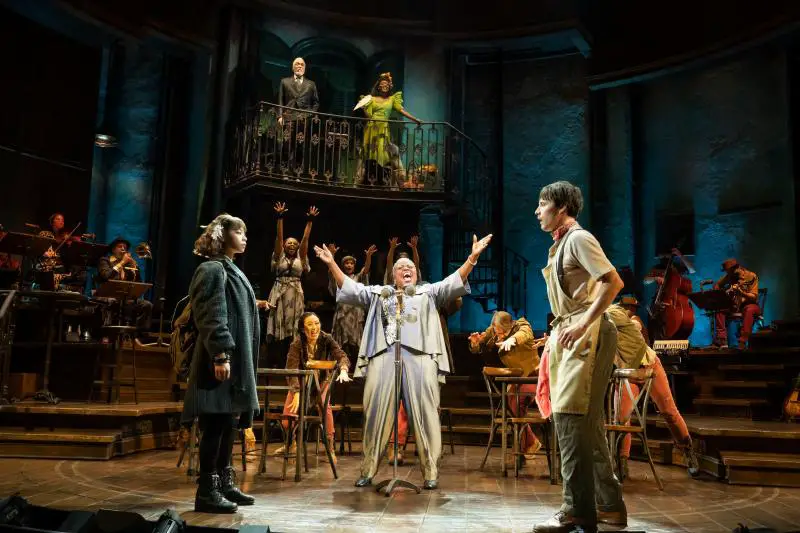 Matthew Murphy.
Hadestown (Walter Kerr Theatre, 219 W. 48th St.) 2019 Tony, Best Musical (Opened 4/17/19) (2 hrs., 30 mins.) This unique and stunning musical by singer-songwriter Anaïs Mitchell and director Rachel Chavkin follows musical follows the overlapping love stories of Orpheus & Eurydice and Hades & Persephone. The action unfolds in both a stylized New Orleans setting and Hades' stomping ground, The Underworld. As for the score, think New Orleans jazz melded with American folk music. (hadestown.com)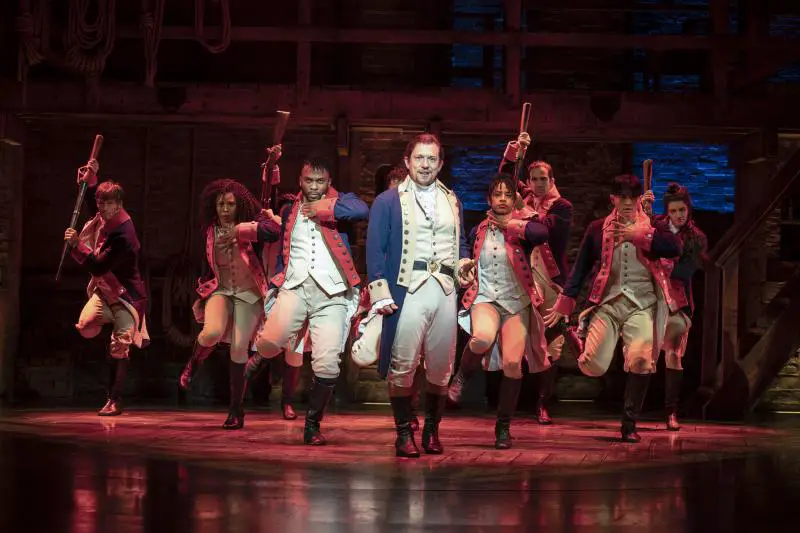 Miguel Cervantes and the ensemble of  Hamilton, (c) Joan Marcus 2021.
Hamilton (Richard Rodgers Theatre, 226 W. 46th St.) 2016 Tony, Best Musical (Opened 8/6/15) (2 hrs., 55 mins.) Visionary Lin-Manuel Miranda's white-hot historical musical that redefined Broadway. Told through a score of musical theatre, hip-hop, jazz, and R&B, the Pulitzer Prize-winning show has also scooped up Tony, Olivier, and Grammy awards. Act fast. (hamiltonmusical.com)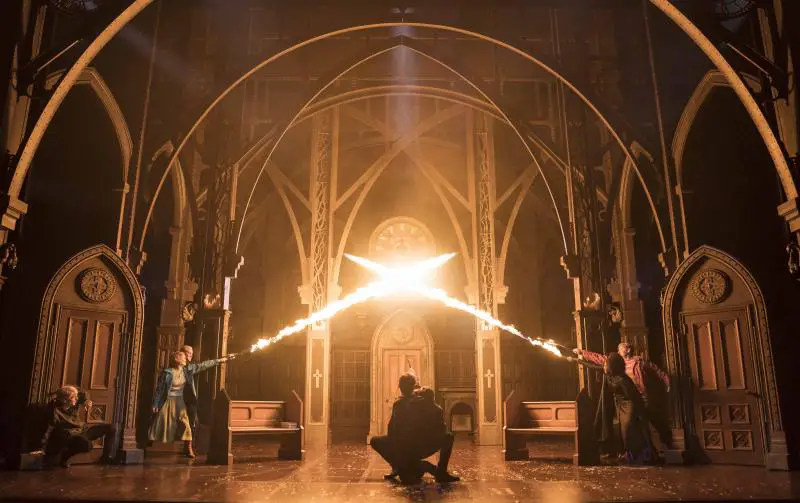 The cast of Harry Potter and the Cursed Child, photo by Matthew Murphy.
Harry Potter and the Cursed Child (Lyric Theatre, 214 W. 43rd St.) 2018 Tony, Best Play (Opened 4/22/18) (3 hrs., 30 mins.) This visually spectacular production begins where the film series ends and follows the friendship between Harry's son Albus and Draco's son, Scorpius—BFFs whose magical misadventures involve Time-turner shenanigans and a mysterious friend. Familiar characters plus a new generation of Hogwarts students make this a must-see for fans of the books and movies. (harrypottertheplay.com)
Kimberly Akimbo (Booth Theatre, 222 W. 45th St.) (Opened 11/10/22) (2 hrs., 20 mins.) In this new musical Kim is a bright and funny Jersey teen who happens to look like a 72-year-old lady. And yet her aging disease may be the least of her problems. Forced to maneuver family secrets, borderline personalities, and possible felony charges, Kim is determined to find happiness in a world where not even time is on her side. (kimberlyakimbothemusical.com)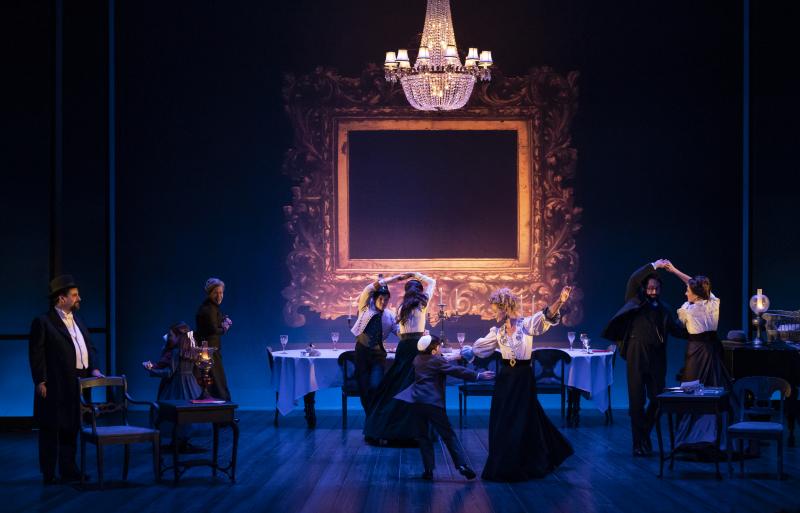 The Broadway Company of Leopoldstadt. Photo by Joan Marcus (2022).
Leopoldstadt (Longacre Theatre, 220 W. 48th St.) (2 hrs., 10 min., no intermission) Set in Vienna, Tom Stoppard's latest work takes its title from the Jewish quarter. A passionate drama of love and endurance begins in the last days of 1899 and follows one extended family deep into the heart of the 20th-century. Full of wit and beauty, this Olivier Award-winning play spans 50 years of time over two hours. Thru 7/2/23. (leopoldstadtplay.com)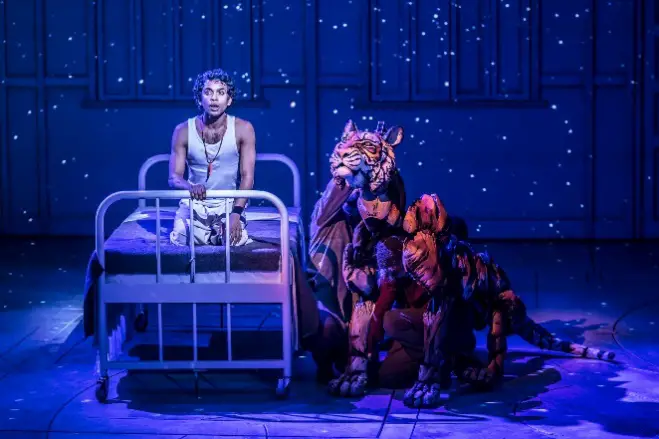 Life of Pi (Gerald Schoenfeld Theatre, 236 W. 45th St.) (Opened 3/30/23) (2 hrs., 15 mins.) In Lolita Chakrabarti 's Olivier-winning adaptation of Yann Martel's best-seller of an epic journey of endurance and hope, a cargo ship sinks in the middle of the Pacific Ocean, leaving 16-year-old Pi stranded on a lifeboat with four other survivors: a hyena, zebra, orangutan, and Royal Bengal tiger. Time is against them, nature is harsh, who will survive? (lifeofpibway.com)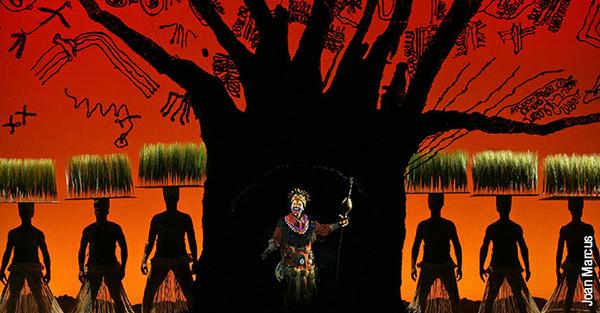 The Lion King (Minskoff Theatre, 200 W. 45th St.) 1998 Tony, Best Musical (Opened 11/13/97) (2 hrs., 30 mins.) The longest-running Disney production to grace Broadway—it arrived in November of 1997—this Tony-winning stage adaptation of the animated classic is a musical and visual treasure-trove to be savored. Set in the flourishing African Pride Land, the story follows lion prince Simba as grows from cub to king. Along the way, he makes friends, falls in love, and is subject to the machinations of his power-hungry uncle, Scar. (lionking.com)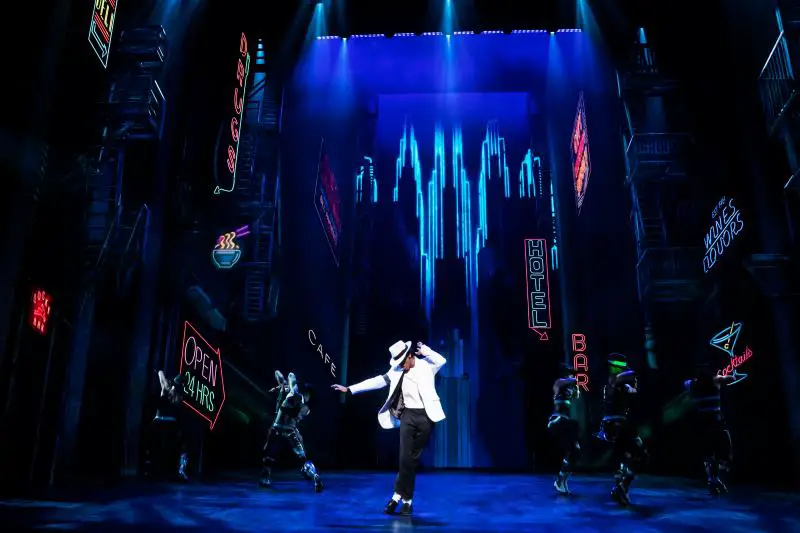 Myles Frost as Michael Jackson, photo by Matthew Murphy.
MJ the Musical (Neil Simon Theatre, 250 W. 52nd St.) (Opened 2/1/22) (2 hrs., 35 mins.) The new musical bio featuring over 25 Michael Jackson hits comes with a staggeringly impressive pedigree: book by two-time Pulitzer Prize winner Lynn Nottage and direction/choreography by Tony-winner Christopher Wheeldon. (mjthemusical.com)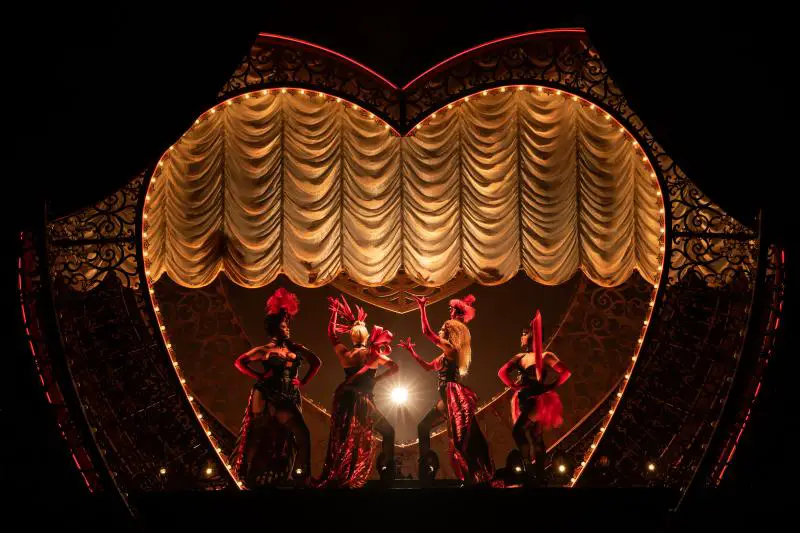 Moulin Rouge! The Musical (Al Hirschfeld Theatre, 302 W. 45th St.) 2021 Tony, Best Musical (Opened 7/25/19) (2 hrs., 35 mins.) A gleefully flamboyant stage adaptation of Baz Luhrmann's 2001 cinematic jukebox mashup, this Tony-winning musical from the 2019/2020 season takes place in a world where Bohemians and aristocrats rub elbows, reveling in the decadence and high kicks in the legendary Parisian night spot once upon a retro time. Add a love triangle, Toulouse-Lautrec, and a score of over 70 songs!(moulinrougemusical.com)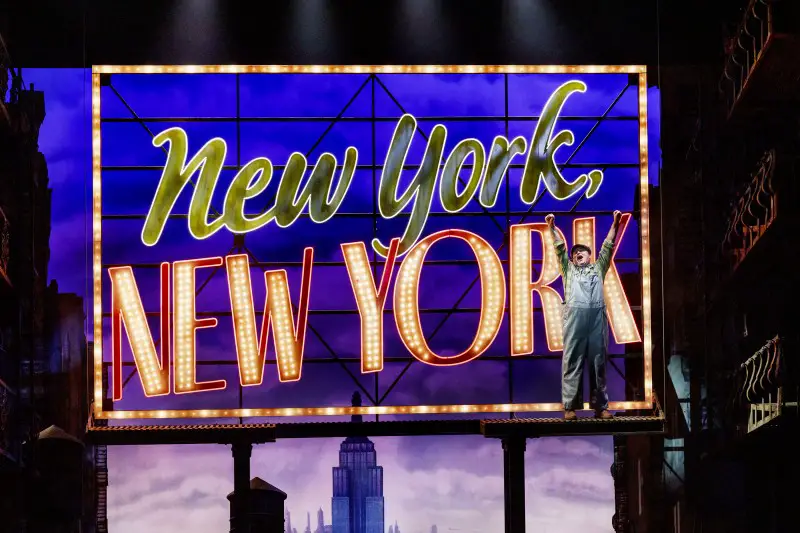 New York, New York - Jim Borstelmann - Photo by Paul Kolnik.
New York, New York (Official opening is April 26th at the St. James Theatre, 246 W. 44th St.) It's 1946, the war is over, and in a resurgent New York, a collection of artists has dreams as big and diverse as the city itself. But do these singers, dancers, musicians, and makers have what it takes to survive the city, let alone to succeed? Featuring a score by John Kander and the late Fed Ebb, with additional lyrics by Lin-Manuel Miranda. (newyorknewyorkbroadway.com)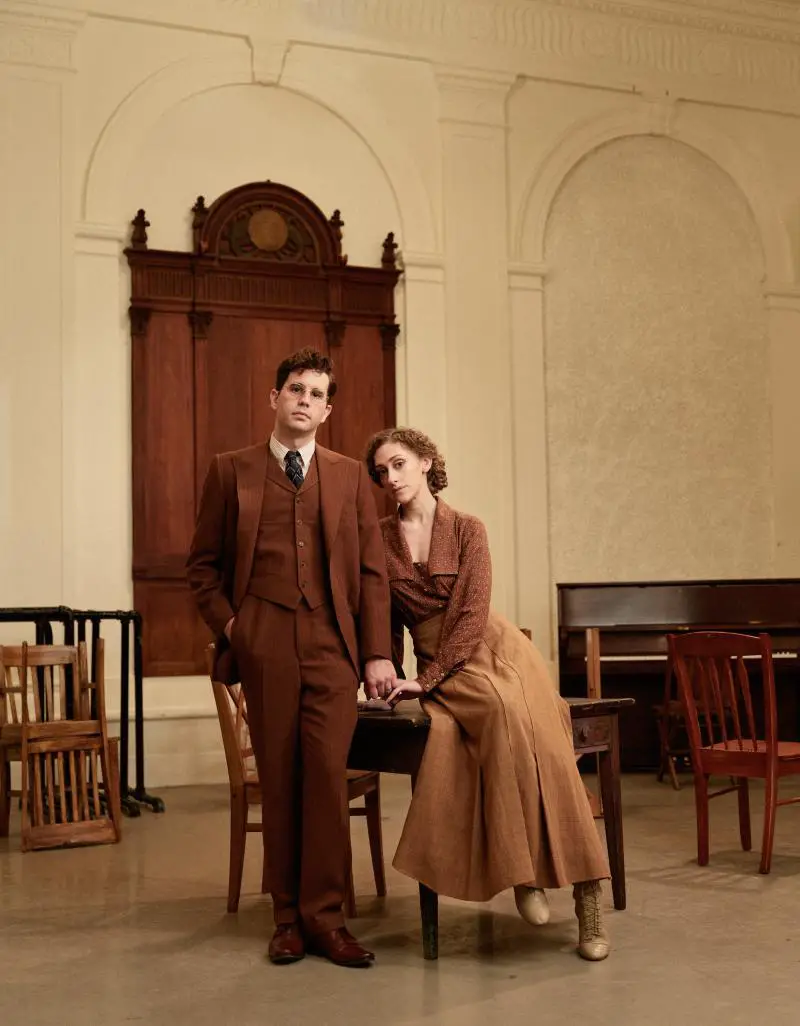 Parade, by Emilio Madrid.
Parade (Bernard B. Jacobs Theatre, 242 W. 45th St.) (Opened 3/16/23) (2 hrs., 30 mins.) In this celebrated musical, Leo and Lucille Frank (Ben Platt and Micaela Diamond) are a newlywed Jewish couple struggling to make a life in the old red hills of Georgia. When Leo is accused of an unspeakable crime, it propels them into an unimaginable test of faith, humanity, justice, and devotion. Riveting and gloriously hopeful, Parade reminds us that to love, we must truly see one another. Thru 8/6. (paradebroadway.com)
Peter Pan Goes Wrong (Official opening is April 19th at the Ethel Barrymore Theatre, 243 W. 47th St.) A highly physical comedy packed with finely tuned and inspired slapstick, delivered with split-second timing and ambitious daring, Peter Pan Goes Wrong sees the "Cornley Drama Society" back on stage battling technical hitches, flying mishaps,  and cast disputes as they attempt to present J.M Barrie's much-loved tale. But will they ever make it to Neverland? (pangoeswrongbway.com)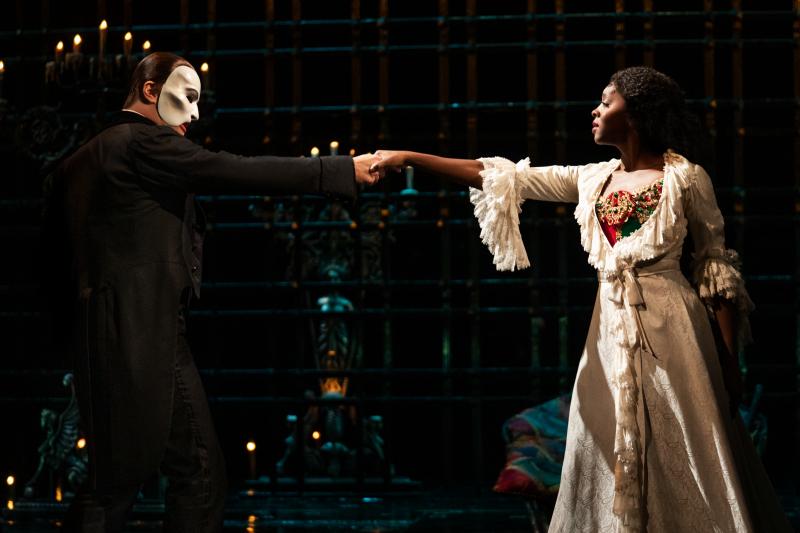 Emilie Kouatchou as Christine with Ben Crawford as The Phantom. Photo by Matthew Murphy.
The Phantom of the Opera (Majestic Theatre, 247 W. 44th St.) 1988 Tony, Best Musical (Opened 1/26/88) (2 hrs., 30 mins.) This long-running record breaker opened in January, 1988 and picked up a Tony a few months later. Based on the Gaston Leroux thriller, Phantom centers on a beautiful young soprano and the mysterious masked figure who adores her. Featuring Andrew Lloyd Webber's "Music of the Night," the musical is as iconic as it is a visual masterpiece. Thru 4/16/23. (us.thephantomoftheopera.com)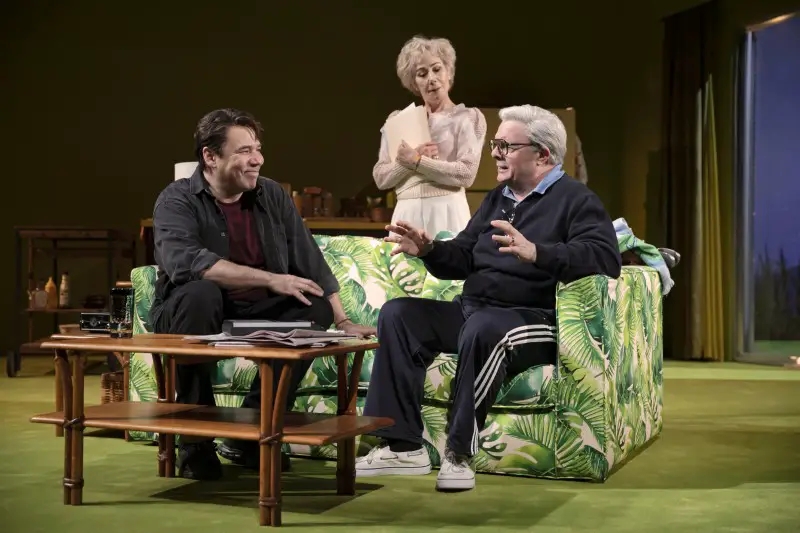 Photo: Julieta Cervantes.
Pictures From Home (Studio 54, 254 W. 54th St.) (Opened 2/9/23) (1 hr., 45 mins, no intermission) This Broadway premiere starring Nathan Lane, Danny Burstein, and Zoë Wanamaker brings to vivid theatrical life a comic and dramatic portrait of a mother, a father, and the son who photographed their lives. Based on the photo memoir by Larry Sultan, the play has been adapted to the stage by Sharr White (The Other Place). Limited engagement thru 4/30. (picturesfromhomebroadway.com)
(Left to Right): SHUCKED cast members John Behlmann ("Gordy"), Alex Newell ("Lulu"), Caroline Innerbichler ("Maizy") and Andrew Durand ("Beau").  Photo by Emilio Madrid for SHUCKED on Broadway. 
Shucked (Official opening is April 4th at the Nederlander Theatre, 208 W. 41st St.) (2 hrs., 15 mins.) What do you get when you pair a semi-neurotic New York comedy writer with two Nashville superstars? A hilarious farm-to-fable musical about, well, corn. Shucked is the new musical comedy that proves sometimes tearing down a few walls, rather than growing them, is the only way to preserve our way of life. (shuckedmusical.com)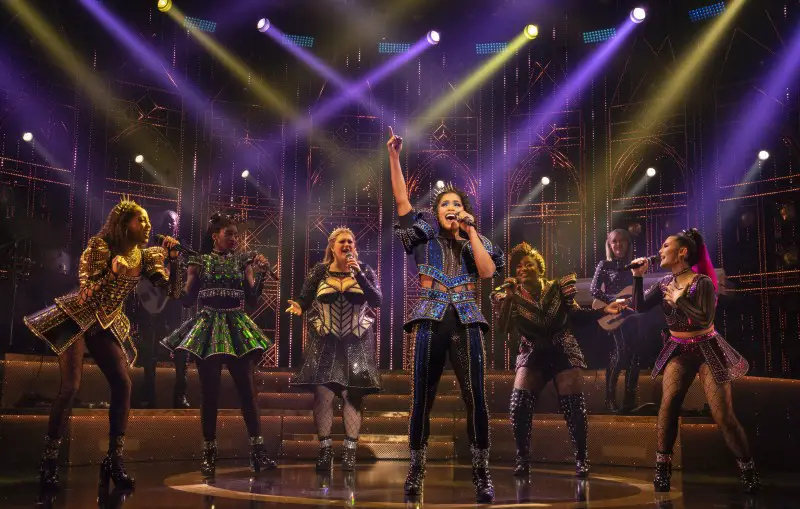 Photo: Joan Marcus.
SIX (Brooks Atkinson Theatre, 256 W. 47th St.) (Opened 3/12/20) (80 mins., no intermission) Divorced, beheaded, died, divorced, beheaded, survived. From Tudor Queens to Pop Princesses, the six wives of Henry XIII take the mic to remix 500 years of historical heartbreak into an exuberant celebration of 21st-century girl power. This new original musical is the global sensation that everyone is losing their heads over! (sixonbroadway.com)
Christian Borle and J. Harrison Ghee. Photo: Marc J. Franklin.
Some Like It Hot (Shubert Theatre, 225 W. 44th St.) (Opened 12/11/22) (2 hrs., 20 mins.) Starring Tony winner Christian Borle and Kinky Boots alum J. Harrison Ghee, this new musical comedy based on the classic film follows two musicians fleeing Chicago after witnessing a mob hit. With gangsters in pursuit, they join in an all-girl band, but can they hide in plain sight, or will the mob and/or love be their undoing?(somelikeithotmusical.com)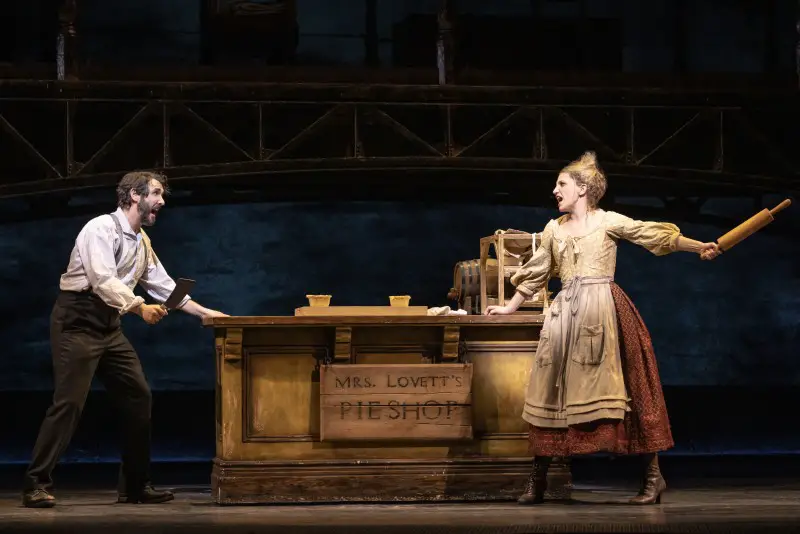 Josh Groban and Annaleigh Ashford in the 2023 Broadway production of SWEENEY TODD, Photo by Matthew Murphy and Evan Zimmerman.
Sweeney Todd: The Demon Barber of Fleet Street (Official opening is March 26th at the Lunt-Fontanne Theatre, 205 W. 46th St.) (2 hrs., 45 mins.) Josh Groban and Annaleigh Ashford star in this revival of the Stephen Sondheim-Hugh Wheeler musical about a resourceful pie shop owner and a vengeful barber out for blood. Together, they wreak havoc on Fleet Street and serve up the hottest—and most unsettling—pies in London. (sweeneytoddbroadway.com)
The Thanksgiving Play (Official opening is April 20th at the Helen Hayes Theatre, 240 W. 44th St..) (90 mins., no intermission) In Larissa FastHorse's satirical comedy, a troupe of well-meaning theatre artists dream of creating something revolutionary: a culturally sensitive, totally inoffensive Thanksgiving school pageant that finally gives a voice to Native Americans. Finding said Native Americans? Not so simple. Sending up a whole feast of social issues, this bitingly funny play roasts everything right, wrong, and woke in America. (2st.com)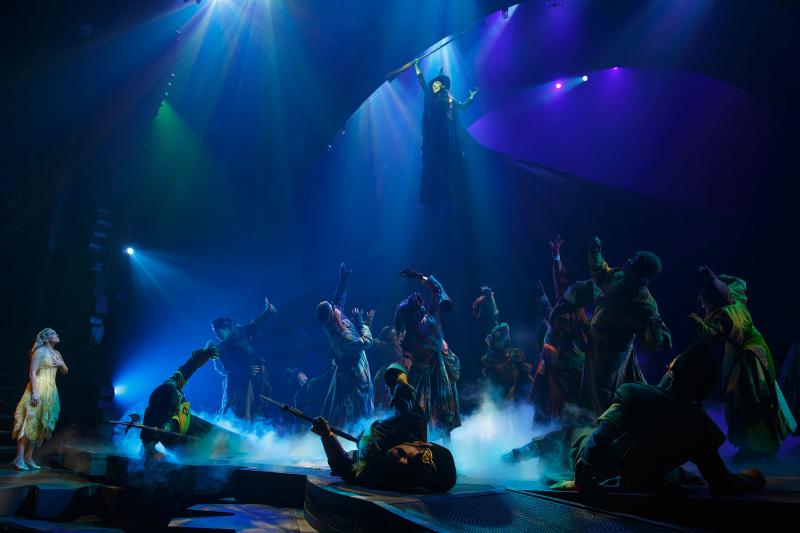 Photo by Joan Marcus.
Wicked (Gershwin Theatre, 222 W. 51st St.) (Opened 6/10/03) (2 hrs., 45 mins.) One of Broadway's biggest success stories, this fantasy musical, based on the best-selling novel by Gregory Maguire, follows the friendship between two young girls—one smart, misunderstood, and green-hued; the other beautiful, ambitious, and popular. Wicked takes the world of Oz's fairy tale roots and replants them into an eye-popping production that turns the original story spectacularly upside down. (wickedthemusical.com)
COMING SOON TO BROADWAY
April 4th: Summer, 1976 (Official opening is April 25th at the Samuel J. Friedman Theatre, 261 W. 47th St.) As the country celebrates its Bicentennial, two young women—Diana, an iconoclastic artist and single mom, and Alice, a free-spirited yet naive housewife—navigate motherhood, ambition, and intimacy, and help each other discover their own independence. This new work by Pulitzer Prize-winner David Auburn (Proof) stars Emmy-winner Laura Linney (The C Word; Ozark). Limited run thru 5/28.(manhattanheatreclub.com)
April 7th: Good Night, Oscar (Official opening April 24th at the Belasco Theatre, 111 W. 44th St.) (1 hr., 40 mins., no intermission) It's 1958 and host of The Tonight Show, Jack Paar, has booked actor, concert pianist, and subversive wit Oscar Levant. His appearance has audiences howling, censors scrambling, and—when it's all over—America is just a little less innocent than she was before. Starring Sean Hayes. Limited run thru 8/27/23. (goodnightoscar.com)
April 11th: Prima Facie (Official opening is April 23rd at the Golden Theatre, 252 W. 45th St.) (90 mins., no intermission) Tessa (Jodie Comer) is a young, brilliant barrister. She has worked her way up from working class origins to be at the top of her game—defending; cross examining, and winning—until an unexpected event forces her to confront the lines where the patriarchal power of the law, burden of proof, and morals diverge. Limited 10 week run. (primafacieplay.com)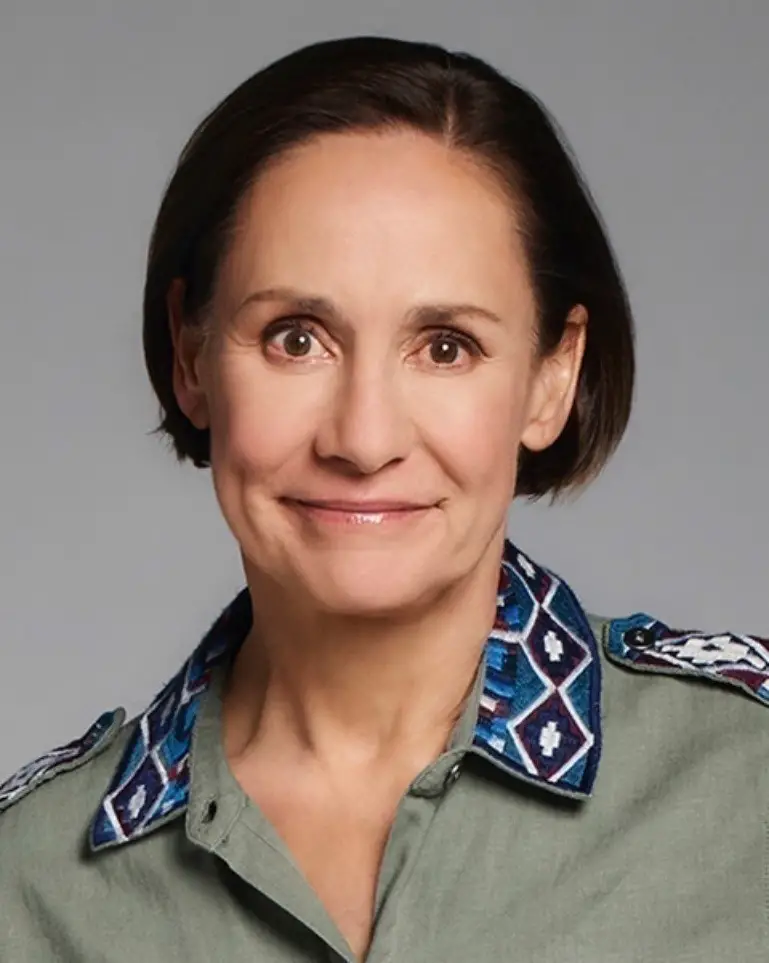 Laurie Metcalf.
April 29th: Grey House (Officially opening May 30th at the Lyceum Theatre, 149 W. 45th St.) When a couple crashes their car in the mountains, they are welcomed into an isolated cabin. As a blizzard rages, one night turns into several, the couple becomes less and less sure of what's true—about their hosts, themselves, and why that sound in the walls keeps getting louder. Starring Tony winner Laurie Metcalf and Tatiana Maslany (Orphan Black). (greyhousebroadway.com)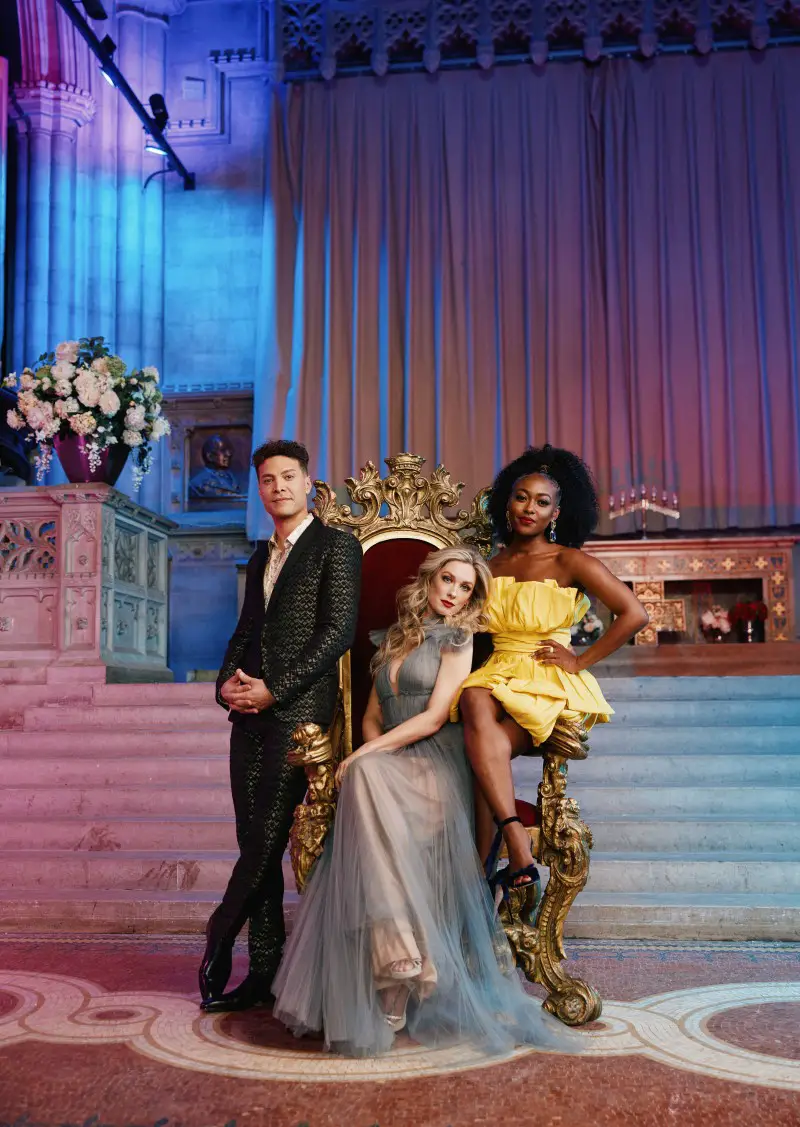 Justin Guarini, Briga Heelan, and Aisha Jackson to star in Once Upon A One More Time on Broadway (c) Emilio Madrid.
May 13th: Once Upon a One More Time (Official opening is June 22nd at the Marquis Theatre, 210 W. 46th St.) A new jukebox musical flipping the script on fairy tale babes Cinderella, Snow White, the Little Mermaid, and others. When a fairy godmother grants their mutual wish for a new story, she hands them the ultimate revisionist book: "The Feminine Mystique". The score is Britney Spears' anthems including "Oops I Did It Again," "Lucky," and "Toxic." (onemoretimemusical.com)
June 17th: Here Lies Love (Official opening is July 20th at the Broadway Theatre, 1681 Broadway at 53rd St.) An immersive disco pop musical based on the rise and fall of Imelda Marcos and the People Power Revolution of the Philippines, with music by Grammy/Oscar/Tony winner David Byrne and Grammy winner Fatboy Slim. The show's unique staging transforms the theatre's traditional proscenium space into a dance club where audiences have the option of standing and moving with the actors. (herelieslovebroadway.com)
June 30th: Back to the Future: The Musical (Official opening is August 3rd at the Winter Garden Theatre, 1634 Broadway) Based on the classic Michael J. Fox film, the show centers on teen Marty McFly who's sent back to 1955 in a DeLorean that's been transformed into a time machine by his friend Doc Brown. But before returning to 1985, he has to make sure his teenaged parents fall in love—or he'll cease to exist.(backtothefuturemusical.com/newyork.com)
July 7th: The Cottage (Official opening is July 24th at the Helen Hayes Theatre, 240 W. 44th St.) Based on the works of Noel Coward, this new farce by Sandy Rustin unfolds in 1923 in the English countryside when Sylvia decides to expose her affair to both her husband and her lover's wife. A surprising web of secrets unravels in this ridiculous—potentially murderous—romantic comedy, directed by Jason Alexander and starring Eric McCormack, Laura Bell Bundy, and Lilli Cooper. Limited engagement thru 10/29. (thecottageonbroadway.com)
August 17th: El Mago Pop (Ethel Barrymore Theatre, 243 W. 47th St.) Challenging the limits of the impossible, the show is defined by surprise, fantasy, sensibility, rhythm, and emotion. Theatregoers experience Antonio Díaz, Europe's shining star illusionist, as he performs close-up magic and his most unusual and spectacular illusions. El Mago Pop is a  reminder of dreams and illusions that awakened in the earliest stages of our lives, so that we never forget who we are. Limited two week run thru 8/27. (elmagopop.com)
Late Summer, 2023: Purlie Victorious: A Non-Confederate Romp Through the Cotton Patch (Theatre, dates & website TBA) Over half a century after its Broadway debut, actor/ playwright Ossie Davis's groundbreaking satire is back in a new production starring Tony & Grammy winner Leslie Odom, Jr. (Hamilton) as traveling preacher Purlie Victorious Judson who returns to his small Georgia town to save the local church and emancipate the pickers who work on an oppressive cotton plantation.
September 19th: Merrily We Roll Along (Official opening TBA at the Hudson Theatre, 141 W. 44th St.) Spanning three decades in the entertainment business, this Stephen Sondheim musical charts the turbulent relationship between composer Franklin Shepard and his two
lifelong friends — writer Mary Flynn and lyricist & playwright Charley Kringas. An inventive cult-classic ahead of its time, the show features some of Sondheim's most celebrated and personal songs. Starring Daniel Radcliffe as Charley, Jonathan Groff as Franklin, and Lindsay Mendez as Mary. Limited engagement thru 1/21/24. (merrilyonbroadway.com)
MORE BROADWAY NEWS
FUTURE FINALE
It was recently announced that Funny Girl's high-profile quartet of stars of—Lea Michele, Ramin Karimloo, Jared Grimes, and Tovah Feldshuh—have signed on to ride the show's record-breaking run into its final performance sunset on September 3rd, at which point it will have played 599 performances and 30 previews at the August Wilson Theatre. 
This first ever Broadway revival of Jule Styne's musical bio based on legendary comedienne Fanny Brice—multiple-Tony Award winner Harvey Fierstein provided the revised book for the show—opened April 24, 2022 starring Beanie Feldstein as Brice; Ms. Michele, made her first appearance in the role less than five months later on September 6th. And, for a bit of nostalgia trivia: Funny Girl director, Michael Mayer, won a Tony Award in 2007 for Spring Awakening, in which he directed Michele in her Broadway debut.
EXTENDED BY POPULAR DEMAND!
Just when you thought you missed some of Broadway's big buzz moments—from exhibits to stars to shows—the narrow window of opportunity is not shut after all.
Take for instance The American Theatre As Seen By Al Hirschfeld that launched the Museum of Broadway announced this amazing exhibition will now be running through April 30th. A feast of Hirschfeld's artwork, including 25 original drawings and prints from 1928 through 2002, the exhibit also includes an expansive display of his theatre posters, album covers, and programs. (Several of the posters were new to me, so bonus points for the magic of revelation.) In addition, there are some of his sketchbooks, a replica of his legendary barber chair, and in interactive piece of app wizardry where visitors can create a Hirschfeld drawing of themselves.
David Leopold, Creative Director of The Al Hirschfeld Foundation and curator of the exhibition, noted: "We could not be more thrilled that this special, inaugural exhibition has been extended to run into the spring. No one saw more opening nights on Broadway than Hirschfeld, the new exhibit shows his archive of drawings as a contemporaneous account of the productions and performers who helped to shape our popular culture over much of the 20th century, and into the 21st. Whether theatre fans remember seeing the production Hirschfeld drew on stage, or see Hirschfeld's art as their portal into theater history, Hirschfeld's work continues to be as popular as ever."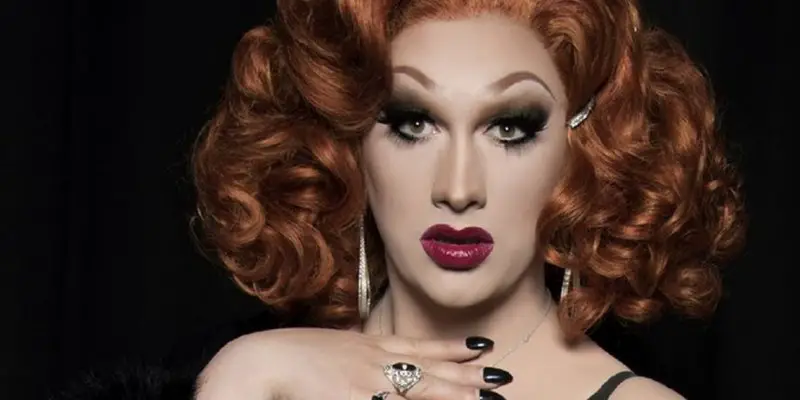 Meanwhile, over at Chicago drag diva Jinkx Monsoon has signed on for an additional 14 performances, meaning you have until March 26th to catch the two-time RuPaul's Drag Race winner razzle-dazzle 'em in the role of Matron "Mama" Morton.
"The kids are saying 'she ate,' so I figured, I might as well have seconds. In all seriousness, playing for standing room only crowds throughout my run as Mama has got my mind blown and my heart full," said Monsoon. "Audiences from all over the world have generously brought so much joy to this show. The Chicago cast has become my family, and I've made friends for life. I'm super excited for what the rest of the year holds, but first, I'm gonna keep feeling my oats on the Broadway stage."
This means,Monsoon will be sharing the stage (albeit briefly) with Bianca Marroquín who will return to the long-running show as Velma Kelly March 13th through April 9th.
As for the show's newest Roxie Hart, Olivia Holt will make her Broadway debut in the role on April 10th. Known for playing Kate Wallis in the Freeform series Cruel Summer, Holt will remain in the cast musical for eight weeks, her last performance being June 4th.
BRITNEY SPEARS HITS BROADWAY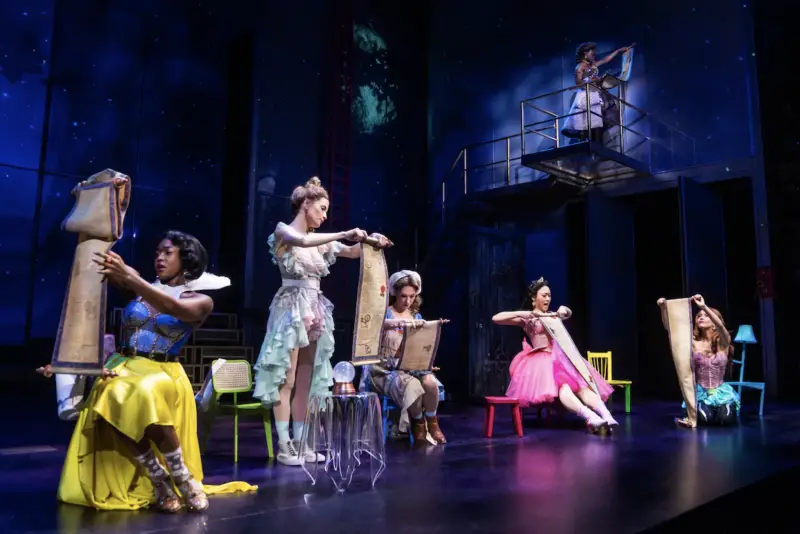 Once Upon a One More Time as it played at the Shakespeare Theatre in D.C.  Photo by Matthew Murphy.
New jukebox musical Once Upon a One More Time, drawing on the songs of Britney Spears, will begin May 13th at the Marquis Theatre ahead of an official opening on June 22nd. The show follows storybook heroines whose book club only discusses Grimm's Fairy Tales. Attitudes change when a rogue fairy godmother drops Betty Friedan's The Feminine Mystique into the circle and shows "there's more to life than finding a prince".
THEATRE LOVERS REJOICE!

Photo: Monique Carboni.
For those of us who live and breathe all things theatre, The Museum of Broadway is an excursion through decades of cherished memories as well as a visual exploration of all that unfolded theatrically before our time. And it's spot-on amazing.
Created by Tony-winning producer Julie Boardman and Rubik Marketing founder Diane Nicoletti, the museum is smartly situated in the Times Square area (145 W. 45th St.), meaning landmark theatres and legendary addresses are within walking distance. But the big payoff is the exhibition itself, with historical data dating back to the 18th-century and immersive showcases like Oklahoma's corn field and set recreations from shows like West Side Story. Labyrinthine, for sure, but blissfully so since visitors are invited to snap photos throughout. There are a handful of show-specific photo-op backdrops along the way, a case in point being Hair, where a swing beckons you into a "Let the Sun Shine In" backdrop. Earworm alert: show tunes match up to the displays. 
For me, the reconstructed Ziegfeld Follies dressing room with its vintage costumes (the real awesomely preserved deal, right down to the feathers) was especially seductive, as was the first of the museum's limited run special exhibits: The American Theatre as seen by Hirschfeld, curated by the creative director of The Al Hirschfeld Foundation, David Leopold.
Here you not only get a glimpse into original artist drawings and some pretty rare theatre posters, you're able to get your interactive freak on by turning yourself into a Hirschfeld drawing. A star is born!
A PRODUCER'S LIFE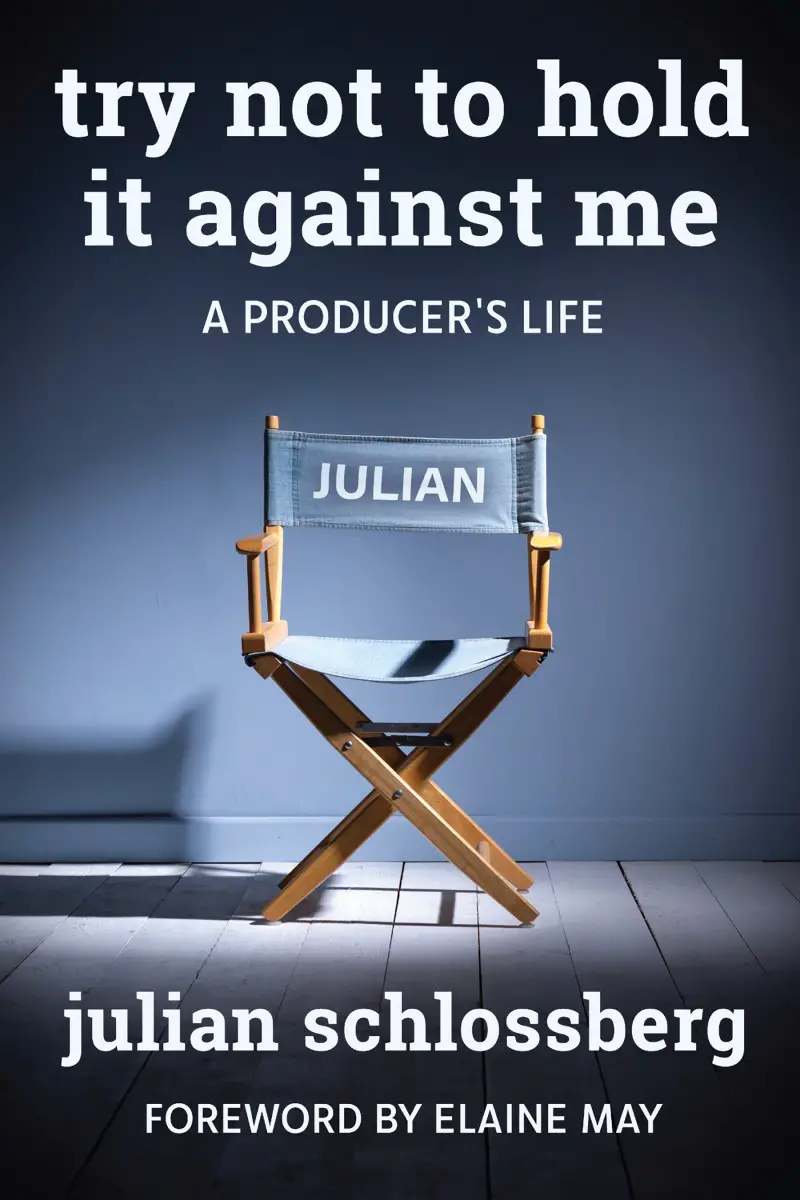 The early chapters of legendary producer Julian Schlossberg's bio Try Not to Hold It Against Me remind me of a 1940s black & white movie: spunky kid growing up in a New York neighborhood pals around, gets into scrapes, learns life lessons, etc. As the book progresses, however, it turns vivid technicolor, shining a klieg light on a cinematic-theatrical-celebrity-spangled life. Mr. Schlossberg shares it in short, episodic chapters spanning decades of eclectic, insightful, and captivating showbiz memories. Five bravos and a standing ovation.
TONY-WINNING "BEST MUSICALS" CURRENTLY RUNNING ON BROADWAY
The present count is seven -- which will dip to six in April when The Phantom of the Opera makes its exit, but will move back up to seven -- or eight – after the Tony Awards on June 11th. The Book of Mormon, Hadestown, Hamilton, and Moulin Rouge! all scored statuettes post-2010, joining a trio of shows that have been around at least a decade (or in the case of all-time champ Phantom nearly three and a half decades). First runner up with a 1996 opening night is Chicago, and a year later, almost to the day, Disney's The Lion King scored the biggest theatrical triumph of the 20th-century's final decade.
And then there's Harry Potter and the Cursed Child, which features some amazing choreography, but is not a musical – which did however, take home 2018's Best Play Tony Award. Not many non-musicals last five years on Broadway with no sign of slowing down…but, then again, this show is magic.
Find everything that's going on Off-Broadway (and Off-Off-Broadway) here.
You can find more things to do in NYC here.