Many things have changed on planet Earth since The Book of Mormon opened on Broadway a dozen years ago, but its ability to trigger unrestrained, endorphin-boosting, from-the-gut, communal laughter isn't one of them. With a blare of trumpets and some nifty stage magic, a brief biblical prologue spills a few essential Mormon scripture beans, leading to…Lights up on a plucky young missionary (his superpower is his smile) who presses an invisible doorbell, and:
"Hello, my name is Elder Price, and I
Would like to share with you the/
Most amazing book."
Suddenly, with incremental precision, the stage fills with cheery, doorbell-ringing Elders. The Book of Mormon is officially open for business.
Kevin Clay as Elder Price. Photo by Paul Coltas.
Written by Trey Parker and Matt Stone, who traveled from South Park to Broadway, and Robert Lopez, who schlepped from Avenue Q, the show netted nine 2011 Tonys, Best Musical included, and a 2012 Grammy for Best Musical Theater Album. All for sending a couple of wide-eyed Elders—Kevin Price and Arnold Cunningham—into a Ugandan village, where blasphemy and gross-out humor are de rigueur, a one-eyed warlord tyrannizes the locals, and cheeky production numbers featuring missionaries, Ugandans—or both—steal the spotlight.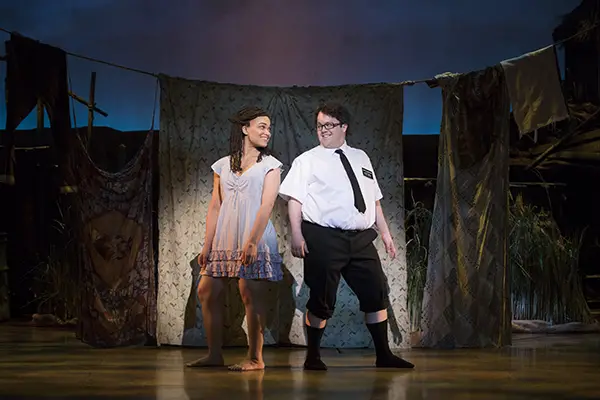 Kim Exum as Nabulungi, Cody Jamison Strand as Elder Cunningham in The Book of Mormon. Photo by Julieta Cervantes.
It's also where pretty and impressionable Nabulungi (Kim Exum) embraces Mormonism as her ticket to Paradise, aka Sal Tleih Kasiti (translation: Salt Lake City). If you come to The Book of Mormon enamored with Parker and Stone's ability to amp anarchy into a crescendo of lunacy, you'll have no trouble surrendering to its naughty bravado. But even if you enter cold, you're bound to fall under its irreverent spell. Consider the recurring ecclesiastical cameos from Jesus and Mormon VIPs Joseph Smith and Brigham Young…Elder Cunningham's off-again/on-again angst…the ultra-spectacular "Spooky Mormon Hell Dream" number…the audacious parody distorted from The King and I…the score…the choreography…the effects...
Cody Jamison Strand plays the ebullient self-proclaimed sidekick Cunningham, while Kevin Clay is the show's handsome, self-assured Price. And while their characters don't initially come across as compatible, the actors are good friends both onstage and off. In the show, for example, Clay cites the "breakup scene" between Price and Cunningham toward the end of Act I, as a favorite moment.
"I love this scene because Cody and I, for the first time in the show, get a real moment of stillness and connection, even if it is born from a tense fight. I just like how real we make it". (Spoiler alert: the scene is pretty emotional for the audience, too. Fortunately, when it comes to musical comedy, something distracting and/or upbeat is just a song away.)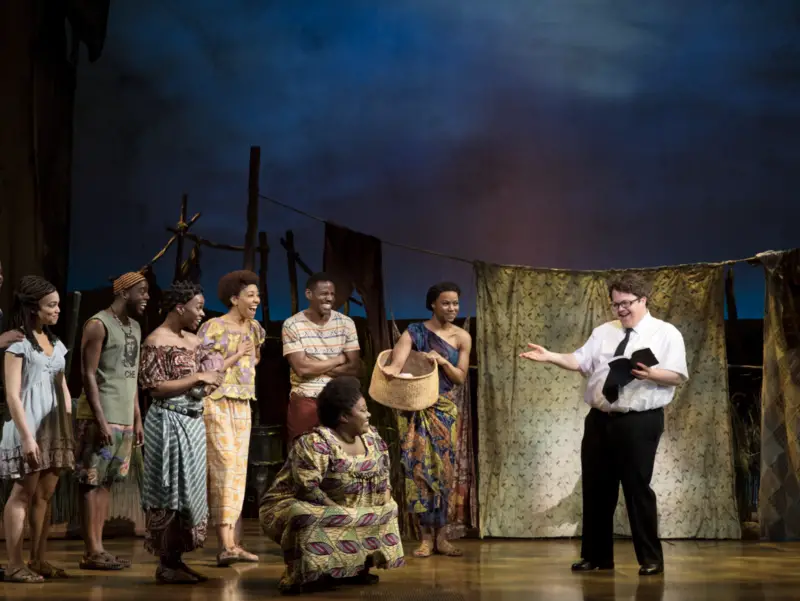 Photo by Julieta Cervantes.
Meanwhile, offstage is where the two bonded over their love of games. "Cody regularly plays in my Dungeons & Dragons campaign that I run, along with countless other game nights," says Clay who, like Strand and several other cast members, is a veteran of more than one Book of Mormon touring company. "I actually transitioned from ensemble to Elder Price while on the North American Tour," he says, recalling that his first intro to the show came while he was a college freshman.
"I remember sitting to listen through the cast recording, top to bottom. My first thought was, 'Damn… this is my ideal show, and it came too soon.' Luckily, this train kept on running long enough for me to hop aboard."
BOM FYI
Clay has been riding first-class on The Book of Mormon Express since Broadway reopened in the fall of 2021. "I always say that we are the perfect show for the true musical theatre lover and, more importantly, the opposite personality," he says. "If you've never seen a Broadway show, see us. If you've seen 100, see us. I may be biased, but we are still the funniest show in New York. Fight me."
The Book of Mormon is playing at the Eugene O'Neill Theatre, 230 W. 49th St. (2 hrs., 30 mins.); bookofmormonbroadway.com